Vegan eggnog homemade - it works without eggs and tastes like the original. This vegan eggnog not only convinces by its consistency but also by its taste. Vegan eggnog as a classic cannot be missing at Christmas, New Year's Eve, Easter or other festivities as a dessert or gift. You can also prepare the eggnog alcohol-free and make every child's heart beat faster. vegan | gluten free | soy-free | free | nut-free (except coconut)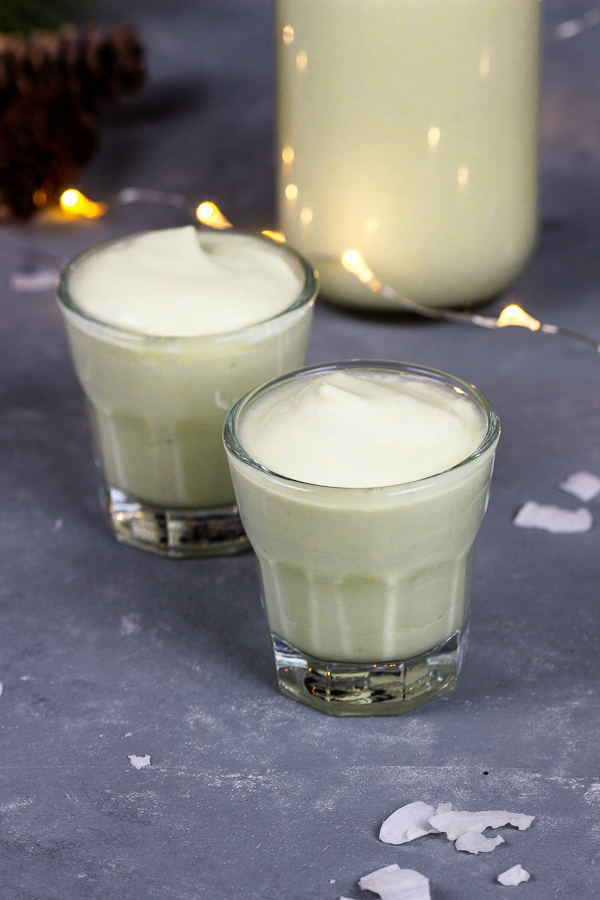 Vegan eggnog awakens childhood memories
Now you are certainly wondering how can an alcoholic drink awaken childhood memories, right? Well, my mom always prepared homemade eggnog at Christmas and / or New Year's Eve and for us children always a bottle without alcohol. And it was just great, we children always looked forward to it. Instead of the rum, you just take water and you've whipped up a non-alcoholic, vegan eggnog.

What egg replacement with the vegan eggnog
Eggnog calls for egg yolks, so I thought about how to "replace" them. Silken tofu and Aquafaba came to my mind. However, silken tofu I use normale to replace whole eggs. However, I was not sure if the yolks also serve as an emulsifier. And since the proof of the pudding is in the eating, I tried it with Aquafaba as egg yolk for my vegan eggnog. And I have to say it worked out great.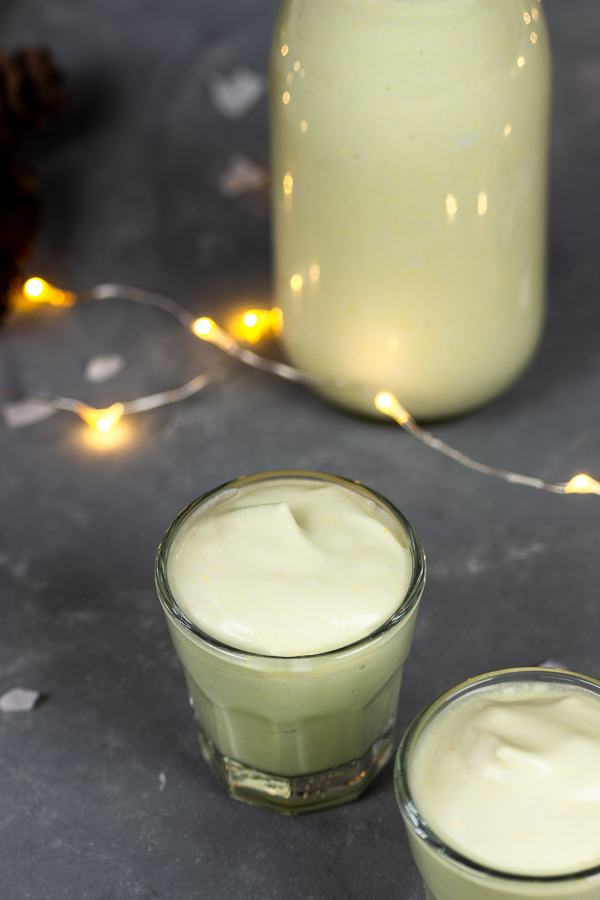 How is the vegan eggnog so creamy?
As a basis for this vegan eggnog recipe, I used the recipe of my mother. The version of my mom just tastes the best, so there must be a vegan version. In her recipe is called for whipped cream and I love to use in desserts or other desserts coconut cream (the remote part of the coconut milk). Who does not want the coconut taste in the vegan eggnog, can resort to another cream substitute for serving. You should find something in the stores. However, I love to use whole foods, rather than highly processed as the cream substitute with many additives. The internet already has a recipe for vegan eggnog, but they are all prepared with pudding. However, since I do not want to miss the creaminess of the vegan eggnog, I created my own recipe. I'm really curious what you think of it.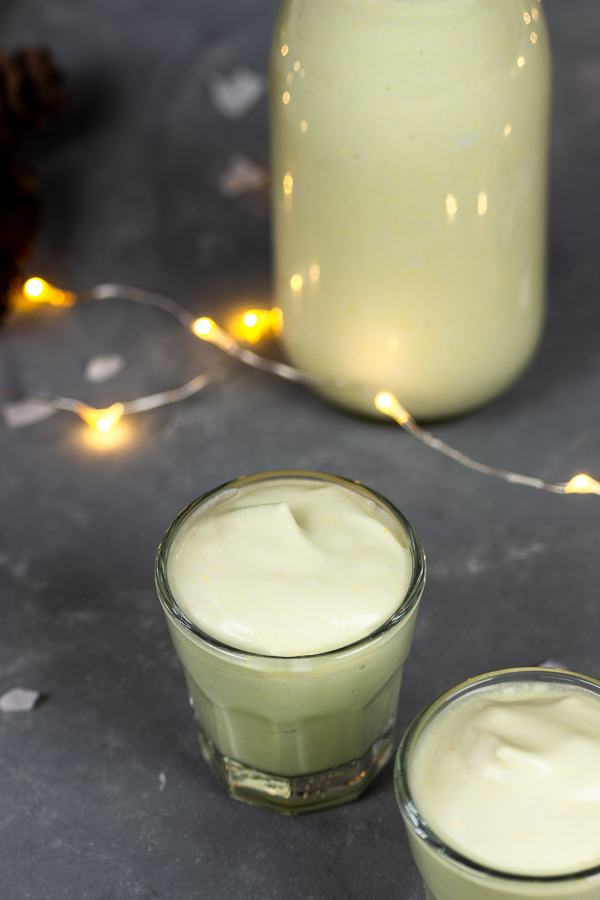 ---
Did you try the recipe?
If you did it, be so nice ♥ and let me know by rating the recipe and writing what you think about it. Tag me on Instagram too. I am @veeatcookbake and my hashtag is #veeatcomforts. So that I can see your creation. Did you know you can add photos on Pinterest under the recipe Pin? I can't wait to see a photo of your creation there. You find me with VeeatCookBake.
---
Vegan Eggnog - creamy like the Original
Recipe Type
:
Drinks, Dessert, Christmas, New Years Eve
Cuisine:
alcoholic, non alcoholic, vegan, dairy free, eggless, whole foods
Author:
Prep time:
Total time:
Vegan eggnog homemade - it works without eggs and tastes like the original. This vegan eggnog not only convinces by its consistency but also by its taste. Vegan eggnog as a classic cannot be missing at Christmas, New Year's Eve, Easter or other festivities as a dessert or gift. You can also prepare the eggnog alcohol-free and make every child's heart beat faster. vegan | gluten free | soy-free | free | nut-free (except coconut)
Ingredients
350 g coconut cream or storebought vegan whipped cream
6 tablespoon Auquafaba
4 pinches turmeric
125 g powdered sugar
8 g vanilla sugar
100 ml rum / water for non-alcoholic option
Instructions
Whisk Aquafaba with powdered sugar and vanilla sugar with a hand mixer or a stand mixer until creamy.
Beat the coconut cream in another bowl stiff.
Now mix Aquafaba, coconut cream and rum (water) together. Voila your vegan eggnog is ready. Put it in bottles and let it in the fridge until served
---
---