Vegan Eggnog - The New Classic!
What are you waiting for? Get the recipe now on how to make this amazing creamy delicious drink in 5 minutes flat.
No need to blend or soak anything because it's so easy and straightforward that even my kids can do them with ease (my kids helped me prepare this!). You'll love every sip of rich flavor and vanilla flavor.
This recipe is not the typical recipe you know with nutmeg. I made the vegan version of my moms' recipe, and it is hands down the best traditional eggnog I had in my love.
Store bought ones can compete with this during the holiday season.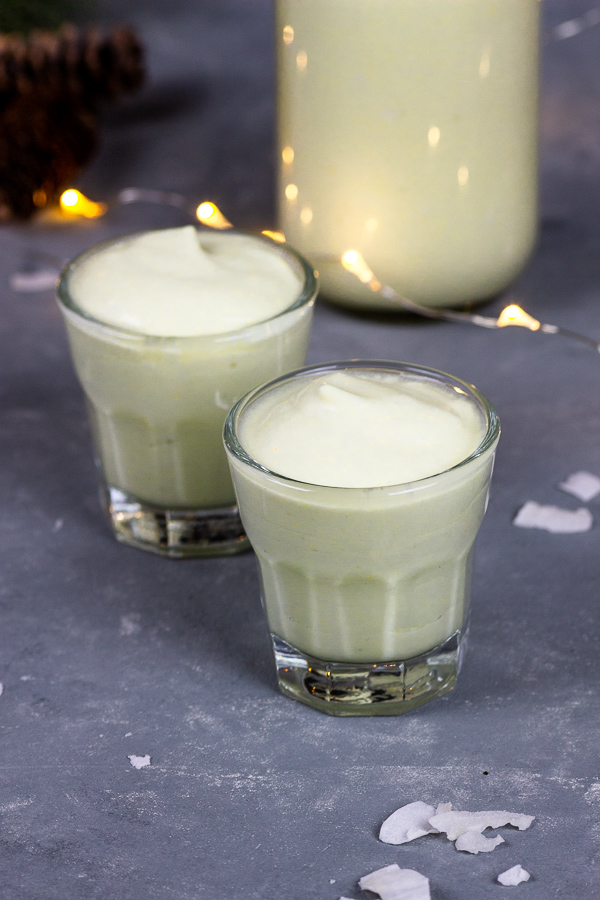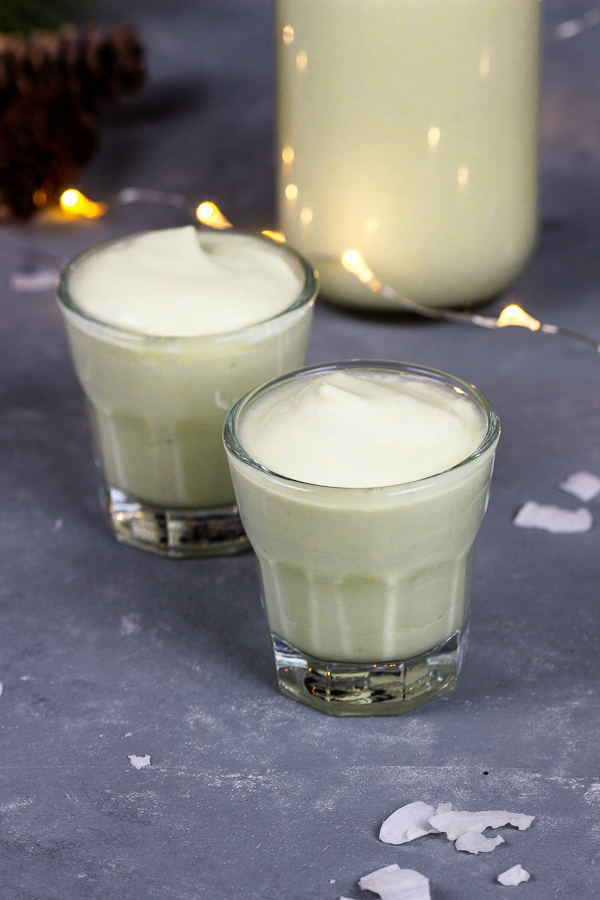 As an Amazon Associate, I earn from qualifying purchases. This post may contain affiliate links. Read More
Jump to:
Trust me, I was eggnog obsessed as a kid (and before going plant-based), and this dairy free version tastes identical to real ones.
And my mom used to make homemade eggnog for Christmas and New Years Eve and we always got a non alcoholic version of it as kids.
I had given up on finding store bought "egg" nogs that are just as good because some people cannot tolerate nuts or have an allergy -- but impossible is only opinion right? 😉
Imagine my surprise when they actually turned out delicious without any need of blending anything! The best part about them being nut Free means no more draining either which makes preparation much faster.
No raw cashews, nno almonds, No egg yolks or raw eggs for this dairy-free eggnog! It has coconut as a whipped cream substitute, but still no need to get your high speed blender out.
Just a whisk! You never had such a creamy eggnog this one will blow your mind. I love mine a little firmer not so liquid but you can always add some more water or plant based milk.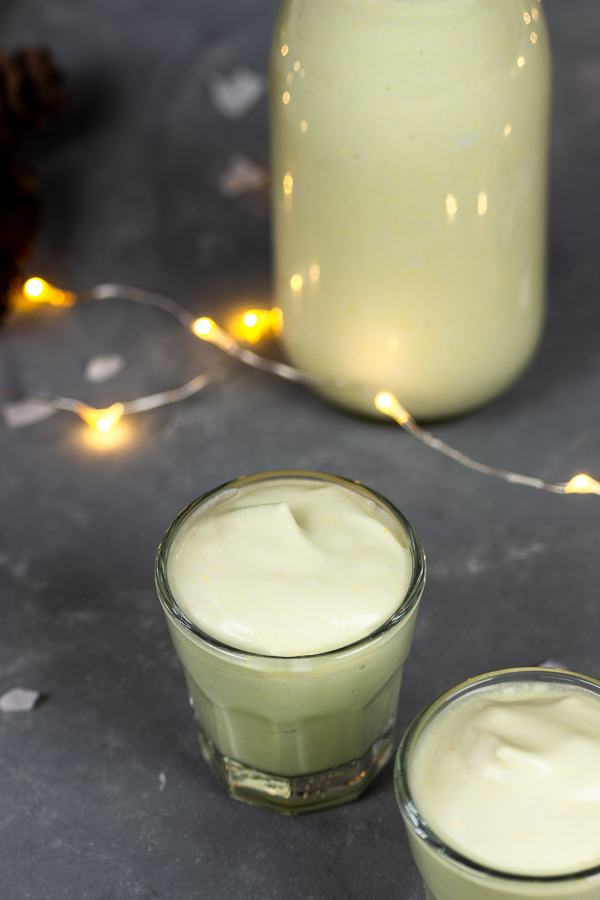 Ingredients
Let us jump right to the ingredients list. You will see you will not need much for it. The ingredient quantities are written down in the recipe card below.
Full-fat Coconut milk
Aquafaba
Turmeric Powder
Sweetener of your choice
Vanilla Extract
Rum or Water
Instructions
Start with whipping the Aquafaba. I love to use my kitchen aid for it but you could also use a hand whisk for it.
Whisk until you get a stiff Aquafaba.
Once it is stiff. Take the coconut milk and scoop out the solid part the coconut cream. Add the sweetener, turmeric, vanilla extract, rum or water and whisk until you get a creamy texture. Fold under the Aquafaba. If you want the eggnog a little more liquid than you can always add some more almond milk or oat milk.
Pour it in jars or bottles and chill it in the fridge until served.
Substitutions
Coconut Milk: I love to use this as a heavy cream substitute. You could always buy a store bought vegan whipped cream.
Sweetener: For this easy eggless eggnog recipe you can either use maple syrup, date syrup or a sweetener of your choice.
Rum: Boozy version? Yes, no? Not everyone wants a festive drink with alcohol. Just make with without and use water or plant milk instead. I love it without alcohol.
Variations
The best thing about homemade vegan eggnog you can decide what flavor you want in it.
Cinnamon: Add a cinnamon Stick to the jar later or ground cinnamon while you whisk the coconut cream and let it sit for a few hours, you will see it adds a nice flavor.
Holiday spices: add other spices like anise, clove, orange, fresh grated nutmeg to get different flavors.
Vegan Eggnog Latte: Make a coffee and add some eggnog, voilà you made yourself a perfect holiday drink!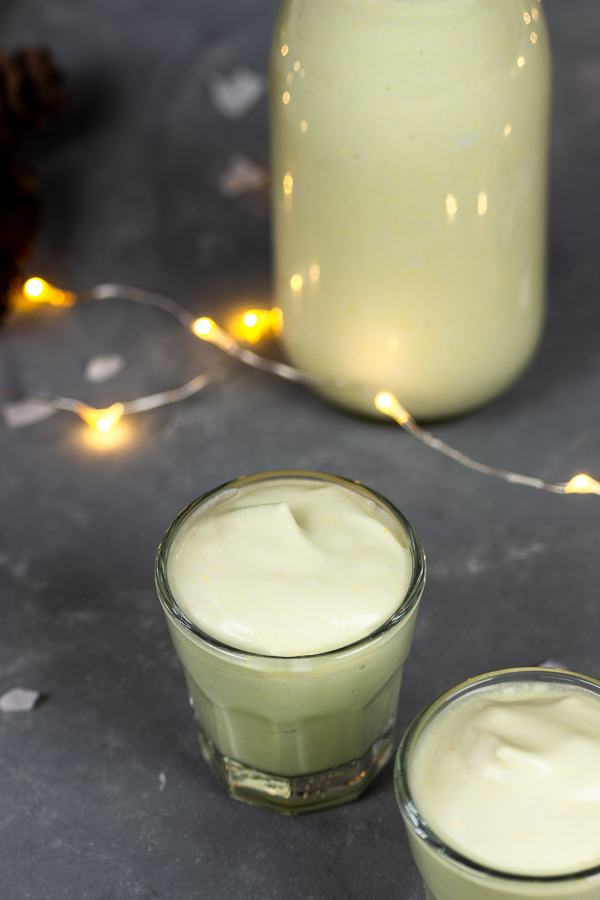 Equipment
For this you will either need a whisk or a stand mixer, hand mixer.
I prefer to use a stand mixer, less work for me.
Storage
This version of eggnog will last in the fridge for a few days. I say upto 1 week.
Always check before you drink it if it is still good. And store it in an airtight jar for your holiday gatherings.
Top Tip
If you do not mind blending in a high-speed blender than you can of course use some cashews to make a creamy comforting eggnog.
The full fat coconut milk will make eggnog fluffier and creamier, like in the photos.