Creamy, refreshing, vegan No Bake Cheesecake (vegan Cherry Cheesecake) with a chocolate-vanilla sponge cake base and cherries is a tasty and healthier alternative to the original. It is a no cashew cheesecake.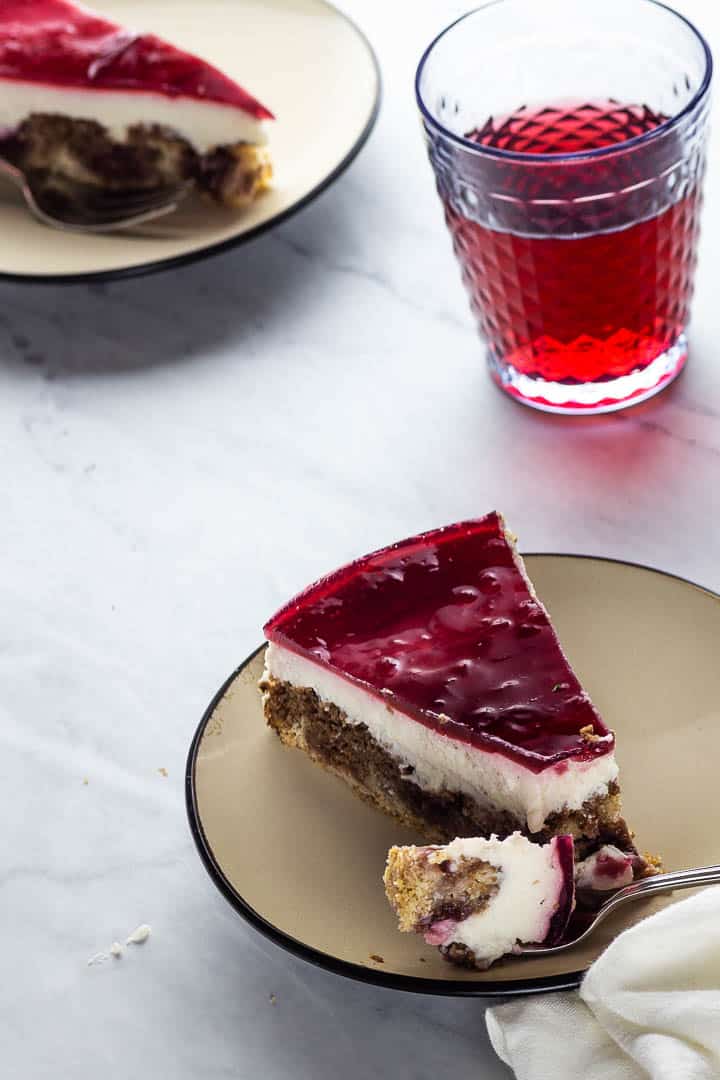 As an Amazon Associate, I earn from qualifying purchases. This post may contain affiliate links. Read More
If you are planning a birthday party, a cozy get-together or are just looking for a delicious dessert or a cake for coffee time, then try this healthy and easy vegan cheesecake.
Not only is it quick and easy to prepare, the chocolate cherry cake tastes heavenly and your guests will not believe this cake is vegan.
This Snow White cake has always been a classic on family birthday parties or other celebrations.
Because of this, a vegan version of a classic cake had to be made. And what can I say, I'm just as excited about this cake with whole wheat flour, without dairy products.
It turned out to be just perfect. My family and relatives love this cake and actually nobody notices that this cake is vegan and it is one of the first cakes which is eaten up.
How do I veganise the classic Snow White cake?
It's time again to share with you one of my favorite cakes, next to vegan Donauwelle and other creamy cakes.
The original version of the Snow White cake is unfortunately not vegan at all. But even with this, I have managed to create a delicious version of the vegan cream cake.
This cake is a vanilla and chocolate cake with cherries in the dough combined with a cream cheese topping and jello on top.
This Snow White cake tastes super creamy and comes without any dairy products, which is ideal for all lactose intolerant.
Now it's your turn to tell me which cakes you love from your childhood or may even miss?!
What do I take to replace the cream
It is not difficult to veganize the cream topping. The traditional recipe is made with cream and quark(curd).
On the one hand we have to replace the cream, to do this we use the solid part of coconut milk.
The quark (curd) can be easily replaced with vegan yogurt. With the yogurt I like to take an unsweetened version of creamy type, like almond or soy yogurt.
What you should keep in mind when preparing the vegan Snow White cake, is to put the coconut milk in the fridge at least 24 hours beforehand and do not shake when opening, we only need the solid part of the coconut milk, the so-called coconut cream.
I always have a few cans in the fridge if I spontaneously want to prepare anything, like this vegan Snow White cake.
You may also think, hmm the cream is anything but firm. Yogurt is smoother than using curds.
To help with this, we use some agar-agar, the plant-based gelatin (gelling agent).
How do I prepare a sponge cake made from whole grain dough?
There are different things to look out for. For one, it is contained in the sponge cake like this fruit.
Thanks to the fruit, the sponge cake becomes nicely juicy and not too dry as it can happen quickly to whole grain dough.
If you have a base with fruit like in this vegan chocolate cherry cheesecake, you can easily replace the flour with whole wheat or spelt flour.
For a sponge cake without fruit, I like to use some tahini or almond butter, like this strawberry cake, or you can substitute some of the fruit with ground almonds.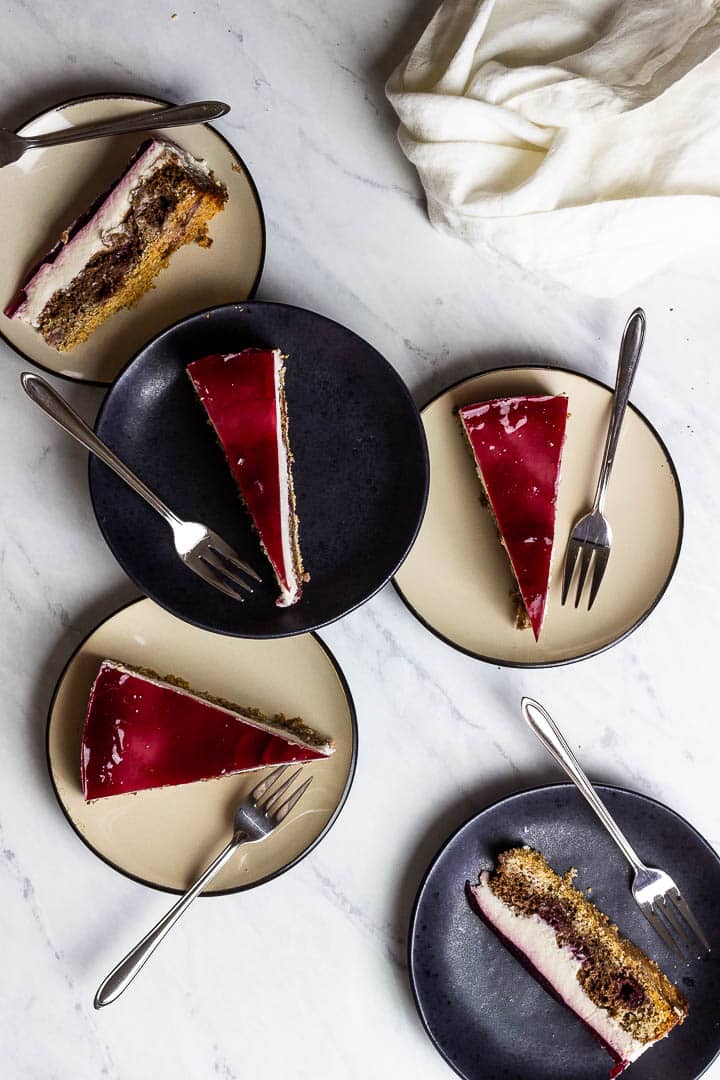 What makes this vegan chocolate cherry cheesecake (Snow White Cake) so special?
This Snow White cake will not let you miss the original and the healthy cake is:
creamy

tender

refreshing

easy

wholesome
Which other vegan cakes would I like?