Vegan Vanille Kipferl - this vegan Vanilla Crescent Cookie recipe without margarine or oil will not let you miss the classic Kipferl recipe with butter. Vanilla kipferl with vanilla sugar dust, are one of the classic Christmas cookies from Germany and Austria and I would like to share this healthier version with nuts and nut butter. What is Christmas & Advent time without home-baked cookies, which certainly will not last until Christmas. They don't just have amazing vanilla flavor, they are also mellow like the traditional vanilla crescents.
vegan | vegetarian | free | oil-free | dairy-free | without butter | wholesome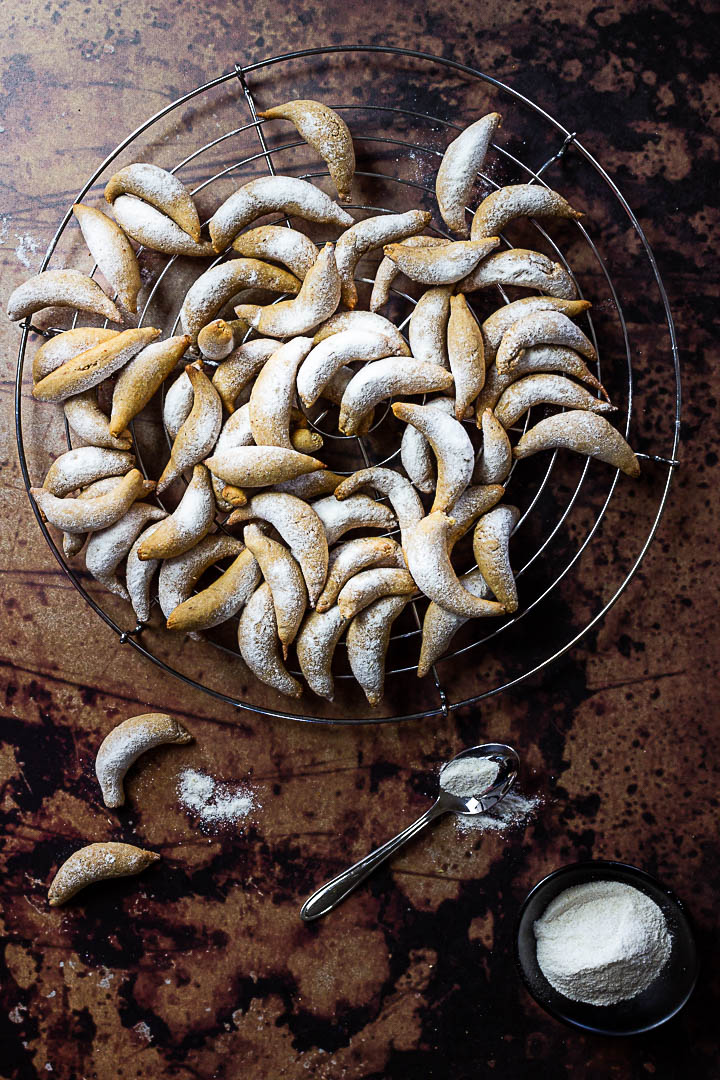 I always try to create a healthier version of classic recipes. Of particular importance to me is replacing the "empty" calories of high-processed oil with healthier fats.
In addition to cinnamon waffle cookies, shortbread biscuits, gingerbread, anise cookies (recipe in my free collection), Vanille Kipferl are a must for Christmas. I know there are tons of delicious Christmas cookies and my goal is to gradually supply you with different recipes like Linzer cookies.
Vanillekipferl are super easy to veganize, because the original recipe also contains no eggs. In the end, only the butter must be replaced and you get one of the best and easiest cookies for a delicious Christmas treat.

How best to dust the vanilla kipferl with vanilla sugar?
I advise you to dust the vanilla kipferl with a sieve and fine vanilla icing sugar. Simply grind the vanilla sugar with a little tapioca starch until you get powdered sugar. If you try to roll the vanilla crescents in sugar, they may break. And we do not want that, right?!
Which ingredients do you need?
You really do not need many ingredients to bake these vanilla Kipferl. Maybe you have some ingredients already in your pantry.
Hazelnut or almond flour

Flour (whole spelt flour, for example)

Raw cane sugar or coconut sugar

Maple syrup

Almond butter or cashew butter (coconut oil would also work for those who do not omit oil)

Almond milk

Vanilla bean or vanilla extract
To sprinkle:
Vanilla sugar

Tapioca starch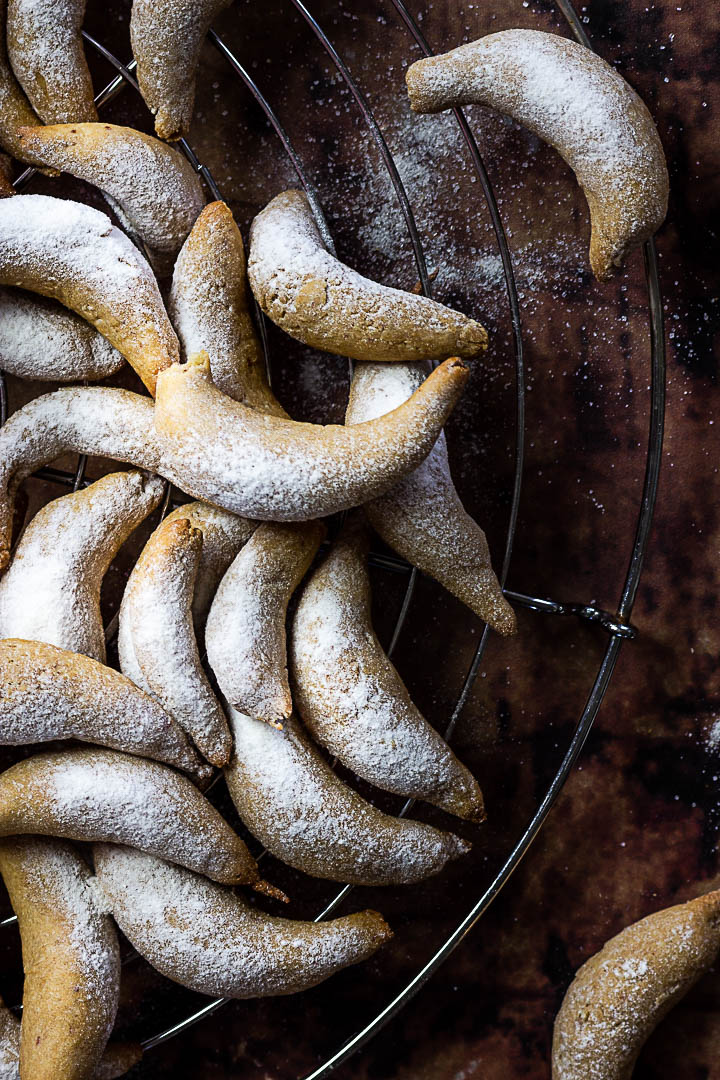 How do you prepare these delicious vegan Christmas cookies?
First, you knead all ingredients except the almond milk to a crumbly dough. If it is too dry, add some almond milk or nut butter. Please make sure that the vanilla crescent cookies are more like crumbs in consistency. It should be crumbly and not a firm, firm dough.
Now let the dough rest for 30 minutes covered in the fridge. Remove the dough and divide the dough into about 3 equal pieces. Roll each of the dough pieces into a round strips about as thick as a thumb. Now cut the stip into 1.5" (4 cm) long pieces. The 1.5" pieces you form into crescents and try to make them slightly pointy.
Place the moons on a baking tray and bake in a preheated oven at 350°F (175°C) for about 10-13 minutes.
While they bake, grind the vanilla sugar with the tapioca starch to a fine powdered sugar. Take the finished vanilla kipferl out of the oven and sprinkle it directly with the powdered sugar. Use a hair sieve to help.
Allow the vanilla crescents to cool completely.
How do you make vanilla sugar yourself?
Take the desired sugar (I like to take raw cane sugar or coconut sugar) and then add the vanilla bean. I cut the vanilla bean open and scratch it out. You can now use the vanilla for other recipes or put it in the sugar.
Leave the vanilla pod with ½ cup (100g) sugar in a sealed glass for about 10 days. Shake the jar every other day.After that you can grind the sugar with the vanilla pod.
Of course, you can use store-bought vanilla sugar. I personally prefer the "real" vanilla taste.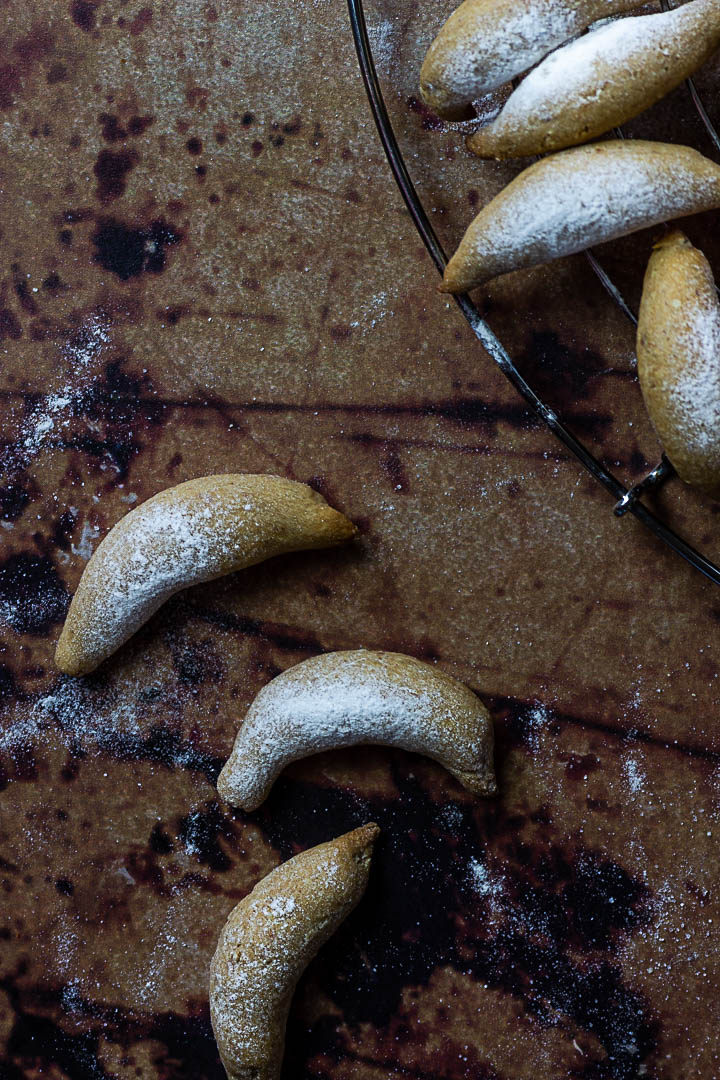 Shortcrust pastry for vegan vanilla kipferl without oil - how does it work?
It's not as complicated as you might think. We know that half of a short crust pastry usually consists of butter. So shortcrust pastry needs fat so that afterwards it will also be pretty crumbly.
And we do not want fat-free cookies, but simply oil-free cookies that contain more nutrients than the highly processed oil. Now we just have to think about how to get the fat into the cookies.
Maybe you know that nuts are full of fats and they are generally healthy fats. And we take advantage of this property here. We will replace some of the margarine with nut butter and a portion of the flour with ground nuts so that the dough does not become too dry and still contains the great properties of a shortcrust pastry.
Of course you could use coconut oil or margarine instead of nut butter, that's up to you.
Personally, I always try to prepare a healthier option, which we can snack on without hesitation. If you have more questions in this regard, I look forward to reading from you in the comments.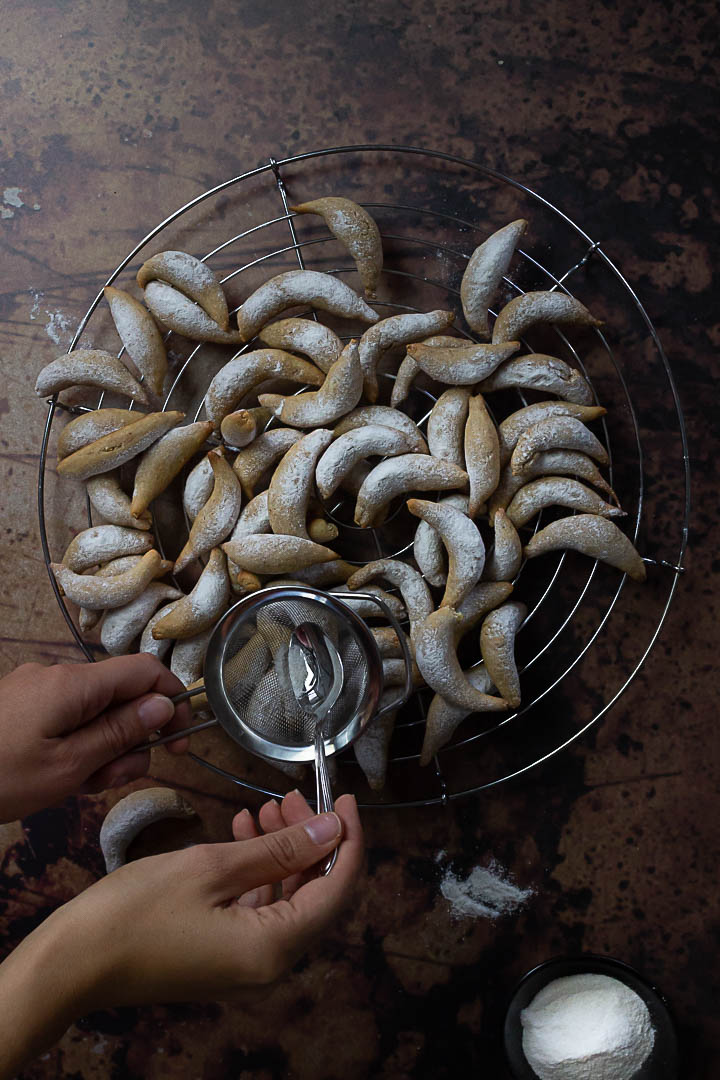 Where do vanilla kipferl come from?
Vanilla kipferl come from Austria, but they are now also a solid tradition in Germany. There are different recipes for this vanilla kipfer. Some even have eggs, although the "original recipe" contains none.
And in Vanillekipferl it is a shortcrust pastry and if you have ever baked crumb cake, you know that you do not need eggs for a crumb dough, right?
How can you store the vanilla kipferl?
In a cookie jar, these vanilla crescent cookies last a few weeks. But they often do not get that old with us, especially with two little cookie monsters at home, who look for food non-stop. You can also freeze the raw dough and then defrost overnight in the refrigerator and shape and bake as usual the next day.

Tips to bake vanilla kipferl:
It is important that you do not replace hazelnuts or almonds with grains. Shortcrust pastries require a relatively high fat content and nuts are naturally rich in many healthy fats.

The same goes for nut butter, you may like to use coconut oil, if you do not omit oil.

Let your dough rest in the fridge before you process it.

Do not make the vanilla crescents too thin, they break easily when the cookies are too thin.

Do not bake the biscuits too long, usually 10 minutes should be enough time

Sprinkle it directly with the sugar after you have taken them out of the oven. So the sugar sticks nicely to the cookies.
More vegan Cookie Recipes and more:
Do not forget to Pin on Pinterest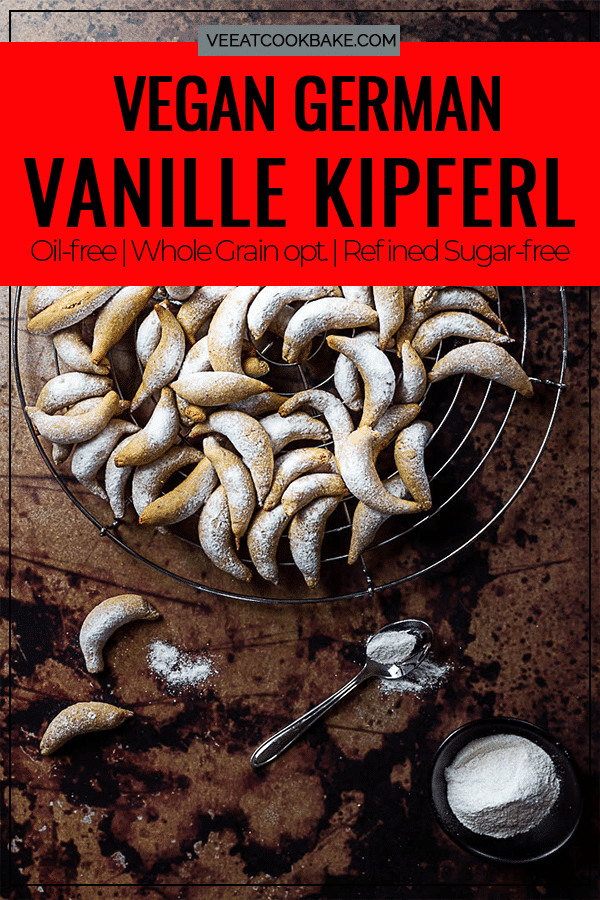 Have you tried the recipe?
If you tried the vegan Vanille Kipferl Cookies, be so nice ♥ and let me know by rating the recipe and writing what you think about it in the comments. Tag me on Instagram too. I am @veeatcookbake and my hashtag is #veeatcookbake. So that I can see your creation. Did you know you can add photos on Pinterest under the recipe Pin? I can't wait to see a photo of your creation there. You find me with @veeatcookbake. I also would love to hear your feedback so I can share it on my social media channels.

This post may contains affiliate links and I may receive a very small commission if you buy through these links at no extra cost. Thank you very much for supporting Ve Eat Cook Bake! More information can be found here.
---