Have you ever drank homemade hot lemonade? This sugar-free hot lemon water recipe takes the classic lemonade to the next level.
If you love lemonades, then you should definitely try this winter lemonade variant, which has a great winter taste of ginger, cinnamon, star anise and vanilla with a hint of mandarins. Instead of reaching for mulled wine, try this hot lemonade.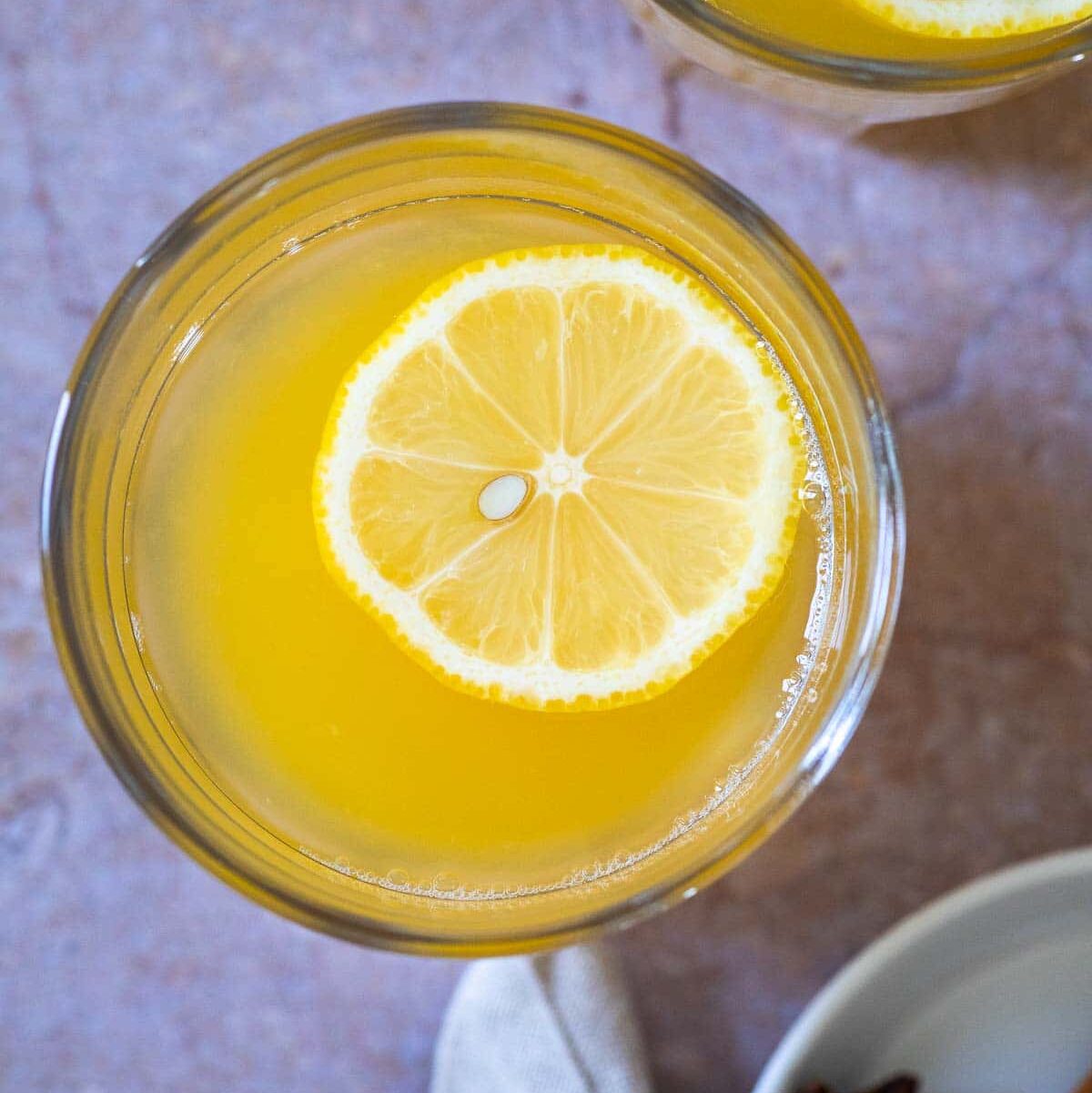 As an Amazon Associate, I earn from qualifying purchases. This post may contain affiliate links. Read More
Jump to:
Who says you only drink hot lemon water when you have a cold? We all know that hot lemon is a miracle cure for a cold thanks to its high vitamin C content. And let us bring a classic lemon water to the next level and make a sugar free lemonade. If you try this warm lemonade, you will see that it is perfect for winter.
Lemon ginger (detox drink) is a great alternative to lemonade that you can also enjoy on cold winter days.
Have you heard of winter lemonade? In the end, this hot lemon is nothing more than a warming homemade lemonade with all the flavors of winter.
Thanks to the mandarins, which have an incredibly great sweetening power, we don't even have to use honey for our vegan hot lemon water. Instead, you can sweeten with maple syrup as needed.
Here I would like to show you how you can make a vegan hot lemonade with great winter flavors.
Ingredients
Let's take a look at exactly which ingredients are in this hot lemon. You can find the exact quantities below in the recipe card.
Freshly Squeezed Lemon Juice
Maple Syrup (op)
Water
Mandarin Juice
Star Anise
Ginger
Cinnamon
Vanilla Extract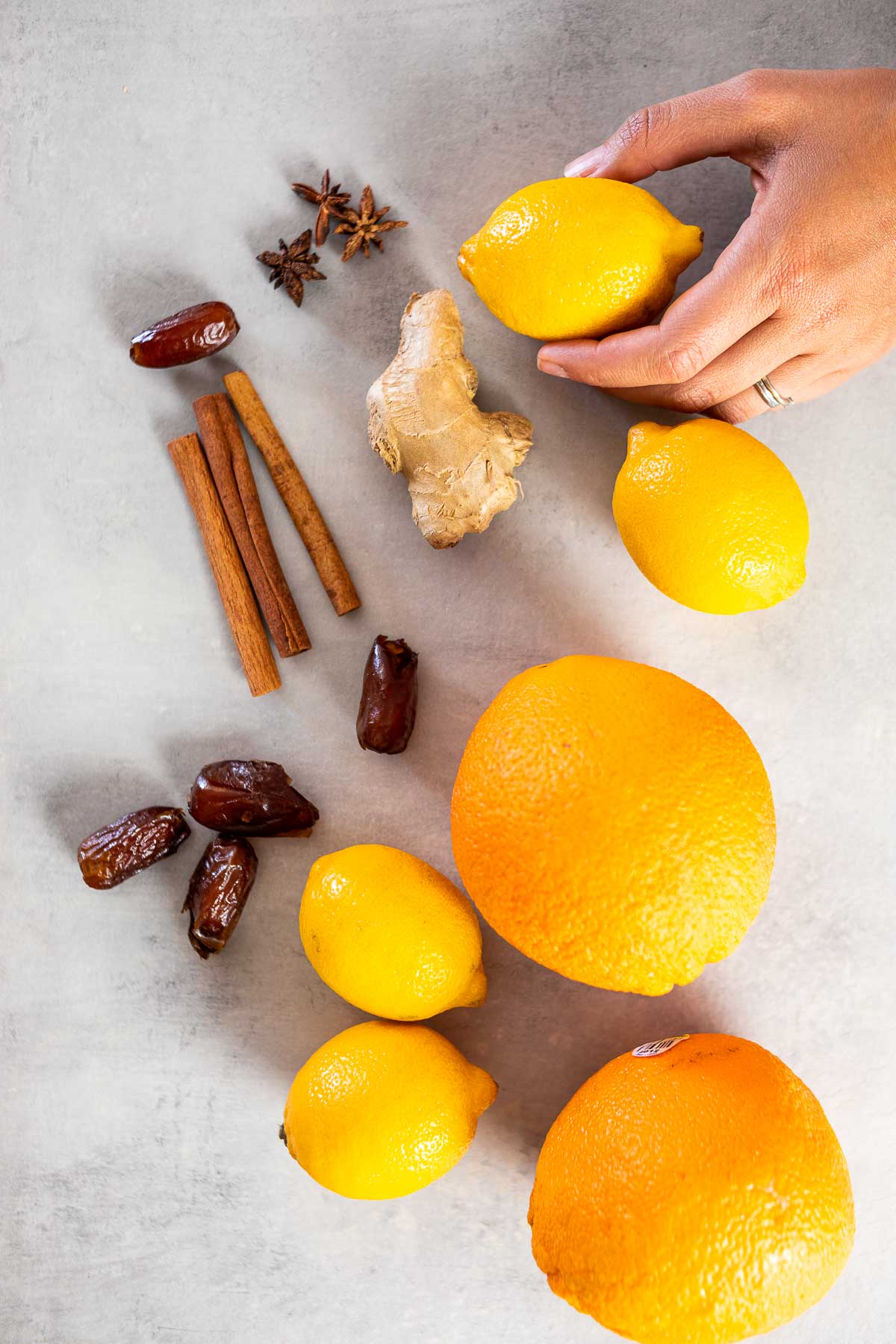 Alternative
Now we know what's in the hot lemonade. Now let's see how we can exchange certain ingredients.
Lemon Juice
Instead of lemon, you can also use lime. So you can make a limeade instead of a lemonade for your next lemon water.
Maple Syrup
The maple syrup is optional and you can add it if the hot lemon is not sweet enough for you. If you want to use a different sweetener now, you can also use date syrup or coconut sugar.
Mandarin Juice
If you don't have tangerines to squeeze yourself, you can use orange juice.
Star anise, ginger, cinnamon
Here you can adjust the spices to your own taste.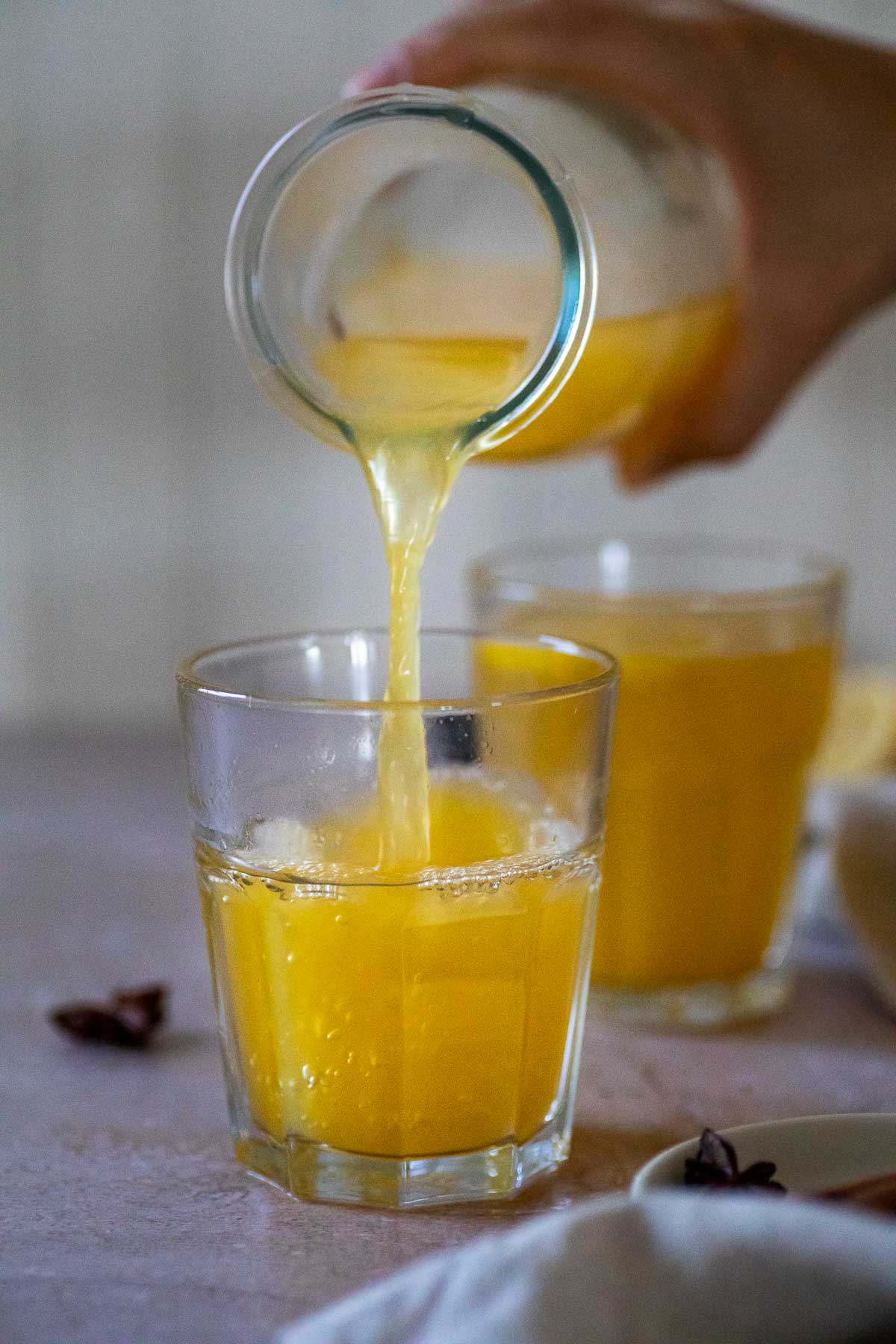 Variations
Now let's take a look at how we can adapt the hot lemon to different diets.
Gluten free
Hot lemonade is naturally gluten-free. You don't have to adjust anything with this hot winter drink.
Sugar free
Thanks to the tangerine juice, there is no need to use refined sugar. You can, however, use other sweeteners if the hot drink is not sweet enough for you.
Keto and Paleo
This hot lemon is keto and paleo friendly. Depending on if you want to use a sweetener, you can use your favorite sweetener.
Instruction
Start to squeeze the lemons and heat 250 ml lemon juice with 250 ml water, star anise, cinnamon sticks and pieces of ginger. Don't bring it to a boil, it should just be warm enough for the spice flavors to pass into the lemon.
Let it sit for about 10 minutes. Remove the spice from the lemon water. Now add the pressed mandarin juice and the vanilla extract and dilute the hot lemon with about 500 ml of water or more. And warm it up again briefly.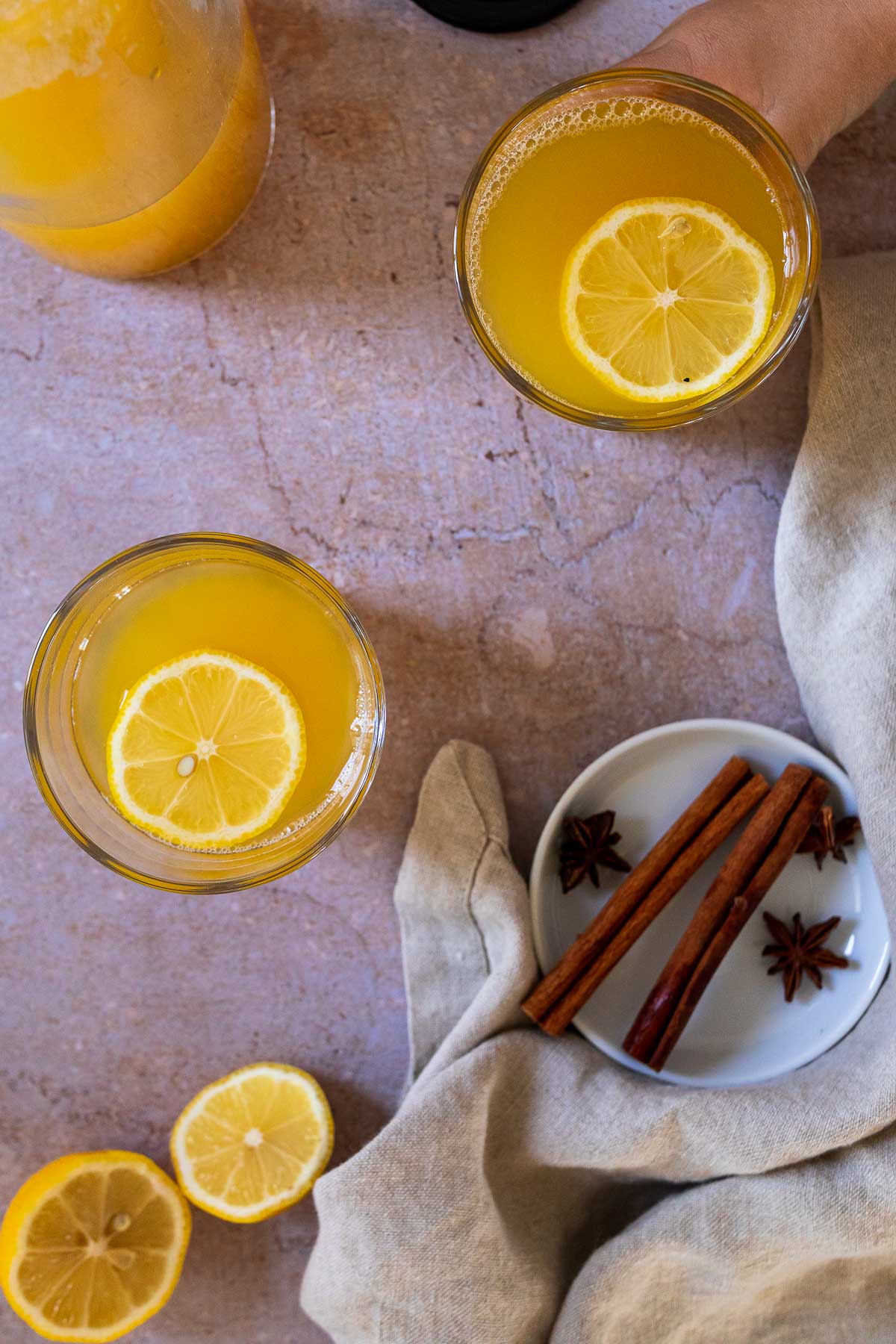 Storage
You made more hot lemonade than you can drink. You can keep this winter drink in the refrigerator. And just warm it up to drink.
You can also drink the hot lemon water cold as a lemonade.
Tips
Prepare the hot lemon in large quantities and drink it throughout the week.
Instead of tangerine juice, use e.g. Passion fruit juice or any other fruit juice you like.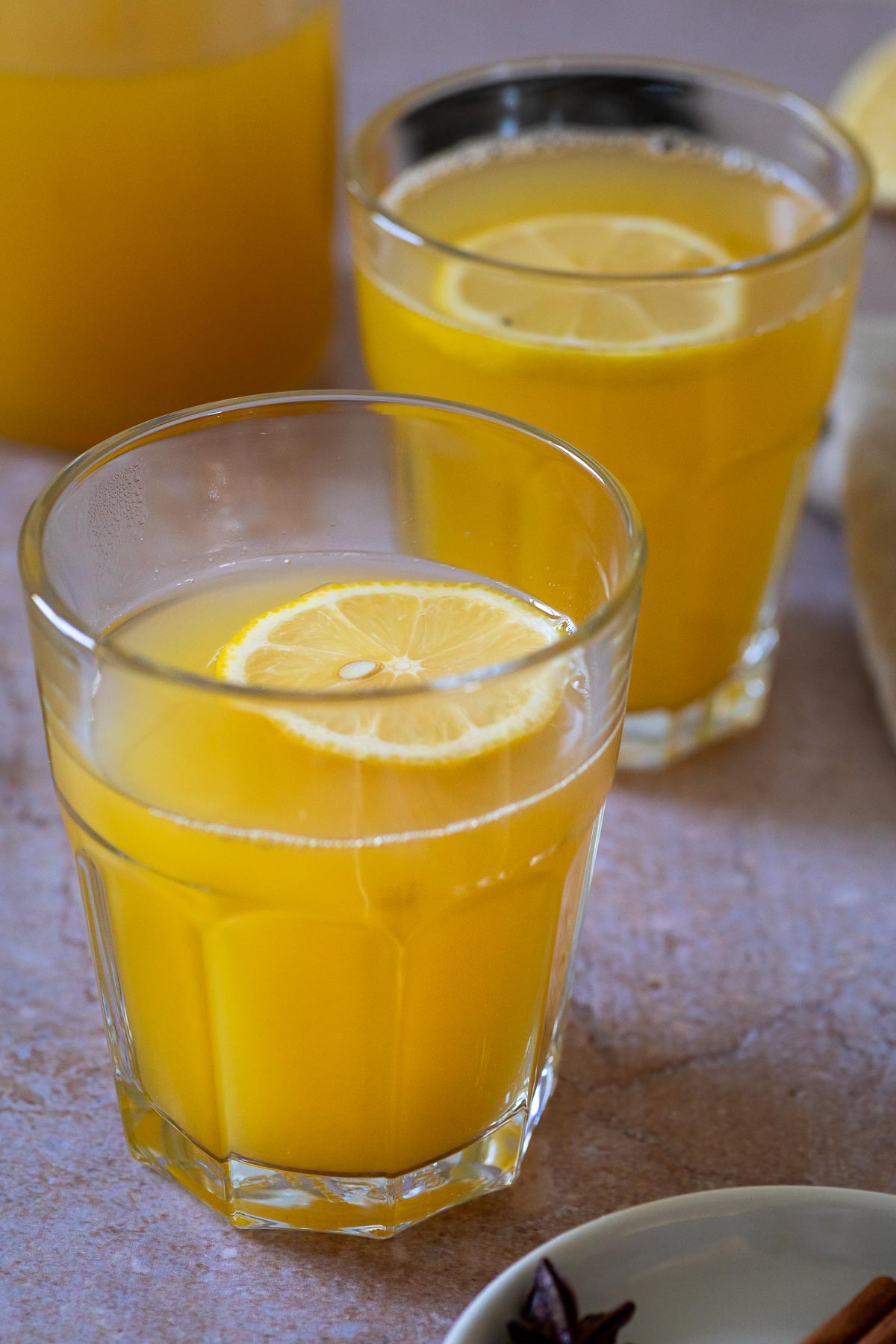 Mehr vegan Drink Recipes: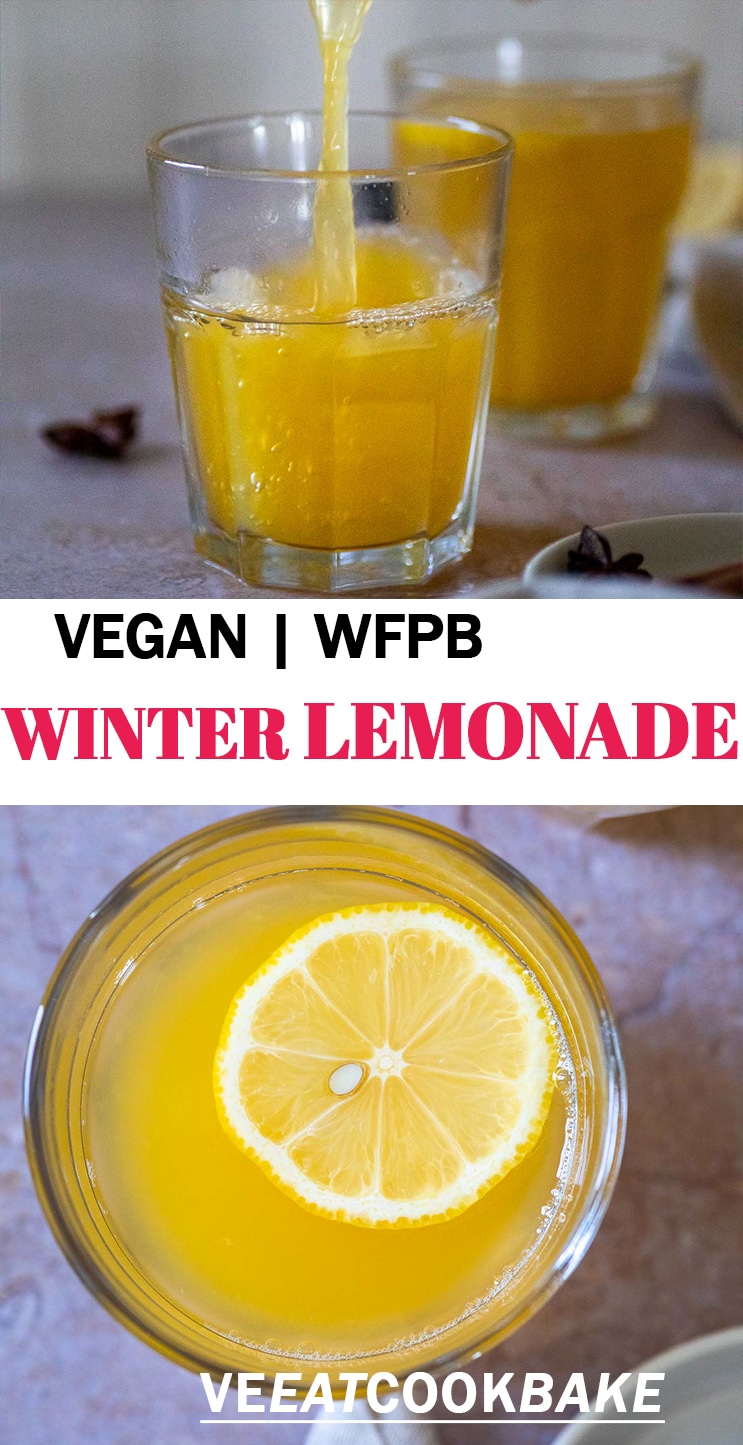 Have you tred the recip
If you tried the vegan Recipebe so nice ♥ and let me knw byrating the recipe and writing what you think about it in the comments.  I would love to see your photo on Instagram orFacebook. To do this tag me with @veeatcookbake andmy hashtag is #veeatcookbake. So that I can see your creation. Did you know you can add photos n Pinterest under the recipe Pin? I can't wait to see a photo of your creation here. You find me with @veeatcookbake