Vegan Cherry Vanilla Custard Chocolate Cake, also known as German Donauwelle - this classic cake from Germany is super easy to bake in vegan. The sheet cake made from a vanilla and chocolate sponge batter with cherries that create a wave pattern when baked, covered with a vanilla "butter"cream and chocolate icing is the perfect cake for dessert or for the afternoon table with a cup of coffee or tea. This delicious airy Cherry Vanilla Custard Cake, sometimes even known as Snow White Cake, is also popular at birthday parties.
vegan | vegetarian | healthy | egg-free | dairy-free | lactose-free | wholesome | wfpb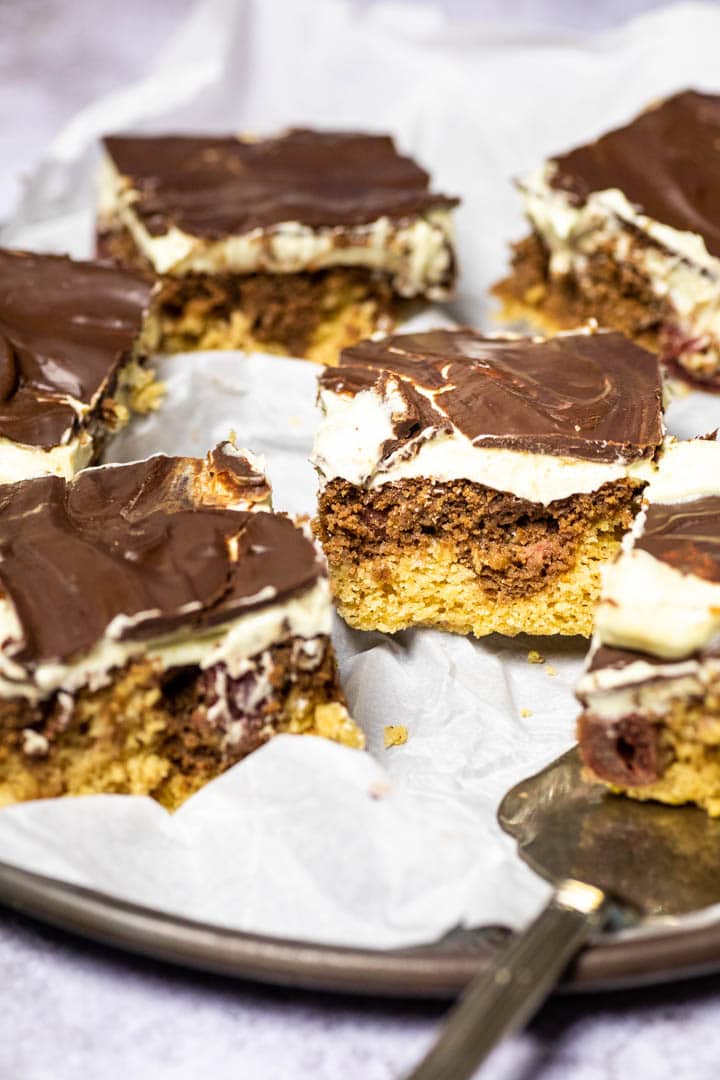 My grandmother and my mom used to bake a Cherry Vanilla Custard Chocolate Cake. And I have so many childhood memories with this cake. That is why I wanted to create a vegan version of such a traditional cake.
The vegan Donauwelle is a sheet cake and therefore this cake is ideal if you expect several people, e.g. at a birthday party.
Prepare the cake as a dessert if you fancy something sweet, or prepare it as a snack and eat it at coffee and cake time.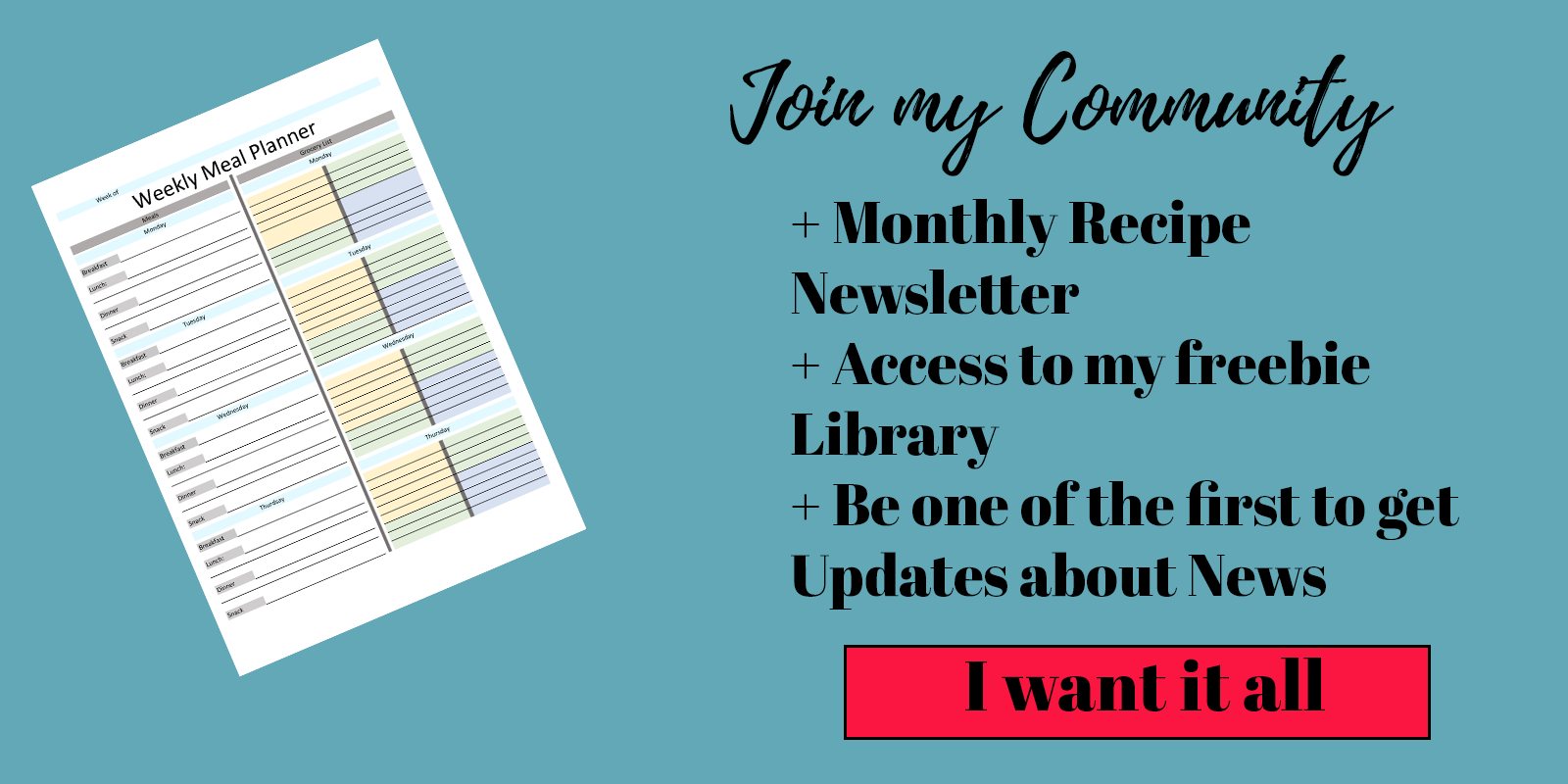 What are Donauwellen?
The Donauwelle is a sheet cake made from batter. Donauwelle means: Danube the river and Welle means waves. A light vanilla dough and a dark chocolate dough, as well as cherries, butter cream and coated with a chocolate glaze. The cherries are pressed lightly into the dough and this creates waves during baking, which are intended to indicate the waves of the Danube.
The chocolate glaze can be decorated in a wave-like manner as well.
Where do Donauwellen come from?
Unfortunately, I could not make out any exact details, but the cake is said to have been invented in a city that has a connection to the Danube. A baker tried this cake and then named it because of the optical waves after the Danube.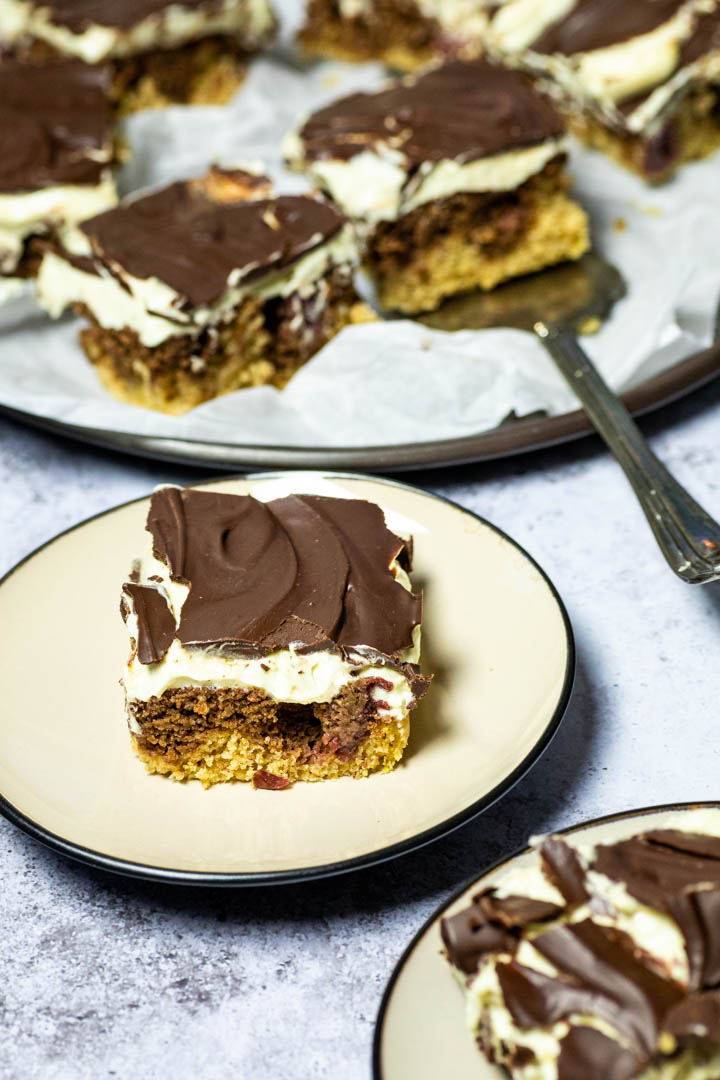 What ingredients do I need for the vegan Cherry Vanilla Custard Chocolate Cake?
Cashew butter or almond butter
Almond milk
Sweetener (raw cane sugar, coconut sugar, dates or apricots, pureed and dried)
Potato starch
Vanilla extract
Flour
Almond flour or ground almonds, finely blanched
Baking powder
Sparkling water
Milk
Cherries
Pudding cream:
Milk
Sugar
Food starch
Turmeric
Vanilla extract
Coconut milk (solid part)
Chocolate Glaze:
Dark chocolate
Almond Butter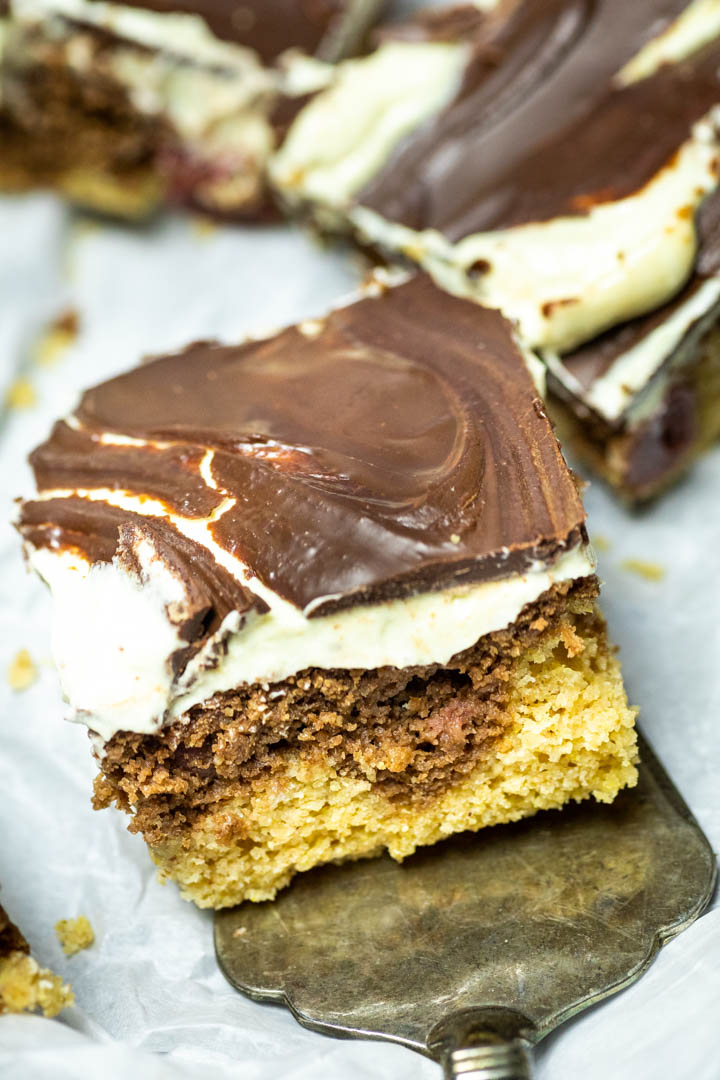 Which cherries to use?
For the cake, you can take frozen cherries or cherries out of the glass. If you use frozen ones, let them thaw and drain beforehand.
How is a vegan Donauwelle prepared?
Preheat the oven to 350°F (175°C).
First you mix the moist ingredients such as almond butter (cashew butter), almond milk, vanilla extract, and sweetener until creamy.
Mix the dry ingredients together and add the wet ingredients to the dry ingredients while stirring. Add sparkling water slowly and stir until you get a smooth batter.
Now prepare a baking sheet or a large baking dish. I use baking paper for this. Now put half of the batter into the mold. And stir the cocoa powder into the remaining dough. Now pour the chocolate batter into the light batter and spread it evenly.
Now take the cherries and distribute them evenly in the form. Do not place them too close to each other, so that waves can also arise during baking.
Now bake the dough in the oven for about 25 minutes.
Pudding cream:
Cook the custard with the almond milk, sweetener, cornstarch, and vanilla extract. Put the pudding in a bowl and cover it airtight, e.g. a cling film, and let it cool down to room temperature.
When the pudding has cooled, take the solid part of the coconut milk and stir it until creamy. Now slowly put the cooled pudding under the coconut cream.
Spread the cream on the cooled cake and let the cream set. I place the cake in the fridge.
Chocolate Glaze:
For this I melt the chocolate and almond butter in a water bath and then spread it on the firm cream.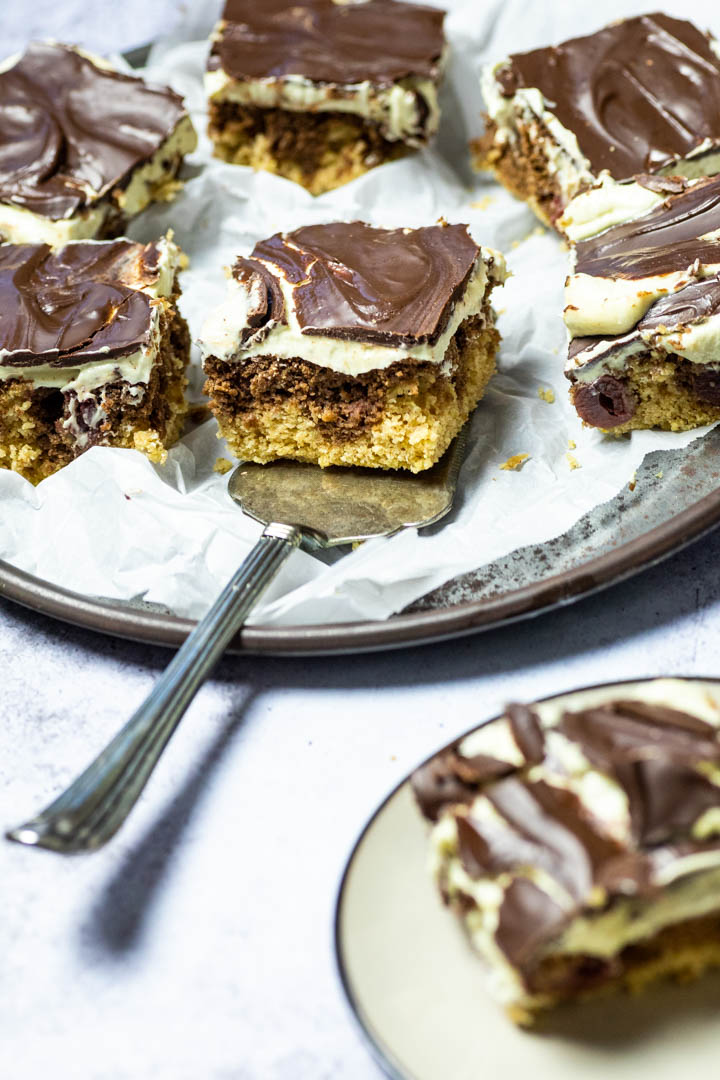 How do I keep leftovers of the vegan Donauwelle?
Do you still have leftovers from the vegan Cherry Cake? No problem. Store the rest in the refrigerator in a container for up to 3 days.
Or freeze the Donauwelle in pieces. When you want some, thaw the cake in the refrigerator. The Danube waves stay in the freezer for about 3 months.
More vegan Cake Recipes:
Do not forget to Pin on Pinterest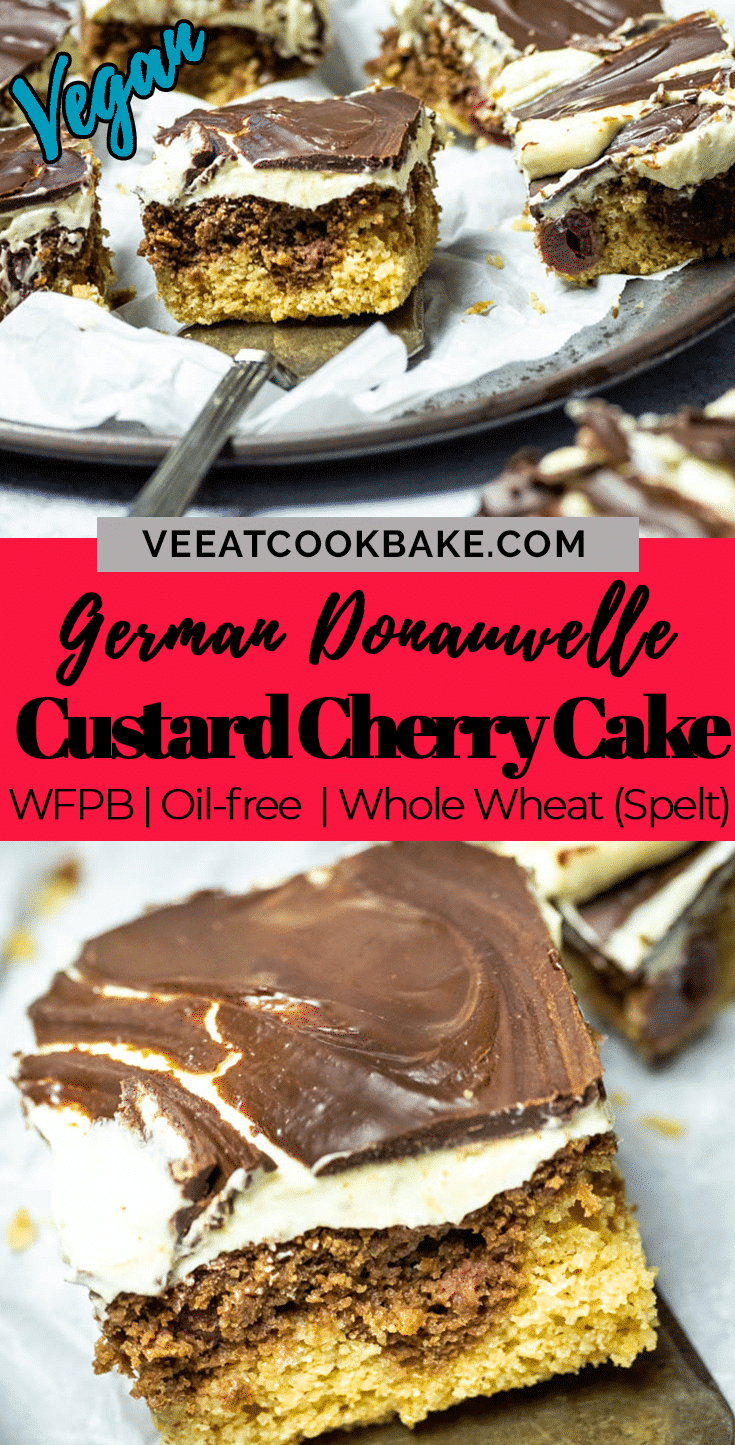 Have you tried the recipe?
If you tried the vegan Cake, be so nice ♥ and let me know by rating the recipe and writing what you think about it in the comments. Tag me on Instagram too. I am @veeatcookbake and my hashtag is #veeatcookbake. So that I can see your creation. Did you know you can add photos on Pinterest under the recipe Pin? I can't wait to see a photo of your creation there. You find me with @veeatcookbake. I also would love to hear your feedback, so I can share it on my social media channels.

This post may contains affiliate links and I may receive a very small commission if you buy through these links at no extra cost. Thank you very much for supporting Ve Eat Cook Bake! More information can be found here.
---