This post is also available in: Deutsch
*As an Amazon Associate, I earn from qualifying purchases. This post may contain affiliate links. That means if you click and buy, I may receive a small commission. Please see my full policy.*
Vegan smoked salmon aka carrot lox – a great alternative for the original version and has an amazing smoked flavor. It is made with natural ingredients and the texture of the vegan smoked salmon is like the real deal. gluten free | clean | whole foods | plant based | egg free | dairy free | soy free | nut free

How does the vegan smoked salmon ( carrot lox) gets its taste
The vegan smoked salmon (carrot lox) gets its special taste with the help of the Kelp powders. In the recipe, I'll show you where to buy the powder. Theoretically, you could also leave this out, but I would not recommend it. The Kelp powder gives the that certain something to the vegan smoked salmon (carrot lox), a kind of fishy taste.
Uses for the vegan smoked salmon (carrot lox)
Actually you can use it as you would use the original. We love using in Pasta / Gnocchi Recipes like in the Gnocchis with faux Gorgonzola Sauce  or just like on these photos on bread.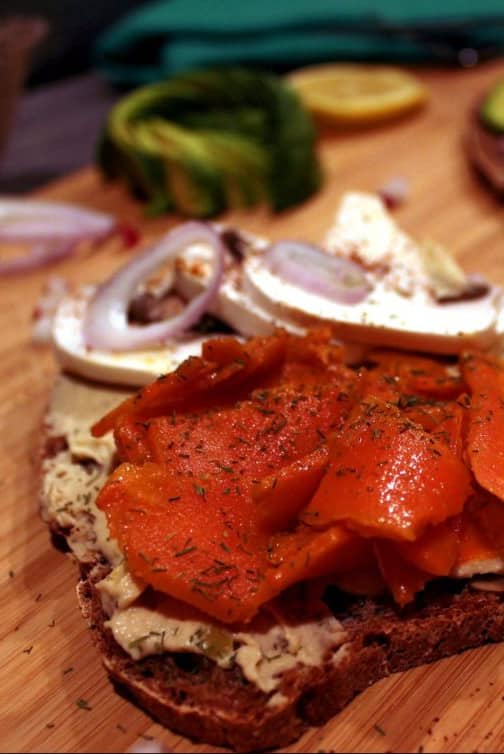 Other carrot recipes are:
---
Did you try the recipe?
If you did it, be so nice ♥ and let me know by rating the recipe and writing what you think about it. Tag me on Instagram too. I am @veeatcookbake and my hashtag is #veeatcomforts. So that I can see your creation. Did you know you can add photos on Pinterest under the recipe Pin? I can't wait to see a photo of your creation there. You find me with VeeatCookBake.
---
Smoked carrots (vegan smoked salmon)
This vegan smoked salmon does not only taste great on bread. You can also use this to creamy sauces. There are no limitations to your fantasy
Cuisine:
vegan, plantbased, oilfree
Ingredients
6 carrots (I take the thickest ones I have, otherwise the double amount)
2 tbsp vegetable broth
2 tsp liquid smoke
½ teaspoon Kelp powder
1 tsp salt
2 tsp apple cider vinegar
possibly Dill
Instructions
First, the carrots are steamed with skin. Take a sharp knife and stab in the carrots, so you can feel if they are soft.
Meanwhile, put the remaining ingredients in a container with a lid, big enough for all the carrots.
When the carrots ar soft enough scrape the skin off with a knife, it should be easy.
Now you take a peeler and cut thin strips until the carrots are completely in strips. It does not matter if it is shorter and longer pieces.
Now add the carrots to the spice mixture and stir vigorously.
That's it 🙂
However, I like to let them stand overnight, so they get really the taste.
You can springle the carrots with dill before you serve them.
Must haves:
For Pinning: