This heartier, more filling easy red lentil dahl is not only vegan but also oil-free and gluten free and made with pantry staples!
It's super easy to make in one pot so you'll never have trouble finding time for dinner. This healthy Masoor Dal recipe can be on your table within 30 minutes - meaning it makes an ideal weeknight meal when preparing ahead or freezing beforehand (greater convenience).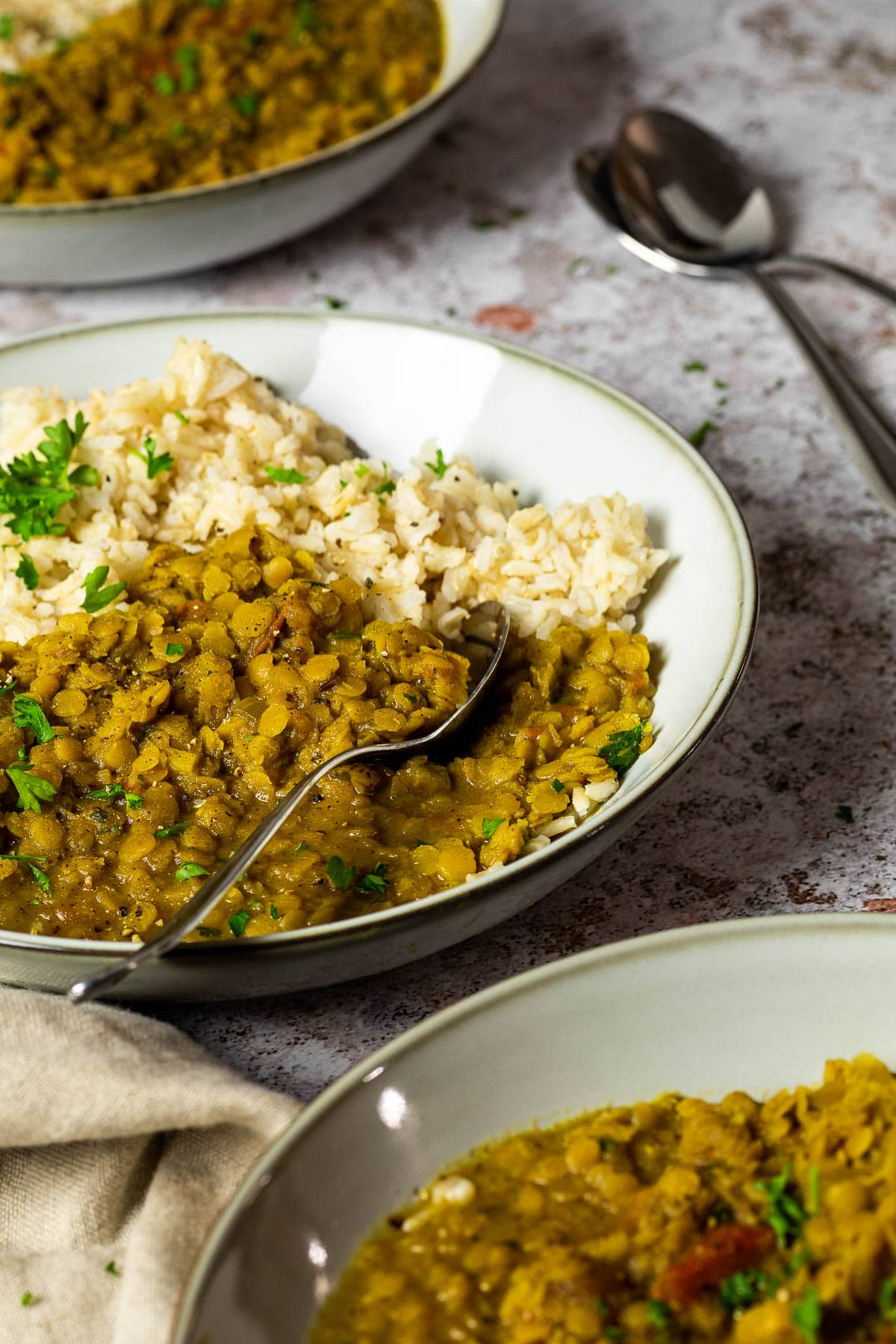 As an Amazon Associate, I earn from qualifying purchases. This post may contain affiliate links. Read More
Jump to:
I created this inspired indian dal because I love the spices from Indian cuisine. There are many delicious dishes and many are quick to prepare.
What is dahl?
Dal, also sometimes spelled Dahl or Daal is a dish from is an indian food you will also find in the Pakistani cuisine.
This dish is usually made from legumes such as chickpea lentils, beans or peas.
Due to the long cooking time, the legumes boil to a puree that is then well seasoned with curry powder. A dal can be served as a main course or as a side dish or starter.
Ingredients
Let's take a look at the ingredients that go into this red lentil dal recipe. You can find the exact quantities below in the recipe card.
Split or Whole Dry Red Lentils
 Ginger
 Onion
 Fresh Garlic
 Chilli Powder
Cumin Seeds
 Garam Masala Spice
 Mustard Seeds
White Pepper
Ground Coriander
 Turmeric Powder
 Vegetable Broth
 Small Diced Tomatoes, cannned
Brown Rice (I love Basmati Brown Rice)
Garnish
Fresh Cilantro or fresh Parsley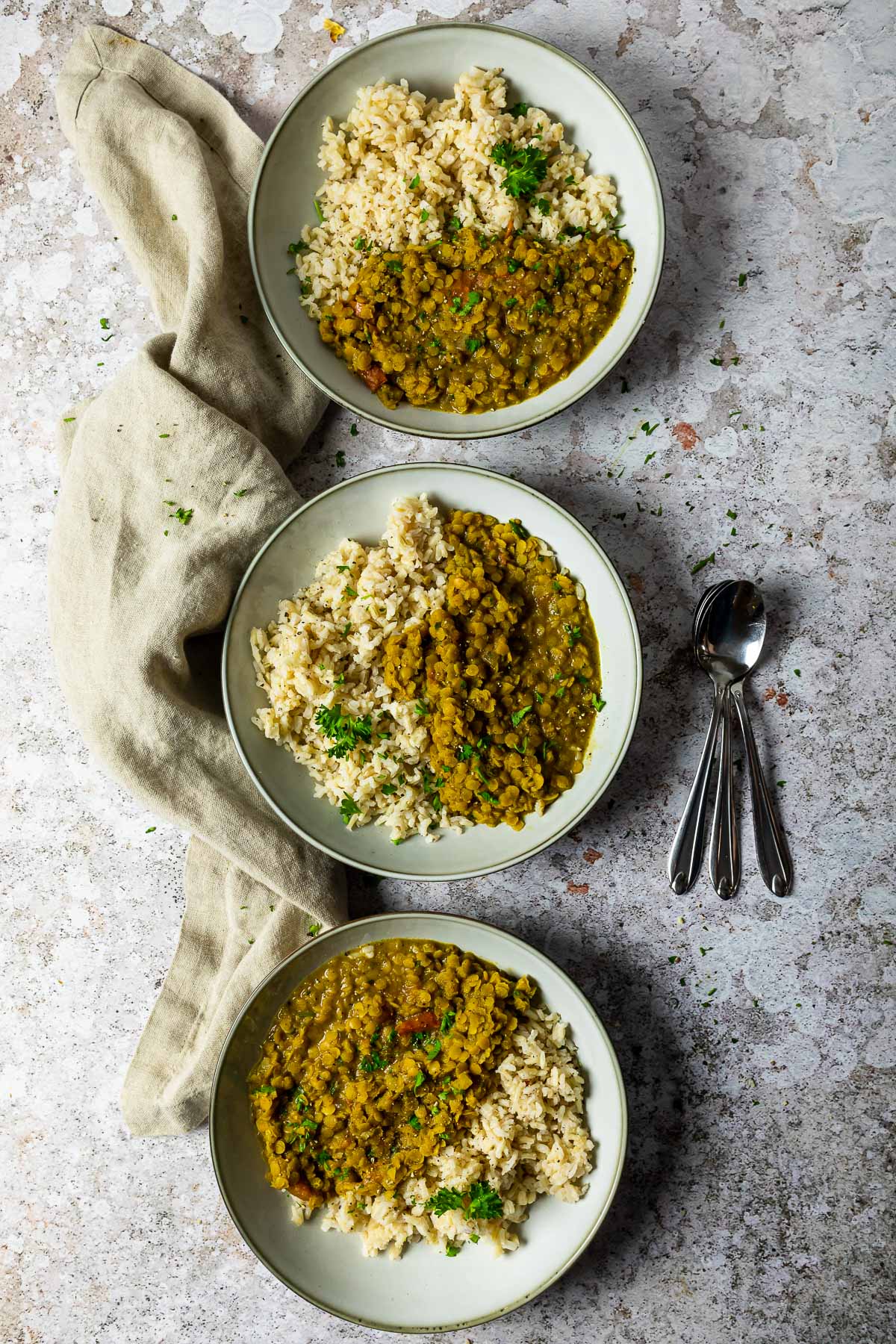 Substitutions
Here you can see how you can replace which ingredients. There are not many substitutes because this red lentil dahl does not consist of many foods.
Red Lentils
Are you wondering the kind of lentil you can use?
 As the name of the dish suggests, the red lentil dal consists mainly of red split lentils.
Red lentils are usually split. If you don't want to use lentils, I can imagine that yellow split peas can taste good here. I think brown lentils would not work as good.
With these, however, the cooking time is extended to 1 hour.
White Pepper
Instead of white pepper, you can use black pepper as well. I love the milder white pepper to add to recipes.
Tomatoes
If you do not want to use canned tomatoes, you can also use fresh tomatoes. I would use 1-1.5 cup diced tomatoes for this indian curry.
Ginger
You can either use ginger powder or fresh ginger. I prefer fresh minced ginger.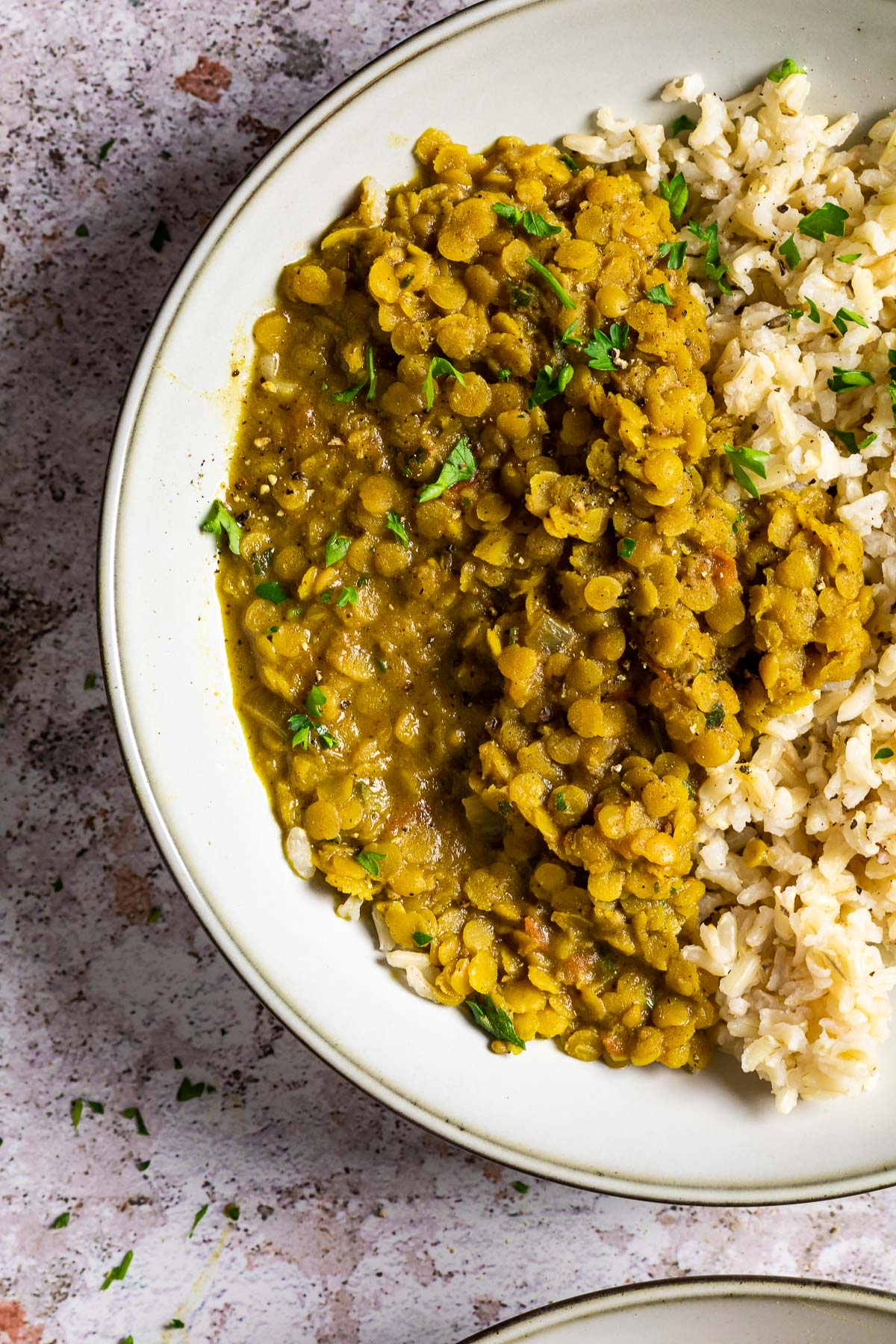 Variations
I always offer to my recipes some kind of variations. You can add your own taste to this masoor dal tadka.
Lime
To use less salt and a great note to it, add some fresh lime juice.
Coconut Milk
Add a few tablespoon full-fat coconut milk to add some more creaminess. You can also use some sunflower seed cream.
Indian Flavors
Instead of Garam Masala you can add other Indian Flavors to add different flavors to this amazing red lentil stew.
Instruction 
This dish is very easy to prepare.
In a non-stick pan, sauté the diced onions and chopped garlic until translucent. If necessary, add 1-2 tablespoons of water repeatedly.
Add chili, ginger, cumin and garam masala, mustard seeds and fry briefly. Add the lentils and vegetable stock and bring to a boil.
Simmer on medium heat for about 15 minutes or until lentils are soft.
Add the tomatoes 10 minutes before the end of the cooking time.
Season the red lentil curry with sea salt and some pepper.
Arrange the lentils on four plates and serve with brown rice, cauliflower and homemade naan bread.
Instant Pot (Pressure Cooker)
 You can make this indian red lentil dal in an instant pot. To do this, sauté everything as in the instructions on sauté mode.
Add the veggie broth, lentils, tomatoes and then cook under high pressure for about 7-10 minutes. Then release the pressure and only season with salt and pepper.
Meal Prep
If you want, you can prepare this red lentil dal in advance.
Simply prepare everything for a few days. Awesome meal prep recipe!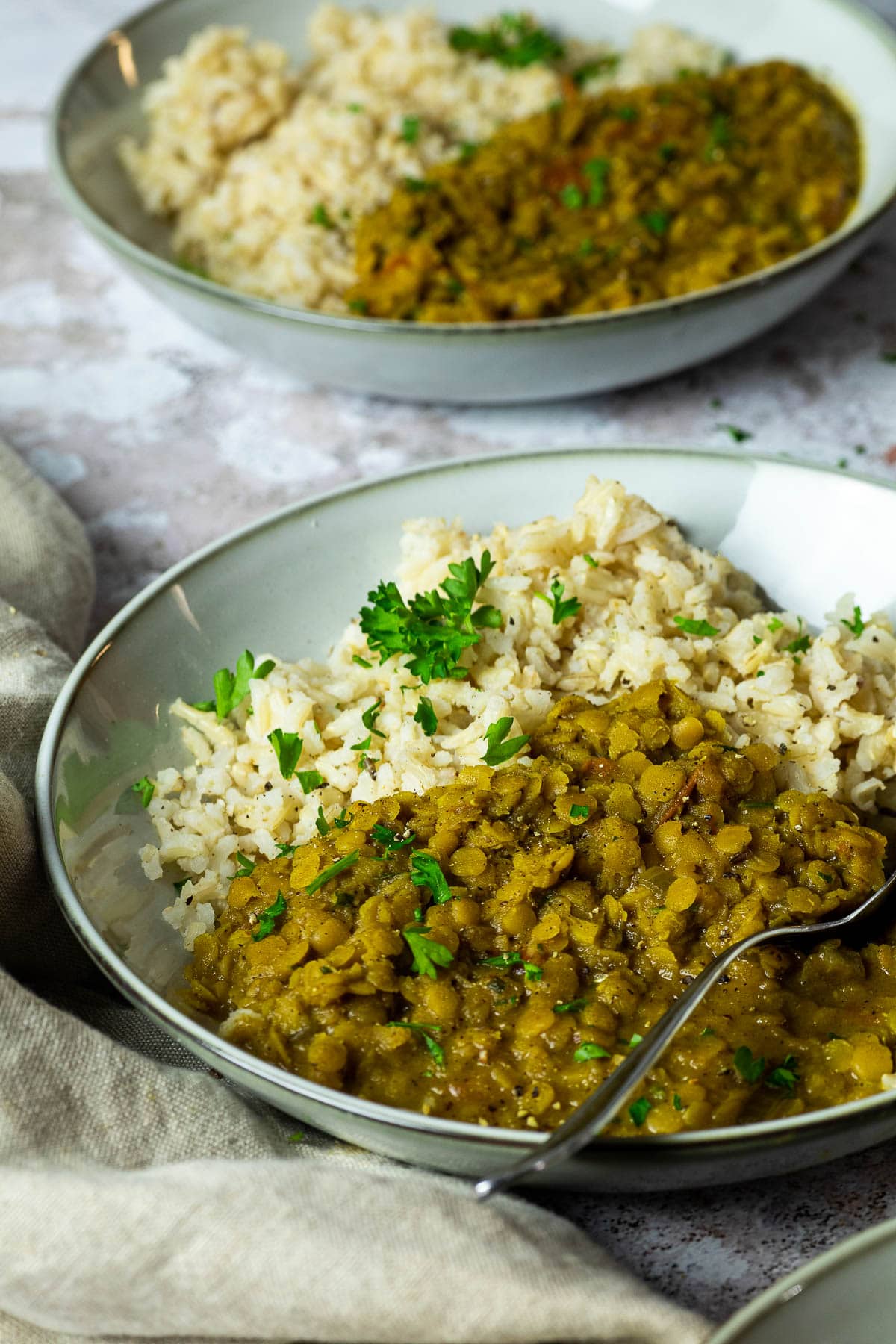 Storage
Do you have leftovers or have you prepared the lentil dahl in advance? It's easy to store.
How to refrigerate
The red lentil dahl can be stored in an airtight container in the refrigerator for about 4 days.
Simply put them in a pot or in the microwave to warm them up. Add a dash of water.
How to freeze
Freeze the red lentil dal in portions. Then you can always take out a portion and defrost and warm it up.
I always freeze it in 4-serving sizes.
The dahl will keep in the freezer for about 4-6 months.
Serving options
As already mentioned, you can serve the following with this staple dish.
rice
roasted cauliflower
indian bread like vegan naan bread 
bulgur
quinoa
spelt berries
Tips
In order to get a lot of aromas in this indian red lentil dahl, I recommend roasting the spices briefly before you add any liquid and lentils.
Add a little more vegetable stock for a soupy consistency.
If you add the coconut milk, make sure the dal is no longer boiling bubbly, but only simmers. Otherwise, the coconut milk may curdle.
To get a good taste, steam the onions vigorously until they get a nice brownish color. Make sure that the pan is already hot before you add the onions. This way the onions will caramelize easier without adding oil.
If you want it spicier, with more flavor, add a little more garam masala.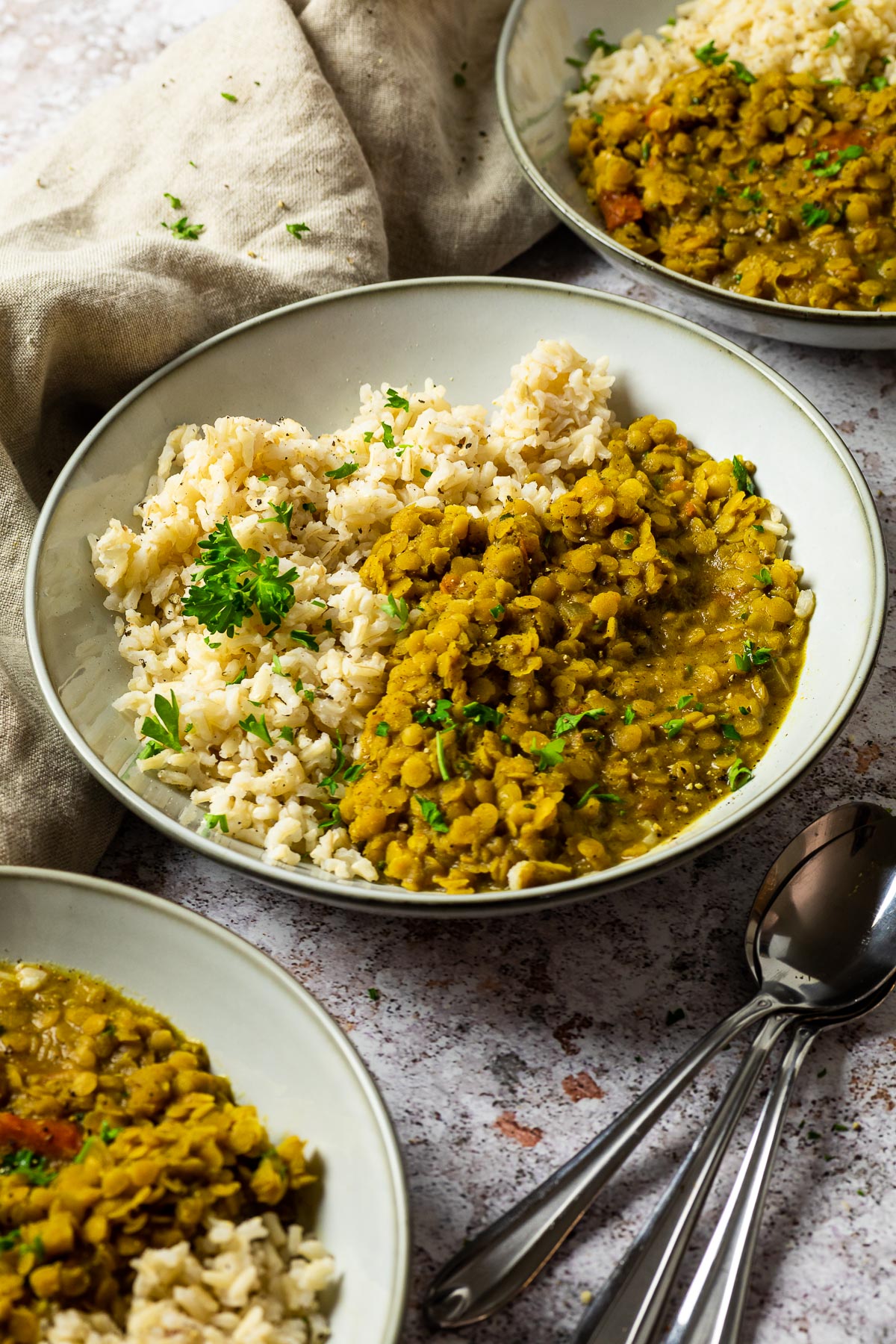 More Vegan Recipes