Vegan broccoli cheddar soup - a thick, rich soup that is long filling. Despite the preparation without cheese, this delicious, creamy soup is super cheesy and amazes everyone.
This gluten-free broccoli potato soup is based on cashews, potatoes and spices such as nutritional yeast and miso paste, which gives the cheese a good taste. You can use this broccoli cheese soup recipe easy peasy to make a nacho cheese.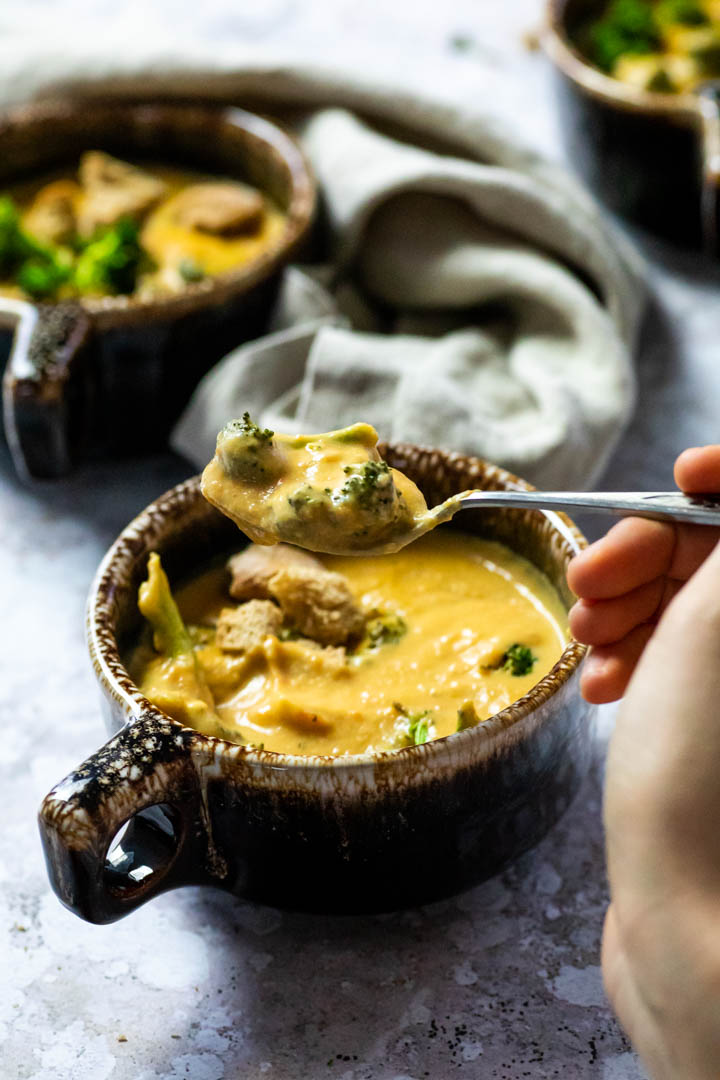 You should definitely give this soup a try. This soup tastes delicious and authentic. This broccoli cheddar soup, which is incredibly delicious, and if you don't know it, you won't suspect that this creamy soup is made entirely without cheese.
And the best soup is healthier than the cheese and dairy version.
You can prepare this soup for a quick dinner or serve it in large quantities at a party.
Have you maybe planned a birthday party and don't know what to serve? How about this broccoli cheese soup served in a bread bowl?
Those who love cheesy flavors will like, if not love, this soup, even if omnivores will be at your party.
Have you ever ate broccoli cheddar soup at Panera? And you always wanted to create a vegan version of this super delicious soup at home? Then you've found a recipe for a classic broccoli cheddar soup in vegan that Americans love.
I didn't want to veganize this soup just with store-bought vegan cheese. I wanted to create a healthier version without high processed foods like oil and I created this amazing soup recipe.
Broccoli and cheese are such a great combination and taste wonderful together. And we combine both in this soup. And the best thing is that you get a good portion of vegetables with it thanks to the carrots, potatoes and of course broccoli.
What ingredients do I need for a vegan broccoli cheese soup?
You don't need many ingredients for this soup and many that you will probably have in stock. Mostly, I only have to buy broccoli extra.
broccoli

small onion

Cloves of garlic, chopped

starchy potatoes like Yukon Golds

carrots

Cashews or coconut milk

vegetable stock

water

nutritional yeast

Lemon juice, fresh

white miso paste

onion powder

garlic powder

Mustard (Dijon)

Paprika powder

dill

sea-salt

pepper

broccoli

Parsley, fresh

Croutons
How do I prepare vegan broccoli cheddar soup?
First let the cashews soak in hot water for about 10 minutes.
Now sauté the diced onion and garlic in a sufficiently large saucepan. I always add a sip of water. Now add the peeled and diced potatoes and carrots with the vegetable broth to the onions and cook until they are soft.
Use a hand blender or high-performance blender to mix the potatoes and carrots until they are creamy.
Then drain the cashew nuts and mix creamy with 1 ½ cups water, nutritional yeast, miso paste, lemon juice, garlic powder, onion powder, paprika, mustard in a high speed blender.
Add the cream to the potatoes and taste again properly.
Now add the broccoli florets and let them cook until they are soft but still dente. It takes about 10-15 minutes.
If the soup is too thick, add a little more vegetable broth. If it is too runny, let it boil a little more. Or add 1-2 tablespoon of tapioca starch. Make sure that there are no lumps.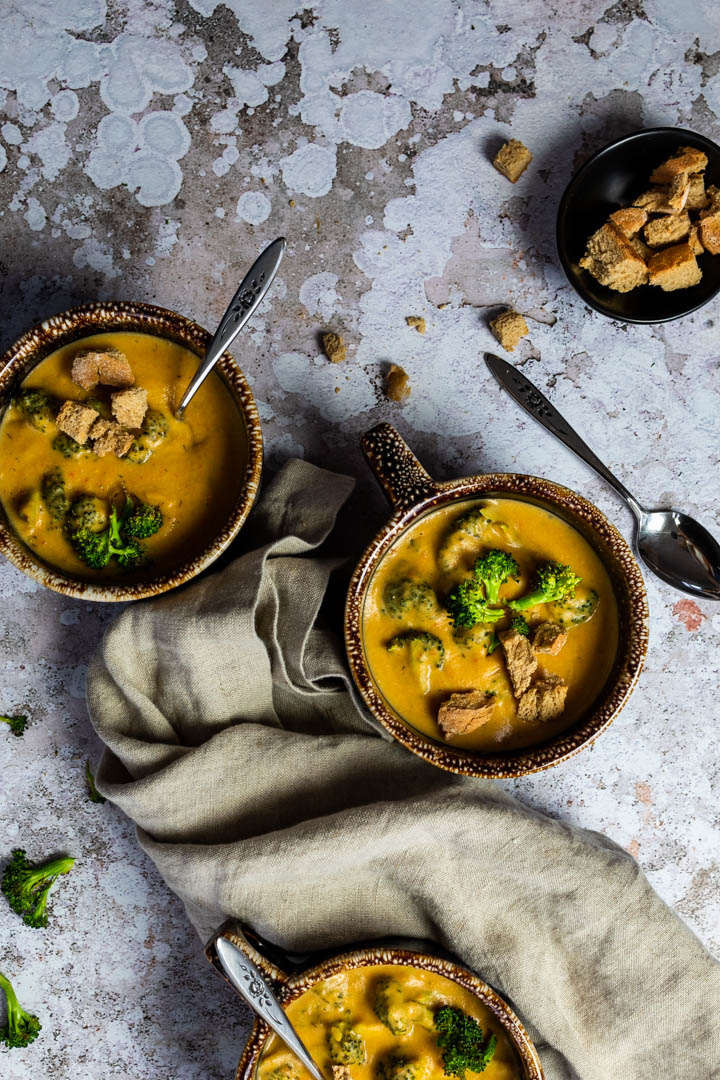 How can I substitute the cashews?
You cannot eat cashews or have none on hand. Then just take 400 ml coconut milk and 1 tablespoon tapioca starch and you will get a super creamy, cheesy broccoli cheese soup.
You can also use a purchased vegan cream for cooking instead of coconut milk.
How do I serve vegan broccoli cheese soup?
Roast a few broccoli florets in the oven and serve with the soup.
Take a couple of croutons, bought or homemade. Simply roast bread cubes with a few spices in the oven
Who doesn't love to dip bread in soups? Serve dinner with a bun, baguette, or sourdough bread.
Serve the soup with rice, fried potatoes or simply a large green salad as a side dish or starter.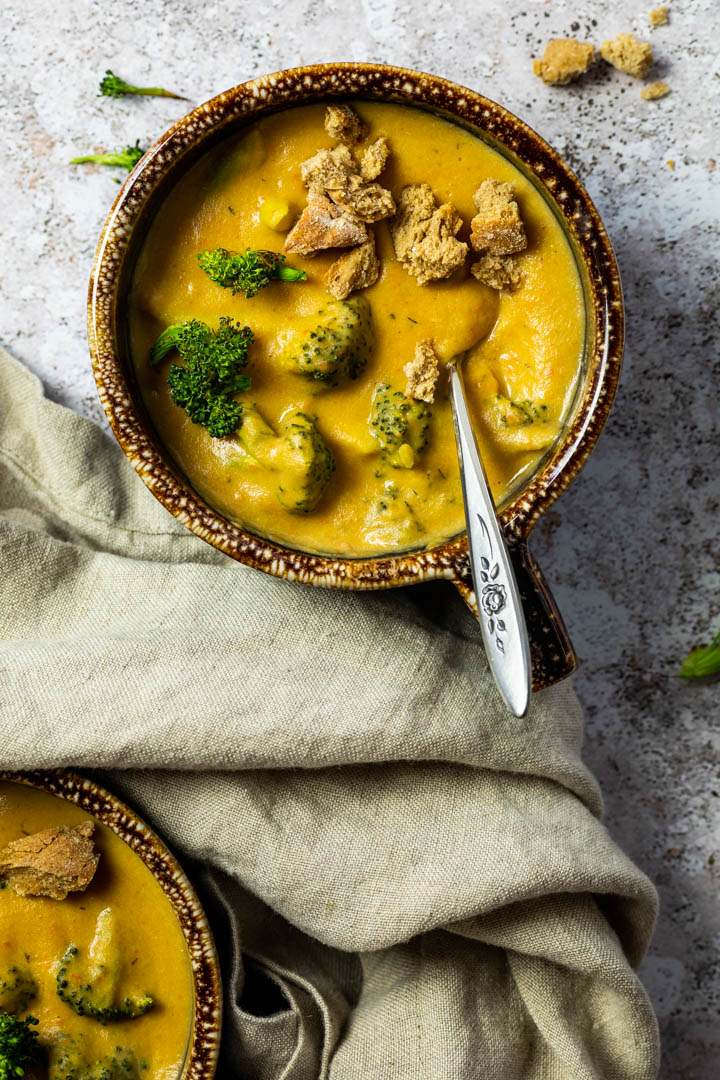 How can you store the vegan broccoli cheese soup?
The soup can still be served a few days later. Simply put the soup in an airtight container and keep it in the fridge.
This soup is also great for freezing. Simply freeze the soup in portions.
To reheat just take the evening before out of the freezer and let it thaw.
Tips for a perfect vegan broccoli cheese soup
Serve something crispy with the soup. For example, a couple of florets and diced bread toast in the oven. And top the soup with it. Top it off with something crispy.
Make sure that the broccoli doesn't cook too long, we want to have coarse broccoli pieces and not a cream of broccoli soup without pieces.
Add some dill to mimic an even more tangy taste that comes very close to the cheddar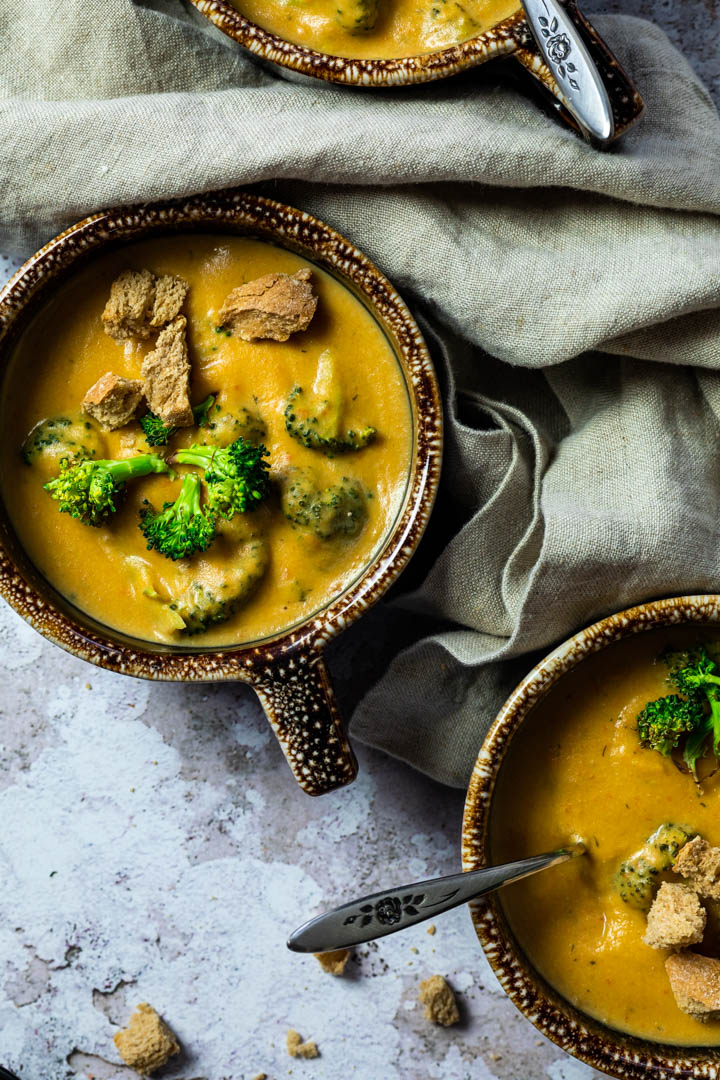 More vegan Soup Recipes:
Do not forget to Pin on Pinterest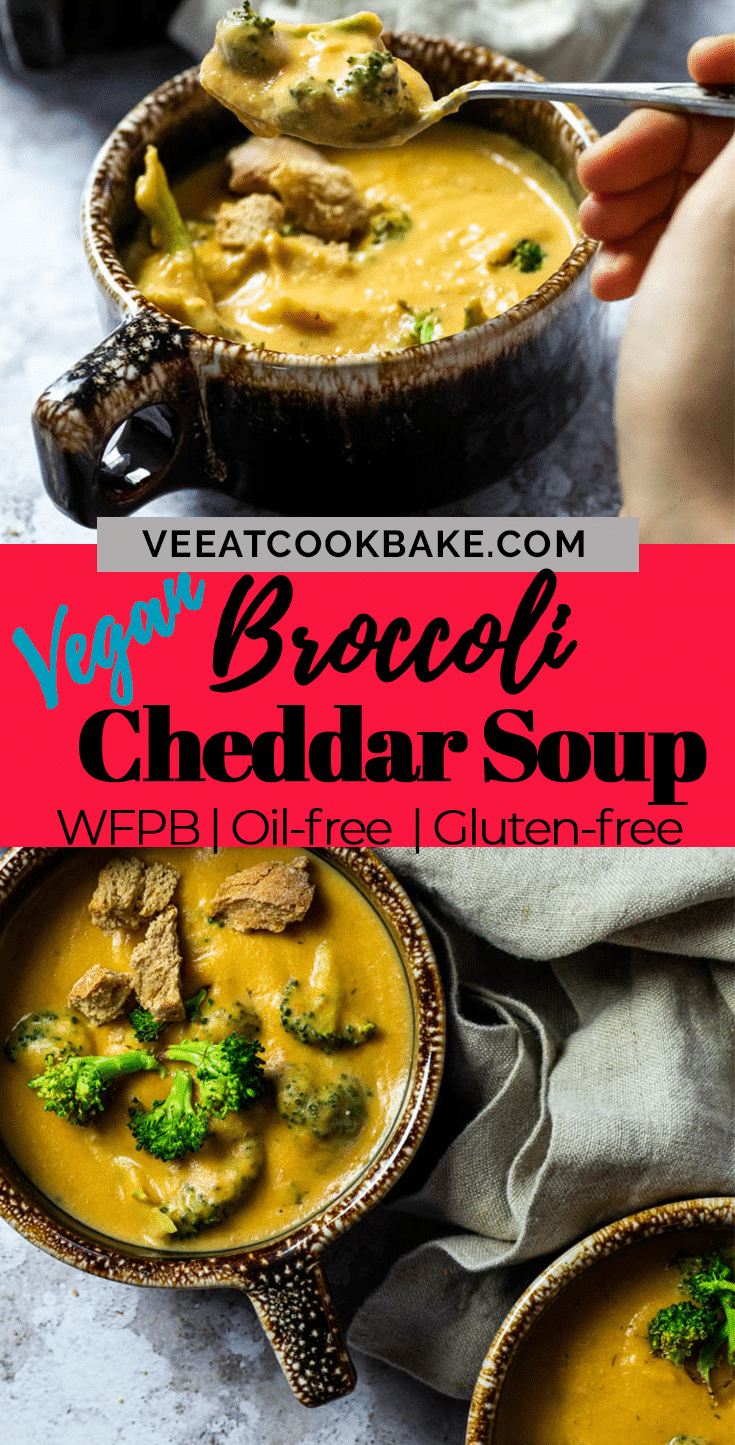 Have you tried the recipe?
If you tried the vegan Broccoli Cheddar Soup, be so nice ♥ and let me know by rating the recipe and writing what you think about it in the comments. Tag me on Instagram too. I am @veeatcookbake and my hashtag is #veeatcookbake. So that I can see your creation. Did you know you can add photos on Pinterest under the recipe Pin? I can't wait to see a photo of your creation there. You find me with @veeatcookbake. I also would love to hear your feedback, so I can share it on my social media channels.

This post may contains affiliate links and I may receive a very small commission if you buy through these links at no extra cost. Thank you very much for supporting Ve Eat Cook Bake! More information can be found here.
---