Ready to enjoy a bowl of velvety vegan broccoli cheddar soup? If you're craving a rich, creamy and nutrient-packed version of the classic Panera Bread favorite that's oil free, whole foods plant based, and gluten-free - you've come to the right place!
In this post, we'll be walking through an easy-to-follow recipe that will lead you step by step in making your very own drool-worthy vegan take on this comforting classic.
So, let your cravings loose: it's time for some delicious (and healthy!) vegan broccoli cheddar soup! Not just for busy days!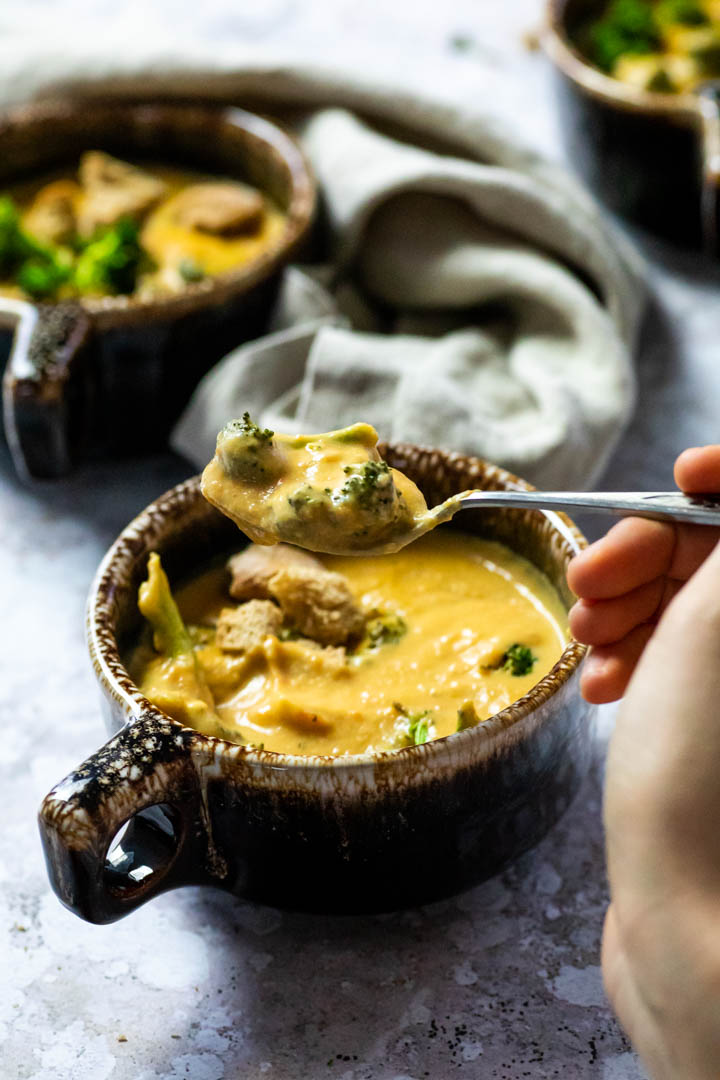 This delicious soup pairs well with crusty bread like my buckwheat bread, spelt bread.
As an Amazon Associate, I earn from qualifying purchases. This post may contain affiliate links. Read More
Jump to:
Ingredients
You will need simple ingredients for this creamy soup and many that you will probably have in stock. Mostly, I only have to buy broccoli extra.
You can find the ingredients with quantities and the recipe to print out on the recipe card below.
broccoli
small onion
Cloves of garlic, chopped
starchy potatoes like Yukon Golds
carrots
Cashews or coconut milk
vegetable stock
water
nutritional yeast
Lemon juice, fresh
white miso paste
onion powder
garlic powder
Mustard (Dijon)
Paprika powder
dill
sea-salt
pepper
broccoli
Parsley, fresh
Croutons
Instructions
First, let the cashews soak in hot water for about 10 minutes. Now sauté the diced onion and garlic in a sufficiently large pot on medium heat. I always add a sip of water. Now add the peeled and diced potatoes and carrots with the vegetable broth to the onions and cook until they are soft on medium-low heat.
Use an immersion blender or high-performance blender to mix the potatoes and carrots until they are creamy.
Then drain the cashew nuts and mix creamy with 1 ½ cups water, nutritional yeast, miso paste, lemon juice, garlic powder, onion powder, paprika, mustard in a high speed blender.
Add the cream to the potatoes and taste again properly.
Now add the broccoli florets and let them cook until they are soft but still dente. It takes about 10-15 minutes.
If the soup is too thick, add a little more vegetable broth. If it is too runny, let it boil a little more. Or add 1-2 tablespoon of tapioca starch. Make sure that there are no lumps.
Hint: You can also dice the broccoli stem. I always use it and do not throw it away.
Make this cheesy broccoli soup, try some of my favorite soups like potato soup, cauliflower soup, white chili and my other vegan soup recipes.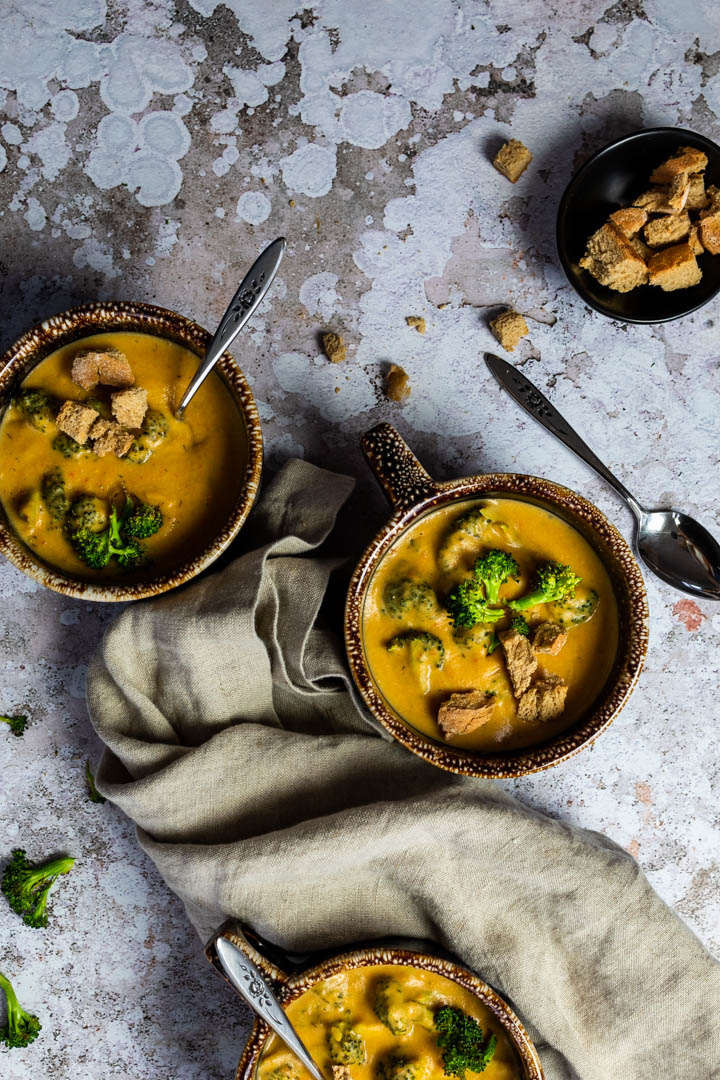 Substitutions
Cashews: You cannot eat cashews or have none on hand. Then just take 400 ml coconut milk and 1 tablespoon tapioca starch (thickening agent), and you will get a super creamy, cheesy broccoli cheese soup. You can also use a purchased vegan cream for cooking instead of coconut milk. Non-dairy milk like almond milk will also work. Other seeds like sunflower seeds, pumpkin seeds will also add to this savory soup a nice creamy texture.
Vegetable Stock: The original is made with chicken broth, we get all the flavor we need from veggie stock, but you can also use water instead.
Broccoli: You can either use fresh broccoli or frozen broccoli for this classic soup.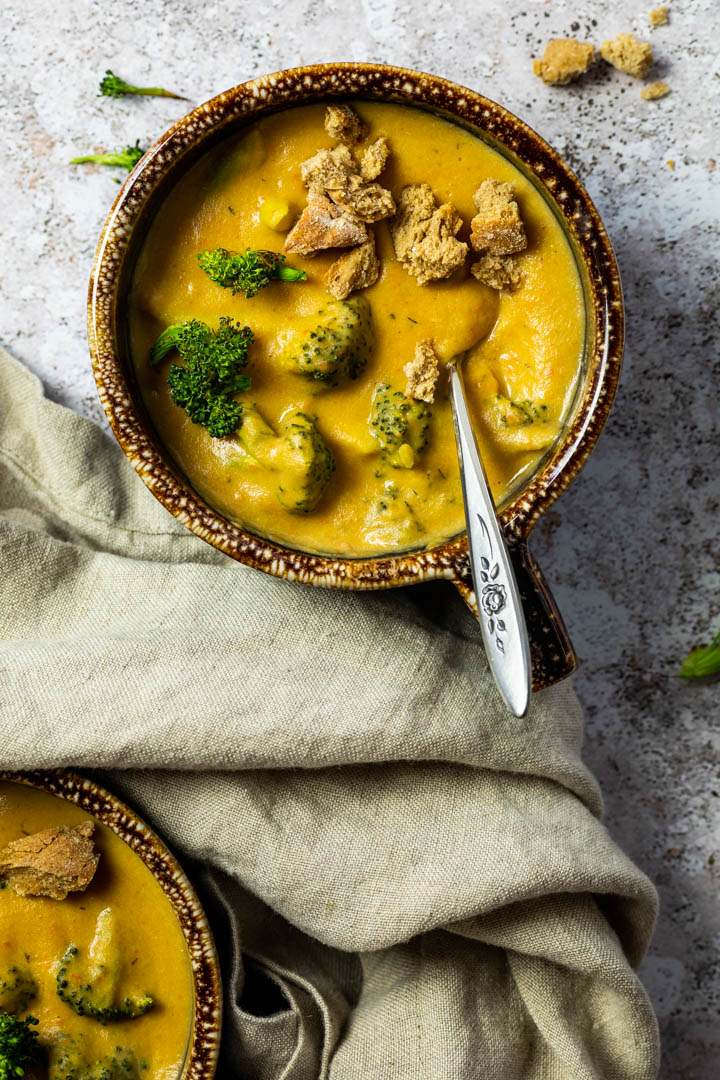 Serving suggestions
Roast a few broccoli florets in the oven and serve with this creamy vegan broccoli cheddar soup.
Take a couple of croutons, bought or homemade croutons. Simply roast bread cubes with a few spices in the oven. Who doesn't love to dip bread in soups? Serve dinner with a bun, baguette, or sourdough bread.
Serve the soup with rice, fried potatoes or simply a large green salad as a side dish or starter.
Serve this panera broccoli cheddar soup in a bread bowl.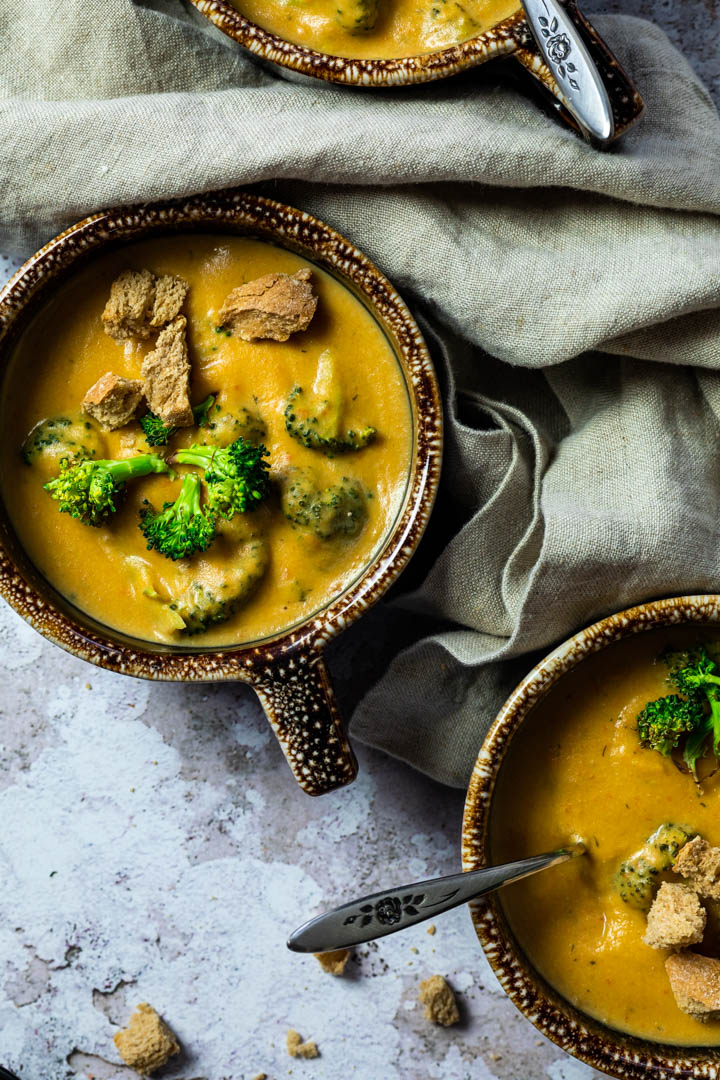 Storage
The soup can still be served a few days later. Simply put the soup in an airtight container and keep it in the fridge.
This soup is also great for freezing. Simply freeze the soup in portions.
To reheat, just take the evening before out of the freezer and let it thaw.
Tips
Serve something crispy with the soup. For example, a couple of florets and diced bread toast in the oven. And top the soup with it. Top it off with something crispy.
Make sure that the broccoli doesn't cook too long, we want to have coarse broccoli pieces and not a cream of broccoli soup without pieces.
Add some dill to mimic an even more tangy taste that comes very close to the cheddar