Vegan banana bread, this banana bread comes entirely without oils, butter or refined sugar and is therefore a lighter alternative to most banana breads.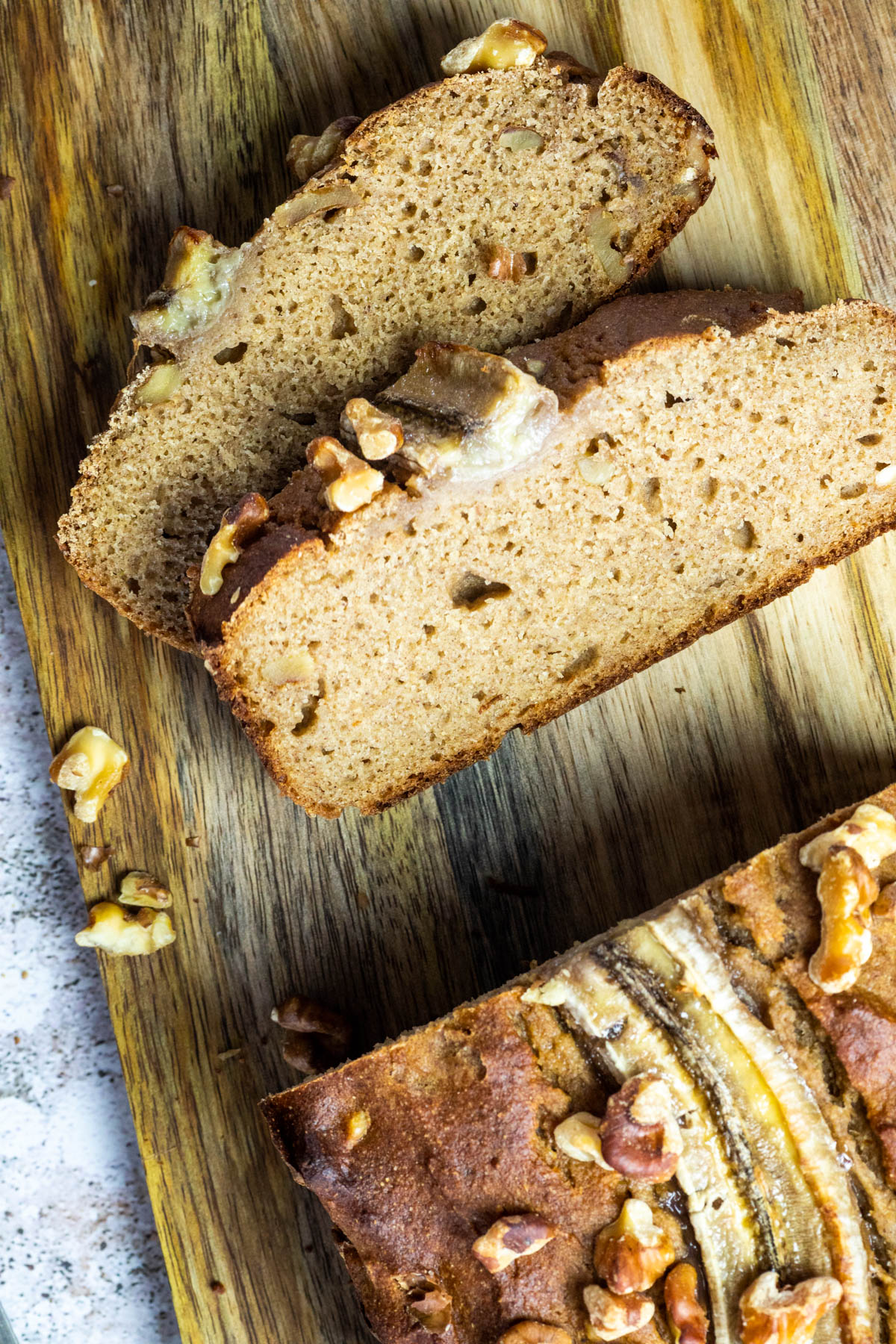 As an Amazon Associate, I earn from qualifying purchases. This post may contain affiliate links. Read More
We do not use white table sugar in this bread, because with the sweetness of the bananas, dates and maple syrup we get enough sweetness in this dairy-free banana bread.
We eat this bread alternative like cake. I like the walnuts and the banana taste, without anything on it.
There are already so many banana bread recipes on the internet, why should you try another one?
However, if you've always wanted to reduce oil and fat consumption, you've found a great healthier version of banana bread here.
I have to confess that we ate the whole loaf in one day. My kids just wanted to eat this banana bread all day long.
Since we do not use table sugar and only a little maple syrup and dates, the delicious banana taste comes into its own.
And it's not often that if you use a lot of sugar, the fruit taste is often hidden. And this is absolutely not the case.
I'm sure you'll love this vegan banana bread recipe.
Ingredients
A short list of the ingredients we use in this delicious vegan banana bread. The exact amount can be found below.
Flour (whole wheat , spelt, ap flour)
Baking Powder
Baking Soda
Ground Cinnamon
Raw Cashew Nuts
Water
Maple Syrup
Dates, chopped and soaked
Flax Seeds, ground + water
Ripe Bananas
Vanilla Extract
Lemon Juice
Pecans or Walnuts
Instruction
Preheat the oven to 350°F (180°C). Use it to soak the cashews and dates in hot water for about 10 minutes.
Take the flax seeds and put them in a small bowl with the 4 tablespoons of water. This will be our flax egg.
In the meantime, weigh the dry ingredients and put them in a mixing bowl. Stir vigorously. Chop the walnuts or pecans and set them aside.
Now put the cashews and dates in a high speed blender.
Add the bananas broken in pieces, maple syrup, lemon juice, vanilla extract and water. And mix until a creamy consistency is created. It can take a good minute.
Now add the liquid to the dry ingredients and stir until a homogeneous dough without flour clumps is formed.
Now add the nuts and stir them in briefly. Place the bread in a loaf pan lined with baking paper and bake for about 50 minutes.
Test with toothpicks to see if the dough is baked.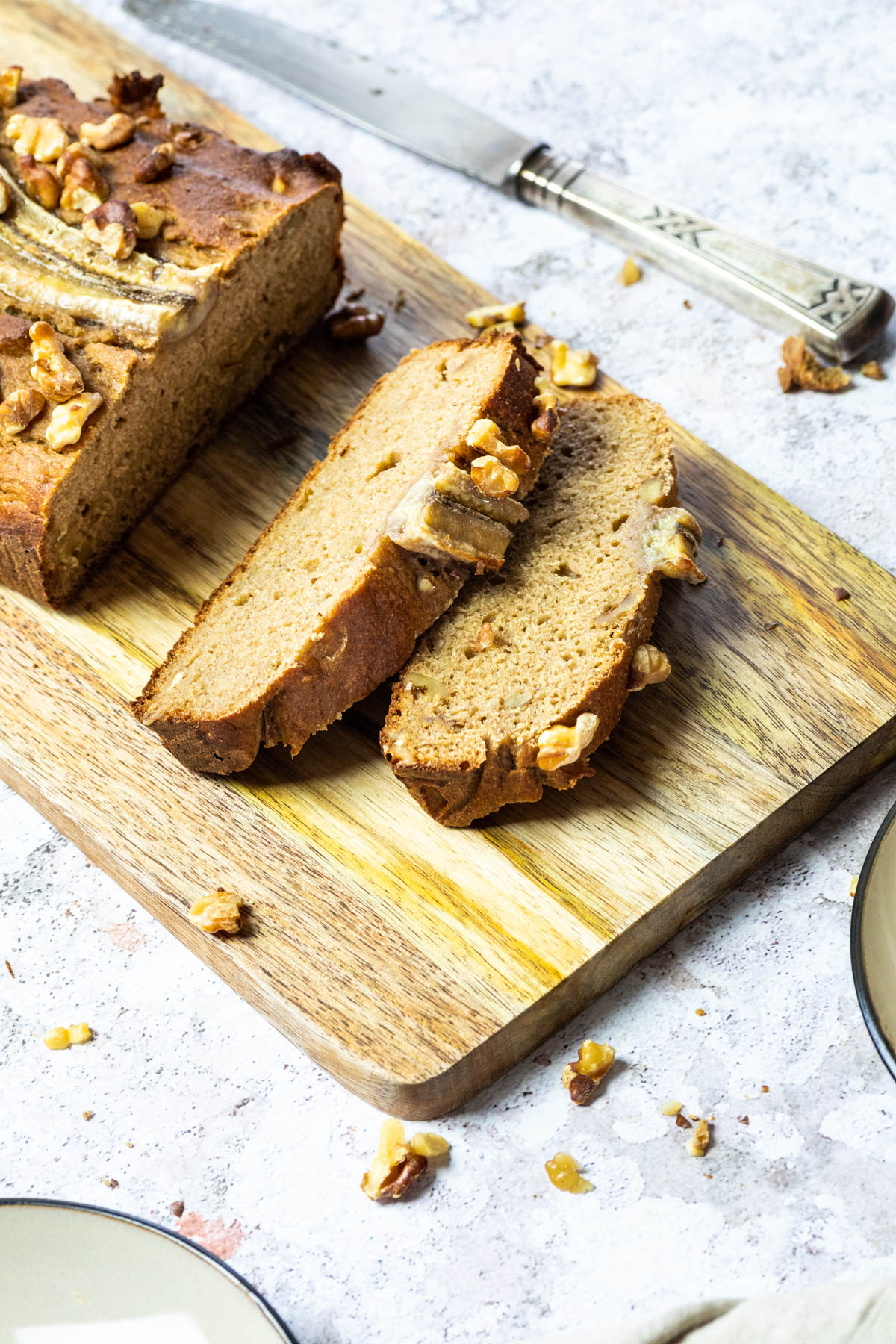 Date Substitute
If you have no dates on hand or don't want to use them, you can use the same amount of raw cane sugar, coconut sugar or date sugar.
Gluten free Option
I haven't tried it yet. But I am sure you can use a gluten-free flour baking mix. Or try using buckwheat flour.
For buckwheat flour, however, I would add 1-2 tablespoons of starch, since it contains no binding.
Can I prepare the banana bread without baking soda?
You don't necessarily need the baking soda. You can replace the baking soda with baking powder.
Just make sure you add lemon juice or apple cider vinegar to the batter, this will help the bread rise. No matter which raising agent you use.
Ideal for Muffins
Sure, if you fancy muffins, you can put the dough in muffin forms and bake for about 30 minutes and do the toothpick test.
Storage
You can keep leftovers in a closed box in the fridge. So it stays fresh.
You can also freeze leftovers. To do this, cut the banana bread into slices and freeze it in slices. Just take it out an evening before.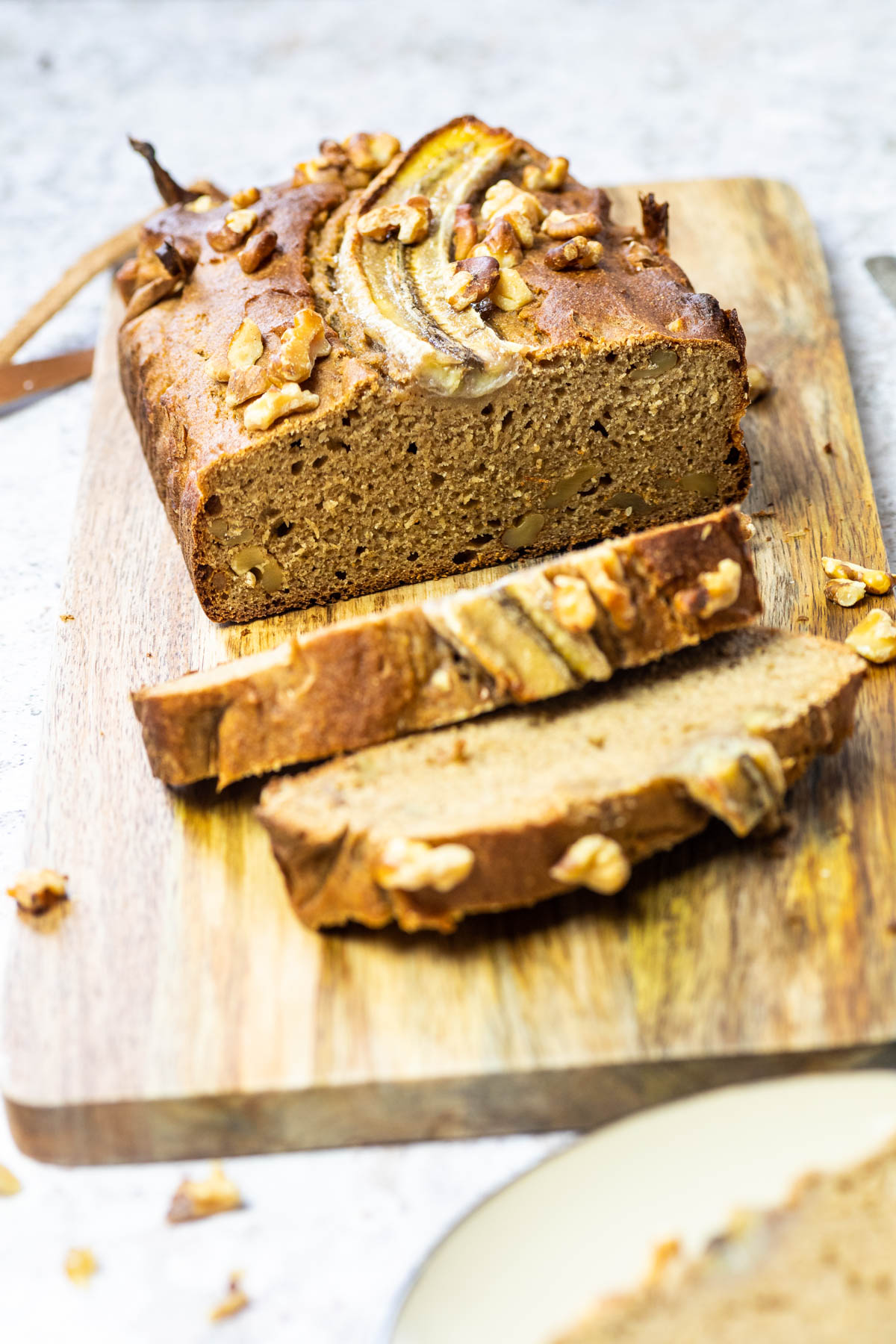 Tips & Tricks
Use very ripe bananas that already have brown spots on the skin. These are very sweet and we need less sugar.
If you don't want to use cashews, you can also use almond butter or tahini (but it has its own taste).
Add other ingredients like chocolate chips, raisins or any other ingredients you would like to add
Sprinkle the banana bread with walnuts, oatmeal, pecans, a halved banana.
Make sure that you don't stir the dough for too long. Only until you get a homogeneous dough.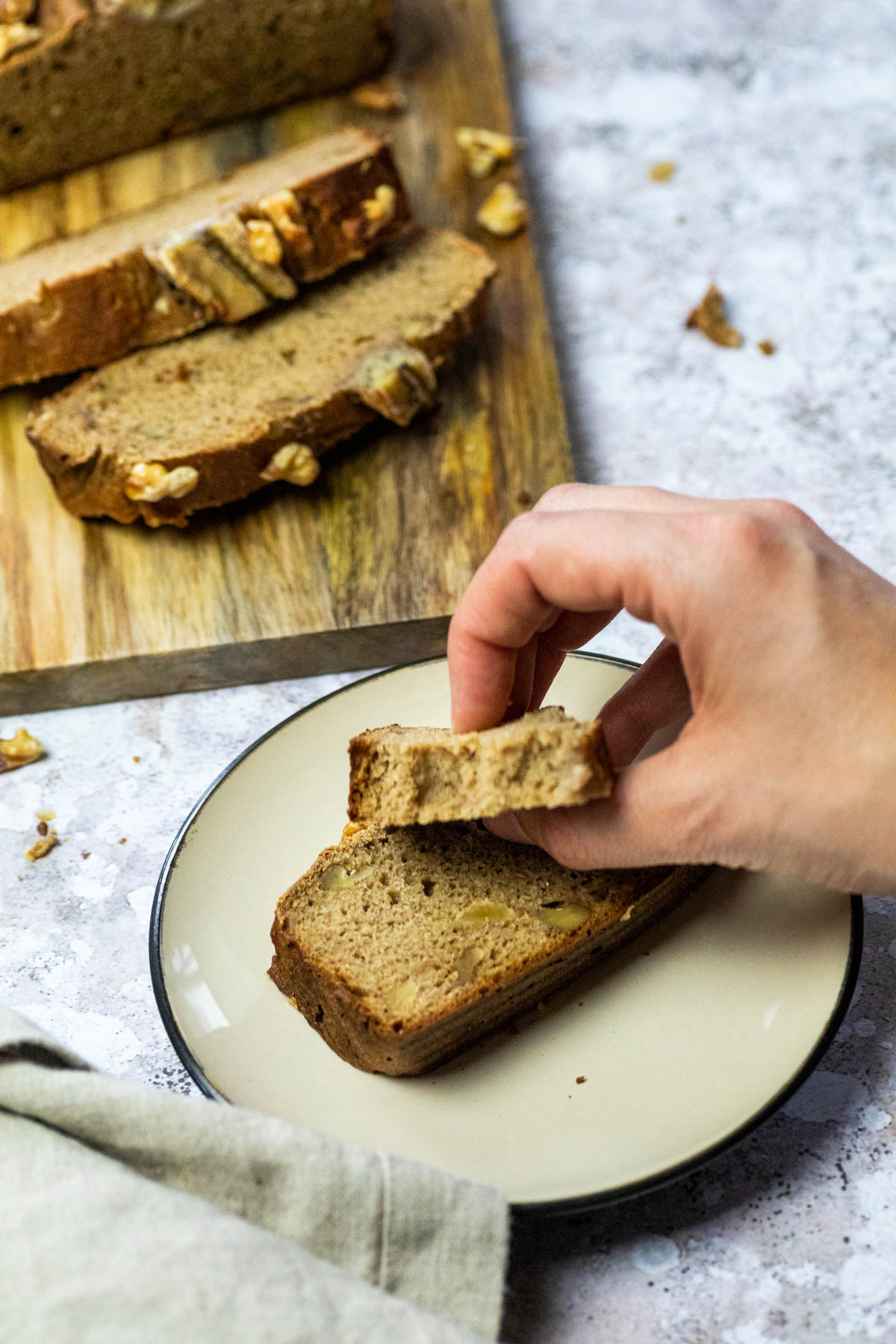 More vegan baking recipes:
NY Style cheesecake
Have you tred the recip
If you tried the vegan Recipebe so nice ♥ and let me knw byrating the recipe and writing what you think about it in the comments.  I would love to see your photo on Instagram orFacebook. To do this tag me with @veeatcookbake andmy hashtag is #veeatcookbake. So that I can see your creation. Did you know you can add photos n Pinterest under the recipe Pin? I can't wait to see a photo of your creation here. You find me with @veeatcookbake