Thai cuisine is a tasty cuisine that has many quick and delicious dishes, like a quick vegan Thai red curry.
With cauliflower, bell peppers, zucchini and kale, you can use a red curry paste and coconut milk to conjure up a tasty dish that is super quick on the table and perfect for a weekday dinner. This vegetarian Thai red curry is ideal as a meal prep and to be made in advance.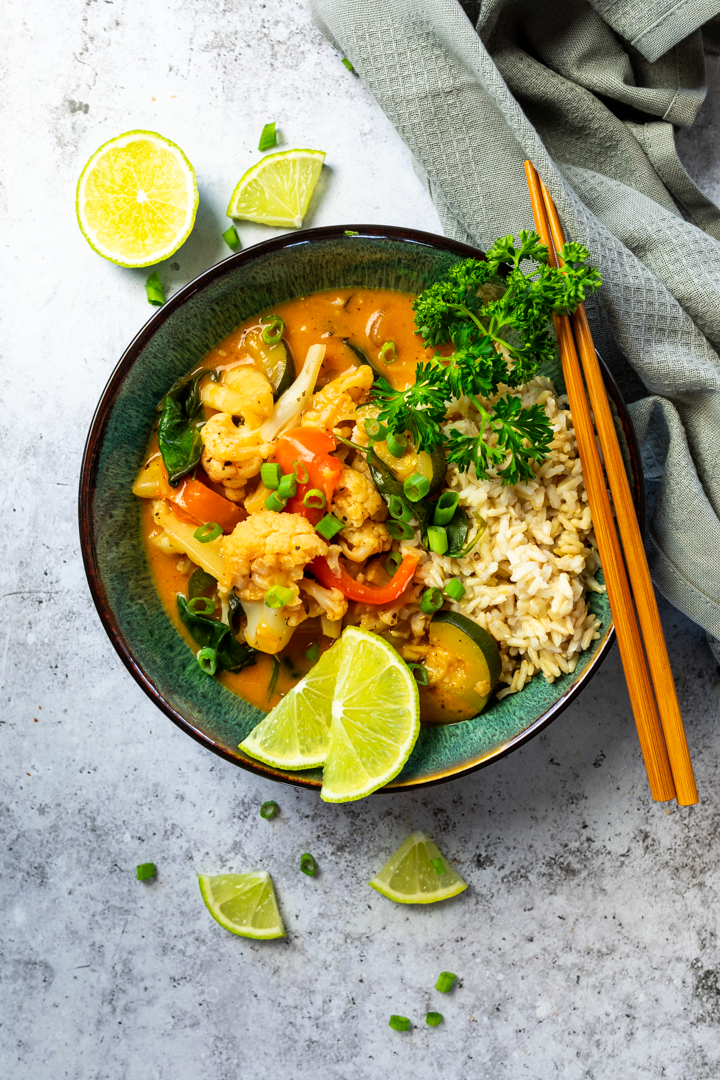 I love to eat Thai dishes at asian restaurants and I like to prepare them quickly at home. Thanks to the coconut milk and the purchased curry paste, you get the authentic taste at home. It tastes so good 🙂 I could eat such dishes every day.
Instead of the red curry paste, you can also use green or yellow. You can also change and vary the vegetables, so you always have something new and it won't get boring.
Is Thai Red Curry Paste Vegan?
The curry paste you can buy in the store is vegan. But always check the ingredients list to be sure.
Can I freeze the Thai curry paste?
If you bought the curry paste, but you don't prepare many recipes with the curry paste, just freeze it in portions and you always have the paste on hand without having to buy new ones.
Put the curry paste on baking paper in tablespoons and put it in the freezer. When the curry paste is frozen, place it in a sealable container. So you can always take out the paste and use it in tablespoons.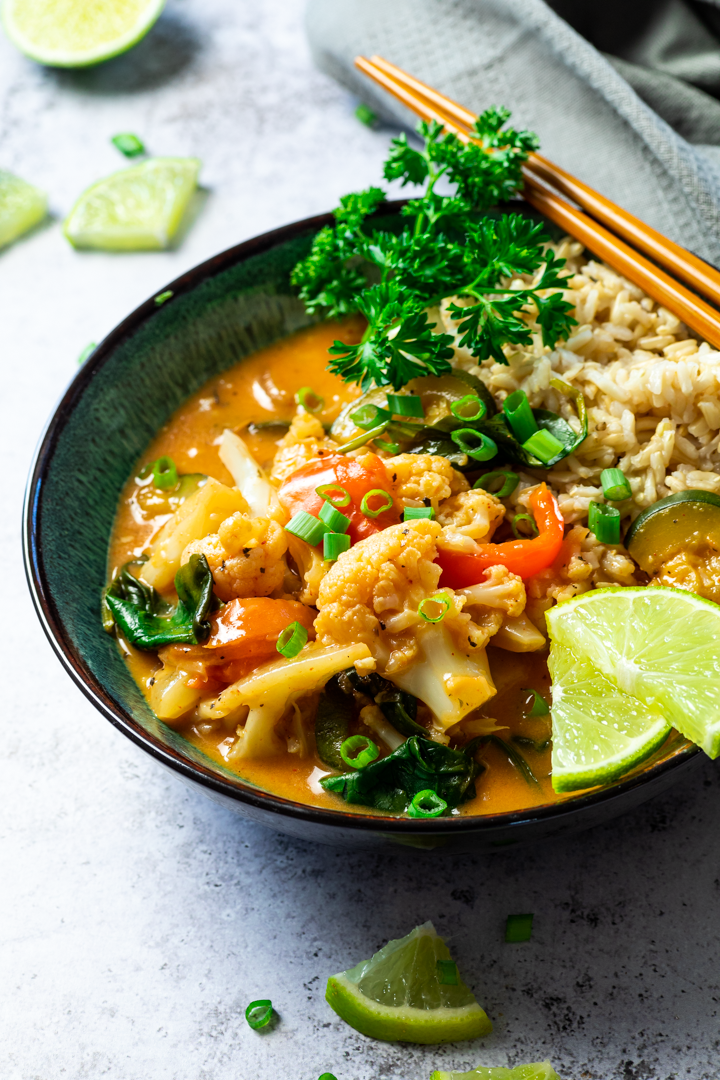 What do I need for a vegan Thai red curry?
A brief overview of what is included in the dish. The exact amount can be found on the recipe card below.
Onion, chopped
Freshly grated ginger
Garlic Cloves
Cauliflower
Red Pepper
Orange Bell Pepper
Zucchini
Kale
Bay Leaf
Coconut Milk
Red Curry Paste
Soy Sauce or Coconut Amino Acids
Lime Juice
Maple Syrup
Dried Basil
Sea-salt
Pepper
Sriracha to taste / Asian Chilli Sauce (optional)
Garnish
Lime Peel to taste
Fresh Basil
Fresh Coriander
Fresh Lime Juice
How do I prepare vegan Thai red curry?
First, fry the chopped onions, ginger and garlic in a little water. Add a splash of water every now and then until the onions get a nice color. Now add the cauliflower florets and the peppers with the coconut milk, vegetable broth and curry paste and after 7 minutes the zucchini with the kale.
Cook until the cauliflower is soft but firm to the bite.
You can now eat the curry as soup or serve brown rice with it. We like to add a salad as a side dish.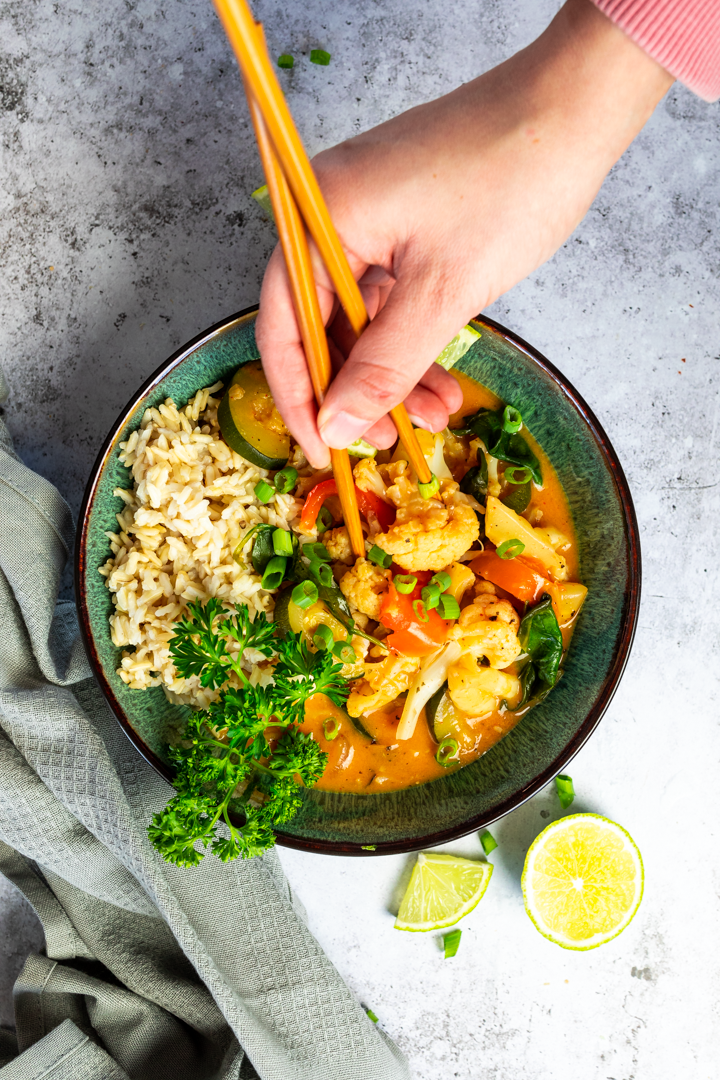 Tips to make a great vegan Thai red curry
Cook the cauliflower and peppers first, as they take longer to soften.

We don't want the vegetables to be cooked too softly, they should still have a bite.

Lime juice gives the dish something special. Instead of lime, you could use lemon juice.

To get an aromatic dish, we need onions, ginger and garlic. Don't try to omit these ingredients.

It is best to use normal canned coconut milk, not lite. If you eat wfpb, use coconut milk lite and add some cashew cream to make it creamy.

When the Curry is finished you can discard the bay leaf. We do not eat it.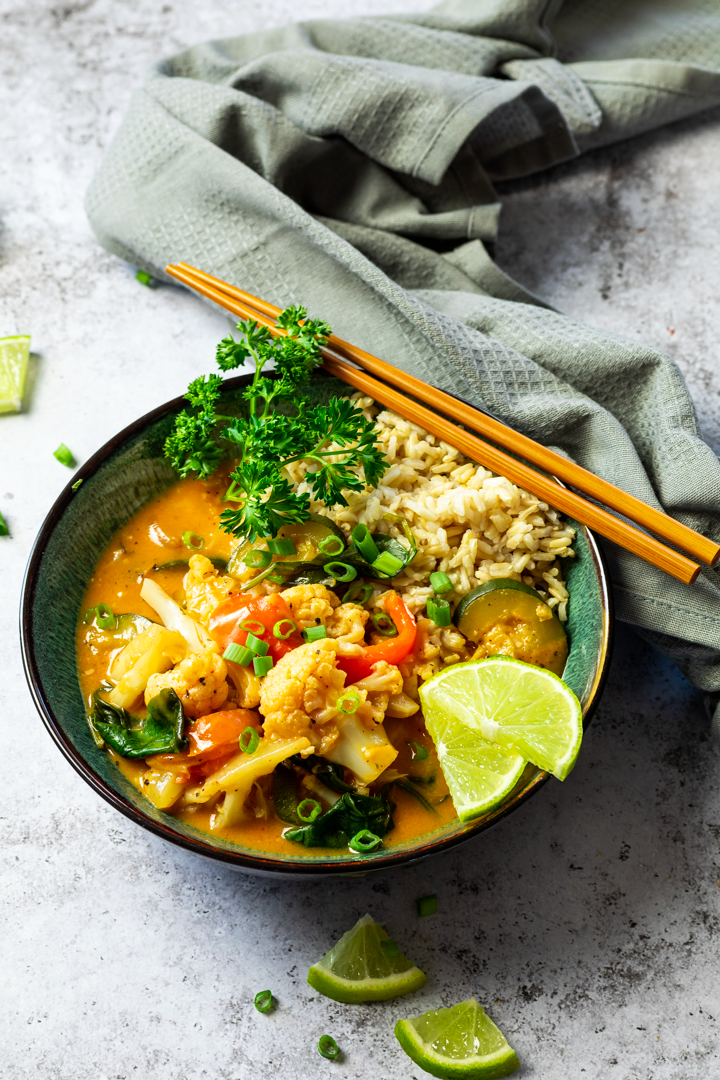 More Vegan Asian Dishes:
Do not forget to Pin on Pinterest
Have you tried the recipe?
If you tried the vegan Thai Red Curry, be so nice ♥ and let me know by rating the recipe and writing what you think about it in the comments. Tag me on Instagram too. I am @veeatcookbake and my hashtag is #veeatcookbake.
So that I can see your creation. Did you know you can add photos on Pinterest under the recipe Pin? I can't wait to see a photo of your creation there. You find me with @veeatcookbake. I also would love to hear your feedback, so I can share it on my social media channels.

This post may contains affiliate links and I may receive a very small commission if you buy through these links at no extra cost. Thank you very much for supporting Ve Eat Cook Bake! More information can be found here.
---