Get that delicious Thai restaurant flavor in a flash with this vegan red curry! Made with simple ingredients like cauliflower, bell peppers, zucchini and kale all bathed in gorgeous coconut milk and spicy red curry paste – it's an easy weekday dinner you can make for meal prepping or to enjoy after just 20 minutes of cooking.
Add green or yellow curry pastes if you want more variety on the veggie front - nothing boring here!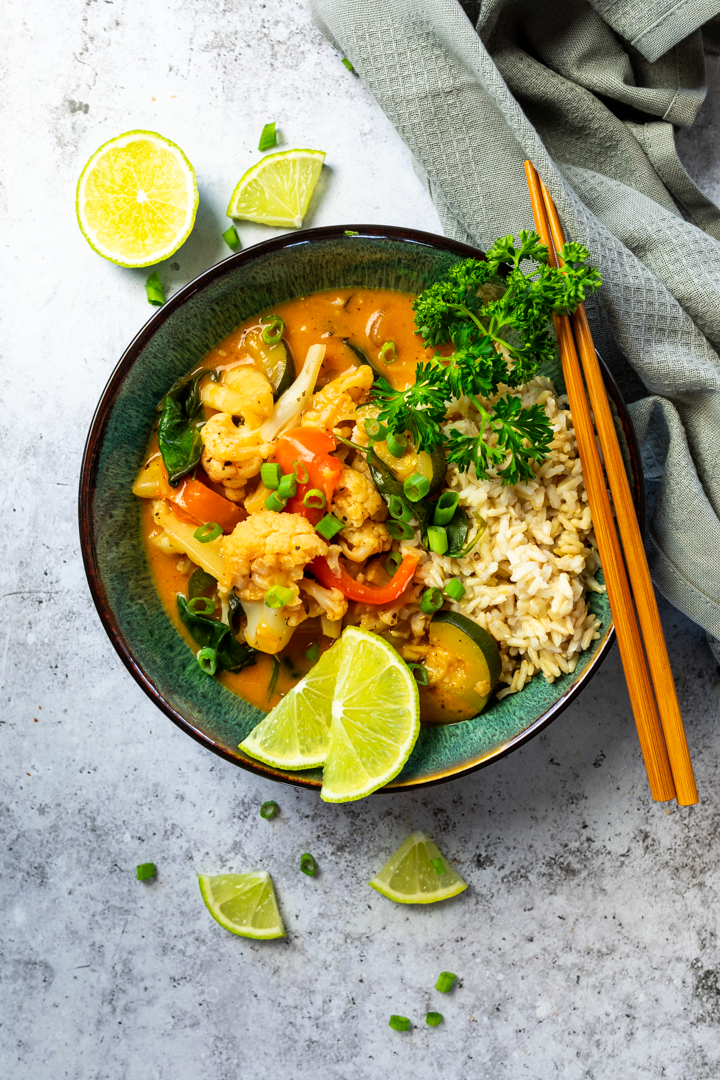 As an Amazon Associate, I earn from qualifying purchases. This post may contain affiliate links. Read More
Jump to:
Ingredients
A quick list of ingredients you will need to make this vegan Thai curry.
You can find the ingredients with quantities and the recipe to print out on the recipe card below.
Onion, chopped
Freshly grated ginger
Garlic Cloves
Cauliflower
Red Bell Pepper
Orange Bell Pepper
Zucchini
Kale Leaves
Bay Leaf
Curry Sauce Ingredients
Coconut Milk
Red Curry Paste
Soy Sauce or Coconut Amino Acids
Squeeze of Lime Juice
Maple Syrup
Dried Basil
Sea-salt
Pepper
Sriracha to taste / Asian Chili Sauce (optional)
Garnish
Lime Wedges
Fresh Basil
Fresh Coriander
Fresh Lime Juice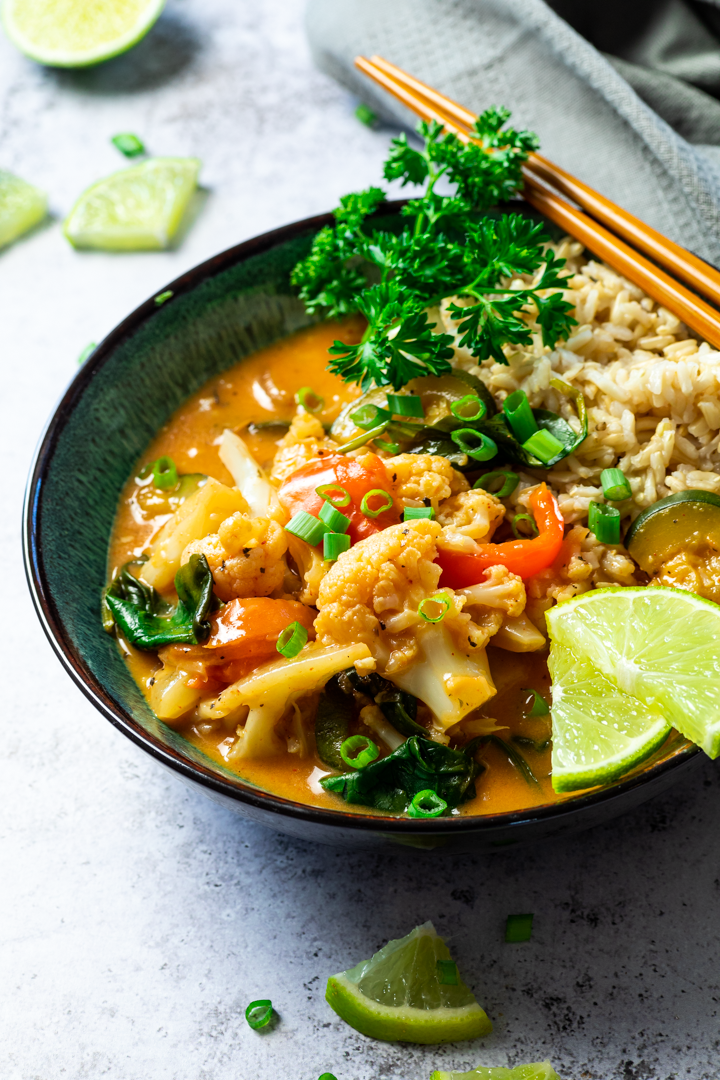 Instructions
First, sauté the chopped onions, ginger and garlic in a little water in a large pan or wok on medium high heat for 2-3 minutes. Add a splash of water now and then until the onions get a nice color like golden brown.
Now add the cauliflower florets and the bell peppers. In a small bowl, mix the ingredients for the curry sauce and season to your own taste and add it to the veggies. After around 7 minutes, you can add the zucchini and kale.
Cook until the cauliflower is soft but firm to the bite. Remove the bay leaf.
You can serve the curry as soup or serve brown rice with it. We like to add a salad as a side dish.
Slow Cooker
You can also make this curry in a slow cooker, simply start with sauteeing the onions, garlic and ginger and add all the other ingredients. Let it simmer until the veggies are soft.
Hint: Cook the cauliflower and bell peppers first, as they take longer to soften.
Make this thai food, check out my Thai Peanut Sauce, Tofu Chop Suey, Pad Thai.
Substitution
Bell Peppers: I used a red and orange bell pepper, but you can also use different colors like a green bell pepper if you want to.
Bay Leaf: The Bay Leaf is optional but adds a nice flavor.
Coconut Milk: Instead of full-fat coconut milk you can also add cashew milk, almond milk with coconut extract if you want to.
Curry Paste: I use store-bought paste for my red curry, you can find it in your local Asian market or in the Asian aisle in your grocery store.
Maple Syrup: You can use date paste, coconut sugar instead, or just omit it.
Lime: Lime juice gives the dish something special. Instead of lime, you could use lemon juice.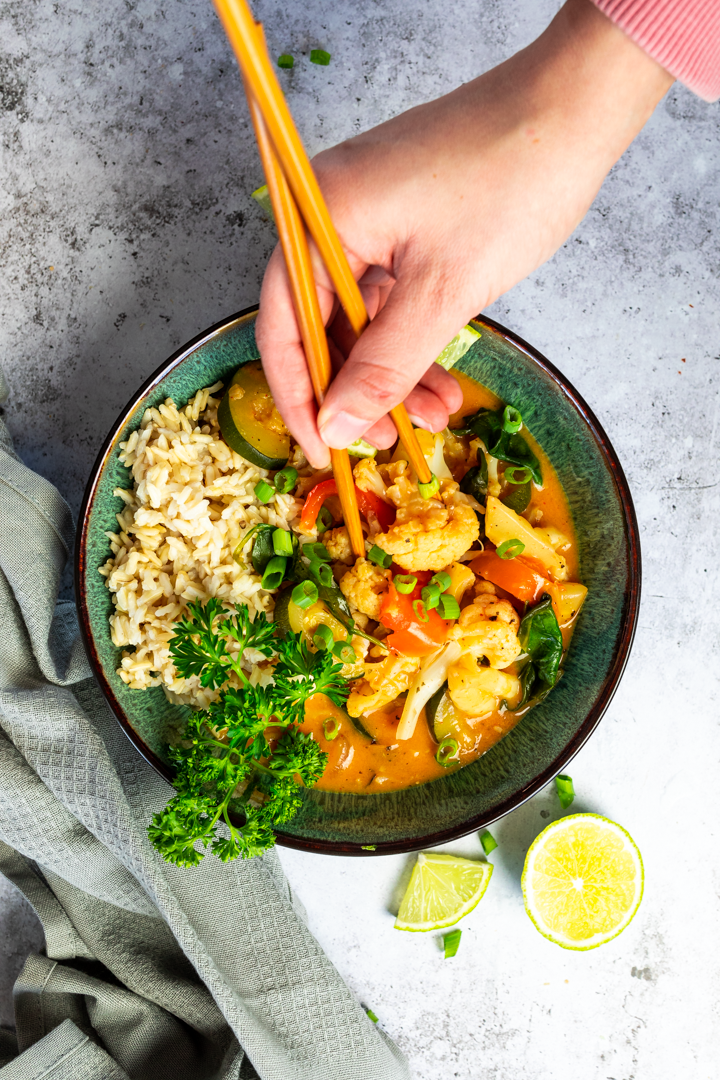 Variations
Red Tofu Curry: Add some plant-based protein and use extra firm tofu. Bake the tofu cubes in your own until you got crispy tofu and add it to your thai curries.
Thai Basil: You got some fresh Thai Basil Leaves? Add these to your thai recipe.
Kaffir Lime Leaves: You found some of those, I love to add these as well. Just a few leaves will add a nice flavor.
Spicy Food: Is this curry not spicy enough, add more red curry paste, red chilis, red pepper.
Veggies: Swap some veggies with veggies that are in season, or you have already at home like snow peas, green beans, snap peas, bok choy.
Lemongrass Stalks: Sometimes I add some slices of lemongrass. But it is rare that I find some in my store.
Check out my other vegan curry recipes like Yellow Curry, potato curry, Chickpea Curry.
Serving Suggestions
Wondering what you can serve to this plant-based curry recipe? Here are some ideas I love:
Rice noodles,
Jasmine Rice
Cauliflower Rice
Sweet Potatoes
Equipment
Some kitchen tools that will help make this recipe easy.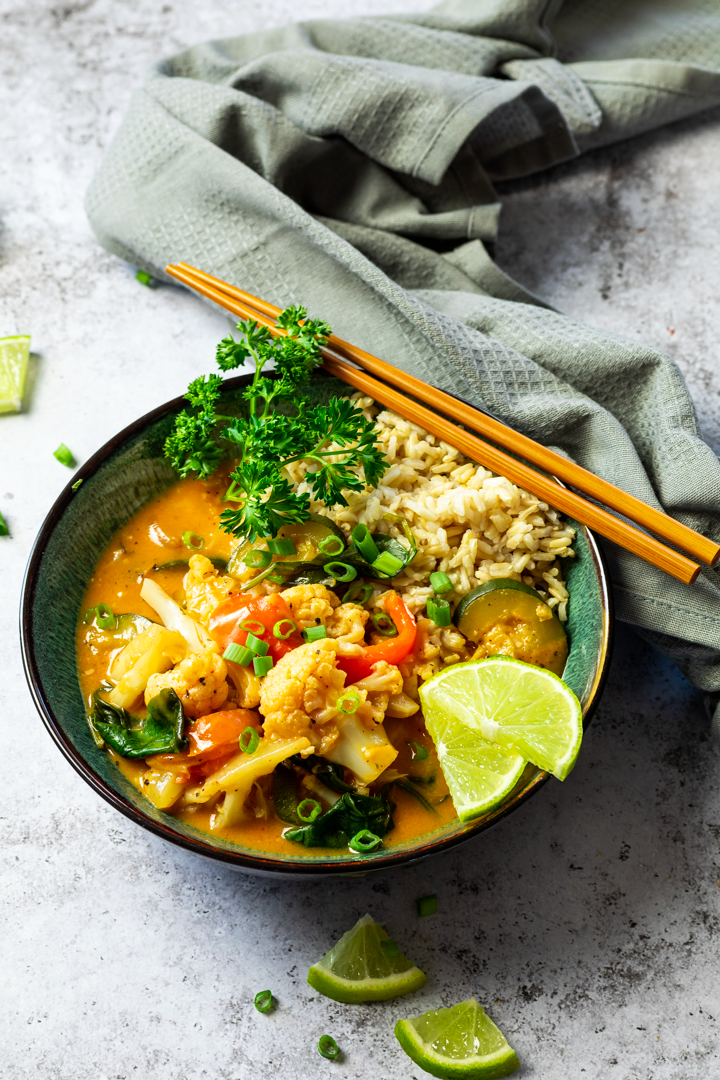 Storage
Fridge: Store leftovers in an airtight container in die fridge for about 5 days.
Freeze: You can also freeze this recipe in portion sizes in freezer-safe container.
Meal Prep
I love this curry as a meal prep, it is really quick prepared and perfect to make on a Sunday for the following week.
Tip
To get an aromatic dish, we need onions, ginger and garlic. Don't try to omit these ingredients.
FAQ
Is Thai Red Curry Paste Vegan?
The curry paste you can buy in the store is vegan. But always check the ingredients list to be sure.
Can I freeze Thai curry paste?
If you bought the curry paste, but you don't prepare many recipes with the curry paste, just freeze it in portions and you always have the paste on hand without having to buy new ones.
Put the curry paste on baking paper in tablespoons and put it in the freezer. When the curry paste is frozen, place it in a sealable container. So you can always take out the paste and use it in tablespoons.