Vegan New York Cheesecake - You can find here an easy baked recipe for one of the best vegan versions for an original New York style cheesecake with a cashew, yogurt and coconut cream filling. It gets ultra creamy with no sour cream and cream cheese and topped with a homemade chunky strawberry sauce made with fresh or frozen strawberries.
Vegan | dairy-free | egg-free | refined sugar-free | Clean | healthy | plant-based | whole foods

How is this vegan New York cheesecake getting so creamy?
Have you ever seen or even eaten the original cheesecake from New York?! Then you surely know that this is super creamy. The main ingredient of the cheesecake is the Philadelphia cream cheese. We get the vegan New York Cheesecake super creamy without any dairy products, all we need is yogurt, coconut cream and cashews and it makes a super creamy cheesecake. I would love to read below, what your favorite cheesecake is?
What to use as a topping for the vegan New York cheesecake
If you do not know, the New York style cheese cake is traditionally eaten with a fruity strawberry sauce. Doesn't that sound incredibly delicious? We make our sauce for the vegan New York cheesecake from scratch. * yumyum * You can of course use other berries here as well. Raspberries, blackberries, blueberries.
What's different about New York style cheesecake?
The typical New York cheese cake is rich and has a smooth and creamy consistency. ... Chicago style cheese cake is a baked with cream cheese that is firm on the outside and soft and creamy on the inside. The German cheesecake variant is more likely to be made with curd (quark) cheese and makes it lighter. So that the vegan New York style cheesecake turns out that creamy and rich, many nuts and coconut cream are used here.

Is flour added to the cheesecake?
Some recipes contain a small amount of starch, such as flour or cornstarch. This cheesecake has a cake-like texture. Cheesecake recipes that contain no flour are smooth and dense. So yes this new york cheesecake contains whole grain flour. To replace the eggs we use potato starch.
How to fix cracked cheesecake?
Cool your cheesecake. Repairing cracks works better when your cheesecake is cold. Now, as far as possible, you can use your fingers to push the cracks together. Dip a dough scraper in hot water so that it is nice and warm and stroke it carefully. Repeat this until the crack has disappeared.
Is my cheese cake overcooked?
The center of your cheese cake should still wobble when you take it out of the oven. The cheesecake also continues to cook when it has already been taken out of the oven and cooled down on the countertop. However, if the cake remains in the oven until it is completely cold, it will be baked to long, it will become dry and friable.
What is so special about this vegan New York style cheesecake?
Indescribably creamy
You will not just eat one piece of this cheesecake
Easy and fast prepared
Must be tried
What cakes could I like when I like this New York cheesecake?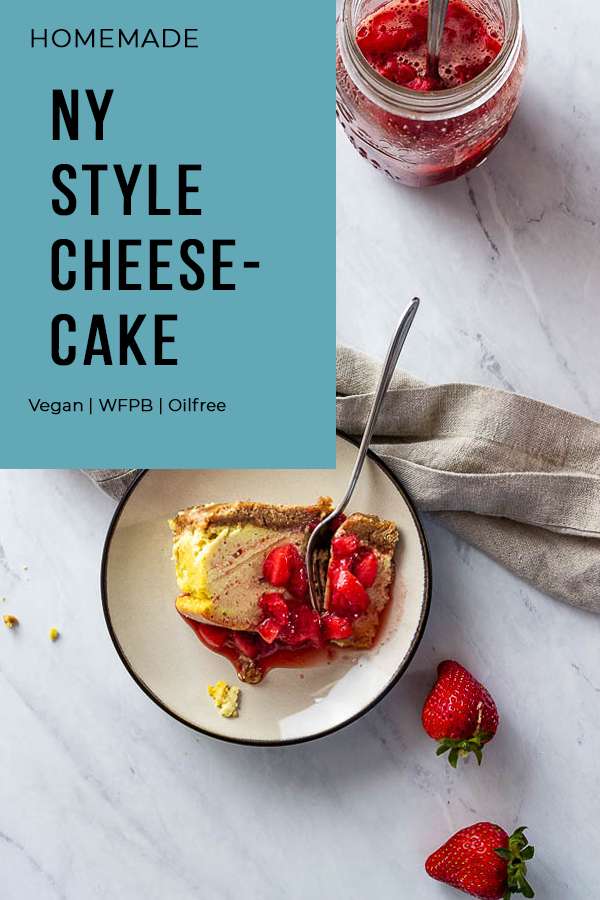 ---
Have you tried the recipe?
If you have, be so nice ♥ and let me know by rating the recipe and writing what you think about it. Tag me on Instagram or Facebook too. I am @veeatcookbake and my hashtag is #veeatcookbake. So that I can see your creation. Did you know you can add photos on Pinterest under the recipe Pin? I can't wait to see a photo of your creation there. You find me with VeeatCookBake. I will share your photos on Instagram and Facebook.
---
---
---