Vegan rhubarb bundt cake is a fast sponge cake that is super juicy and moist with rhubarb.
This quick cake is great for days when you don't have much time, but you want a delicious fruity cake.
We do not need dairy products, margarine, oil or the like for this rhubarb bundt cake.
And the best thing is this cake is completely without refined sugar. In theory, you could even eat the cake for breakfast or even make breakfast muffins from it or make it just for your next cup of tea or coffee for your snack time or as a dessert.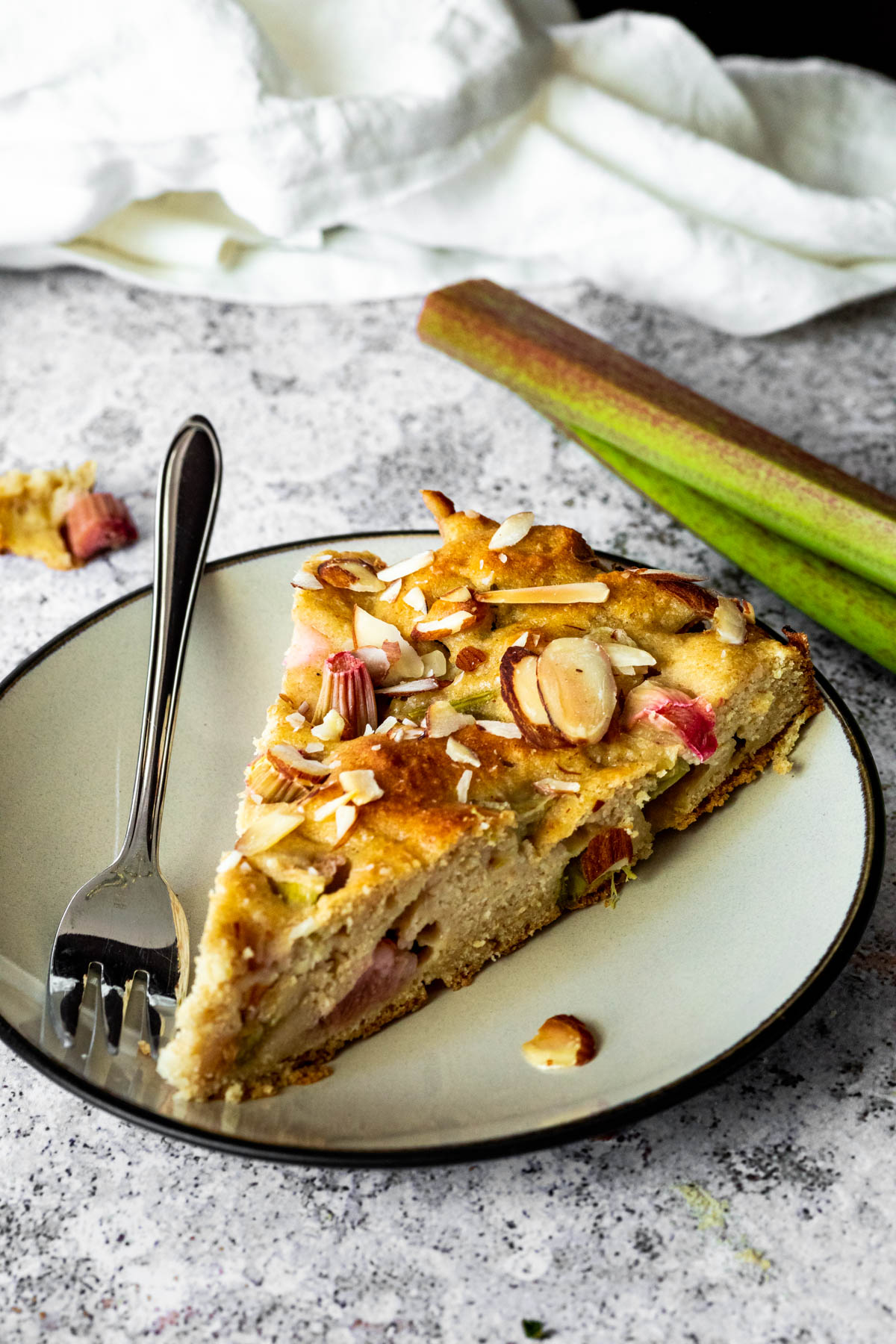 As an Amazon Associate, I earn from qualifying purchases. This post may contain affiliate links. Read More
Do you meet with friends for a coffee? But you don't know which cake you could prepare for the coffee table?
Or maybe you even planned a birthday party and have no idea what to prepare for the afternoon coffee time? How about this delicious vegan rhubarb bundt cake that will amaze everyone!
Did you know that rhubarb is actually a vegetable instead of a fruit? I hadn't known it recently and it is pretty amazing. Isn't it weird?
We use it to prepare everything that would normally be used for fruit. For example: Jam, compote and lots of delicious cakes with rhubarb.
So that we don't have to use butter, buttermilk, margarine and oils on this cake, let's use unsweetened nut butters like almond butter and almond flour.
This way, the cake gets its "fat content" in a healthier form with more nutrients than would be with oils.
As sugar, we use apricots here, which we puree with the almond milk and almond butter.
If the cake is not sweet enough, of course, you can add a little coconut blossom sugar, raw cane sugar, or maple syrup.
Ingredients
With this cake you get along completely without animal products. Here is a small overview of what you now need for the cake:
Rhubarb
Almond butter or other nut butter like cashews
Almond milk or other plant-based milk
Dried apricots
Vanilla extract
Gluten flour / seitan fix (optional, makes the cake fluffy)
Whole wheat flour (spelt or wheat) or normal ap flour
Ground almonds
Baking powder
Almond Slices
Instruction
Preheat the oven to 350°F (175°C).
Start chopping the rhubarb in chunks. Cut it into pieces about a half inch (1 cm) thick.
Now add all dry ingredients, such as flour, almond flour, gluten, and baking powder, to a mixing bowl.
Mix the almond butter, almond milk, dried apricots, lemon juice and vanilla extract in a high speed blender until there are no more pieces.
Pour the liquid into the flour and stir the dough until you get a smooth batter.
Now add the rhubarb pieces and stir them in briefly. Take a greased springform pan and pour the dough into it. Sprinkle some almond slices over the dough. Bake the rhubarb cake for approx. 30-40 min.
Do the toothpick test to see if the dough is baked.
Should I use fresh or frozen rhubarb?
You can use both here. I take fresh and sometimes frozen. Depends on the time of year when you bake the cake or if you cannot find fresh like I have the problem here in the states. I use frozen in the video.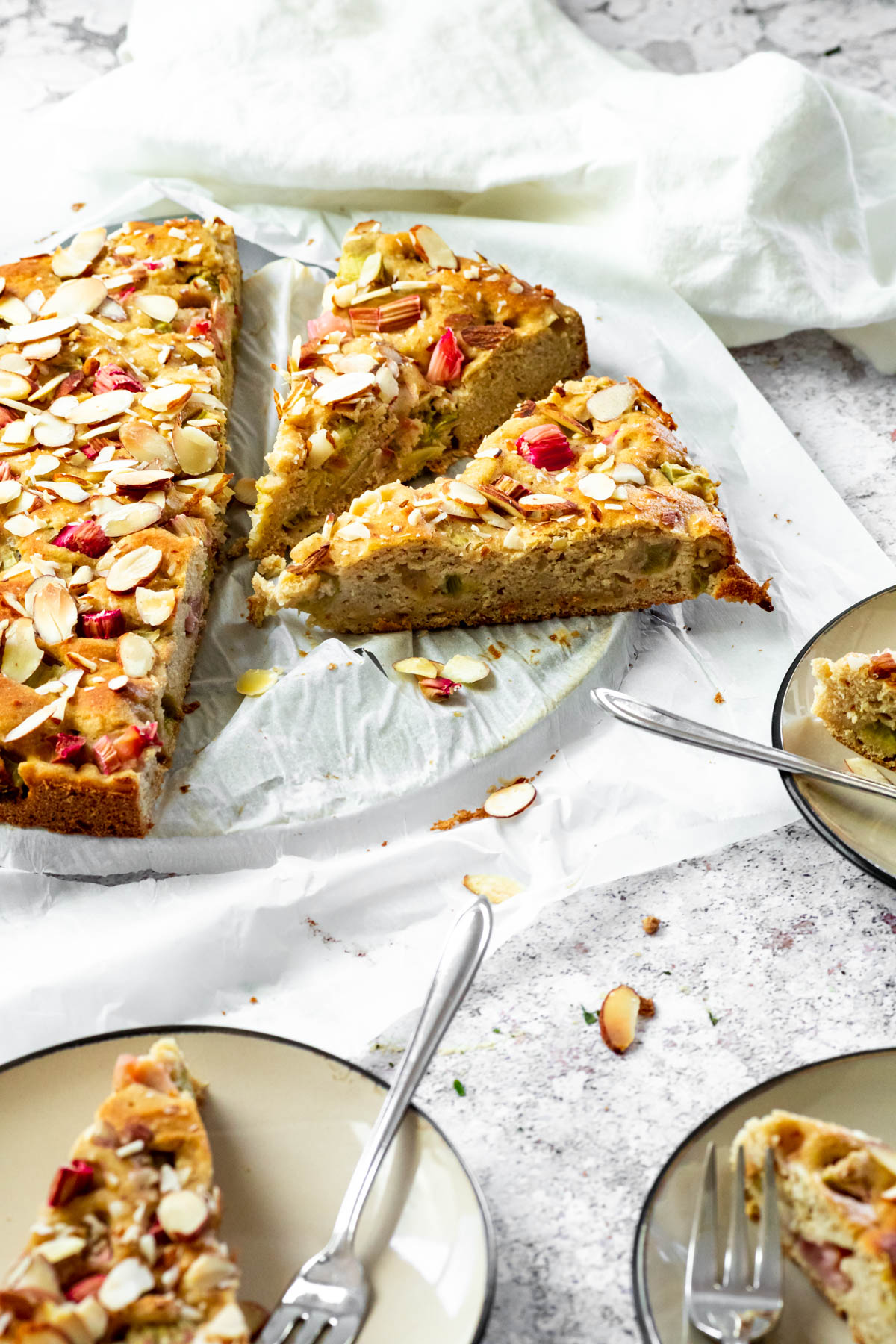 Can you use other fruits for this vegan rhubarb bundt cake?
Any fruit you can find is suitable here. I like to take sour fruit like currants or similar. The amount may then vary.
Just try it out, the cake will be versatile. You can also make a strawberry and rhubarb bundt cake, then just 2 ½ cups (250g) of strawberries and 2 ½ cups (250 g) of rhubarb.
I don't like apricots, what can I use instead?
You can use dried dates, and then the rhubarb cake will probably be a little darker than it is thanks to the whole wheat flour.
If you don't give up sugar, you can of course replace the apricots with other sugar alternatives such as coconut sugar.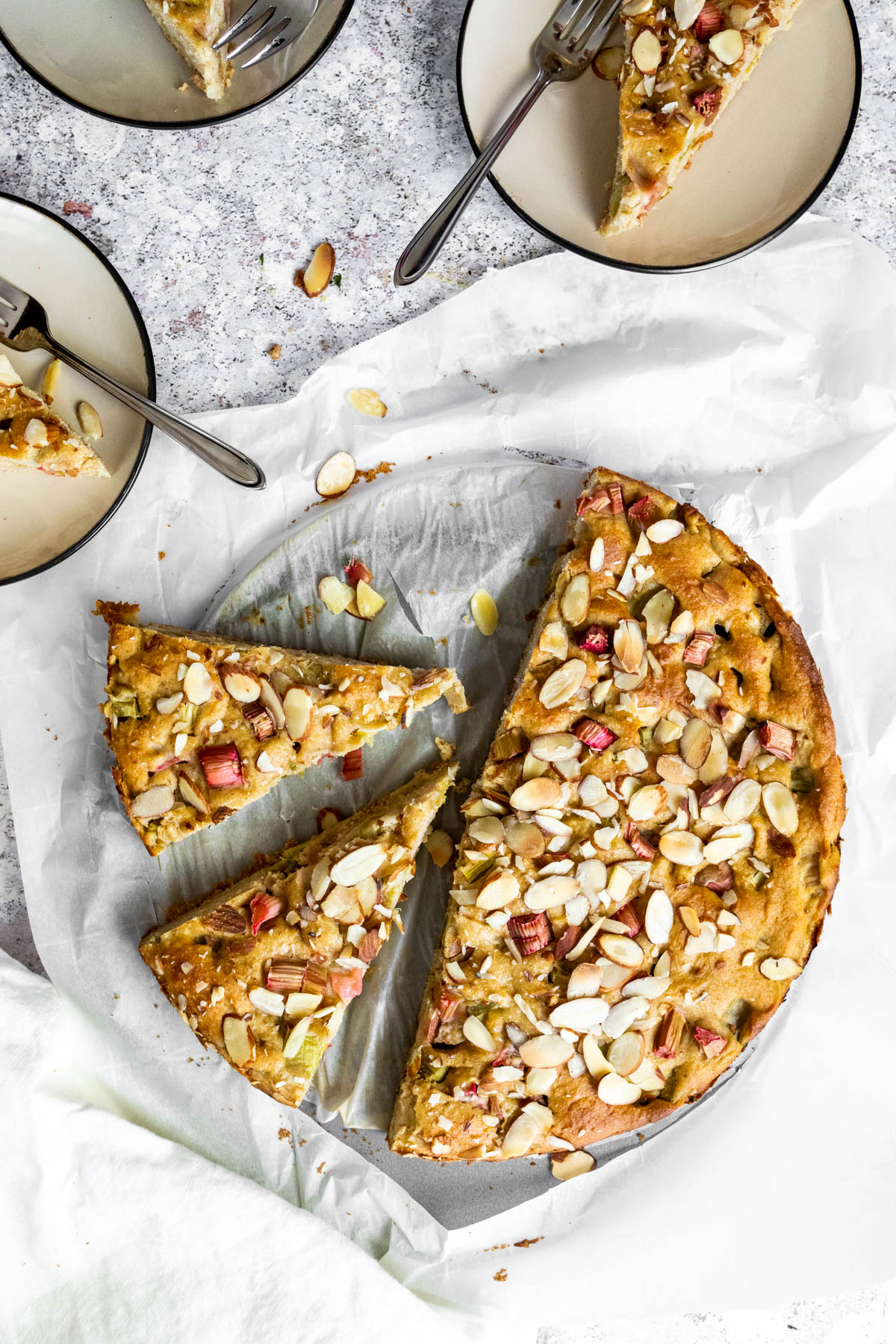 Can I also prepare the cake gluten-free?
If you cannot tolerate gluten, you can omit the gluten flour and you can also replace the whole wheat flour with a gluten-free flour mixture that is suitable for baking.
How big should the baking pan be?
This rhubarb bundt cake recipe is calculated for a pan with a diameter from 26-28 cm.
If you want a smaller shape, you have to reduce the ingredients accordingly. You can also use a bundt cake form if you want.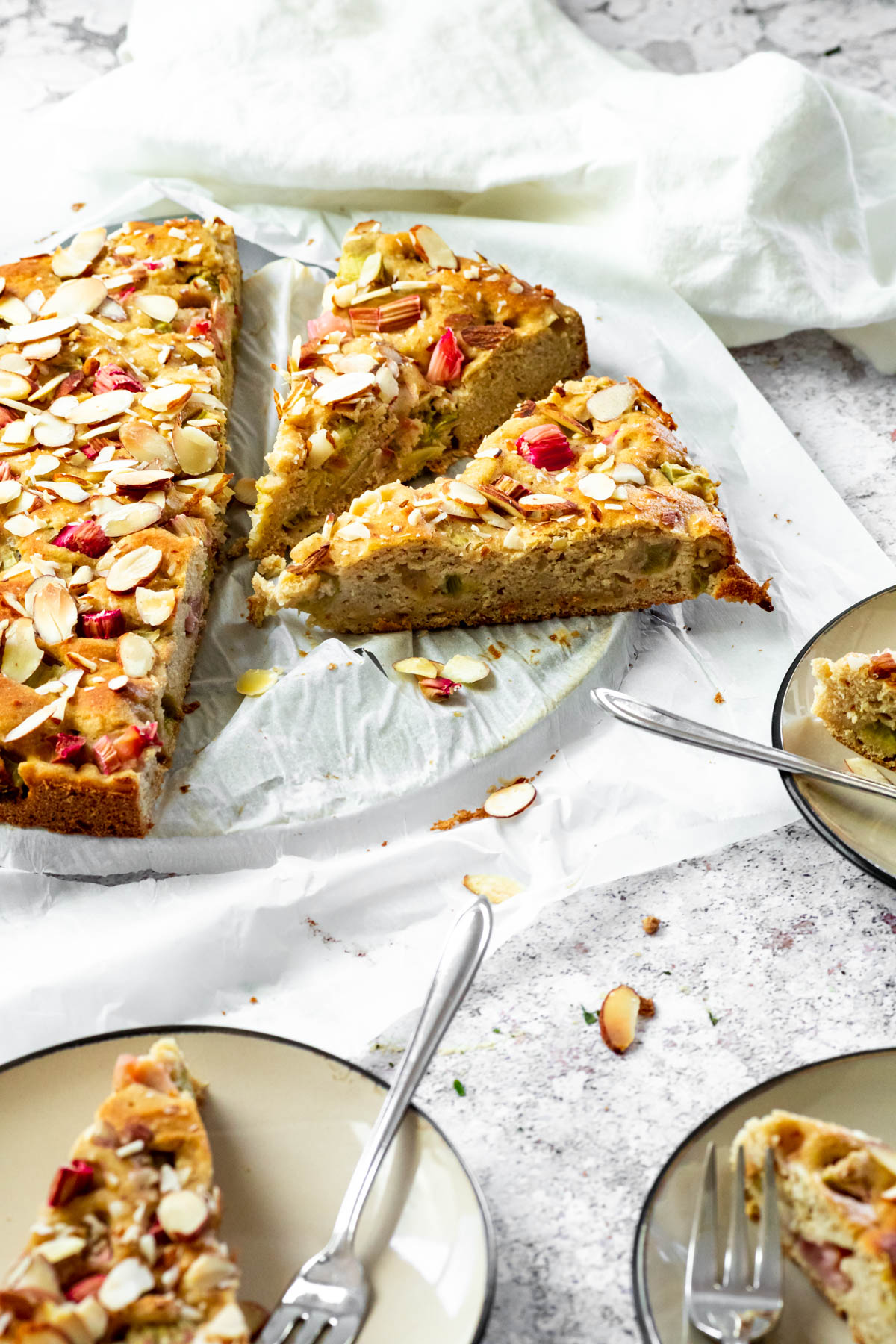 Storage
You can keep the cake in an airtight container in the fridge for a few days.
Or you can freeze the leftovers and thaw them the evening before. So you always have a few pieces of homemade cake on hand.
More vegan cake recipes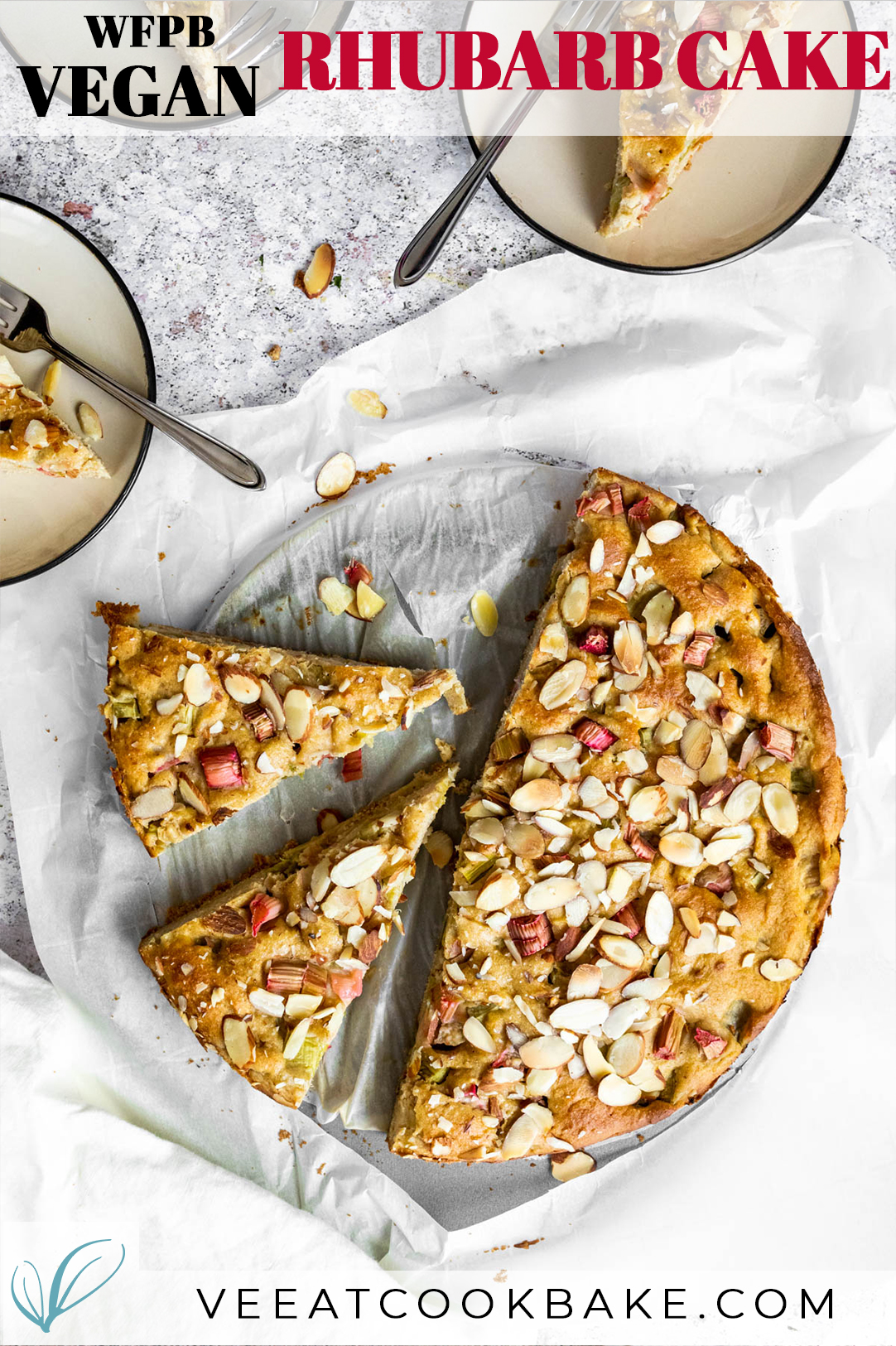 Have you tred the recip
If you tried the vegan Recipebe so nice ♥ and let me knw byrating the recipe and writing what you think about it in the comments.  I would love to see your photo on Instagram orFacebook. To do this tag me with @veeatcookbake andmy hashtag is #veeatcookbake. So that I can see your creation. Did you know you can add photos n Pinterest under the recipe Pin? I can't wait to see a photo of your creation here. You find me with @veeatcookbake