Vegan Brownies - Brownies should be dense, sticky, juicy, gooey chocolate cakes that will make your mouth water.
Vegan brownies are easy peasy to prepare without any high fructose syrup, sugar, or eggs.
What you need for these incredibly sticky brownies are dried dates, dark chocolate, cocoa powder, nut butter, and you get a healthy alternative to the classic American brownies.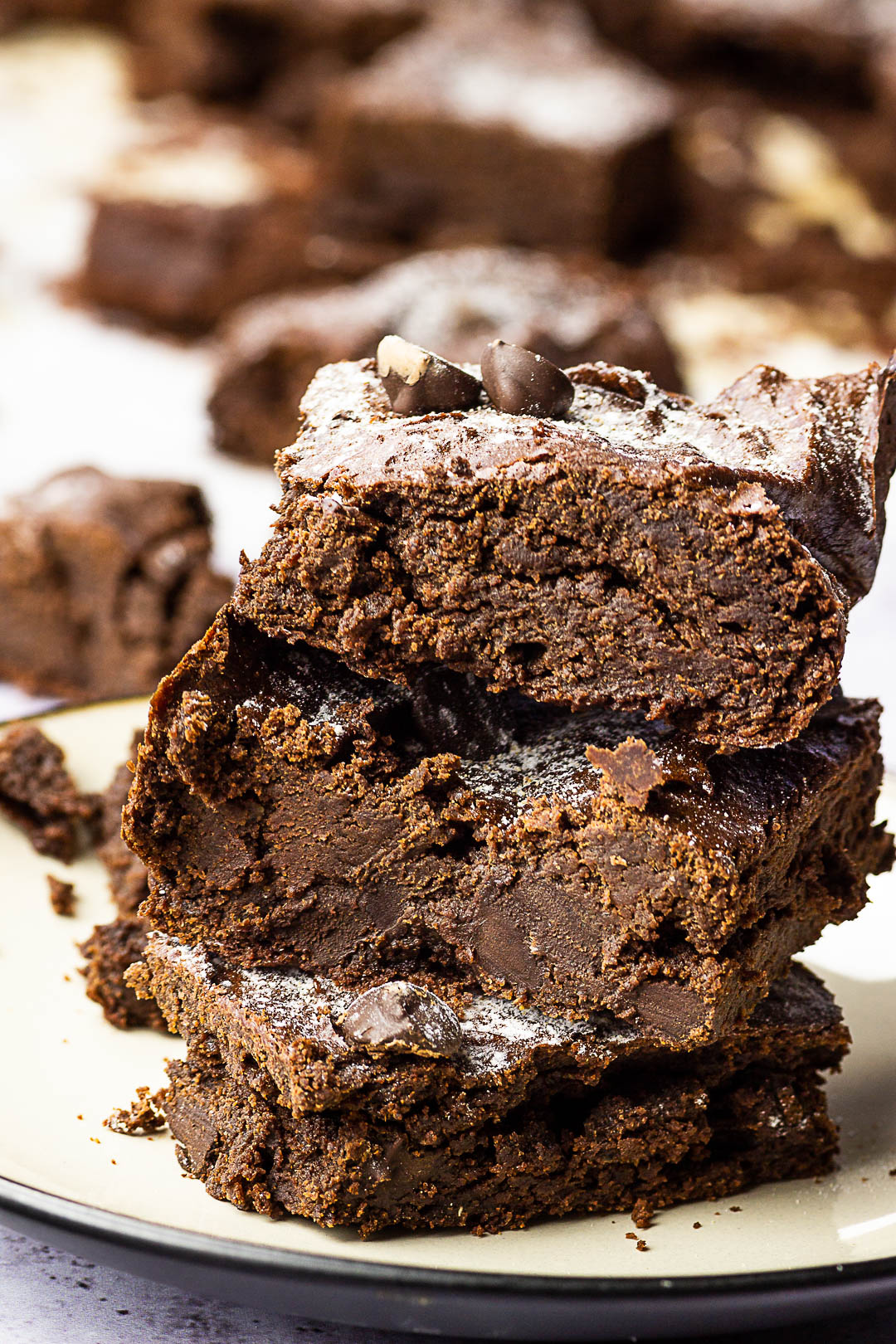 As an Amazon Associate, I earn from qualifying purchases. This post may contain affiliate links. Read More
Classic brownies should be sticky and gooey, but not too gooey. Some like brownies rather dry, but still moist and others like brownies super goooooey.
I tend to be one of those who like the brownies to be dense, juicy and gooey. They should stick together and not too gooey that the brownies fall apart.
I've been thinking for a long time how to get a brownie version that's not too sweet, but still does not let you miss the classic brownies.
I have to admit, I find most American baked goods too sweet. Many baked goods are overly sugared, which is simply not necessary.
To taste the full taste of the brownies or other cakes and pastries, they should not be too sweet.
Otherwise, you cannot taste the chocolate properly, just the pure sugar, which sometimes even leaves a stinging sensation in the mouth.
And these brownies have become perfect. This version with dates, nut butter and dark chocolate will be a staple in our house.
Perfect if you like something sweet, but you do not necessarily want to access an unhealthy calorie bomb. Enjoy without a guilty conscience - what more could you want ...
Ingredients
Here are the ingredients which are in these amazing vegan wfpb brownies.
The exact quantities are in the recipe card below.
Whole-grain flour, spelt or wheat
Cocoa powder
Flax seeds
Dried and pitted dates
Nut Butter (almond or cashew)
Vanilla extract
Almond milk or other vegan milk
Dark chocolate
Chocolate chips
How to make vegan brownies?
We prepare the brownies in a food processor.
First take the soaked, pitted dates, nut butter, 2 tablespoons almond milk and mix them in the food processor until a cream is produced without pieces. Melt the dark chocolate in the meantime.
And put the ground flax seeds with the 6 tablespoons of milk in a small bowl.
Now add to the date cream, the flour, cocoa powder, vanilla extract and remaining almond milk, as well as flax seed and mix until everything is mixed together.
Add the melted chocolate and stir with the food processor.
Fold in the chocolate chips.
Place the brownie dough in a baking dish with baking paper and bake the brownies for about 20 minutes at 350°F (175°C).
The brownies should still be relatively moist in the middle. They get firmer during the cooling when they are out of the oven.
First, let the brownies cool completely before you cut them.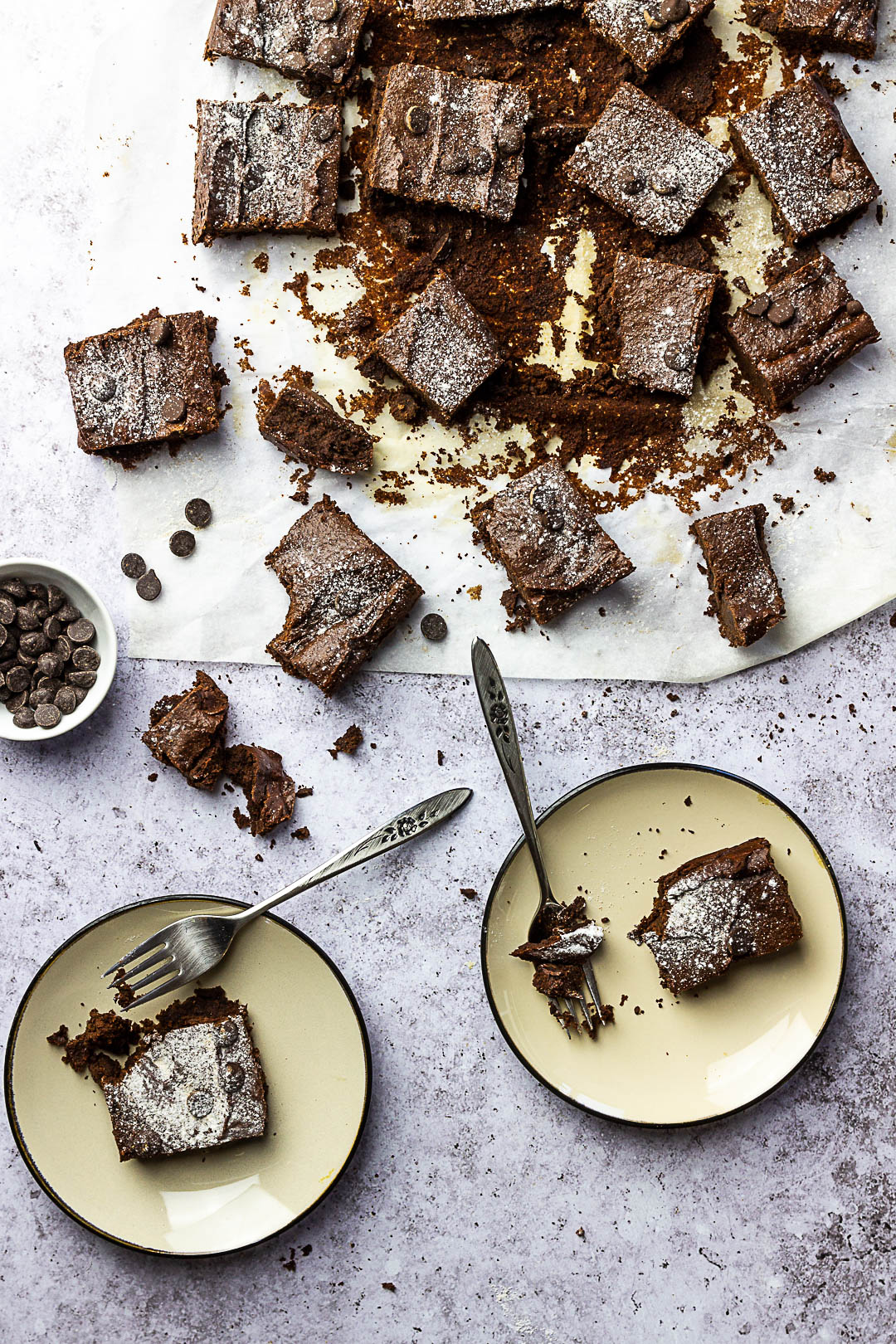 What chocolate chips should I use for a vegan brownie recipe?
You can use dark chocolate chips. Look in the baking department.
Make sure again and read through the list of ingredients that does not contain dairy products like butter fat, whey, milk, or sugar.
If you do not use or find chocolate chips, you can easily cut your favorite chocolate into pieces.
Can you make brownies without eggs?
One of the biggest challenges with vegan brownies is that the brownies stick together and do not fall apart, making sure that the brownies stay moist and do not dry out and become a regular chocolate cake.
The easiest way to fix the brownies without drying out the brownies is to use flax seeds or chia seeds. Some recipes also use tofu to add some moisture again. We do not need that because we use dates.
Flax seeds and chia seeds are wonderful egg replacements and still provide valuable vitamins and minerals.
Simply grind the flax seeds and pour in with water or milk and let stand for a short time. The flax seeds become gelatinous and perfect as an egg substitute.
Just try it out for your next cake.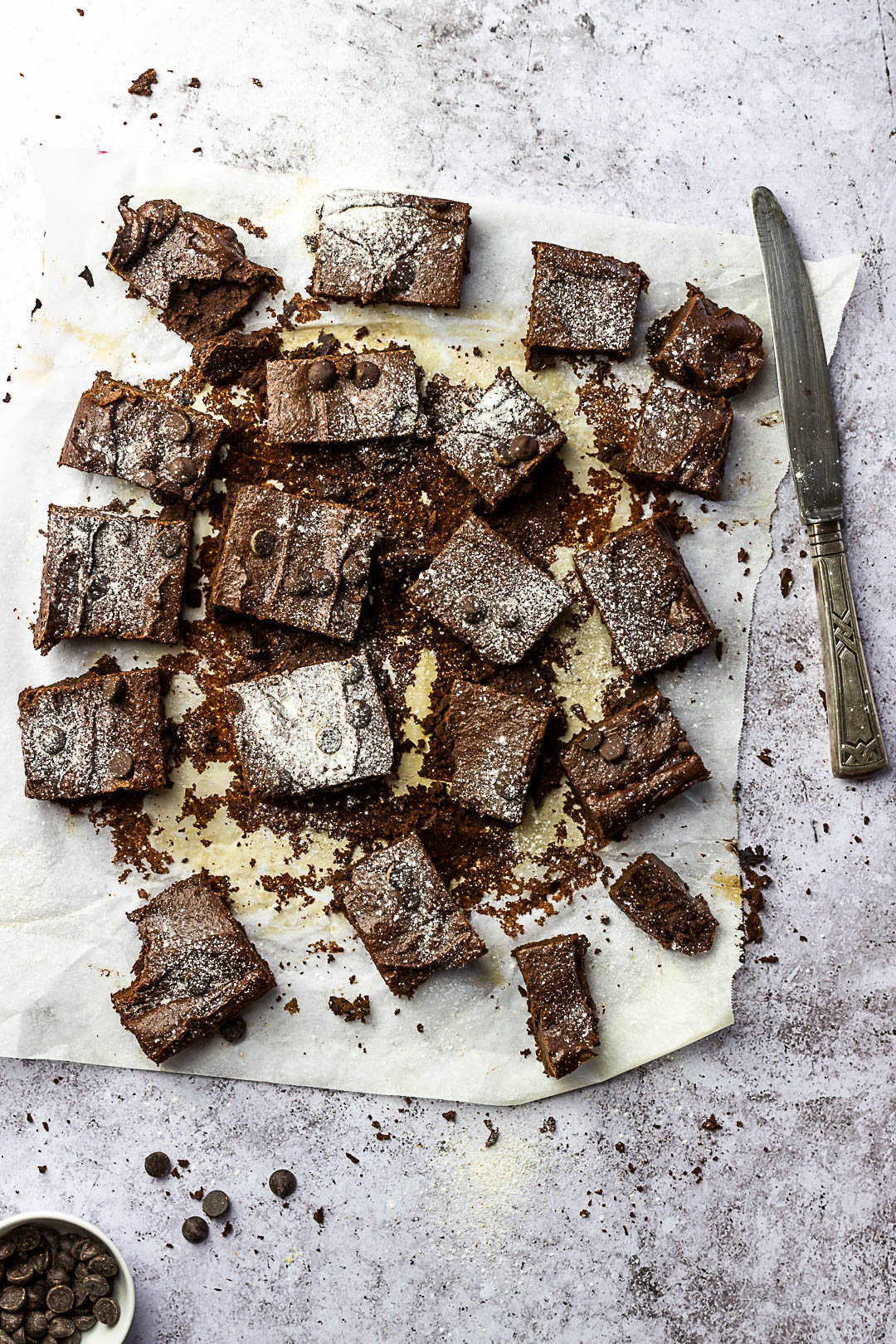 Can you prepare brownies gluten-free?
I have to say, I have not tried it yet. If you're using a gluten-free baking mix like this, it should work just fine.
If you give it a try, I would be pleased to hear from you in the comments.
How do you cut brownies the best?
If you're baking the brownies for a party, you'd probably like to serve perfectly cut brownies, right? Please note the following steps:
Line the baking pan with parchment paper, which peeks out over the sides. So you can easily take out the brownies with parchment paper
Let the brownies cool for about 15 minutes. Only then remove the whole brownies with the baking paper from the pan and let the brownies cool on a cake rack with the baking paper for at least 20 min.
Please remember that the longer you let it cool, the better the brownies can be cut.
Use a big knife to cut brownies. It is best to leave the knife in warm water for a short time, then dry it and cut the brownies.
Wash the knife a couple times to make sure nothing sticks on it. So you get clean brownie squares.
Storage
Brownies are great for freezing. To do this, simply freeze the sliced ​​brownies in portions.
The evening before just take out of the freezer before serving and thaw it. You can also eat the brownies frozen.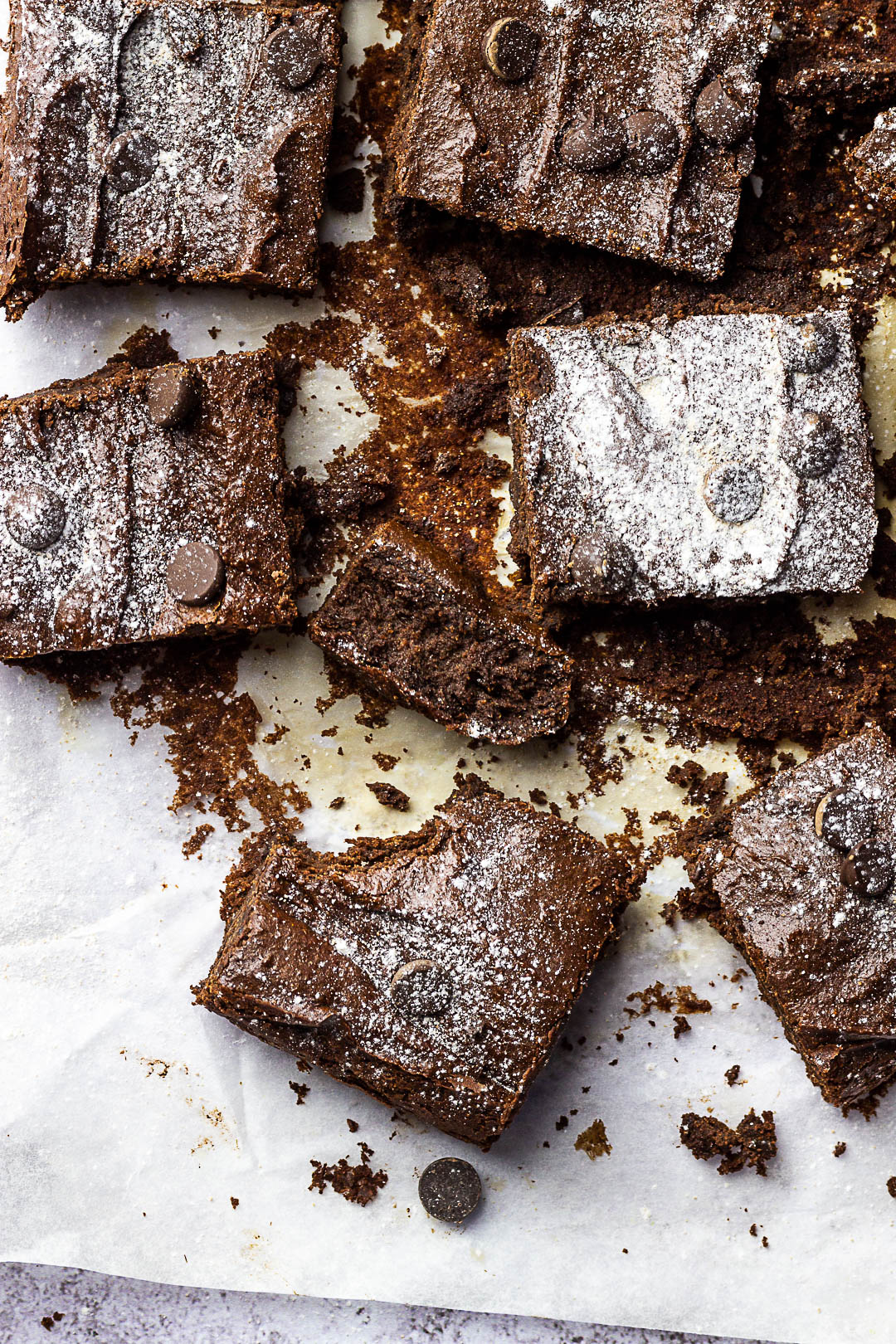 More Vegan Cake Recipes: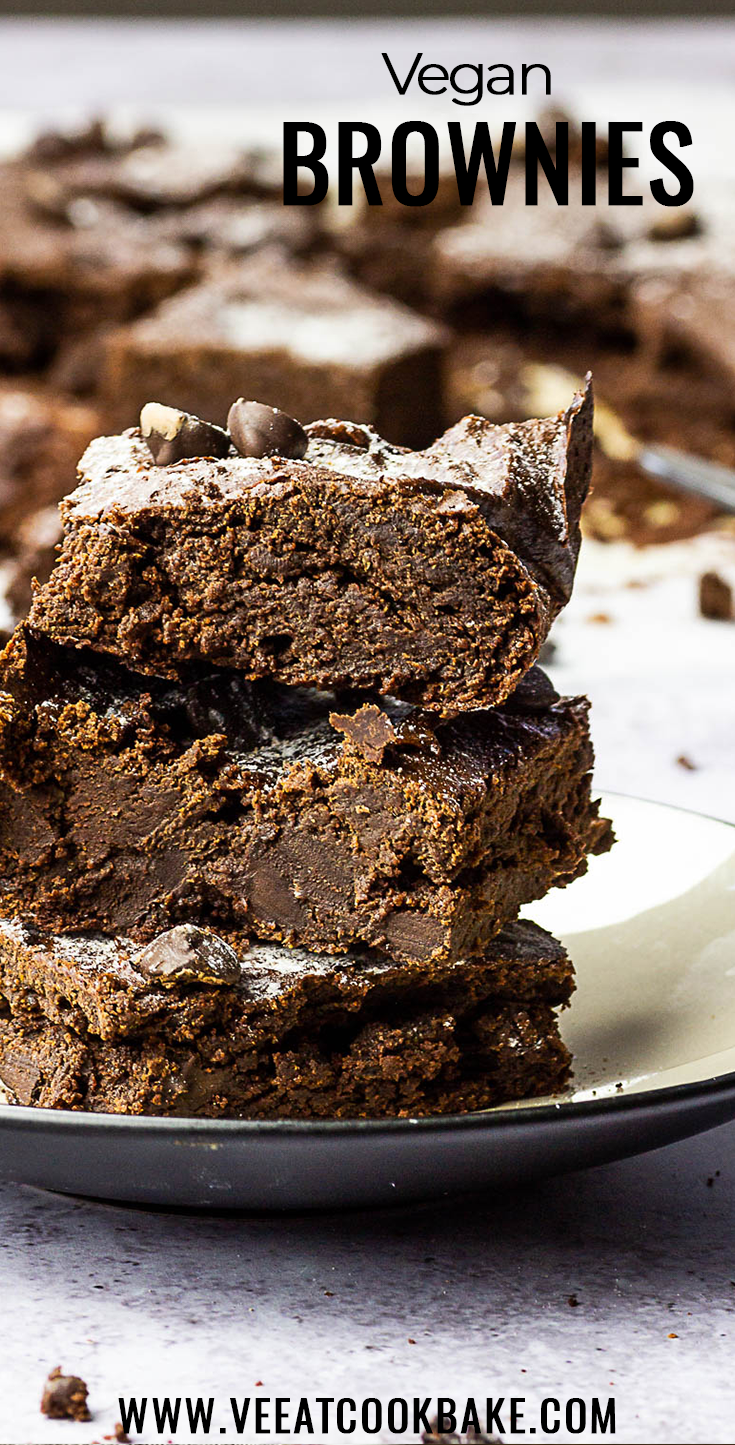 Have you tred the recip
If you tried the vegan Recipebe so nice ♥ and let me knw byrating the recipe and writing what you think about it in the comments.  I would love to see your photo on Instagram orFacebook. To do this tag me with @veeatcookbake andmy hashtag is #veeatcookbake. So that I can see your creation. Did you know you can add photos n Pinterest under the recipe Pin? I can't wait to see a photo of your creation here. You find me with @veeatcookbake