Vegan blueberry bundt cake is a heavenly light and fluffy sponge cake with delicious blueberries. This cake recipe is a quick and tasty blueberry dessert that you can serve at the coffee table or at brunch. The cake is baked from a whole grain batter, almond flour, cashew butter and dried apricots. We don't need any oil or sugar for this juicy cake.
vegan | egg-free | dairy-free | lactose-free | sugar-free | wholesome | oil-free | healthy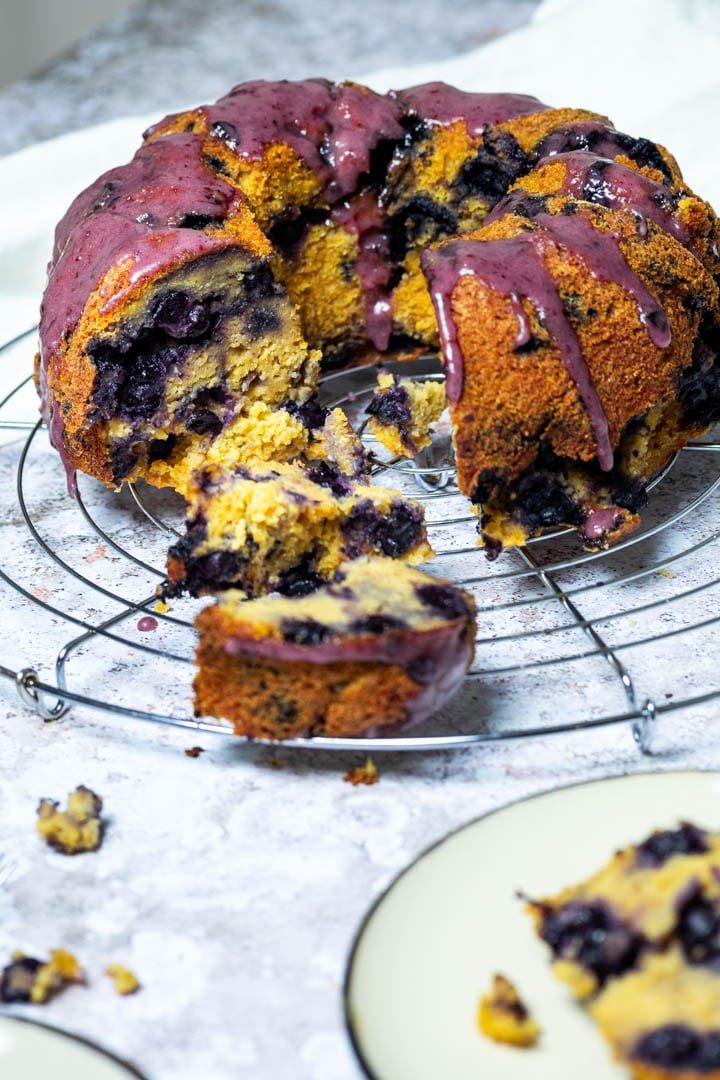 I personally don't need a reason to bake a cake. I am always up for some cake and even more so when they are baked without highly processed foods, am I right?
And this light, juicy vegan blueberry bundt cake can be prepared super quickly and tastes heavenly. And the combination of dried apricots and blueberries make the cake unforgettable.
If you like to eat blueberries or do you know someone who likes them, then you should give this cake a chance. And if you don't want to exchange taste for healthy food, you've found a great recipe here.
What do I need for a vegan blueberry bundt cake?
Whole wheat flour
Almond flour (blanched, then the cake becomes light)
Potato starch
Baking powder
Baking soda
Cashew Butter
Almond milk
Dried apricots
Sparkling water (without flavor)
Vanilla extract
Blueberries
Powdered sugar (homemade from raw cane sugar or coconut sugar)
Blueberry juice (I squeeze a few blueberries)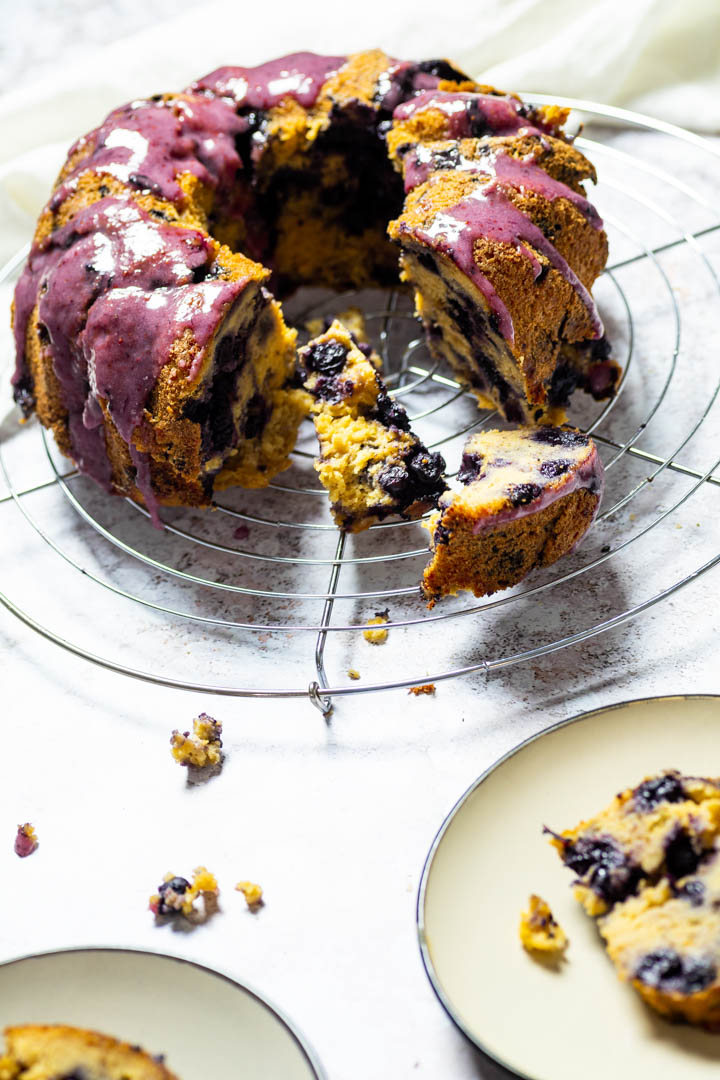 How do I prepare a vegan blueberry bundt cake?
Soak the apricots in hot water for about 20 mins. And preheat the oven to 325 °F (160 °C).
In the meantime, measure the dry ingredients like whole wheat flour, almond flour, baking powder, baking soda, potato starch and mix them in a bowl. I use my stand mixer for it.
Take out the frozen blueberries and let them thaw.
Mix the drained apricots, almond butter and almond milk in a high speed blender or food processor until creamy and smooth.
Add all the remaining ingredients except the blueberries to the dry ingredients and mix until a smooth dough is achieved.
Add the blueberries slowly by hand.
Prepare a bundt cake pan, I grease and flour it with bread crumbs to help the cake release after baking. Add the dough to the pan and bake it for 60 minutes. Do the toothpick test to see if the cake is baked through.
Let it cool in the pan for around 30 mins or until the pan is cool enough to touch.
Then let the cake cool completely on a wire rack.
Prepare the glaze. Use powdered raw cane sugar or coconut sugar and mix it with some fresh blueberry juice and vanilla extract. To make this I press a couple blueberries.
Drizzle it over the cake and let it harden.

Should I use frozen or fresh blueberries?
I used frozen ones for the cake here. You can also use fresh blueberries. You can decide that freely. The cake tastes incredibly good with both.
How do I prepare the bundt cake pan so that the cake doesn't get stuck?
I have to say my cake actually got stuck. I don't know if you can see it in the photos, but I tried to save it. And it wasn't because of the pan that the cake got stuck in it. The cake was still too soft and then broke off in the middle. I was just too impatient to wait a bit longer. When removing the cake, two points are important:
Grease the cake with a little coconut oil and only very lightly. I basically know that the cake is no longer oil-free, but so far I have not found an alternative to what you do with a bundt cake pan. Then sprinkle the form with flour or breadcrumbs so that the cake doesn't get stuck.

Remove the cake at the right time. I had removed mine too early. Make sure that the bottom of the cake pan is only slightly warm and no longer hot. If the pan is still too hot, the cake is still too soft and the cake will break apart. So it was with my cake. Again I had no patience and everything had to be done quickly. Let the cake cool for at least 30 minutes and then check how hot the pan it is.
What is the best way to store the cake?
It is best to put the blueberry cake in a cake container and put it in the fridge. The cake lasts there for a few days. You can also freeze the cake and then just take it out of the freezer the night before.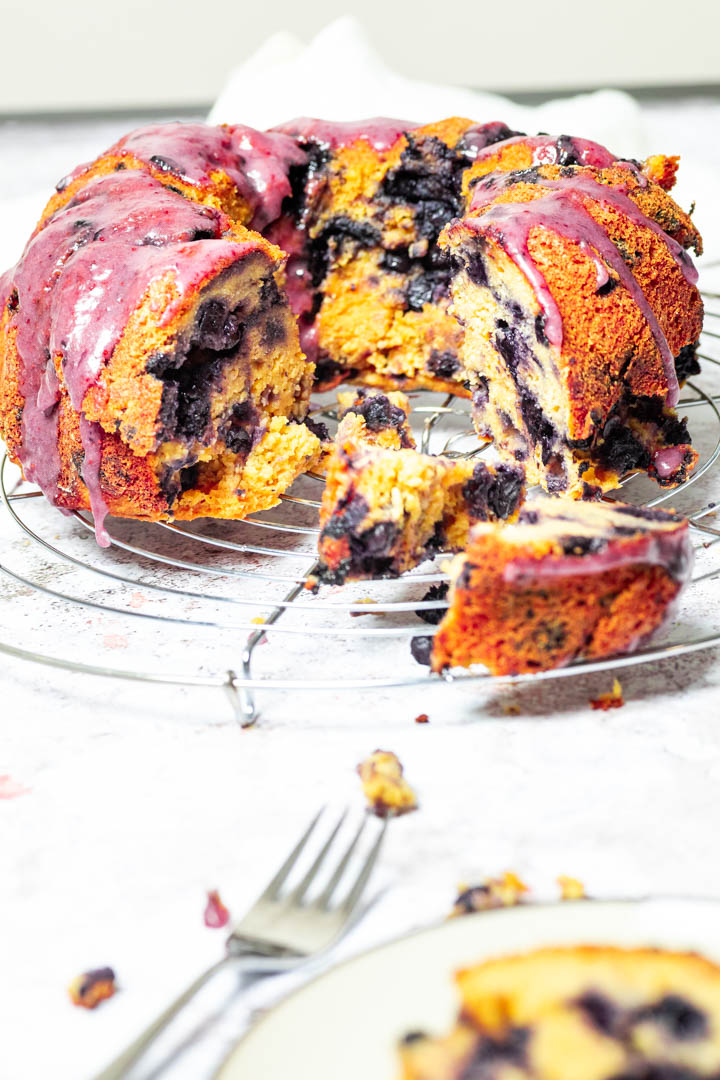 More vegan cake recipes:
Rhubarb with "meringue topping"
Do not forget to Pin on Pinterest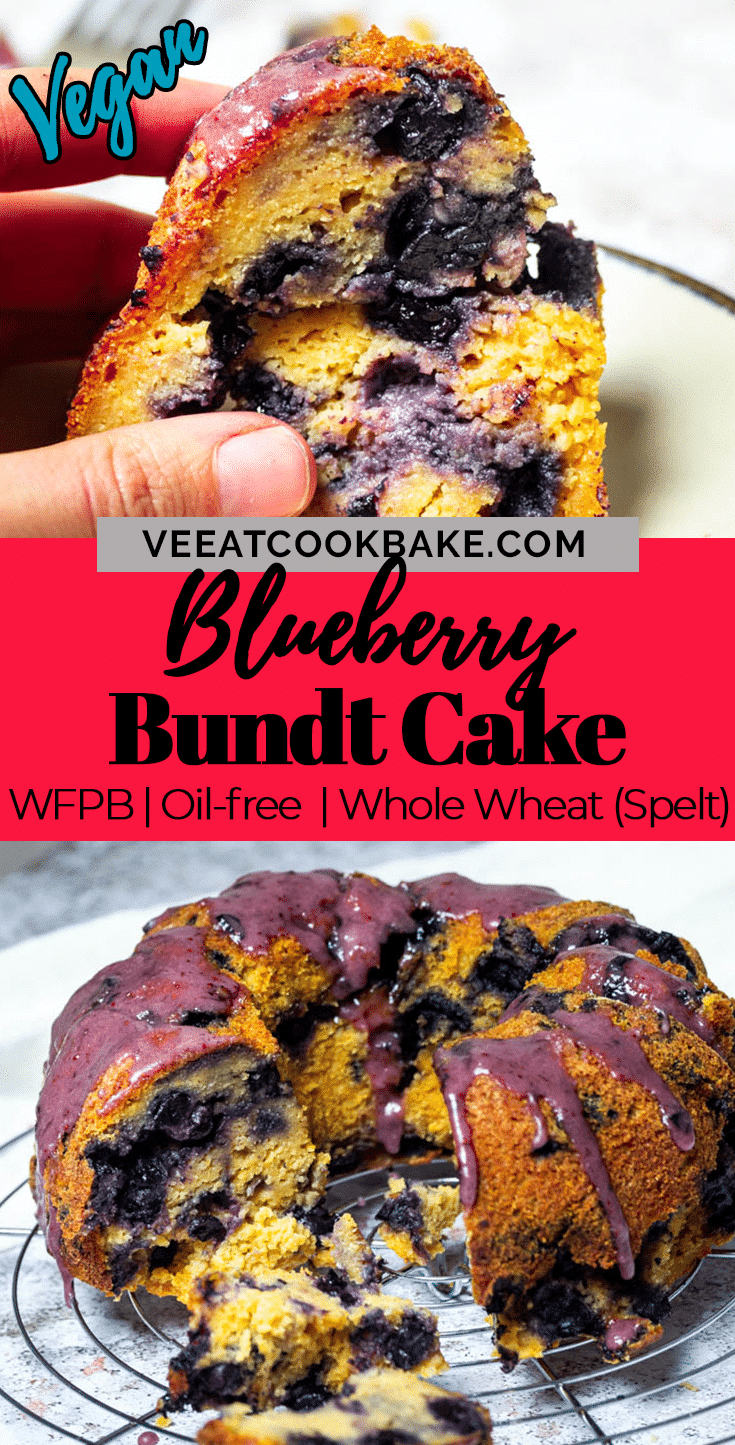 Have you tried the recipe?
If you tried the vegan Blueberry Bundt Cake, be so nice ♥ and let me know by rating the recipe and writing what you think about it in the comments. Tag me on Instagram too. I am @veeatcookbake and my hashtag is #veeatcookbake. So that I can see your creation. Did you know you can add photos on Pinterest under the recipe Pin? I can't wait to see a photo of your creation there. You find me with @veeatcookbake. I also would love to hear your feedback so I can share it on my social media channels.

This post may contains affiliate links and I may receive a very small commission if you buy through these links at no extra cost. Thank you very much for supporting Ve Eat Cook Bake! More information can be found here.
---