Recipe for a creamy vegan cheesecake with mandarins and homemade jello topping (gelatin-free).
This cheesecake with an oil-free, airy sponge cake base will be so popular at birthday parties and holidays like Christmas, Thanksgiving and Easter that it will be empty in no time at all. Ideal as a dessert or with a cup of coffee or tea.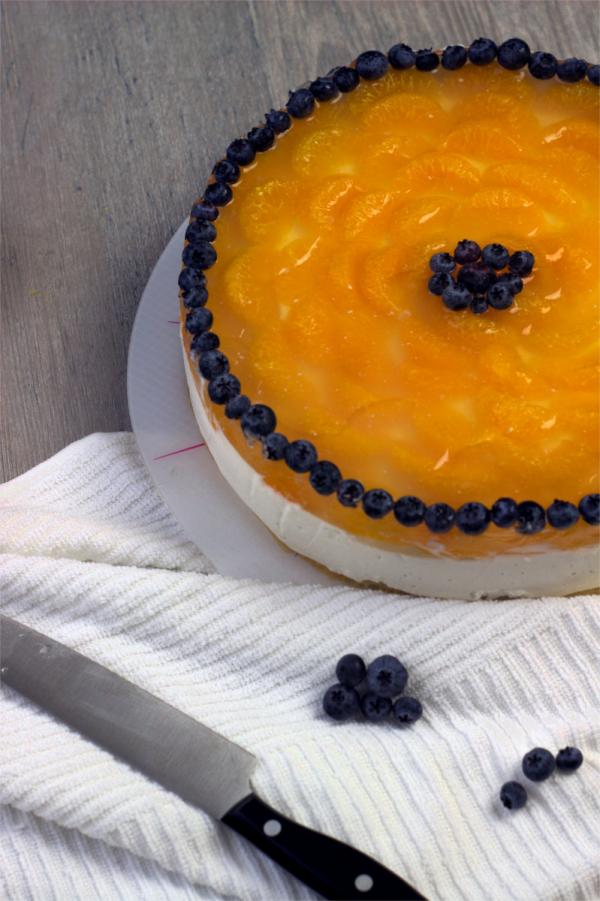 As an Amazon Associate, I earn from qualifying purchases. This post may contain affiliate links. Read More
Jump to:
In this vegan cake recipe, we use wholesome ingredients, no refined household sugar.
You could even enjoy this cake for breakfast.
The base is baked and later, with the help of a cake ring, is topped with the cream, which does not need to be baked.
This cake was and remains my absolute favorite cake and of course I had to veganize this recipe and of course I don't want to withhold such a great cake from you.
This cake was already available for my 1st birthday, but in the non-vegan version.
However, there was no vegan version of it at the time. When I look at my baby photos, it was already my 1st birthday cake.
I couldn't get enough back then and dipped my head into the cake.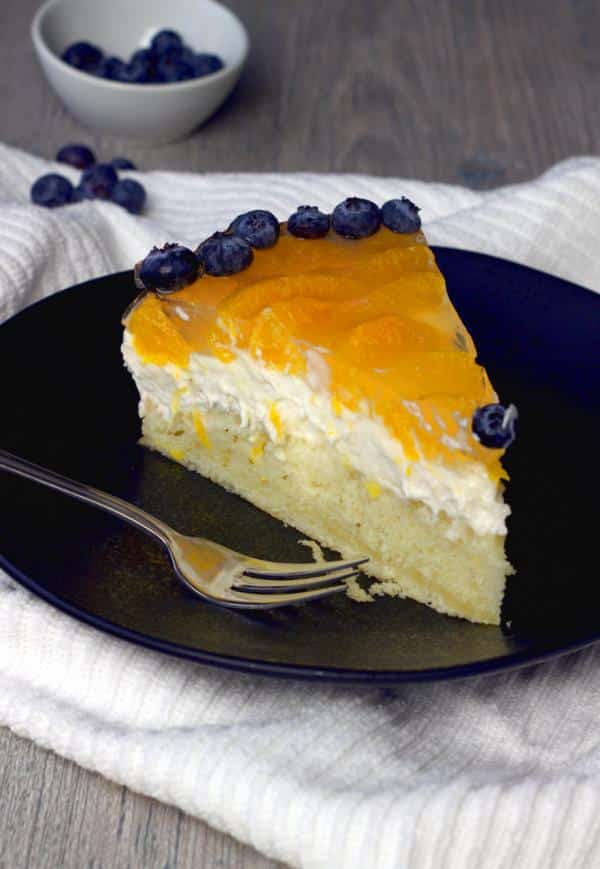 Ingredients
Let's just take a look at the ingredients in this cake.
As always, the exact quantities can be found below in the recipe card.
Sponge Base
Coconut Sugar
Sparkling Water
Almond Butter
Water
Baking Powder
Vanilla Extract
Whole Wheat Flour
Almond Flour
Apple Cider Vinegar
Cream Layer
Coconut Cream
Vanilla Extract
Plant Based Yogurt
Agar Agar
Water
Maple Syrup
Topping
Mandarins
Jello
Juice
Agar Agar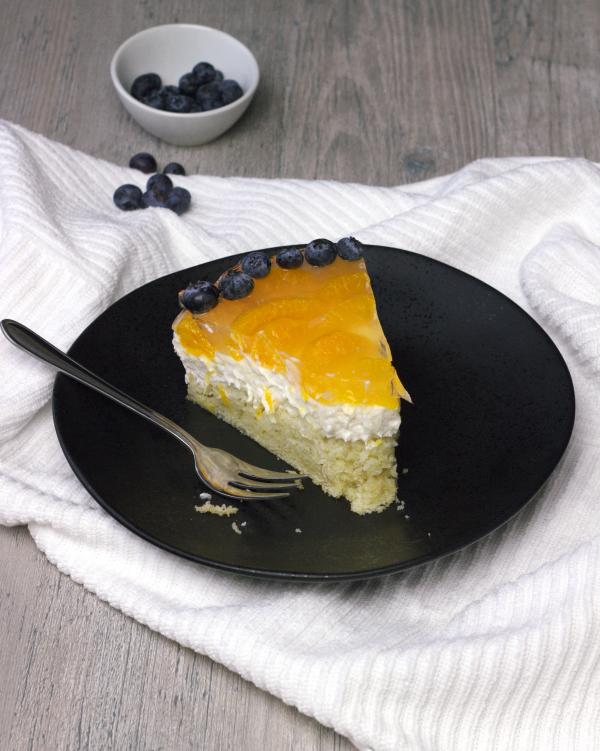 Substitutions
Would you like to make adjustments to the recipe? Then I recommend you to make the following adjustments.
Coconut Sugar
Instead of coconut blossom sugar, you can also use other sweeteners such as date paste or maple syrup.
Sparkling Water
You can also use non-carbonated water. But soda helps make the bottom of the vegan cream cheese cake so airy.
Whole Wheat Flour
Here you can also use spelt flour on top of other flour, for example. A gluten-free baking mix would work fine here too.
Almond Flour
Instead of almond flour, you can also use other nut flour, for example. hazelnut. Or you can also grind pumpkin seeds into small pieces and use them. This makes the dough fluffy and not dry as we don't use oil.
Almond Butter
You can use any puree here. For example cashew or sunflower seeds. It is important that you use something with healthy fats, as we do not use oil.
Coconut Cream
If you don't want to use coconut cream, you can also buy store-bought whipped vegan cream.
I use coconut milk here and leave it in the fridge overnight, so you have a solid part the next day.
Mandarins
Instead of mandarins, you can also use other fruit, for example this one tastes good with grapes, gooseberries, or apricots.
Variations
Now let's take a look at how you can prepare this vegan mandarin cheese cream cake in gluten-free, nut-free.
This plant-based cake is already soy-free.
Gluten free
Here we just have to pay attention to the flour. You can either buy a store-bought gluten-free flour baking mix or you can make one yourself.
Nut free
If you count coconut as a nut, it will be difficult to make this cake nut-free. I know that nut allergies often are not affected by coconuts, but you should definitely check with your doctor if you have one.
The base is easy to prepare nut-free. To do this, simply replace the almond butter with sunflower seed purée.
You can replace the almond flour by finely grinding sunflower seeds or pumpkin seeds in a high-performance mixer.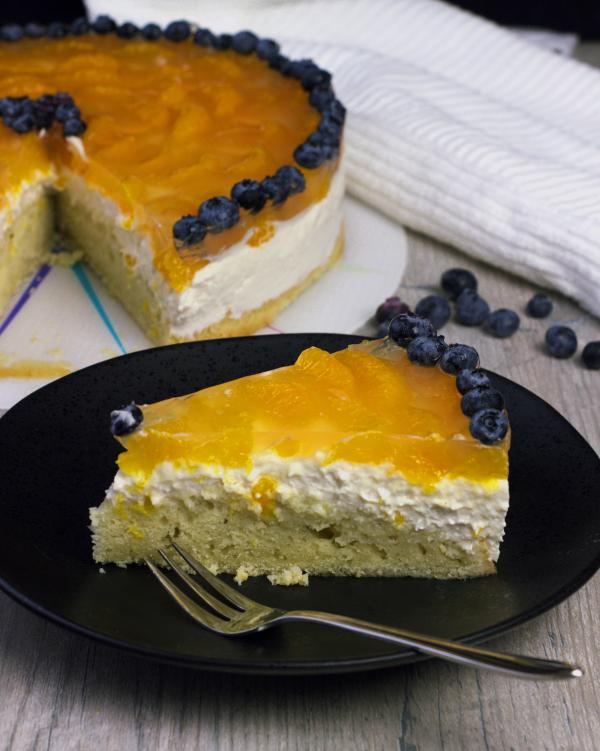 Instructions
Start by putting the coconut milk in the refrigerator overnight.
The next day, preheat the oven to 350°F (175°C) . Prepare the sponge cake. To do this, stir all the moist ingredients together and then add the dry ingredients. Just stir briefly until everything comes together to form a batter.
Put the dough in a 26cm springform pan lined with parchment paper. Bake the bottom for about 20 minutes.
Do the toothpick test.
Let the base cool completely.
Now prepare the cream layer. Take the coconut milk and put the solid part of it in a mixing bowl. Now whip up the firm cream. Slowly add the yogurt and sweetener.
Boil the water with the agar. Let it cool down a bit. And put it in a mixing bowl. Use a hand mixer to slowly stir in the cream. Be careful not to create lumps.
Now put a cake ring around the base and slowly let the cream run on it.
Put the cake in the refrigerator.
Drain the mandarins, catching the liquid.
Now prepare the jello. To do this, bring all the ingredients to a boil in a small saucepan. Do the gel test on a cold plate. When it sets, you can let the icing cool down a bit.
Take the cake and spread the tangerines on it.
When the icing is cold enough, you can distribute this evenly over the mandarins.
Put the cake in the refrigerator overnight for at least 3 hours.
Prepare in advance
I recommend that you prepare the cake about 1-2 days in advance. This will make the cream nice and firm.
Storage
How to refrigerate it
The cake can be stored in a cake container in the refrigerator for about 4 days.
How to freeze it
I have to admit, I haven't tried it yet .. But I can imagine that it will work. For this I would take it out 30-60 minutes before serving.
Tips
Don't stir the dough for too long. Otherwise it will be more solid and will not open so nicely.
I always have 2-3 cans of coconut milk in the fridge, so I can spontaneously bake a cake.
Be sure to do the toothpick test before taking the cake out of the oven.
When pouring the jello, it is important that it is no longer too hot. Let it cool down a good bit. Especially with agar agar it takes longer for it to set. Carrageenan solidifies faster when it cools down.
I recommend putting the cake in the fridge overnight so you can be sure that the cake is firm enough.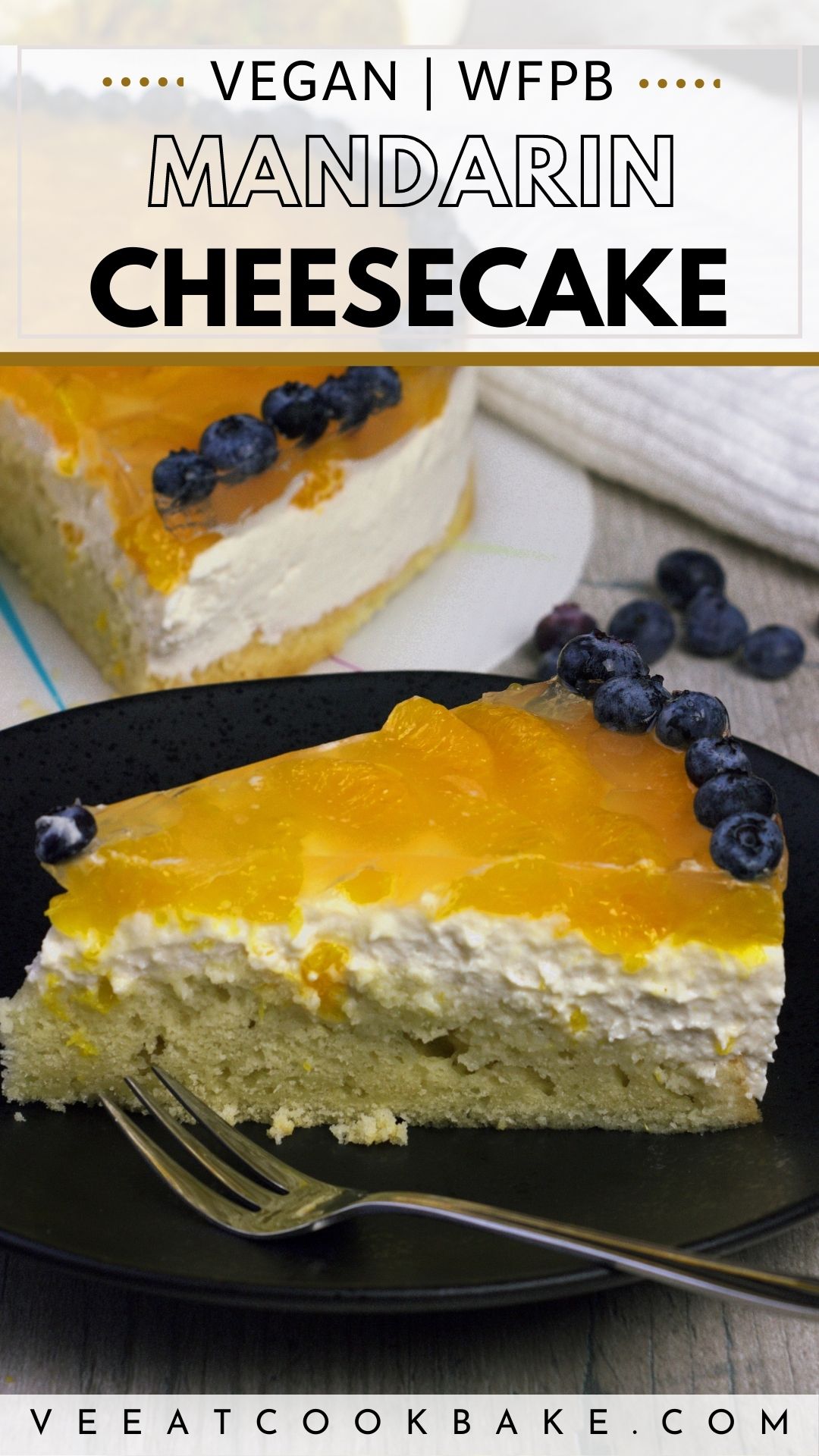 Have you tred the recip
If you tried the vegan Recipebe so nice ♥ and let me knw byrating the recipe and writing what you think about it in the comments.  I would love to see your photo on Instagram orFacebook. To do this tag me with @veeatcookbake andmy hashtag is #veeatcookbake. So that I can see your creation. Did you know you can add photos n Pinterest under the recipe Pin? I can't wait to see a photo of your creation here. You find me with @veeatcookbake