This Vegan Waffle Cookie Recipe is easy to make and has a nice Christmassy flavor thanks to the Cinnamon we are adding to it.
Those Cinnamon waffle cookies are made in a waffle iron, and you will not need to heat up your oven to make some delicious Cookies.
Waffle cookie recipe vegan made are also whole food plant based, that means you do not need any oil, refined sugar. Dairy free and egg free waffles do not need any fancy ingredients.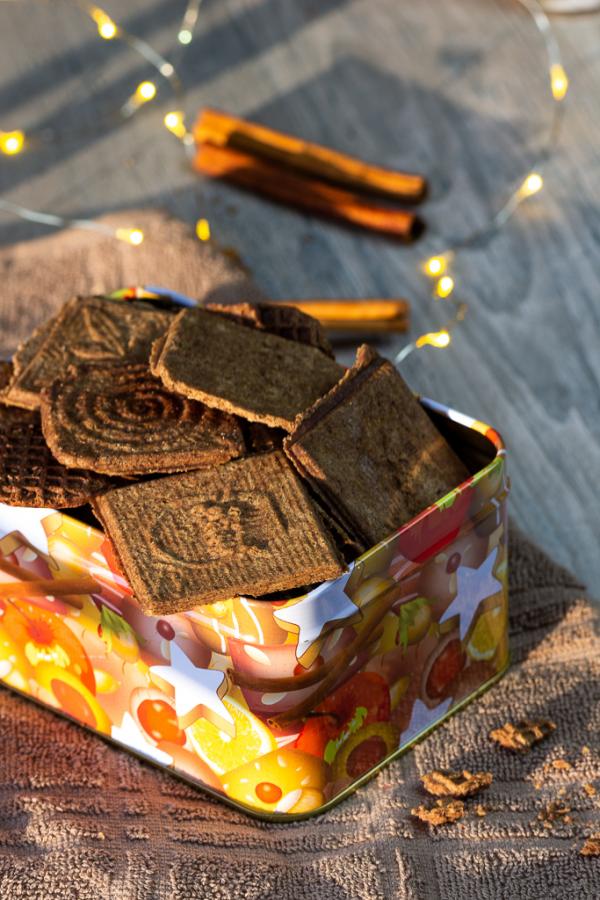 As an Amazon Associate, I earn from qualifying purchases. This post may contain affiliate links. Read More
Jump to:
When you love christmas time, christmas markets with German Mulled Wine and cookies like Vanilla Crescent Cookies, Gingerbread than those vegan cookie recipes are a must-try for you. Did you ever have vegan stroopwafels? This recipe cannot be missed in your collection of vegan waffle recipes.
Let us see what you will need to make these whole wheat waffles.
Ingredients
Whole wheat Flour
Almond Flour
Cinnamon Powder
Coconut Sugar or Date Sugar
Baking Powder
Coconut Milk
Check out the recipe card for quantities.
Instructions
Mix all the dry ingredients first in a large bowl. Add the coconut milk to it slowly while you start kneading it.
The waffle batter should be a little firmer that you can shape little dough balls. You want to add those to the waffle maker. Let the dough sit for an hour in the fridge. Form some small balls and put them on the hot waffle iron.
Hint: Let the waffle iron warm first and try first a batch to get best results.
If the waffle iron makes them stick, you want to brush a little oil on it. I am using this special waffle cookie iron (affiliate link), it also ships to the states.
Substitutions
Different ingredients we can substitute. I love to help you with that.
Whole Wheat Flour:
I usually use White Whole Wheat Flour, but sometimes I also use spelt flour. If you got only all purpose flour you can also use these.
I prefer whole grains flour to make healthy recipes or better healthier. Different flours are here possible.
If you got a favorite gluten-free flour blend, use that as well.
Almond Flour:
Because we do not use oil or butter in this cookie dough recipe, you want to add an ingredient that has natural fat.
You can also use less Almond flour and instead add some nut butter.
Coconut Sugar:
I prefer in this recipe to add a dry sweetener instead of a wet sweetener like date paste or maple syrup.
We want those cookies later crispy. Other dry sugar alternatives work just fine. You could also use brown sugar.
Coconut Milk:
The coconut milk helps to add some more fats without using oil or butter.
Instead, you can also combine almond milk or soy milk or another non-dairy milk and nut butters.
You could also use melted coconut oil or coconut cream.
Variations
I want to give you here some ideas how to change this easy vegan waffles cookies recipe. It is always fun making cookies in different ways.
Chocolate:
You love dark chocolate chips waffles? Who does not love some good chocolate? What about substitute the cinnamon powder with some cocoa powder, I prefer Dutch processed cocoa powder (affiliate link).
You can also add other flavors. Like vanilla extract. It is up to you. I prefer them with cinnamon, I just got all those childhood memories.
Equipment
You will need for this recipe a waffle maker. If you have a belgian waffle iron you can try to make it first with that.
You can also buy the special waffle iron for Cinnamon Waffle, but you will probably need a voltage converter transformer, what I am using for my waffle iron. If those cookies turn in some of your favorite cookies than the investment is worth to buy the original Zimtwaffel Iron.
You can also use a waffle cone maker. Then you will get nice thin crispy waffle cookies like those in the photos.
I would recommend first try with a waffle iron you already got. And if you like the taste of those waffles (and I am pretty sure you will) you can always buy a waffle maker to make thin crispy waffles.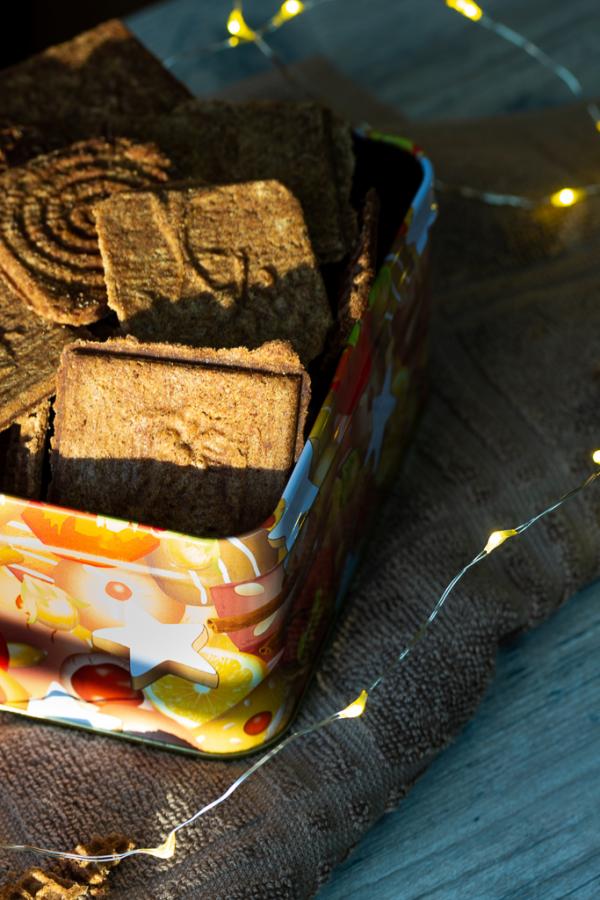 Storage
Those sweet waffles can be stored like normal cookies. Just put them in a cookie tin with the lid closed.
It will last there for a few weeks. We are so obsessed with those that ours are eaten in a matter of days.
Before you add them to the tin, I recommend letting the warm waffles cool completely.
Top Tip
I use a small wooden fork to lift the waffles from the iron. That way the iron does not get scratches, what can make the waffles stick yo the iron.
Use a wire rack to let the cookies cool to room temperature. They should get crispy really quick.
More vegan Christmas Cookies and Recipes:
More Waffle Recipes:
Vegan Belgian Waffles
Vegan Whole Wheat Classic waffle
Vegan Buttermilk Waffles