Gingerbread like from the Christmas market, only in vegan. These vegan Elisenlebkuchen are delicious and should not be missing during the Christmas Season.
These gluten-free vegan gingerbread recipes are prepared Nuremberg style, but do not contain any eggs or sugar.
You can give out these dairy free gingerbread cookies as an edible gift.
They are not only quick and easy to prepare, thanks to the typical gingerbread spices they also taste like the traditional Elisen Lebkuchen from Nuremberg.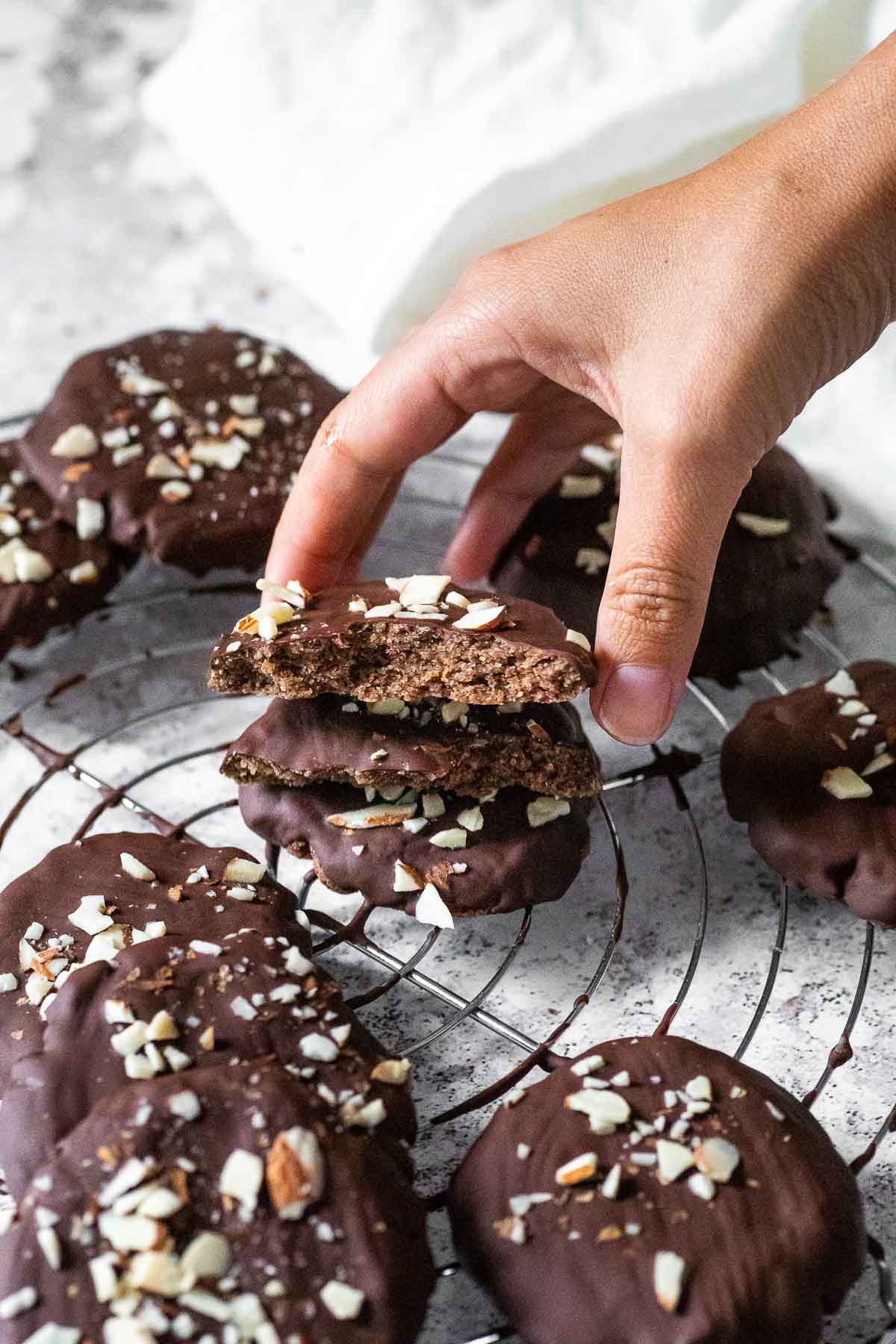 As an Amazon Associate, I earn from qualifying purchases. This post may contain affiliate links. Read More
Jump to:
Gingerbread comes in a wide variety of shapes and names. In addition to gingerbread, depending on the region, these great Christmas cookies are also known under the names Magenbrot, Pfefferkuchen, Aachener Printer.
But when we look for gingerbread in shops or at Christmas markets, we quickly find that most gingerbread cookies are not vegan and animal products are contained in the form of eggs.
In addition to Christmas cookies such as cinnamon waffles, Linzer cookies and vanilla crescents, we also bake these vegan gingerbread cookies.
With us, Nuremberger Lebkuchen (gingerbread) simply cannot be missing at Christmas time. How do you see it?
Here I would like to show you how we prepare gingerbread and what options there are to replace certain foods.
Ingredients
First of all, let's take a look at what's in the gingerbread. You can find the exact quantities below in the recipe card.
Dates
Lemon Zest
Orange Zest
Orange Juice
Ground Hazelnuts
Ground Almonds
Gingerbread Spice
Baking Powder
Aquafaba
Wafers
Dark Chocolate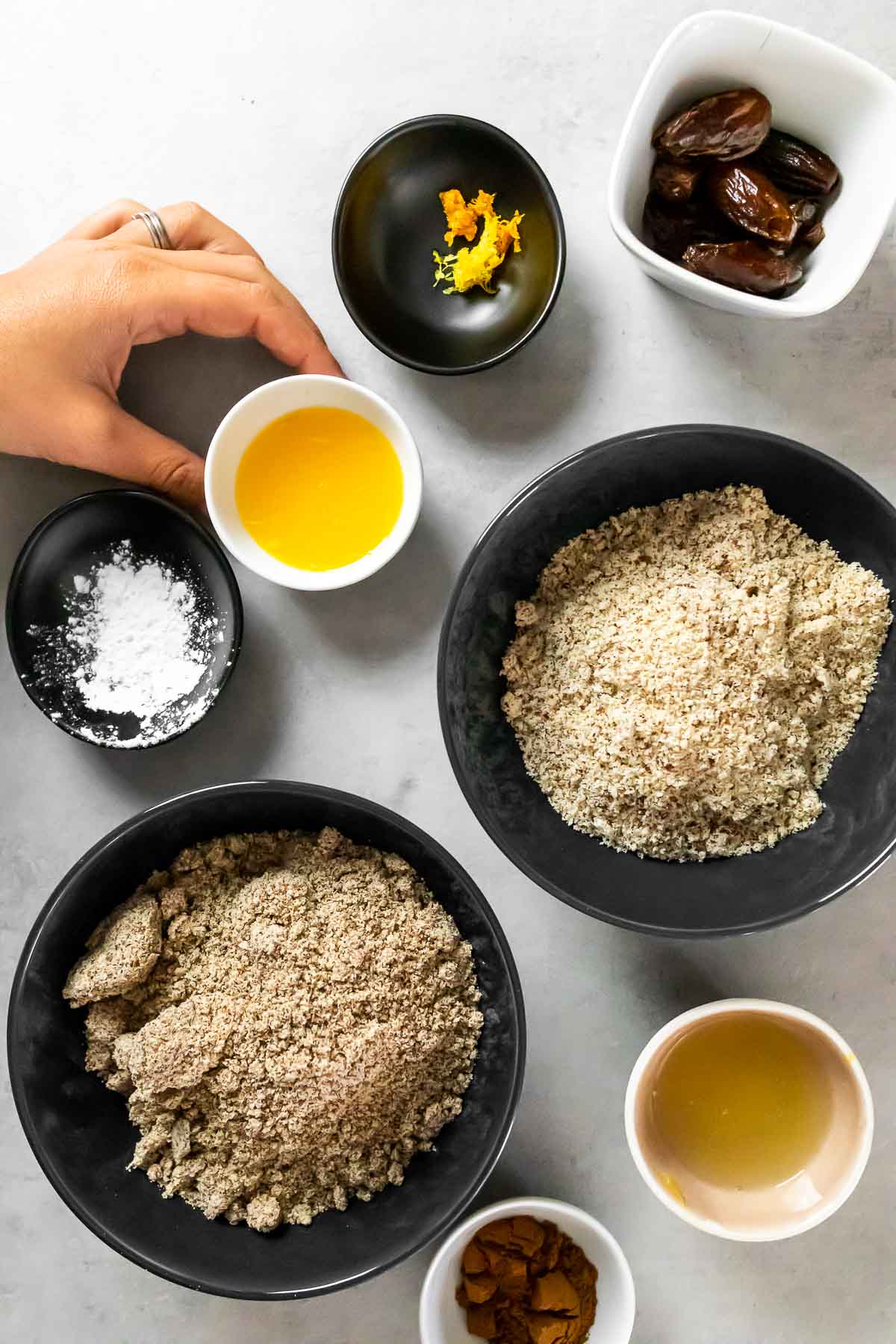 Substitutions
Now we know what's in these great Christmas gingerbread cookies. Now let's take a look at how we can replace certain ingredients.
Dates
The dates serve as a substitute for candied orange and candied lemon. The dates also serve as a sweetener. I try to bake with whole foods, and lemon peel and orange peel are products that contain sugar.
But if you want to use these foods now, you can use 50 g of both and then 50 g of other sweeteners, e.g. Coconut Sugar or Date Syrup.
Lemon Zest & Orange Zest
We use this to integrate the orange and lemon notes that we lack due to the lack of lemon peel and orange peel. If you use these now as mentioned above, you can omit the zests.
Orange Juice
You can also use rum instead of orange juice. I use orange juice because my children also eat the gingerbread.
Hazelnuts
If you are allergic to hazelnuts or do not have hazelnuts on hand, you can also use almonds or other nuts.
If you can't tolerate nuts at all, you can also try tigernut flour. The gingerbread cookies take longer to bake. Here I recommend baking the gingerbread for about 30-35 minutes. Tigernuts are a tuber.
Almonds
You can also replace the almonds with hazelnuts or other nuts. You can also try to use tiger nut flour here.
Aquafaba
Aquafaba is the drained water from canned chickpeas.
If you don't have aquafaba and you don't want to open a can of chickpeas, you can also use flaxseed by mixing 2 tablespoons of ground flaxseed with about 80 ml of water.
Wafers / Oblaten
You can omit the wafers and bake them on baking paper, you don't necessarily need wafers. Here in the US I usually bake without Oblaten because they are difficult to find or I have to order them online.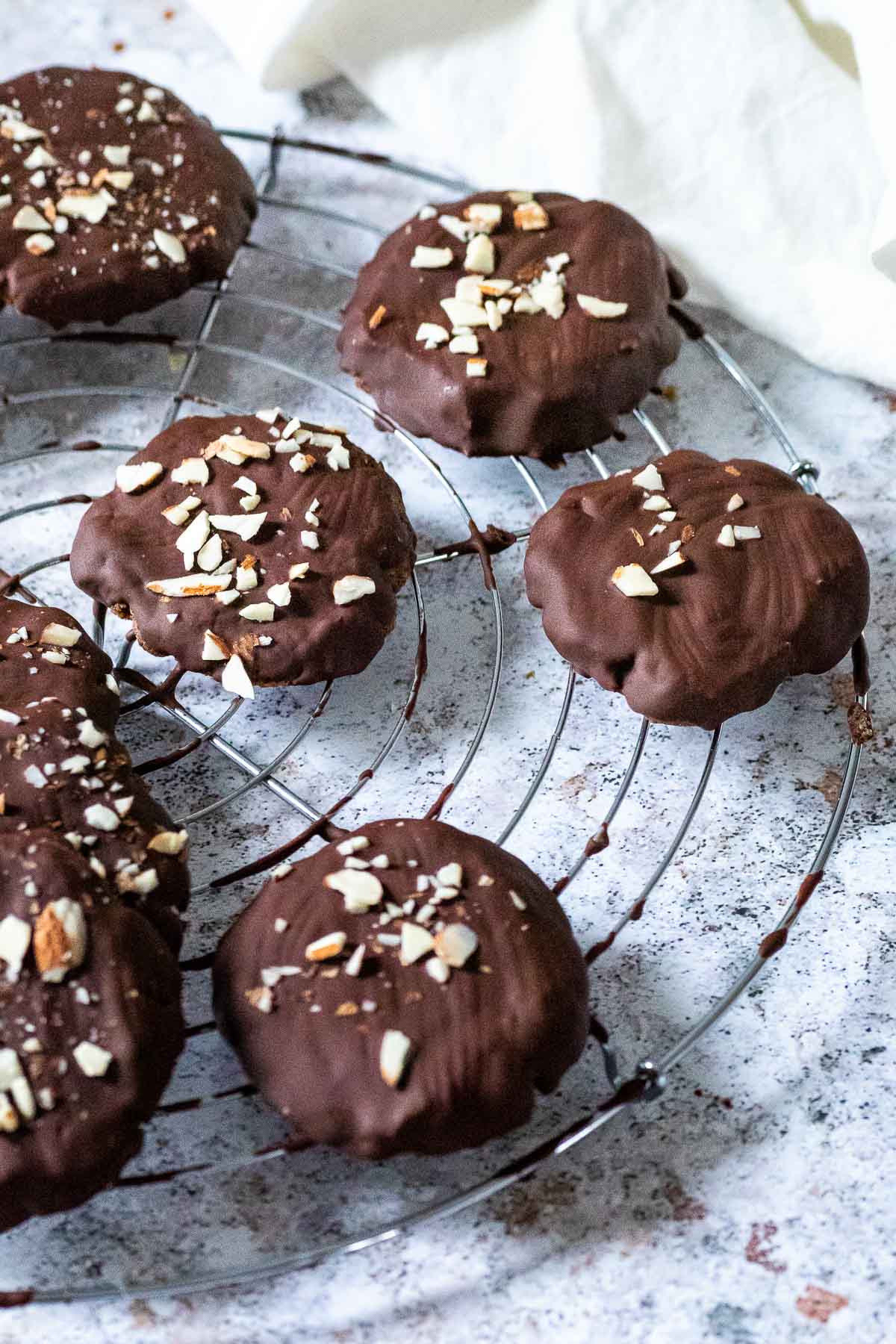 Variations
Now let's take a look at how we can adapt these vegan gingerbread cookies to other forms of diets.
Gluten free
If you omit the wafers, you have gluten-free gingerbread. The gingerbread dough is already gluten-free.
Nut free
Instead of nuts, you can use tiger nuts here. You can grind the tiger nuts yourself or you can use ready-made tiger nut flour.
Keto
Instead of dates, use your favorite sweetener and you have great keto gingerbread cookies. Instead of the aquafaba, use the flaxseed as described above.
Paleo
The gingerbread is already Paleo gingerbread. Just leave out the chocolate or use a paleo-friendly chocolate.
Low Carb
This is also a Low Carb recipe for gingerbread.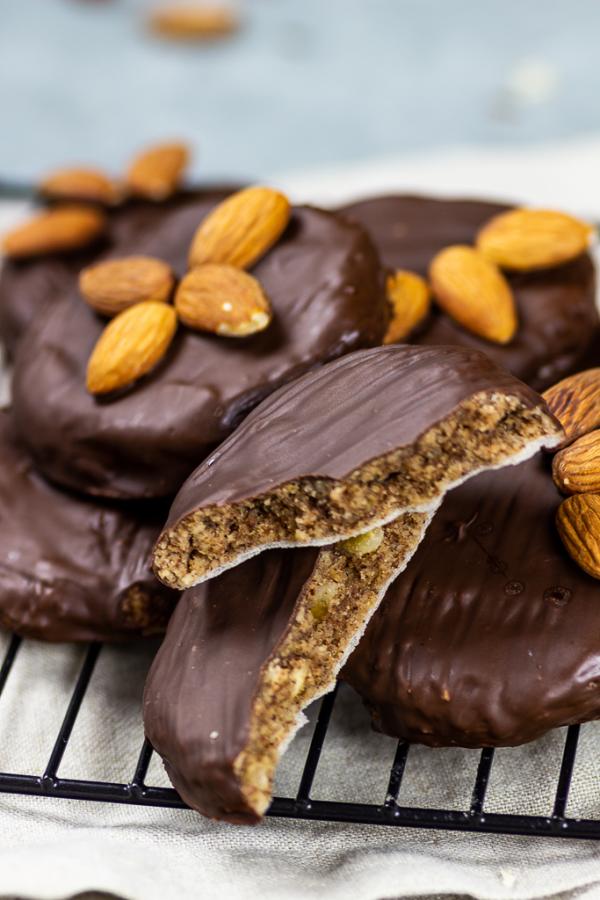 Instruction
Soak the dates first.
If you use whole nuts, first grind them into a fine flour in a high speed blender.
Now put the ground nuts, dates, lemon and orange zest in a food processor and chop until the dates are small.
Now add the gingerbread spices and baking powder and blend again briefly.
If you use aquafaba, beat it until stiff like egg whites with a stand mixer. And carefully fold in the nut mixture.
Now give the gingerbread dough on Oblaten and flatten it a bit. Leave a small margin on the wafers. The dough should be about 0.6 inch (1.5 cm) high. Or spread them directly on a baking sheet lined with baking paper.
Now shape smooth gingerbread cookies. To do this, dip your fingers in some water and smooth them out. Let the gingerbread sit for about 1 hour.
Preheat the oven to 285°F (140°C) and bake the gingerbread for about 15-20 minutes. Let the gingerbread cookies cool. In the meantime, you can melt the chocolate in a water bath.
Brush the gingerbread cookies with the melted chocolate and decorate with almonds or hazelnuts.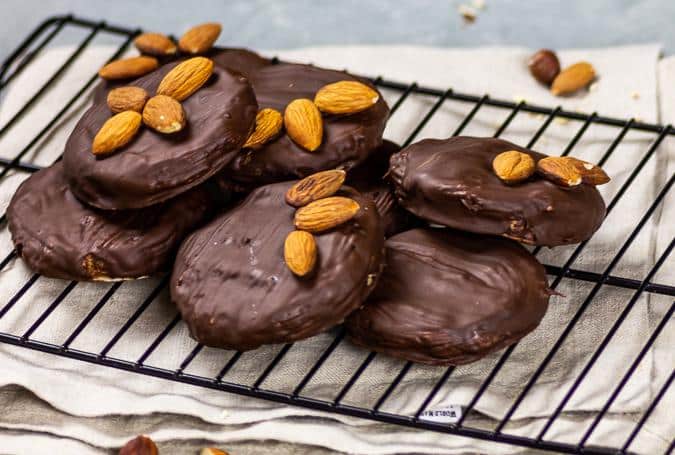 Serving Options
Serve the delicious vegan gingerbread with other Christmas cookies with a cup of coffee or tea.
These are also ideal as dessert or as a snack if you're in the mood for Christmas.
Storage
Keep the gingerbread cookies in a cookie jar. Here the gingerbread keeps for about 3 weeks. I have to say that our gingerbread usually doesn't last that long. They just taste too good for that.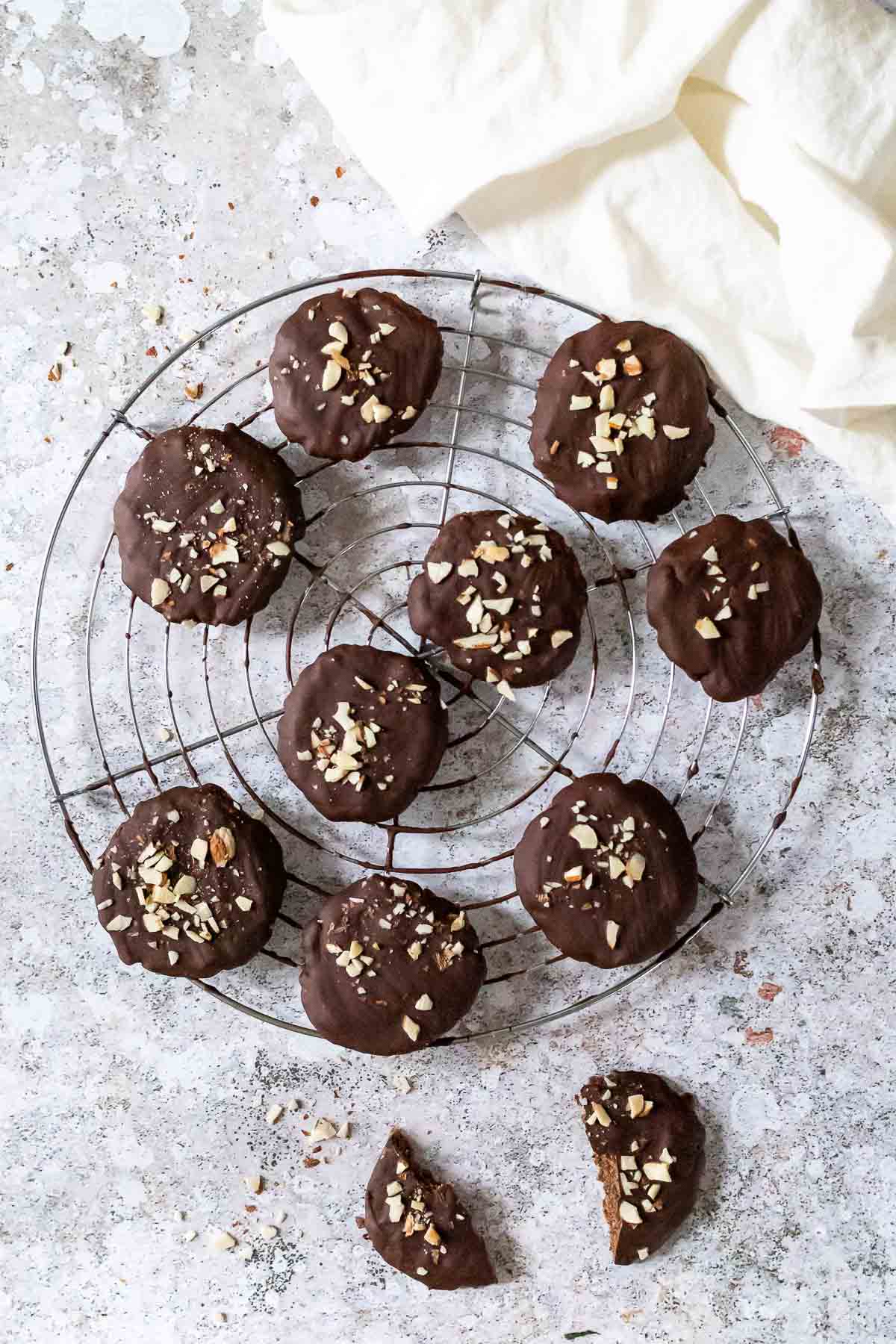 Tips
Use a spoon to pour the gingerbread batter onto the wafers or baking sheet.
If you don't just want gingerbread with chocolate, you can also cover them with sugar icing.
If you want to use sugar instead of dates, then use organic sugar. At least here in the US, animal products will be used to make sugar. If you want healthy gingerbread cookies, use dates. 😉
More vegan Christmas Cookies
Have you tred the recip
If you tried the vegan Recipebe so nice ♥ and let me knw byrating the recipe and writing what you think about it in the comments.  I would love to see your photo on Instagram orFacebook. To do this tag me with @veeatcookbake andmy hashtag is #veeatcookbake. So that I can see your creation. Did you know you can add photos n Pinterest under the recipe Pin? I can't wait to see a photo of your creation here. You find me with @veeatcookbake