During the Christmas season vegan german gingerbread should not be missed. Here you will find the juiciest, vegan german gingerbreads. These gingerbreads are baked without flour and are a healthier version of the traditional gingerbread, which makes a great Christmas present or simply as a gift to a party.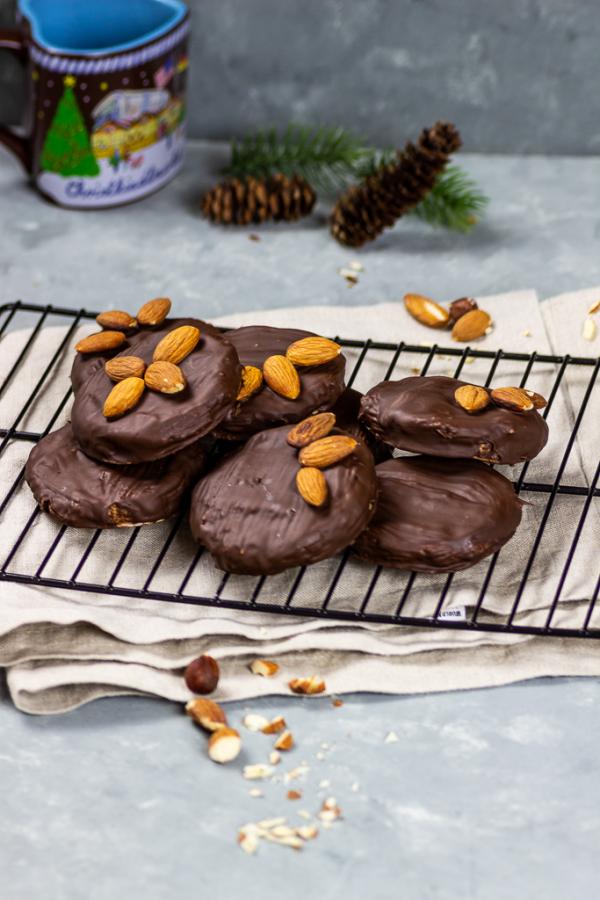 Vegan German Gingerbread so simple and delicious
Christmas markets could really offering more vegan sweets such as gingerbread. They are done so fast and you really do not need anything fancy. What you need as an egg substitute is Aquafaba.
We, for example, always have something in the house because we like to eat chickpeas. I know calling its own recipes the best or the juiciest is inappropriate. But I have not eaten so good gingerbread for a long time and also the omnivore relatives find these vegan Elisenlebkuchen super super yummy. If that does not prove that these vegan german gingerbread are the hit ?!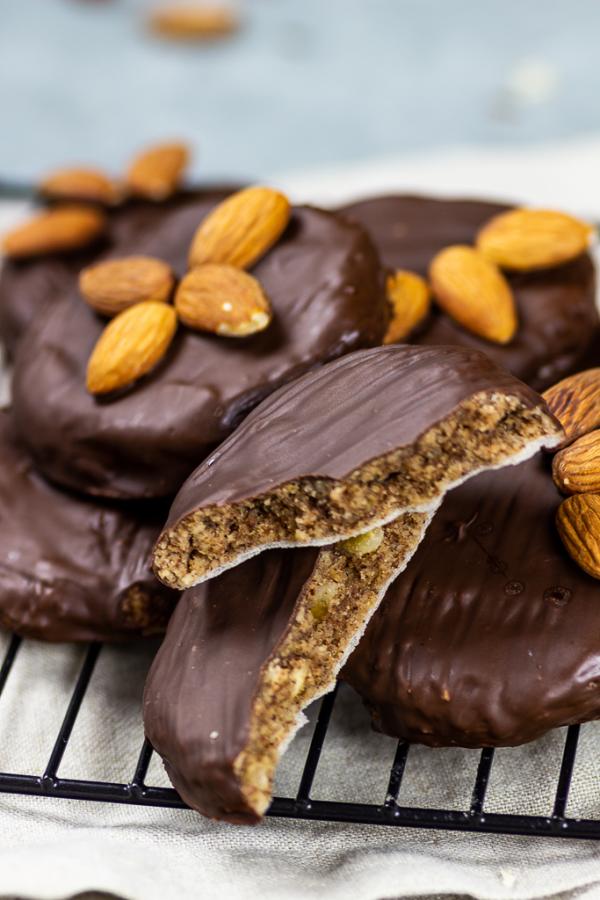 My vegan german gingerbread are not a sticky sugary substance
I am not sure if I have already told you, but I always use less sweetener than an original recipe suggests. Mostly more sugar is included in recipes than it has to be. And so it is with the gingerbread.
For me, I simply count down the sweetener. Simply sum the dry ingredients without sugar. For the vegan german gingerbread this would be the hazelnuts and almonds and I calculate between 20% -25% of sugar. For me most recipes are too sweet and I cannot eat them good. With this formal I have found exactly the right sweeteness for me and my family.

What else do you need for the vegan german gingerbread?
You do not need much more ingredients than the original gingerbread. Here is a brief overview of what ingredients are included
Candied lemon and orange: Some do not like these, but I think they make the taste of the gingerbread simply. I mash them with nuts, for example. Simply add the ground nuts with the candied lemon and orange to a blender and mix well.
Orange juice or rum: if you want to make an alcohol-free version of the Elisenlebkuchen, you simply take orange juice instead of rum. We usually take orange juice. Our kids love the gingerbread
Hazelnuts and almonds: the main ingredient for gingerbread
Gingerbread spice: gingerbread without gingerbread spice?! It is not working
baking powder
Aquafaba, I use this as an egg substitute. I love Aquafaba and it is so versatile
Sweetening alternative: e.g. Coconut sugar, raw cane sugar
Dark chocolate: to coat the vegan german gingerbread
photo
More vegan Christmas Cookies and more
---
Did you try the recipe?
If you did it, be so nice ♥ and let me know by rating the recipe and writing what you think about it. Tag me on Instagram too. I am @veeatcookbake and my hashtag is #veeatcomforts. So that I can see your creation. Did you know you can add photos on Pinterest under the recipe Pin? I can't wait to see a photo of your creation there. You find me with VeeatCookBake.
---
But now to the recipe: vegan German Gingerbread
The best vegan German Gingerbread
During the Christmas season vegan german gingerbread should not be missed. Here you will find the juiciest, vegan german gingerbrad. These gingerbreads are baked without flour and are a healthier version of the traditional gingerbread, which makes a great Christmas present or simply as a gift to a party. vegan | opt. gluten free (without wafer) | free | oil-free | without refined sugar
Recipe type:
Christmas cookies, dessert, snack
Cuisine:
vegan, egg free, dairy free, opt. gluten free
Ingredients
50 g candied lemon
50 g candied orange
3 tbsp orange juice or rum
100 g hazelnut flour
200 g almond flour
3 tsp gingerbread spice
¼ tsp baking powder
6 tbsp Aquafaba
60 g sugar alternative (coconut sugar, raw cane sugar or others)
url:3]Oblates (Wafers) 7cm diameter (just omit for gluten-free version)[/url]
150 g dark chocolate
gingerbread spice
35 g cinnamon powder
9 g clove powder
2 g allspice powder
1 g nutmeg powder
2 g of coriander powder
2 g of cardamom powder
2 g ginger powder
1 g mace powder
Instructions
Grind hazelnuts and almonds in the Food Processor or blender if you use whole nuts.

Grind hazelnuts and almonds in the Food Processor or blender if you use whole nuts.

Add candied lemons and oranges with orange juice or rum and blend.

Add candied lemons and oranges with orange juice or rum and blend.

Now add gingerbread spice and baking powder and mix again.

Now add gingerbread spice and baking powder and mix again.

Beat Aqufaba with a kitchen machine like the KitchenAid and fold in the nut mass.

Beat Aqufaba and the sweetener with a kitchen machine like the KitchenAid and fold in the nut mass.

Now spread the mixture on wafers or directly on a baking sheet with baking paper. For the wafers leave a small margin. The dough should be about 1.5 cm high. Now make smooth gingerbread, preferably dip your fingers in some water and smooth. Let rest for 1 hour

Now spread the mixture on wafers or directly on a baking sheet with baking paper. For the wafers leave a small margin. The dough should be about 1.5 cm high. Now make smooth gingerbread, preferably dip your fingers in some water and smooth. Let rest for 1 hour
Preheat the oven to 140 ° C and bake for 15-20 minutes until you get a light color. Allow to cool and melt the chocolate in a water bath. Now coat the gingerbread. Decorative the gingerbread with almonds