Vegan oat cookies recipe that is not only soft, pleasantly sweet, these great healthy oatmeal raisin cookies are gluten-free and taste heavenly. Easy to prepare, in under 20 minutes, and they are great snacks or for an easy wfpb dessert.
Sugar-free and oil-free cookies based on oats and almonds make these vegan cookies a real treat.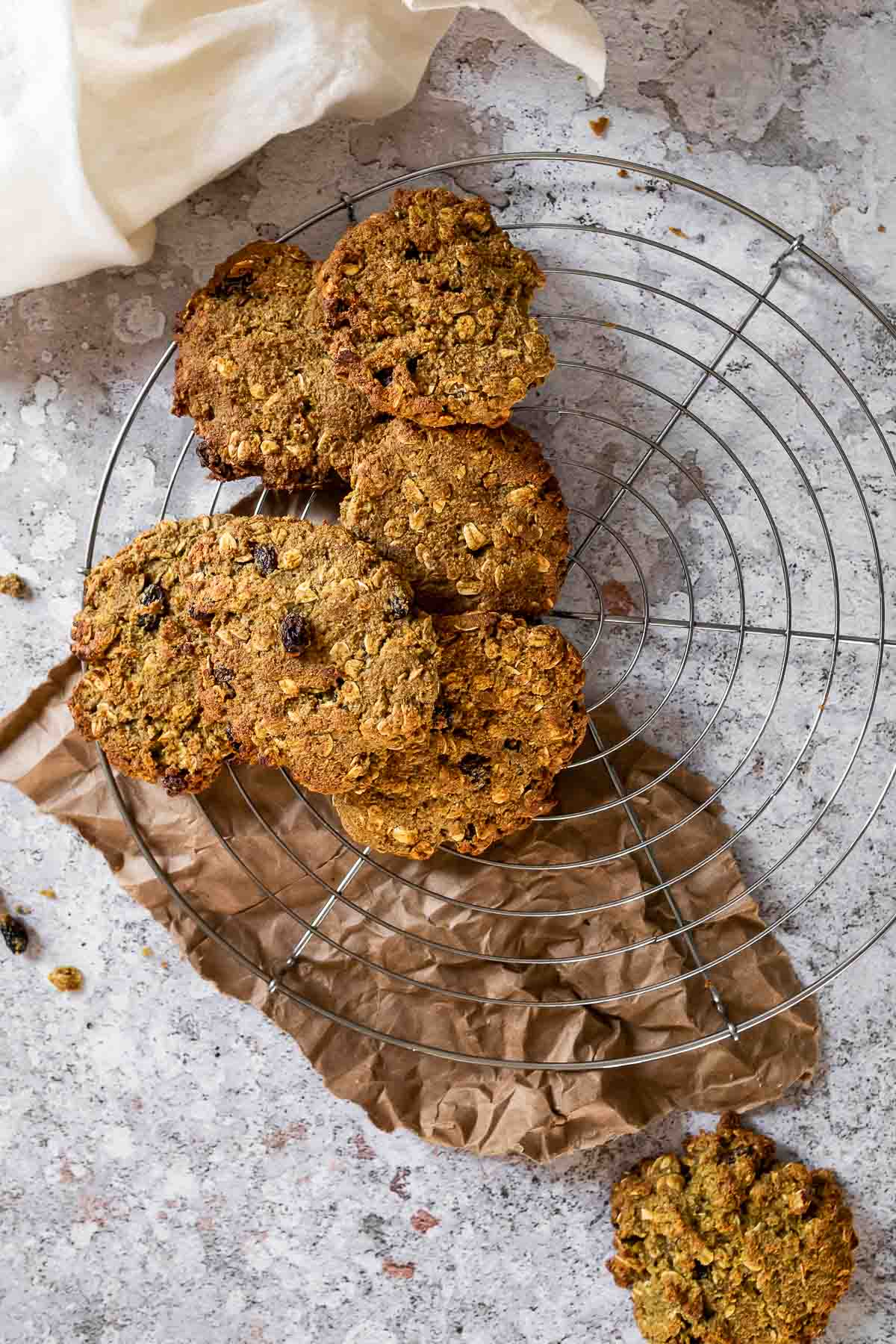 As an Amazon Associate, I earn from qualifying purchases. This post may contain affiliate links. Read More
Jump to:
Do you sometimes crave sweet cookies, but you don't feel like using classic cookies with a lot of fat and sugar?
These easy vegan oatmeal cookies are perfect and taste gigantic. The wfpb cookies are varied and you can add chopped nuts, dried fruits or chocolate chips.
Be curious about these great vegan raisin oat cookies. I am still amazed how great they turned out.
I can tell you, these cookies are one of my new go-to recipes.
Let's take a look at how we prepare the vegan cookies with oats. Don't forget to take a look at the tips and substitution options.
Ingredients
After I thumbed your nose, I don't want to withhold from you what's in these great oat cookies. You can find the exact quantities below in the recipe card.
Sunflower Seeds
Water
Maple Syrup
Dates
Oat Flour
Almond Flour
Rolled Oats
Baking Powder
Baking Soda
Lemon Zest
Cinnamon
Vanilla Extract
Almond Milk
Dates or Raisins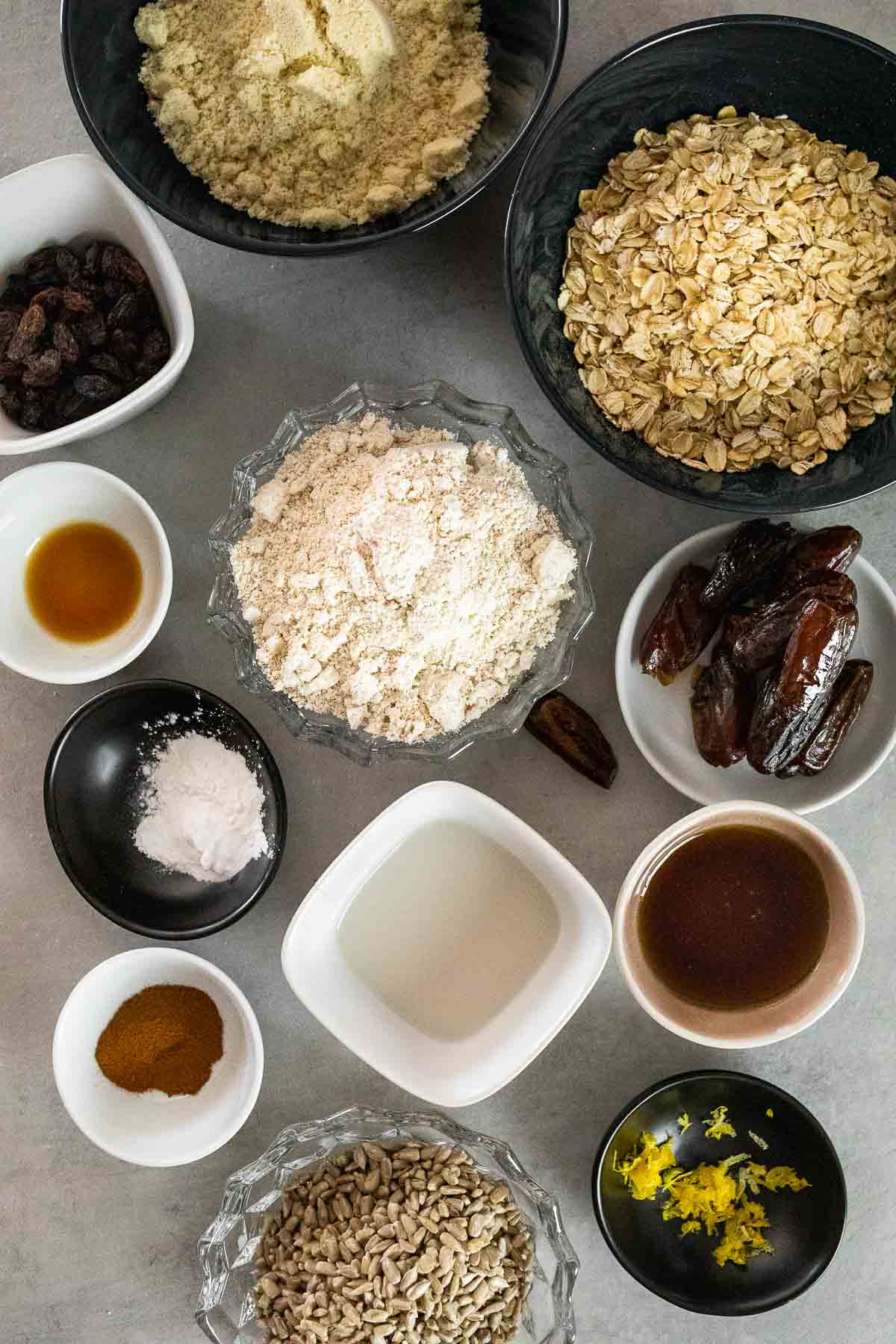 Substitutions
Let's take a look at which ingredients you can exchange for the dairy-free oat cookies.
Sunflower Seeds
Sunflower seeds are full of healthy fats, we take advantage of these properties for the oil-free oat cookies, as we prepare them without oil or butter.
You can also use cashews instead of sunflower seeds. To do this, simply replace the same amount.
Maple Syrup
Instead of using maple syrup as a sweetener, you can also use date syrup or coconut sugar. Here you can take what you like best.
Dates
Dates are incredibly sweet and packed with nutrients. We take advantage of the property of sweetness and use it to sweeten the oat biscuits.
If you don't want dates, you can use other sweeteners as well.
Almond Flour
The almond flour serves to prevent the dough from becoming too dry and tough. Almonds are full of healthy fats that help ensure the cookies get the right texture.
You can for example replace it with pumpkin seed flour, tiger nut flour, etc.
Almond Milk
The almond milk serves as a milk alternative here. Of course, you can also replace the almond milk with other plant-based milk alternatives such as oat milk, soy milk or rice milk.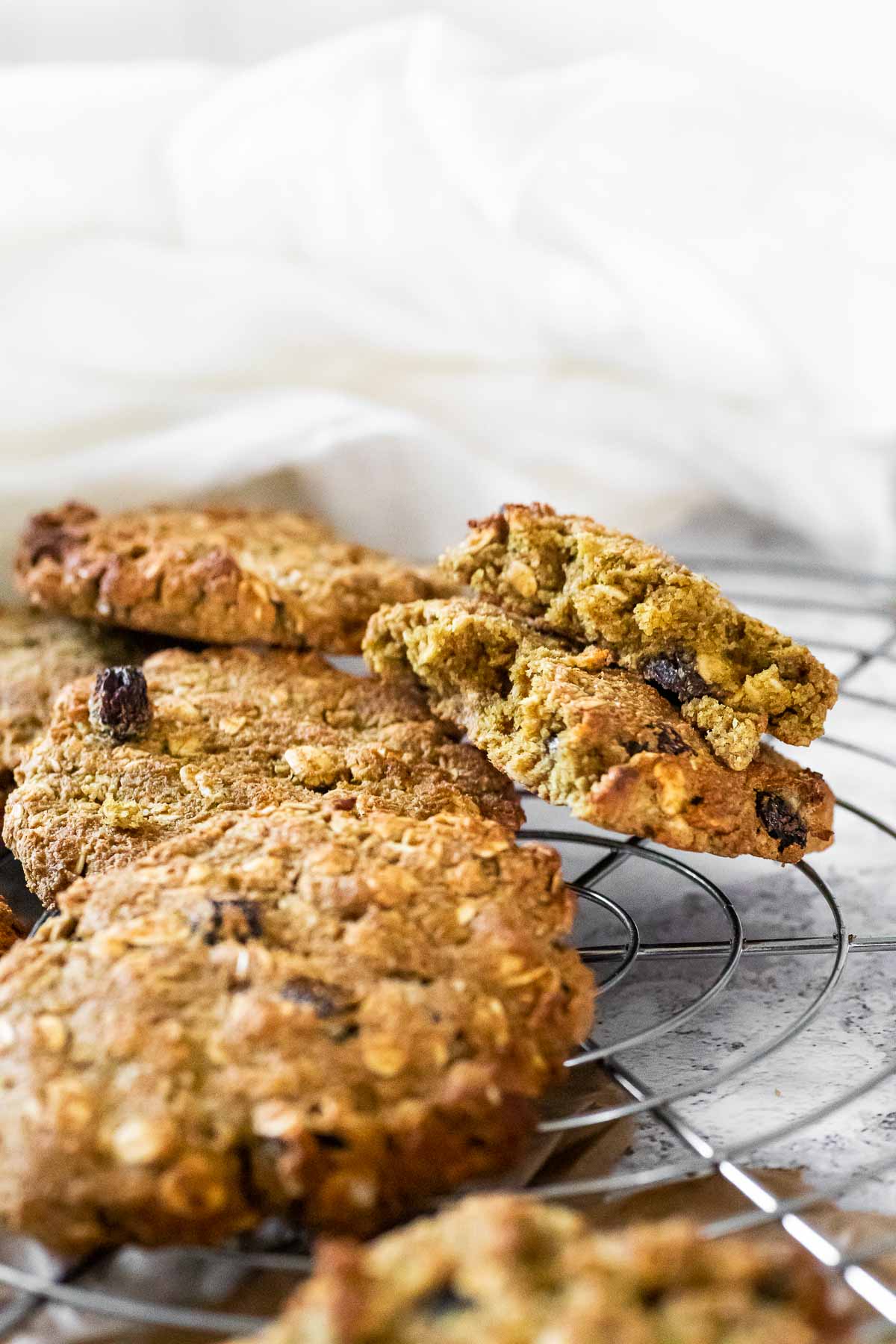 Variation
There are so many different diets. Here I would like to give you a few examples of how you can adapt the oat cookies so that you get for example Nut-free, gluten-free, cookies.
Nut free
The vegan oat biscuits can be easily made nut-free, simply use a seed flour or a tiger nut flour.
Gluten free
In principle, the cookies are gluten-free. To be on the safe side, use oats that are certified gluten-free. Oats are gluten-free but are often processed in factories that process grains containing gluten.
Paleo and Keto
Since these are oat biscuits and oats are the main ingredient, I unfortunately cannot give you an alternative here. Paleo and Keto ban grain products. And thus these cookies.
Instruction
Preheat the oven to 350°F (175°C). Start soaking the sunflower seeds and dates.
In the meantime, add the old fashioned rolled oats, oat flour and almond flour baking powder, baking soda to a mixing bowl.
In a high speed blender, blend the drained sunflower seeds and dates with water, maple syrup and almond milk until you get a creamy cream without pieces.
Pour the cream into the dry ingredients, add vanilla extract, lemon zest, cinnamon and optionally raisins or chopped dates and mix everything together until you get a homogeneous mass that just comes together. The dough should be more reminiscent of crumbs. If the dough is too moist for you, which may be depending on the oats and sweeteners, add a little more almond flour.
Put about 2 tbsp-sized large balls of dough on a baking sheet and press them flat. Let them stand for about 15 minutes. And bake the oat biscuits for about 15 minutes. Let the cookies cool on a wire rack.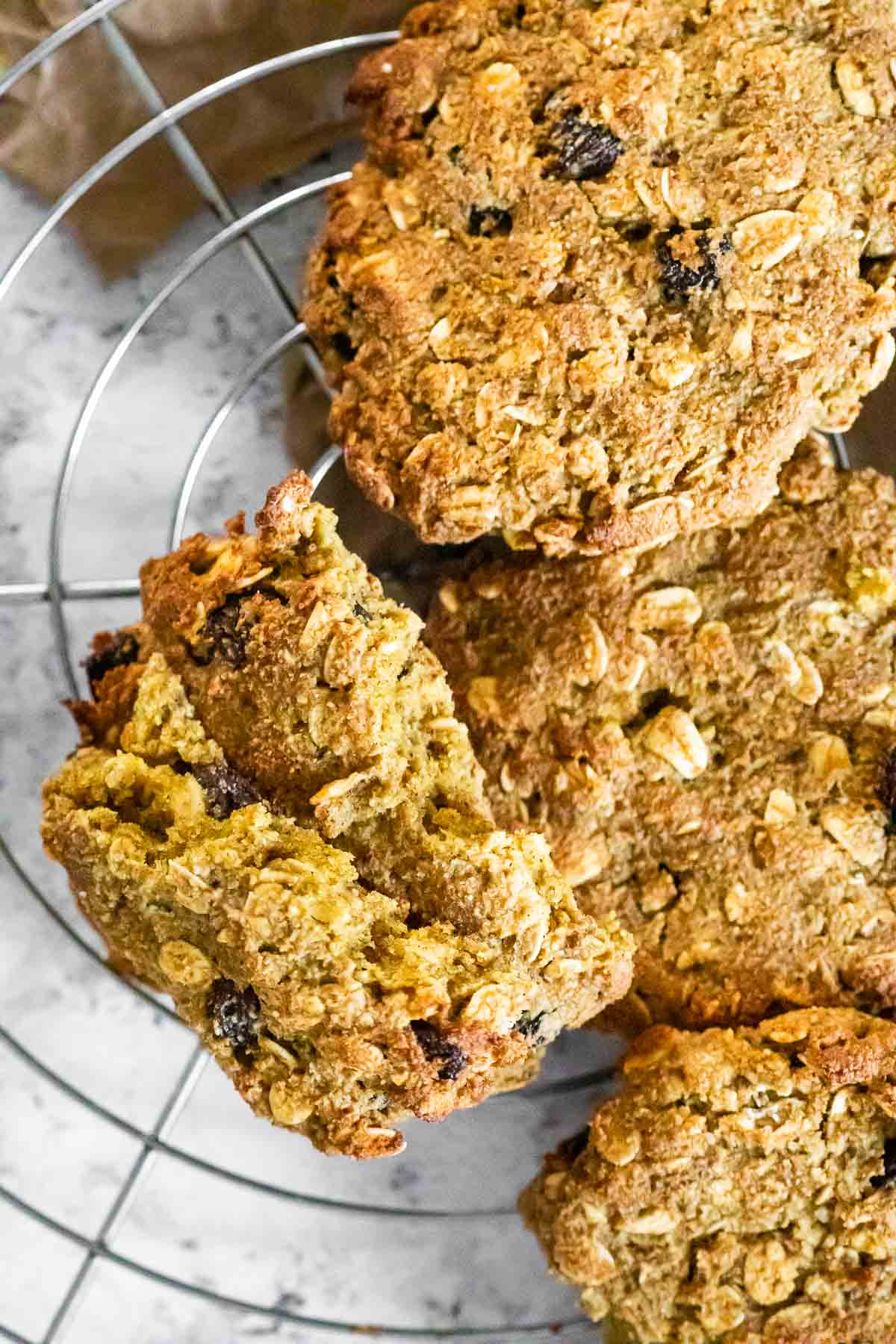 Prepare in Advance
You can prepare the oat cookies up to 1-2 days in advance.
You can also prepare the dough the evening before and bake it fresh the next day.
Storage
Store the vegan oat cookies in the refrigerator for about 1 week. Put the biscuits in an airtight box.
You can also keep them at room temperature for about 4 days. To do this, place in an airtight container.
To freeze the biscuits, first freeze them on a tray in the freezer and then freeze them in portions in containers. That helps the cookies not stick together when frozen and you can always take the biscuits one by one.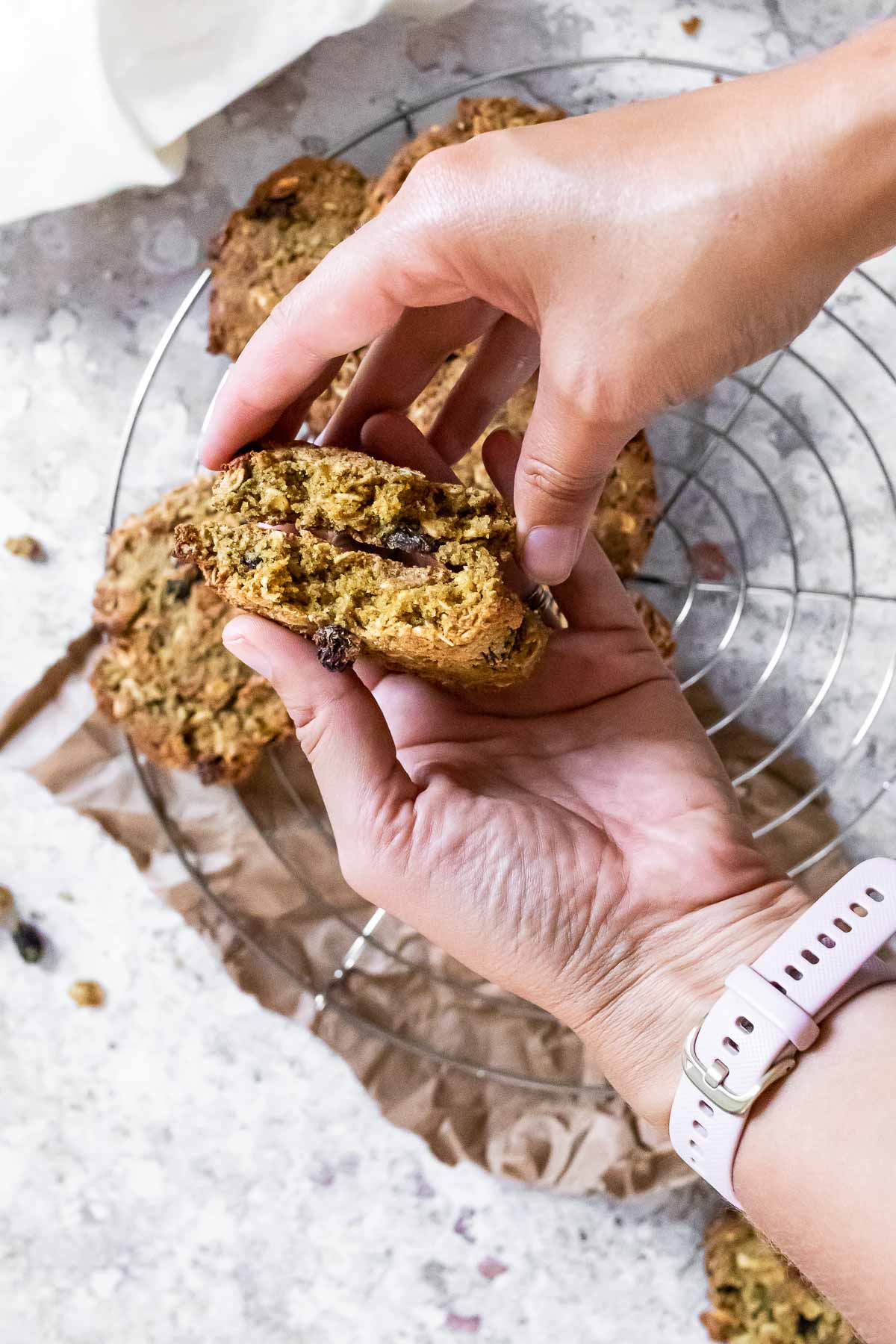 Tips
If you can't find oat flour, use a high speed blender to grind oats into flour.
Do the same with almonds, if you can't find any ground almonds, then grind them to fine flour in a high speed blender.
You can also use quick oats instead of old fashioned rolled oats. However, the consistency will be a little different.
More vegan Cookie Recipes:
Chocolate Chip Cookies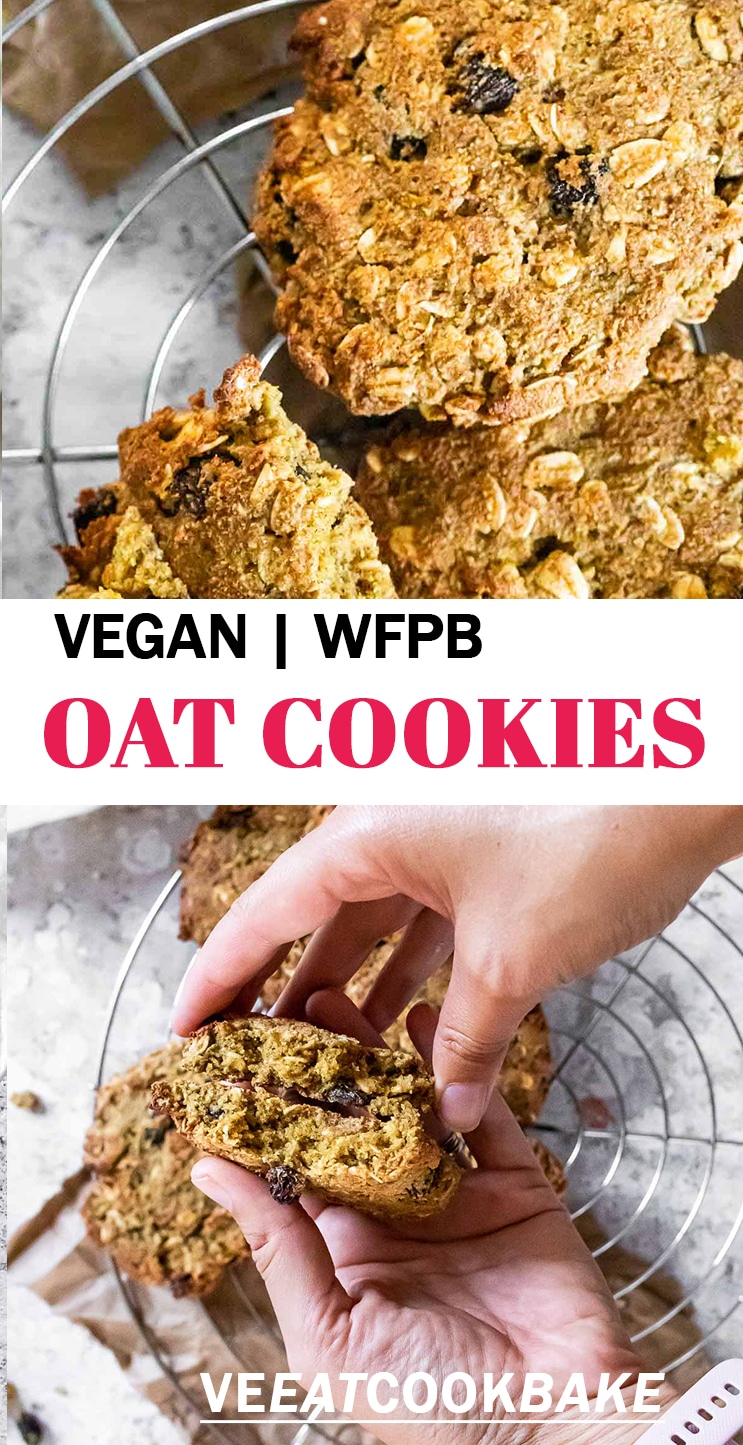 Have you tred the recip
If you tried the vegan Recipebe so nice ♥ and let me knw byrating the recipe and writing what you think about it in the comments.  I would love to see your photo on Instagram orFacebook. To do this tag me with @veeatcookbake andmy hashtag is #veeatcookbake. So that I can see your creation. Did you know you can add photos n Pinterest under the recipe Pin? I can't wait to see a photo of your creation here. You find me with @veeatcookbake