Vegan Easter buns or Good Friday buns are spiced yeast rolls with dried fruits such as raisins and currants (cranberries), which are eaten on Good Friday in England. These soft, fluffy English hot cross buns are a tasty alternative to the classic Easter bread, which is often served for Easter brunch.
vegan | vegetarian | egg-free | dairy-free | sugar-free | lactose-free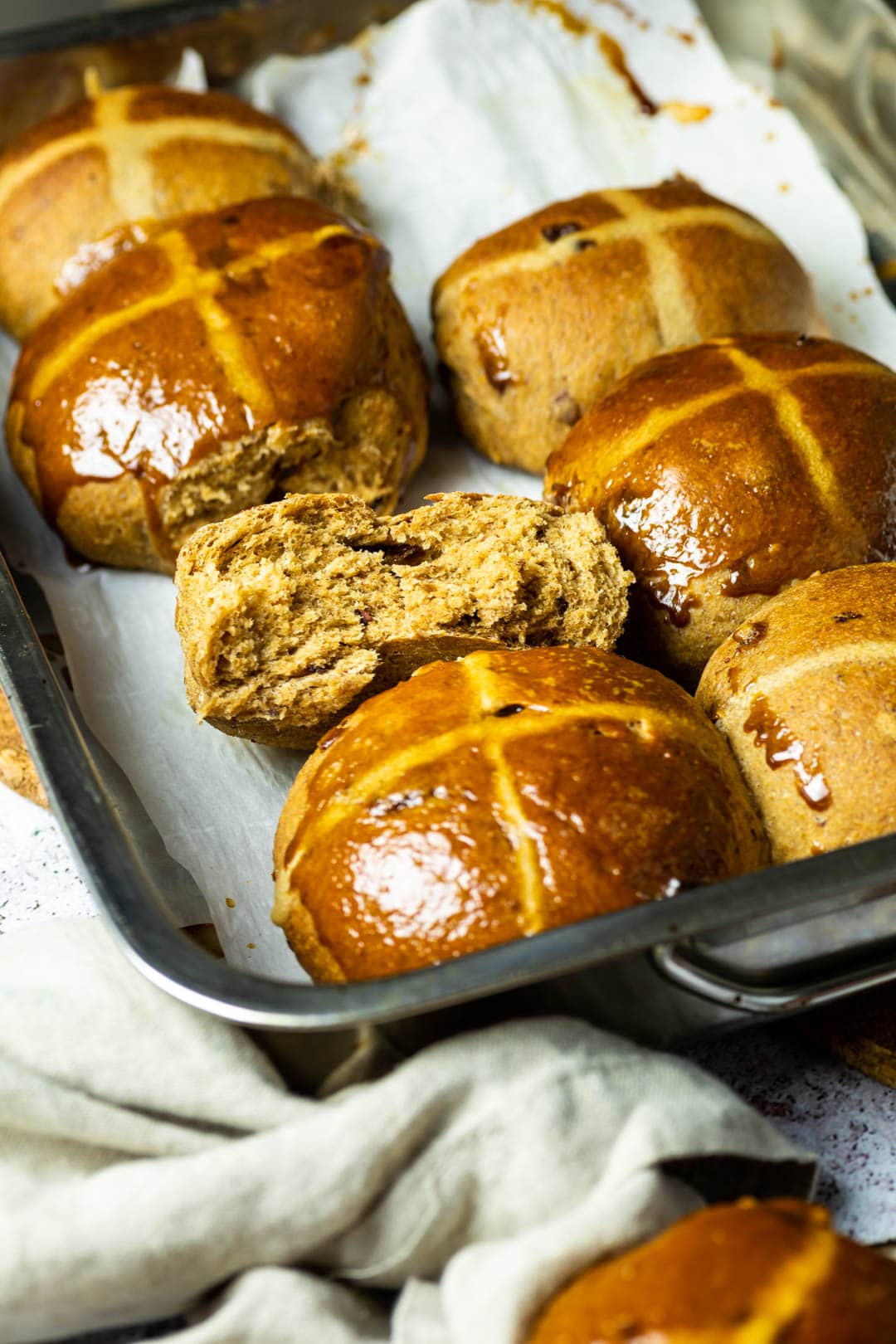 If you've been to my blog more than once, you've probably noticed that I happily bake. It is not only fun and relaxing, you are also super proud afterwards when great things come out.
Since I like to bake with wholemeal flour, not just because it is healthier, but also as a challenge and it tastes super delicious, it is worthwhile to convert these recipes and these vegan hot cross buns were a success.
I took my chocolate buns as a basis for tgesey fluffy raisin buns. And I have to say, they are like the chocolate buns, thanks to the batter, they have become super fluffy.
What is a hot cross bun?
Hot Cross Bun is a spiced sweet bun, which is prepared with dried fruit and a cross on the top. In the UK, Ireland, Australia, Canada, New Zealand, Canada, these rolls have a tradition on Good Friday.
Why are hot cross rolls eaten on Good Friday?
Hot cross buns are traditionally eaten warm and eaten on Good Friday. These Easter rolls with the combination of sweet, fruity and spicy are a long Easter tradition in Great Britain. The dough cross on top of the rolls symbolizes the Christians and the crucifixion of Jesus.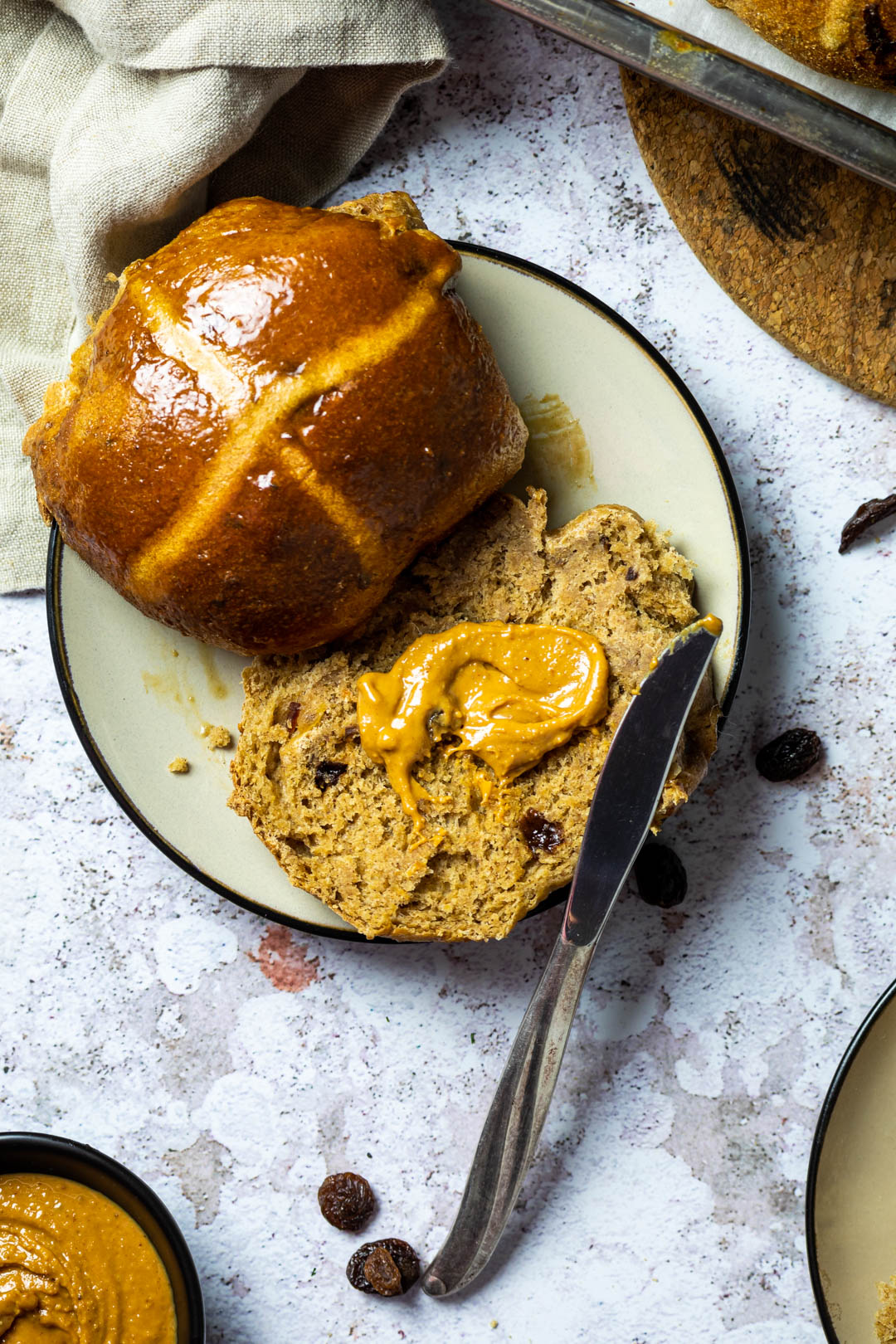 What ingredients do I need for vegan hot cross buns?
You don't need many ingredients for a classic yeast dough. Since these rolls are shortened and provided with dry fruits, you need a little more ingredients:
Yeast
Water
Flour
Maple syrup
Gluten powder
Almond milk
Cashew butter or almond butter
Ground cinnamon
Nutmeg, ground
Orange, peel and juice
Raisins
Dried cranberries
Aquafaba
Coconut blossom sugar
Lemon juice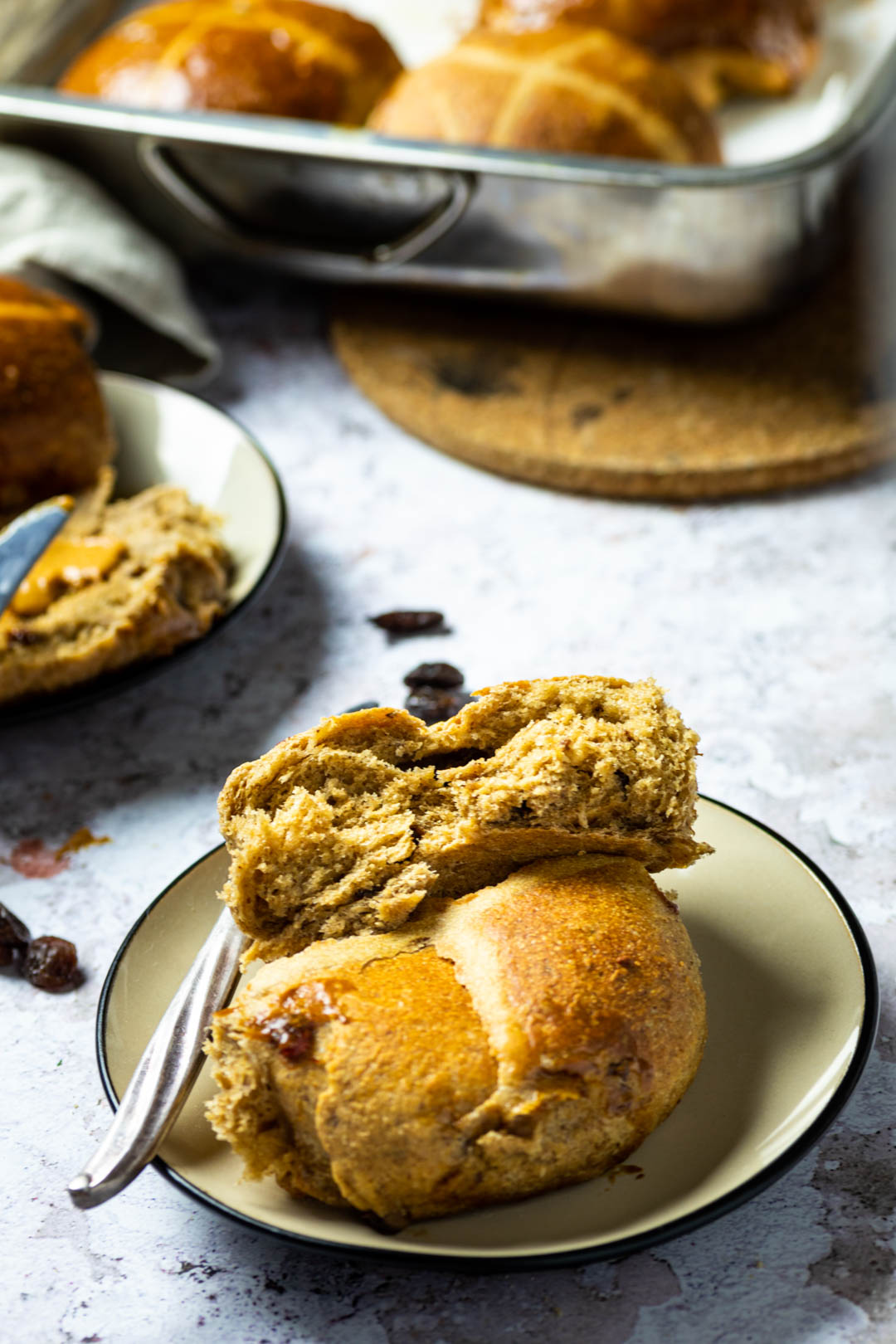 How do I make vegan Hot Cross Buns?
First, take warm water and add the yeast and maple syrup. It doesn't matter here whether you use fresh or dried yeast. Stir the yeast mixture vigorously and let it stand for approx. 10 min. Now you can prepare the remaining ingredients for the starter. When you see the yeast working, put the flour in a mixing bowl and mix it with the yeast water until well incorporated. Let it stand at room temperature for 12 hours or overnight.
Press the orange and put the juice with the dried fruits in a bowl. Let them soak overnight as well. Zest the orange and keep it for the next day.
The next day:
Mix the cashew butter with the water until it is creamy and add all the ingredients, including the starter, to the flour in a bowl for a stand mixer with a kneading hook. Now knead the dough for about 10 minutes until it is smooth and soft. This will make the dough rise better later.
Now knead fruits and orange peel in.
Let the dough rise for an hour. In that time, the dough should be twice as big.
Knead the dough again briefly. And divide the dough into 8 equal pieces. Shape chocolate buns out of it. To do this, knead the dough so that the smooth side is upwards.
Now put the rolls on a baking sheet lined with baking paper, which fits in the fridge. Leave the rolls covered in a warm place for about 30 minutes and then put them in the fridge overnight. The next day, you can take the rolls out of the fridge and let them warm up to room temperature.
Preheat the oven to 350°F (185°C).
Coat the rolls with the Aquafaba almond milk mixture and bake the rolls for approx. 25 min. Check the color of the rolls every now and then. They shouldn't be too dark and not too light. Baking times vary for each oven.
For the crosses, mix the flour with water until you have a pipe-able dough. Now place a cross on the top of each roll.
Now bake the rolls for about 20 minutes. Check the color of the rolls from time to time. They shouldn't be too dark and not too light. The baking times vary for each oven.
For the glaze, grind the coconut blossom sugar and mix with a little lemon juice and spread over the rolls.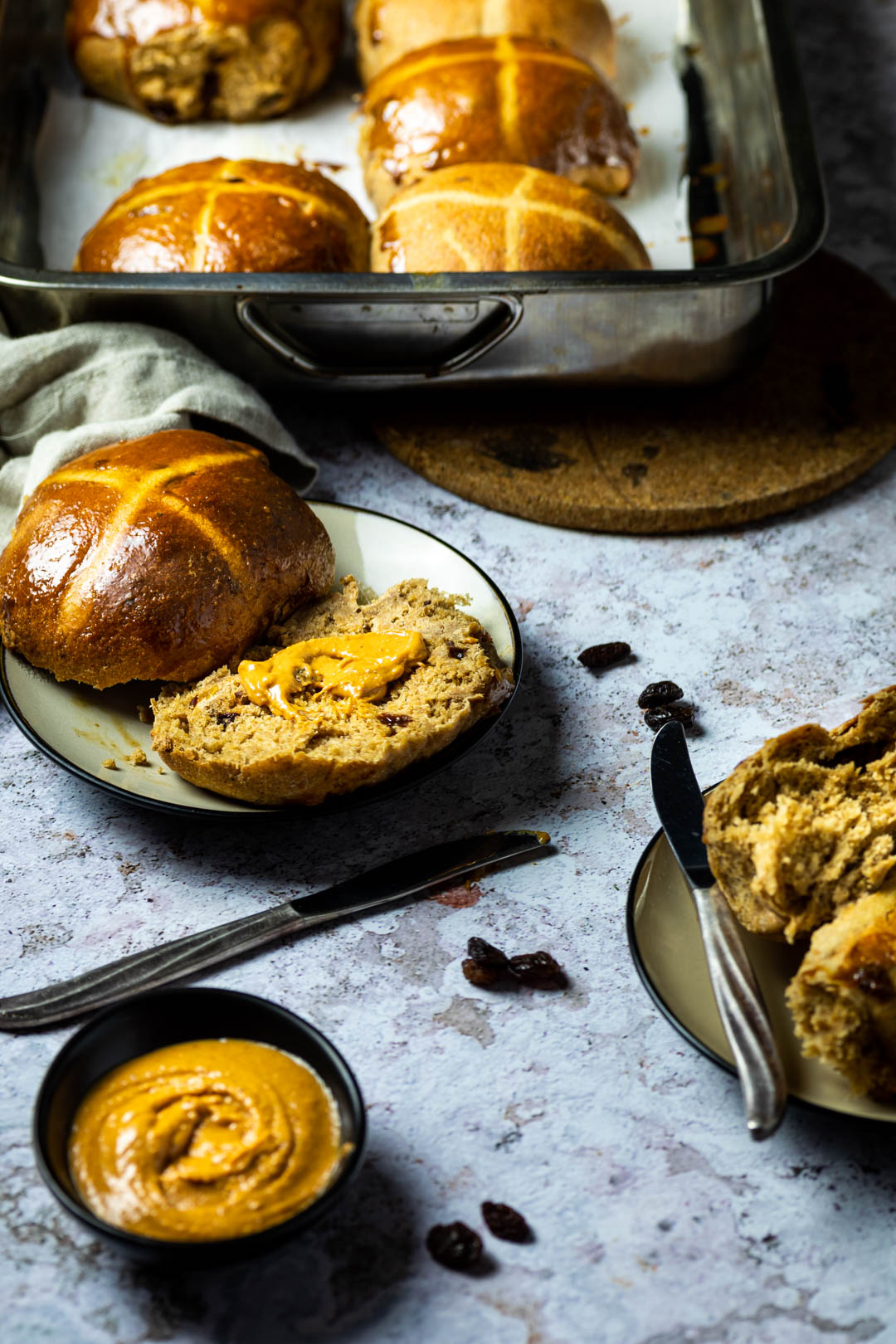 Can I prepare the vegan hot cross buns gluten-free?
I have not yet prepared any yeast dough in gluten-free. If you have a great recipe for a gluten-free yeast dough, you can make it with the appropriate spices and fruits and then shape the rolls out of it.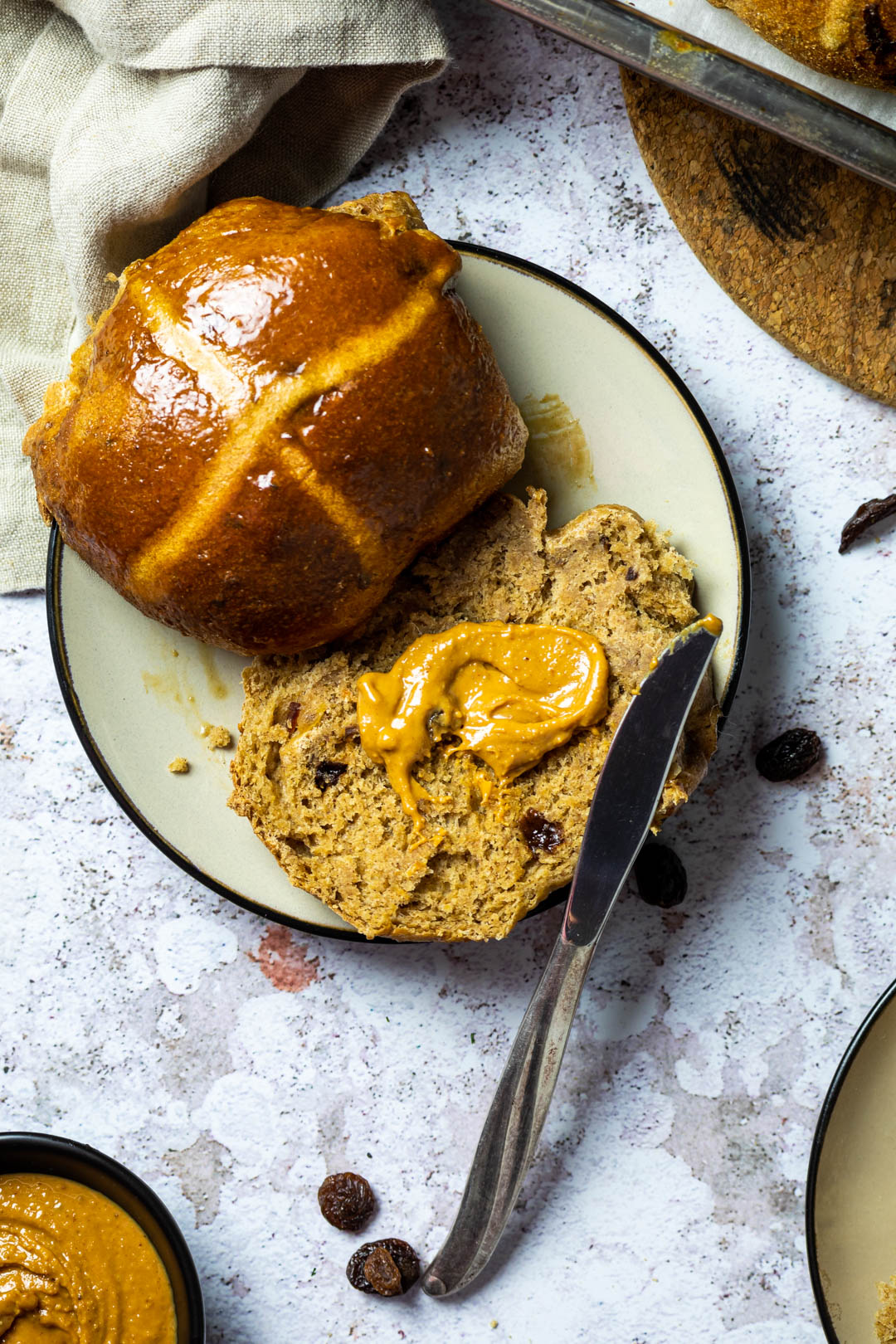 How can I store the vegan hot cross buns?
These vegan hot cross buns are great to freeze. To do this, simply do not coat all the rolls with icing and then freeze them. Next time, just briefly bake the rolls and voilà your rolls taste like freshly baked.
Do not forget to Pin on Pinterest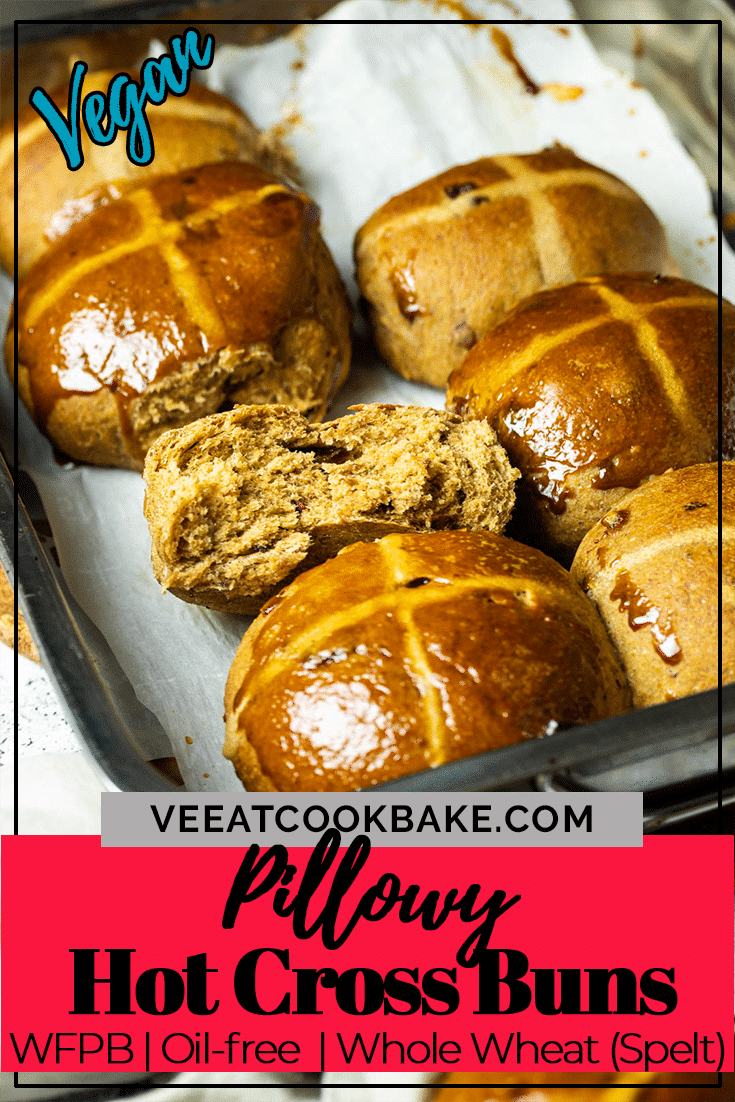 Have you tried the recipe?
If you tried the vegan Hot Cross Buns, be so nice ♥ and let me know by rating the recipe and writing what you think about it in the comments. Tag me on Instagram too. I am @veeatcookbake and my hashtag is #veeatcookbake. So that I can see your creation. Did you know you can add photos on Pinterest under the recipe Pin? I can't wait to see a photo of your creation there. You find me with @veeatcookbake. I also would love to hear your feedback so I can share it on my social media channels.

This post may contains affiliate links and I may receive a very small commission if you buy through these links at no extra cost. Thank you very much for supporting Ve Eat Cook Bake! More information can be found here.
---