Creamy vegan Apricot Custard Cake. This German Easter Cake is a great vegan dessert for your Easter brunch.
This Vanilla Cake is made with a creamy custard filling with non-dairy milk, topped with apricot halves and homemade vegan jello. Eggless Custard Cake Recipe with simple ingredients.
Who says you need butter, dairy milk to make a traditional custard tart? This vegan custard pie proofs different. And I promise you, it will not stay with one custard slice.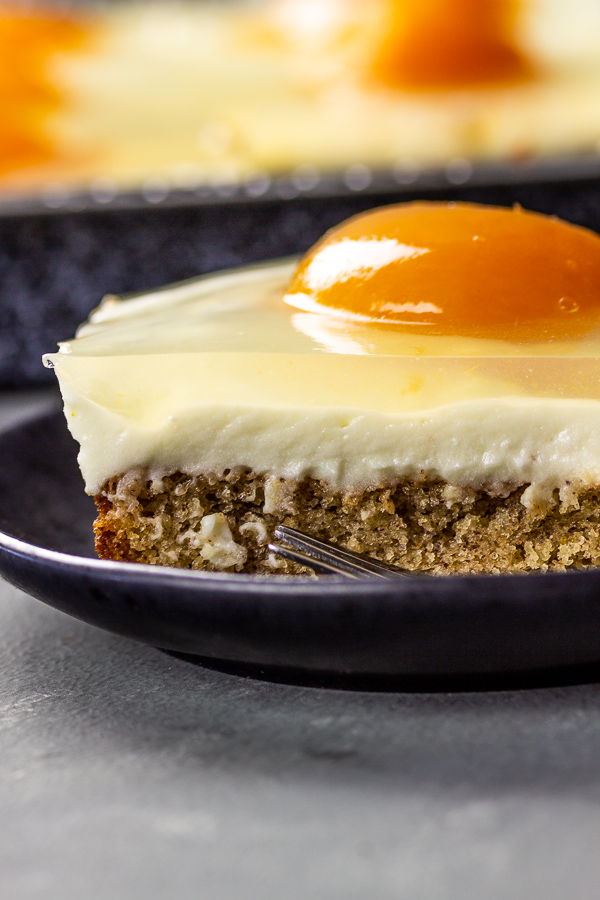 As an Amazon Associate, I earn from qualifying purchases. This post may contain affiliate links. Read More
Jump to:
If you like cheesecakes or creamy cakes like Torta Della Nonna than this is a must-try custard cream cake.
In Germany, we call this cake Sunny Side Up Cake because those Apricots look like egg yolks. But actually we do not use any eggs, not even egg whites.
Instead, we are creating the pastry cream with coconut cream, homemade custard made with almond milk, corn starch and vanilla extract.
The best results for this vegan custard cake is letting it rest overnight in the fridge.
Let me show you how to make this vegan custard tart.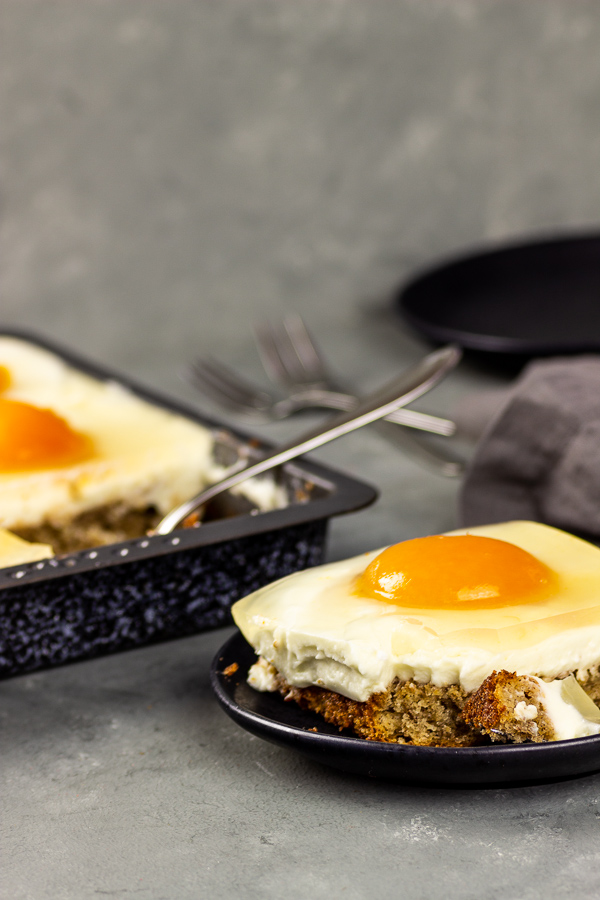 Ingredients
Let me show you first the ingredients we will use to make healthy desserts like custard cakes easily. The vegan version is not as complicated as some think.
The exact quantity is in the recipe card below.
flour
almond flour
coconut sugar
baking powder
almond butter
sparkling water
apple cider vinegar
coconut milk (solid coconut cream
250 g vanilla pudding
canned apricots
juice from the can
agar agar powder
No need for vegan butter or coconut oil.
Substitutions
Flour
I love to use whole wheat flour for this recipe, but can also use all purpose flour or even gluten-free baking flour.
Almond Flour
I love to add almond flour to add a little more fat in the cake because we are not using any oil.
You can also use seed flour or hazelnut flour to make the sponge cake base.
Almond Butter
Instead of almond, but you can also use apple sauce. You'll take the same amount.
You could also use sunflower seed butter or cashew butter.
Coconut Sugar
I used in this cake coconut sugar, but you can also use maple syrup or date paste.
Sparkling Water
This helps for the custard tarts to get a fluffy base.
If you do not want to buy sparkling water without flavor, then you can also use normal water.
Coconut Milk
The solid part that separates from the liquid in canned full fat coconut milk is our whipped cream substitute.
If you do not want to use coconut milk, you can also use a different vegan whipped cream.
If you substitute with a firm cashew cream, you will need more starch to your Pudding.
Vanilla Pudding
You can either use store bought vegan Vanilla Pudding or make your own. I prefer making my own.
Usually I do not find vegan pudding in stores.
Pretty easy to make your own pudding.
Vegan Custard Recipe
1 cups almond milk or soy milk, ½ teaspoon vanilla extract or vanilla bean paste, 1.5 tablespoon cornstarch and 1 pinch of turmeric (for yellow color). Whisk everything in a small saucepan and let it boil under constantly stirring on medium heat.
It will thicken and gets creamy vegan vanilla custard. Turn down the heat and remove the pudding from the pot and cover it with some foil that it has no air contact, otherwise it will form a "skin" on the top.
Let it cool to room temperature before you mix it with the other ingredients. This is important.
Agar Agar Powder
Agar Agar will gelatin the Juice for the jello topping.
If you do not have Agar Agar but for example Carrageenan then you can use this. I have both at home.
Variations
Lemon Custard Cake
You can easily flavor the Custard with some lemon juice and lemon zest to add a refreshing lemon flavor.
Chocolate Custard Cake
Instead of a vanilla custard, you can make chocolate custard with a ½ - 1 tablespoon Cocoa Powder. And top it with some other fruits like strawberry.
Coffee Custard Cake
You can also add 2-3 tablespoon strong coffee to the cake base to add a coffee mocha flavor.
Equipment
You will need for this cake a cake baking sheet, a whisk, hand mixer, can opener, small pot.
Instructions
First, we will start with preheating the oven to 350 °F (180 °C). And prepare a cake tin with parchment paper.
Let us prepare now the cake batter. First add all the wet ingredients except the apple cider vinegar to a mixing bowl and whisk until well combined.
Add the flour, almond flour, baking powder, coconut sugar and whisk until no flour nests are left.
Add the apple cider vinegar and give it a quick stir.
Pour the batter in the prepared cake tins and bake it in the preheated oven for 30 min.
Do the toothpick test and see if it is baked through. If the dough stucks to the toothpick, it will take a little longer.
In the meantime, prepare the pudding if you do not use a store bought pudding. To do so, the Instructions are in the Substitution section. It is important that you let the pudding cool completely.
Whisk the Coconut Cream (solid part of the coconut milk) until very creamy like whipped cream. Add the pudding and stir until well combined. Add sweetener to your liking.
Is the cake base cool, you can pour the custard over it and spread it evenly. Refrigerate your cake and prepare in the meantime your jello.
For this, open the can and catch the juice. Measure one cup. If it is not enough, add water until you got 1 cup.
Mix the Juice with the Agar Agar in a small pot and heat oven on medium heat. Under constantly stirring, let it boil for 2 minutes. Remove from heat and let it sit for a bit.
Now take your apricot halves and put them on the cake with the open side down evenly. Now spread the jello with a spoon over the cake and apricots, that everything is covered with jello.
Let the cake cool for at least 4 hours, better overnight.
Meal Prep
You can make this cake 2-3 days in advance.
Storage
Always store the cake in an airtight container like a cake carrier. It will last for 4-5 days.
Serving Suggestions
You can always serve others cakes with this vegan custard cake. Here are some recommendations
Mandarin Cheesecake (German Style)
Cherry Custard Cake (Donauwelle)
Cherry Cheesecake (German Snow White Cake)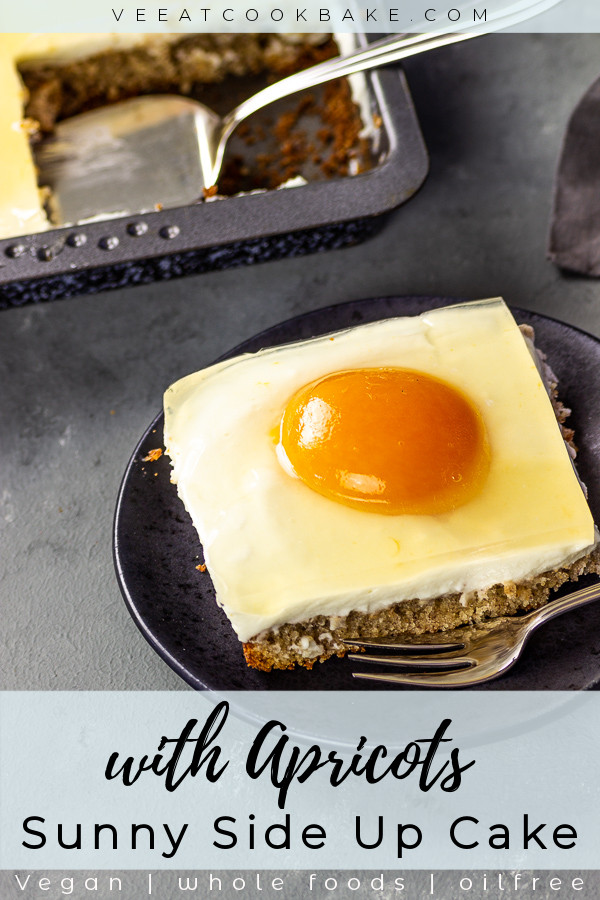 Top Tips
If the jello is too hot, make sure to let it cool a bit. It takes a while until the jello get solid. Always to the gelling test.
For this, use a plate from the freezer and put a half teaspoon jello liquid on it.
If it gets firm and solid, you are good to go. If not and it stays liquid, you need to cook for a bit longer, or you can also add some more Agar-Agar. It always depends on what brand you use.
Make sure you read the instructions on the package for the Agar Agar.
The best results for this plant based cake dessert will be with a resting time overnight.
But if you are in a hurry, I recommend at least to let it sit in the fridge for at least 4 hours or until the jello and custard is firm enough that you can cut the cake without the custard "running" away.