Vegan chocolate layer cake, super easy to prepare and super chocolatey with a chocolate dough and a chocolate cream made from white beans and dates. A moist, decadent cake that amazes everyone and nobody would suspect in the slightest that this cake was made entirely without eggs and dairy products. This cake is perfect as a dessert or for afternoon coffee on birthdays or if you have a coffee gossip planned.
vegan | vegetarian | egg-free | oil-free | refined sugar-free | Whole-Grain | soy-free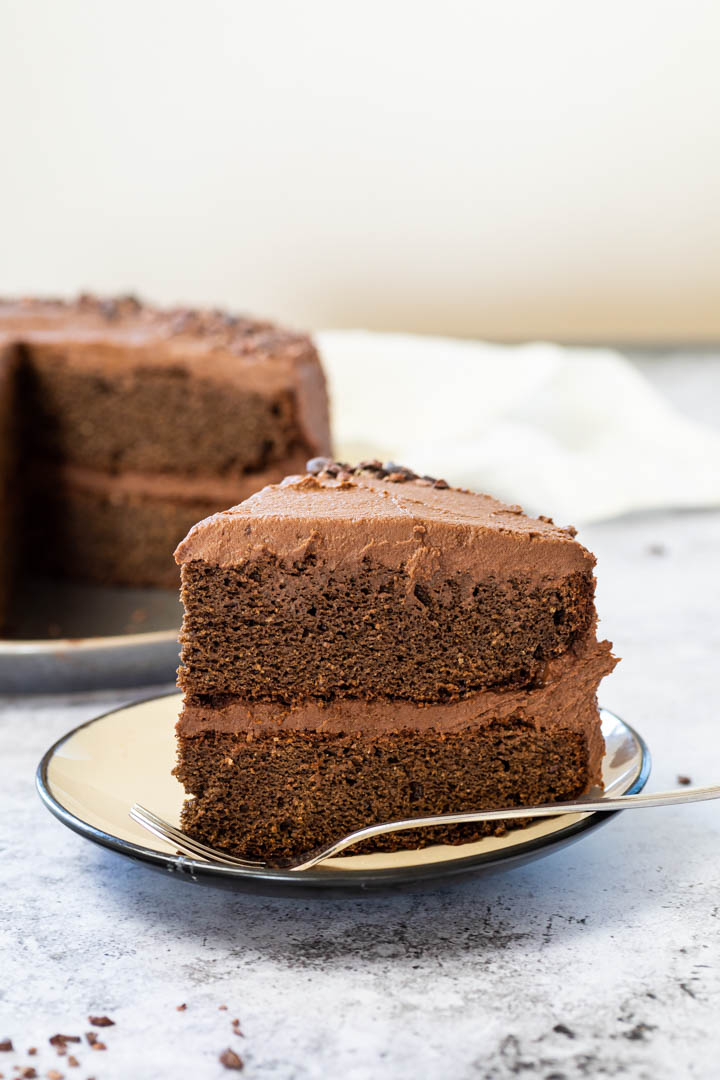 This chocolate cake with chocolate cream layers is quick and super easy to prepare. You don't need any extraordinary ingredients to create this delicious cake.
You do not need margarine or the like to make a vegan "buttercream". I like to use coconut cream, the solid part of coconut milk, to create a delicious cream for cakes and more.
What do I need to create a delicious vegan chocolate cake?
Unsweetened applesauce

Pure vanilla extract
Chocolate Buttercream Frosting
Cannellini Beans (or other white beans)
Dates, dried and pitted
Cashew Butter or other Nut Butter
Vanille Extract
Cacao Powder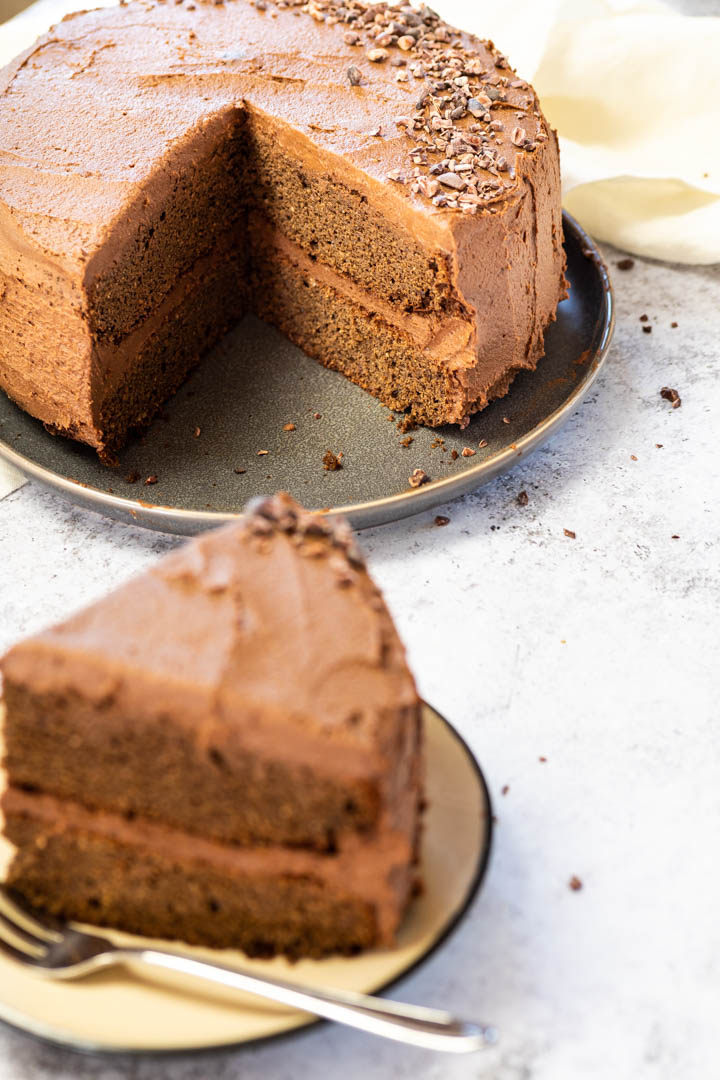 How do I prepare a vegan chocolate cake?
Chocolate cake:
Preheat the oven and prepare a 9 inch (22 cm) springform pan. I line them with baking paper.
Now process the soaked dates, apple sauce, almond milk, vanilla extract and almond butter in a high speed blender or food processor until there are no pieces left.
Put all dry ingredients such as flour, almond flour, baking powder, baking soda, potato starch and cocoa powder in a mixing bowl. Now add the date mixture and the sparkling water and stir until a homogeneous dough is formed without lumps of flour. Now add the apple cider vinegar and stir briefly.
Put the dough in the cake pan and bake the cake for approx. 35 min. Do the toothpick test, when the toothpick is clean, the cake is ready. Let the cake cool for 10 minutes. And carefully take the cake out of the baking pan and let it cool completely on a wire rack.
Cut the cake through the middle once so that you get two cakes. Or use two springforms and put half of the dough in one springform and bake it accordingly.
Chocolate cream:
Soak the dates. When they are soft put them with everything in a food processor and mix until super creamy. You can let it rest in the fridge until the cake is cool.
Assembling:
Place a bottom on a cake plate and place the cake ring around the cake. Now put the cream on the cake, and place the second bottom on the cake. Let the cake solidify in the refrigerator for about 1 hour before spreading the remaining cream on the cake and on the sides.
What makes the chocolate cake so juicy?
Several ingredients make this cake so incredibly moist and delicious. On the one hand, the apple sauce and the dates make the cake incredibly juicy. Then we use ground almonds, which help to prevent the cake from drying out, since we do not use any oil and use whole wheat flour.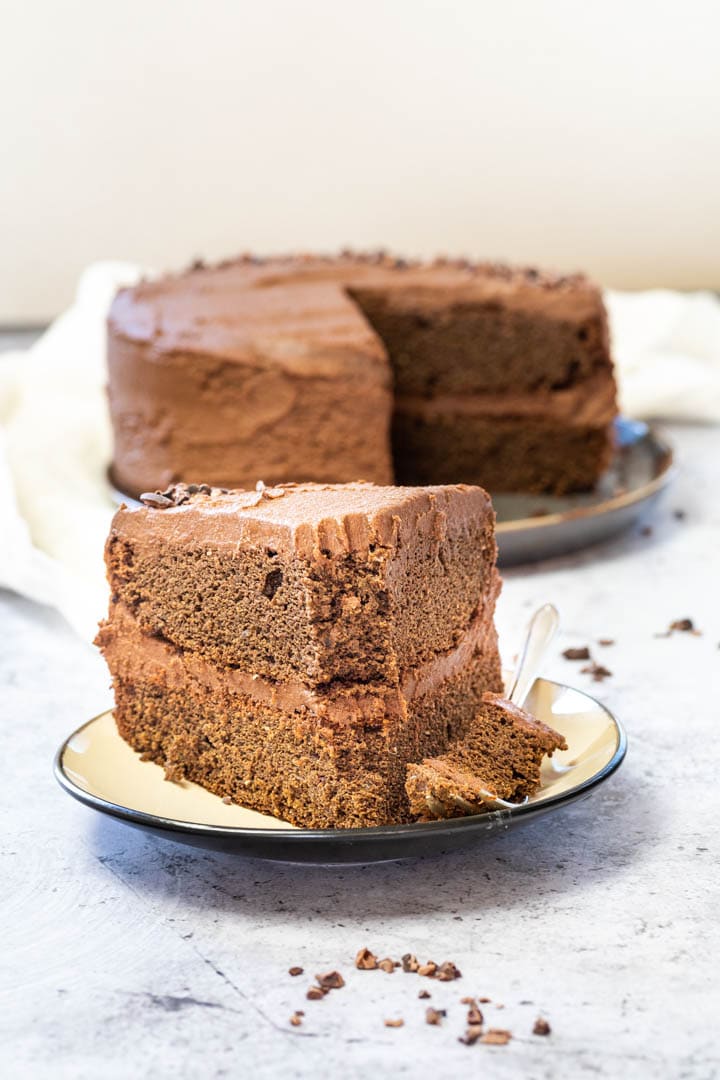 What do we use as an egg set in this cake recipe?
To make the cake rise, we take more baking powder and baking soda and add some apple cider vinegar to the cake. You don't taste the vinegar, but the combination results in a reaction that makes the cake fluffy. To prevent the cake from drying out, we use applesauce and dates, which also serve as sweeteners.
What can I use instead of applesauce?
You can use other fruit puree or use flax or chia seeds. If you choose seeds, take 1.5 tablespoons of crushed flax seeds and mix them with 5 tablespoons of water. And let it stand a little until it becomes gel-like.
Can the vegan chocolate cake also be prepared in gluten-free?
You could use a gluten-free flour baking mix that you can find in stores. You may need to add a little more liquid as these absorb more fluid. You can use a little more applesauce or more almond butter.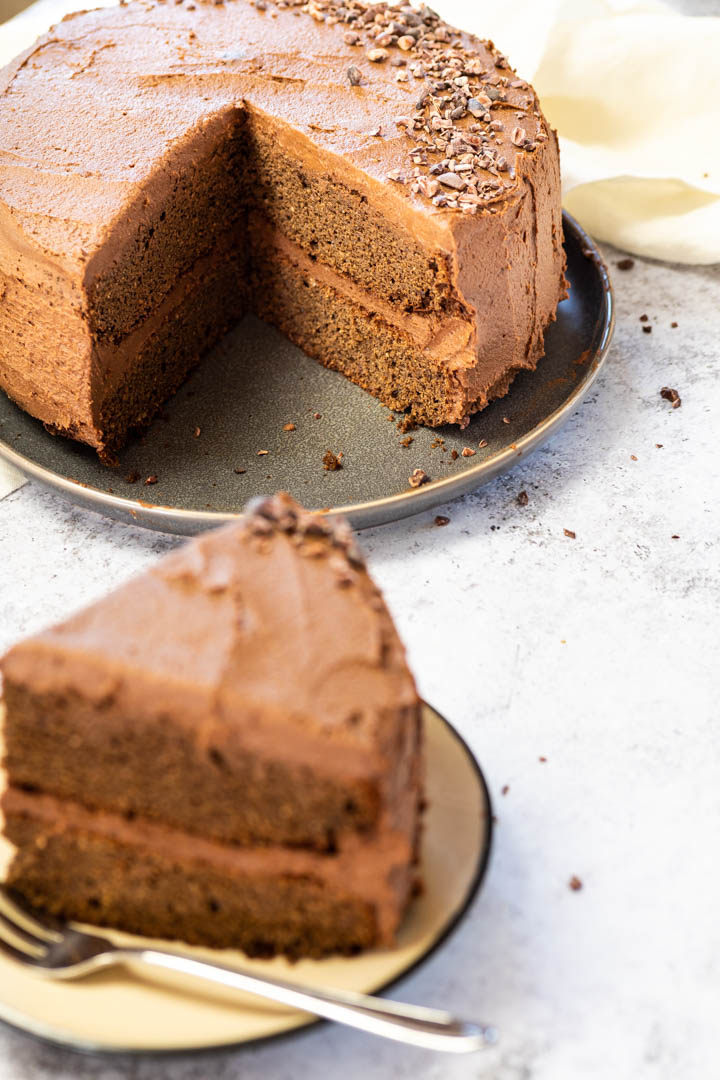 I feel like cupcakes - can I also bake cupcakes?
You can make cupcakes out of it, just fill the dough into a muffin pan and bake. The baking time is then reduced.
Can I prepare the cake in advance?
The cake tastes best on the same day or the following day. The cake lasts in the fridge for about 5 days.
You cannot prepare the dough in advance, the dough must be baked directly
More vegan Cake Recipes:
Apricot Custard Cake (Sunny Side up Cake)
Do not forget to Pin on Pinterest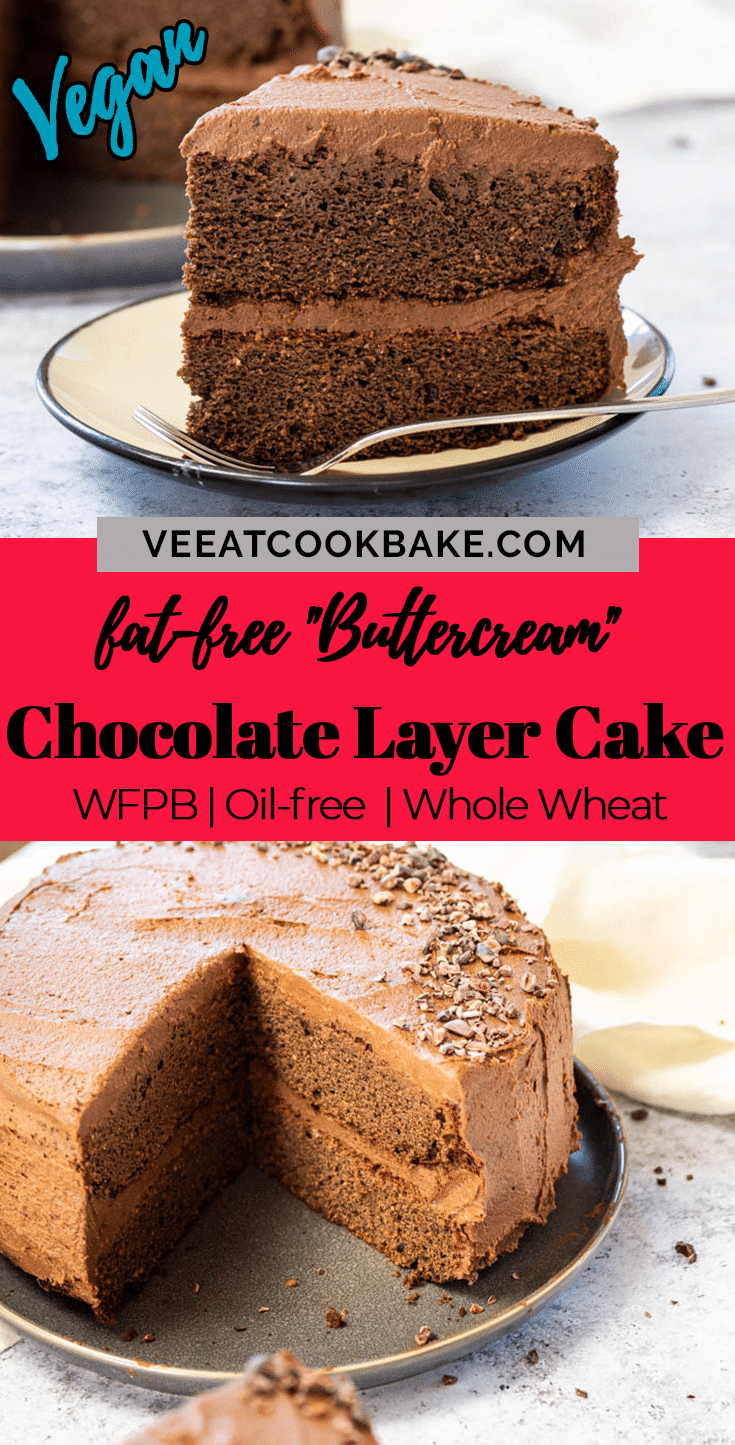 Have you tried the recipe?
If you tried the vegan Chocolate Layer Cake, be so nice ♥ and let me know by rating the recipe and writing what you think about it in the comments. Tag me on Instagram too. I am @veeatcookbake and my hashtag is #veeatcookbake. So that I can see your creation. Did you know you can add photos on Pinterest under the recipe Pin? I can't wait to see a photo of your creation there. You find me with @veeatcookbake. I also would love to hear your feedback, so I can share it on my social media channels.

This post may contains affiliate links and I may receive a very small commission if you buy through these links at no extra cost. Thank you very much for supporting Ve Eat Cook Bake! More information can be found here.
---