A simple recipe for vegan nut bars (German Nut Corners).
This healthy, dairy-free nut pastry is perfect on your cookie plate for Christmas or throughout the year for a snack, treat.
With shortbread as a base, a layer of jam and grounded nuts of your choice on top and decorated with chocolate make these whole food plant-based Nut Bars to something special.
As an Amazon Associate, I earn from qualifying purchases. This post may contain affiliate links. Read More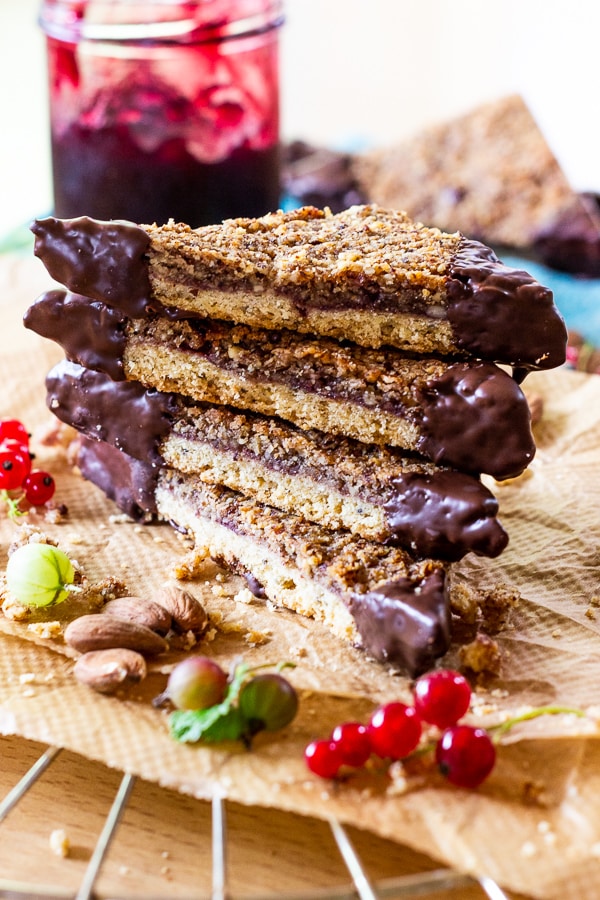 This is an easy to make dairy-free, egg-free dessert which is made without oil and is whole food plant-based diet friendly.
I love to make these for birthday parties for a fingerfood snack or dessert.
Dunk the corners into dark chocolate and you get an amazing chocolate dessert.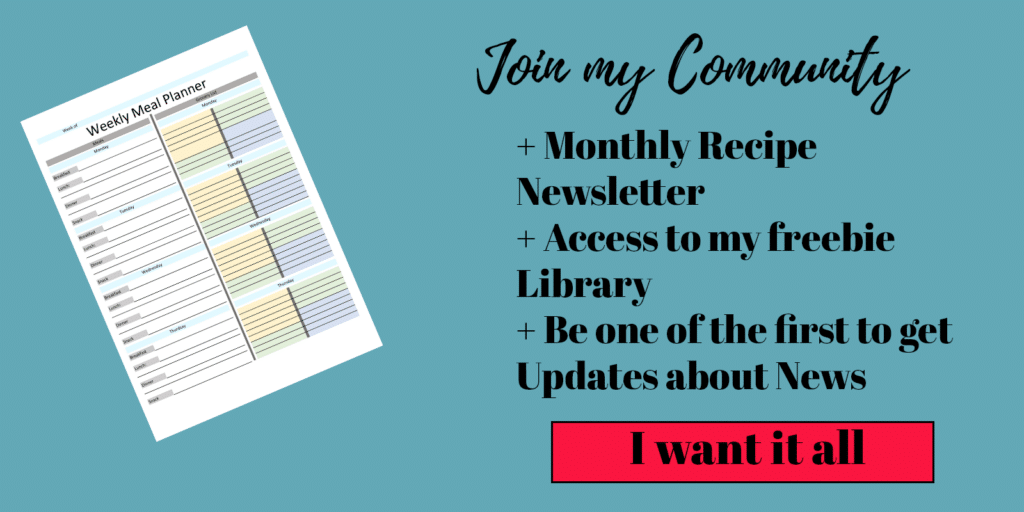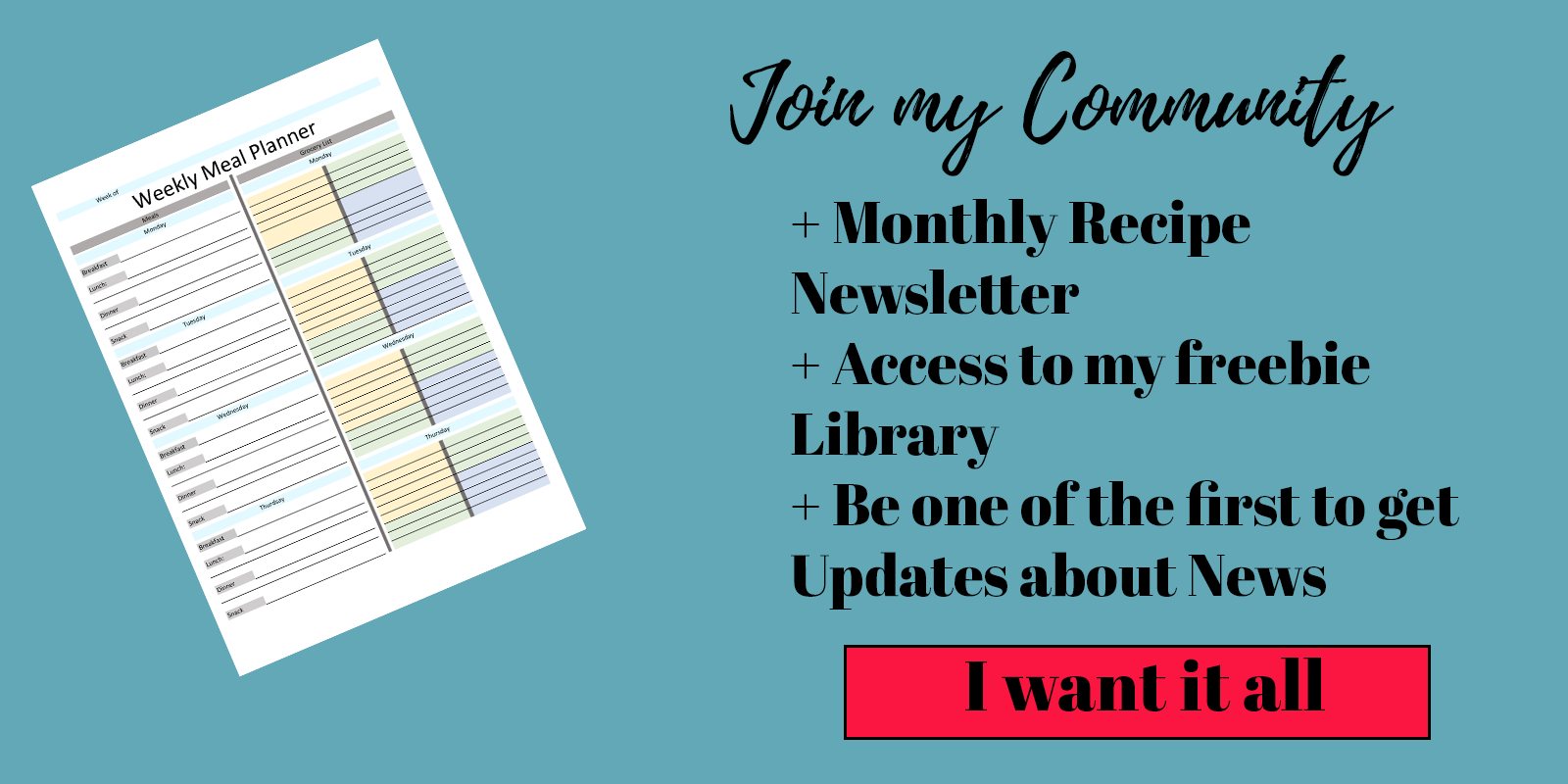 A healthier Option
Who says you can not snack and still eat healthy?
You should definitely try these vegan nut bars. In the shortcrust dough I completely substitute the oil.
Take a sugar alternative such as coconut sugar, date syrup or even puréed dates. Fortunately, you can use for the nut layer of the nut pastry apple sauce or coconut oil.
Ingredients
Here I want to show you what ingredients are used to make these amazing vegan nut bars.
Get the amounts for the ingredients in the recipe card below.
whole white wheat flour or gluten-free flour
almond four
coconut sugar or puréed dates
almond, cashew butter
water
baking powder
water
cornstarch
Jam or pureed fruit Topping
nut flour
water
nut butter
coconut oil or apple sauce
sugar alternative (for example date syrup, coconut sugar)
Chocolate for dipping the corners
What nuts to use?
I personally love a mixture of almonds and hazelnuts.
The taste of roasted hazelnuts reminds me a lot of nougat, and if you're a nougat lover like me, you'll love these plant-based nut bars with hazelnuts.
These vegan nut corners simply fit all year round, whether it's birthdays, just a snack in the afternoon or even for breakfast, or make them a snack. Variegate with the nuts and it will not get boring.
I can well imagine that macadamia nuts, pecan nuts would taste awesome.
Flour Substitute
In this recipe I used whole white wheat flour. I love that flour for baking its a whole grain flour made with white wheat.
You can use normal whole wheat flour or even substitute with a gluten-free flour mixture to make it gluten-free.
Fruit
Traditional German Nussecken are made with an Apricot Jam. But I love to use a berry jam or pureed berries.
In the photos I used a homemade mix of blackberries, currants. You can use your favorite fruit purée or jam.
Nut-free
Like the name says it is a nut bar. You could make it nut-free. I am not sure if you count almonds to nuts. Officially a almond is not a nut. And often nut allergic persons can still eat almonds even though they cannot eat other nuts.
Maybe you can still enjoy almonds, than you could substitute the nuts with almonds.
I can also imagine that different seeds taste amazing too. Like sunflower or pumpkin seeds.
Did you hear about tigernuts? These are a tubers and not nuts. Maybe you could try to use these instead of the classic nuts we know.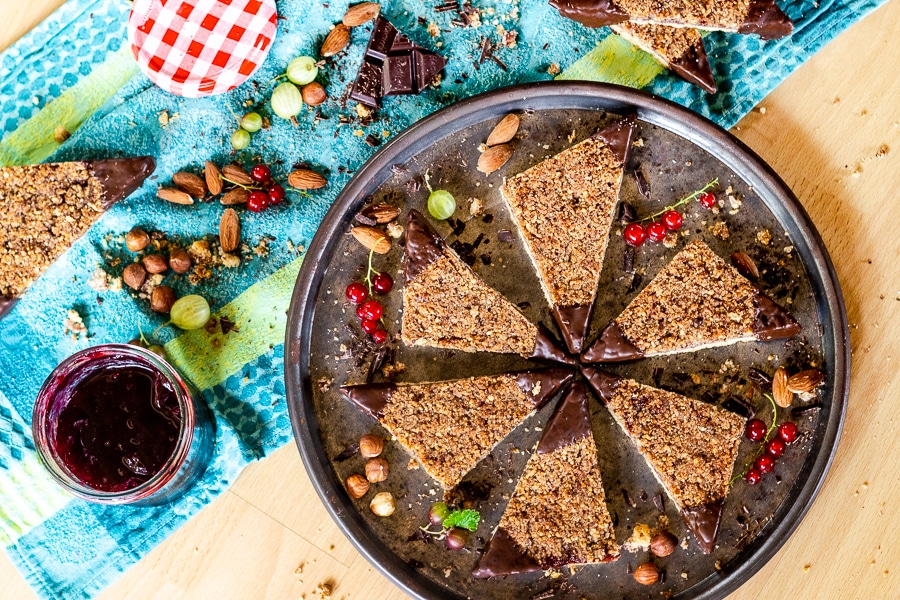 Instruction:
Preheat the oven to 400°F (200°C).
Now it's time to knead all the ingredients for the shortbread to a smooth still crumbly dough. Roll out on a baking sheet lined with baking paper.
Now spread the jam or the fruit purée on the crust.
For the nut topping, mixe all the ingredients except the nut flour in a pot and heat it. Stir in the nut flour.
Spread the nut mixture on the crust.
Bake in the preheated oven at 400° F (200°C) for 20-25 min. Do the toothpick test, and see if dough sticks to the toothpick.
If not, the nut corners are done.
Take them out of the oven and let the nut corners cool down completely.
Now you can first cut squares and then triangles.
Dip the corners in melted chocolate and leave the nut corners on a wire rack until the chocolate is firm. This step is optional.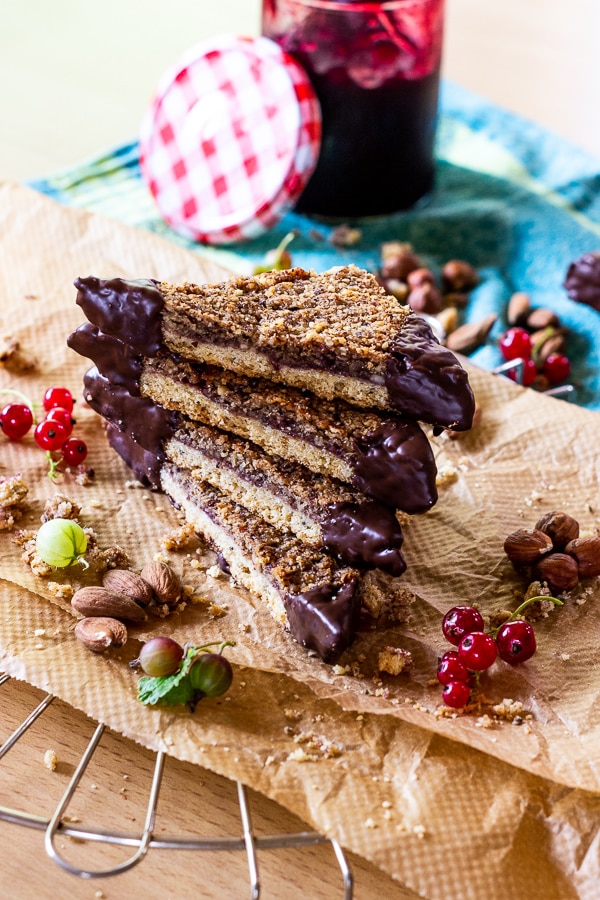 Storage
These nutcorners are easy to store.
Fridge
You can easily store left nut corners in the fridge for a couple of days. They last there for around 5 days. Just store them in an airtight container.
Freezing
You made a big batch? No problem, freeze some nut corners portion wise.
For this I let them freeze on a baking sheet and put them in containers once they are frozen.
More vegan Recipes:
Do not forget to pin!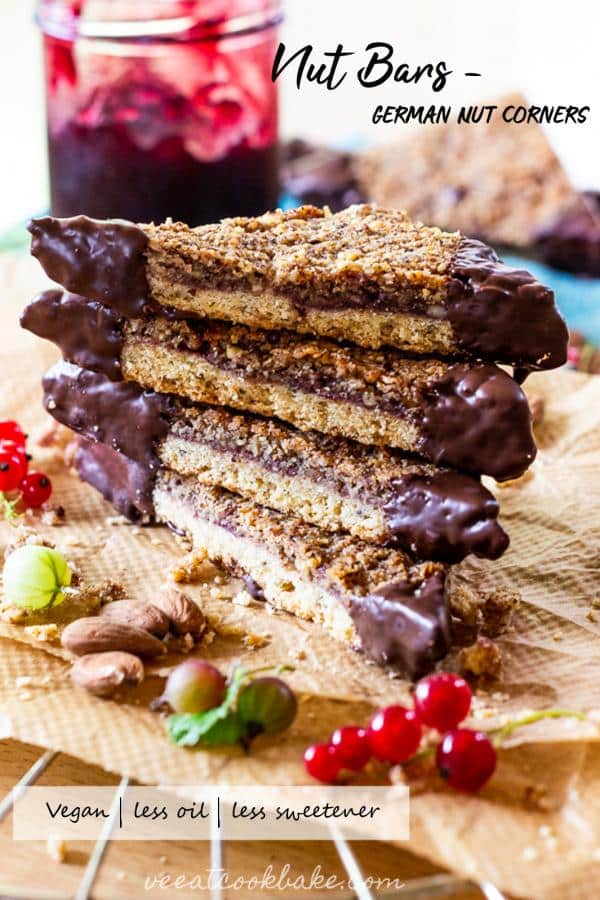 Have you tried the recipe?
If you tried the vegan Recipe, be so nice ♥ and let me know by rating the recipe and writing what you think about it in the comments. I would love to see your photo on Instagram or Facebook. To do this tag me with @veeatcookbake and my hashtag is #veeatcookbake. So that I can see your creation. Did you know you can add photos on Pinterest under the recipe Pin? I can't wait to see a photo of your creation there. You find me with @veeatcookbake.