These delicious vegan nut corners (German Nussecken) are prepared with an oil-free shortcrust pastry, apricot purée and hazelnut topping.
They taste amazing! This recipe is easy to make - you'll have these on your plate in no time at all; they're perfect as snacks between meals or for appetizers before dinner parties when friends come over...
You can even enjoy them as dessert after finishing off that cake from earlier if want really greedy 🙂
The best thing about this yummy treat? It doesn't contain any refined sugar so it won't break out.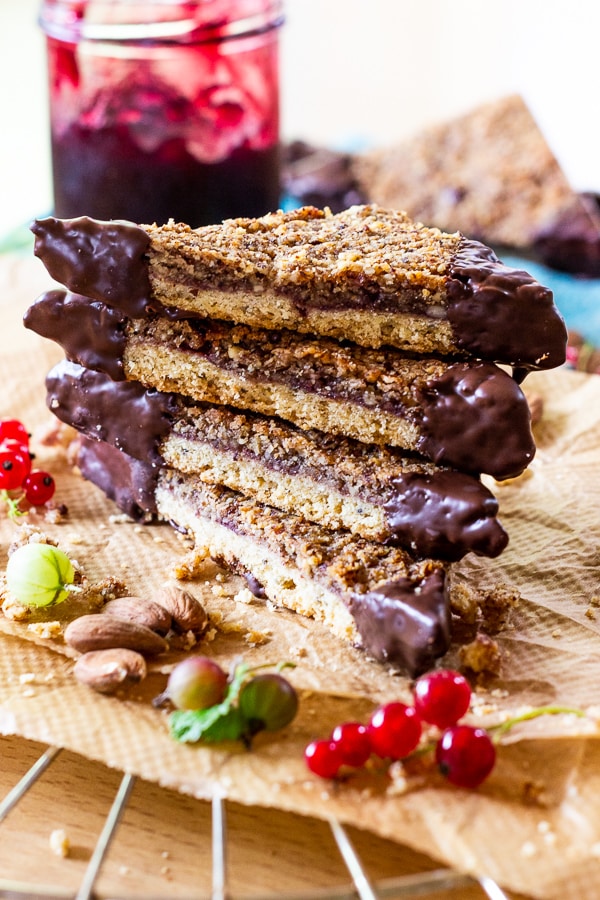 As an Amazon Associate, I earn from qualifying purchases. This post may contain affiliate links. Read More
Jump to:
What are nut bars?
Nut corners, or in Germany known as Nussecken are a cookie bar that you cut into triangles and dip the corners in chocolate.
These family favorites have been passed down for generations to love by all who indulge themselves on this sweet treat! And I created a version with healthy fats.
These delicious nussecken are traditional eaten during christmas time along with other german cookies like Vanilla Crescent Cookies, Gingerbread Cookies, Linzer Cookies.
Let us check out this german nussecken recipe. It might be one of your next family favorite as well.
Ingredients
Now let's take a look at what's in these nut corners. As always, you can find the exact amount in the recipe card below.
Whole Wheat Flour
Ground Almonds (almond flour)
Date Paste or coconut sugar
Almond Butter
Baking Powder
Apricots
Ground Hazelnuts
Water
Almond Butter
Maple Syrup or date paste
Dark Chocolate (at least 70%)
Substitutions
Now let's take a look at which ingredients you can swap out to still conjure up delicious vegan nut triangles.
Whole Wheat Flour
Instead of whole wheat flour, you can use normal all purpose flour, spelt flour or a gluten-free flour mix. I love to switch between Whole Wheat and Spelt flour.
Almond Flour
So that we can create a crumbly shortcrust pastry without using butter or oil, we need a source of fat from wholesome foods, hence the almond meal.
If you don't want to use almonds now, you can also use ground sunflower seeds or pumpkin seeds here. Both seed favorites have a nice fat content to great a nice shortbread dough.
Date Paste or Date Sugar
Here you can of course use sweeteners as you wish. I prefer it over brown sugar.
Almond Butter
I prefer to use almond butter or cashew butter for these easy vegan nut bars.
But you can also use sunflower seed or pumpkin seed butter to create a buttery shortbread base without using coconut oil.
Apricots
Instead of sweet apricot jam that is full of sugar, I like to use canned apricots with no added sugar and purée them.
You can also use a jam if you like. Or other fruits that you like.
Hazelnut Flour
You can also replace the hazelnuts with almonds, whereby the hazelnuts give these delicious cookie corners their special, traditional taste.
I can also imagine instead of making german nut corners, seed corners from pumpkin seeds or even sunflower seeds.
You can also use a nut mixture like a mix of hazelnuts, macadamia, almonds.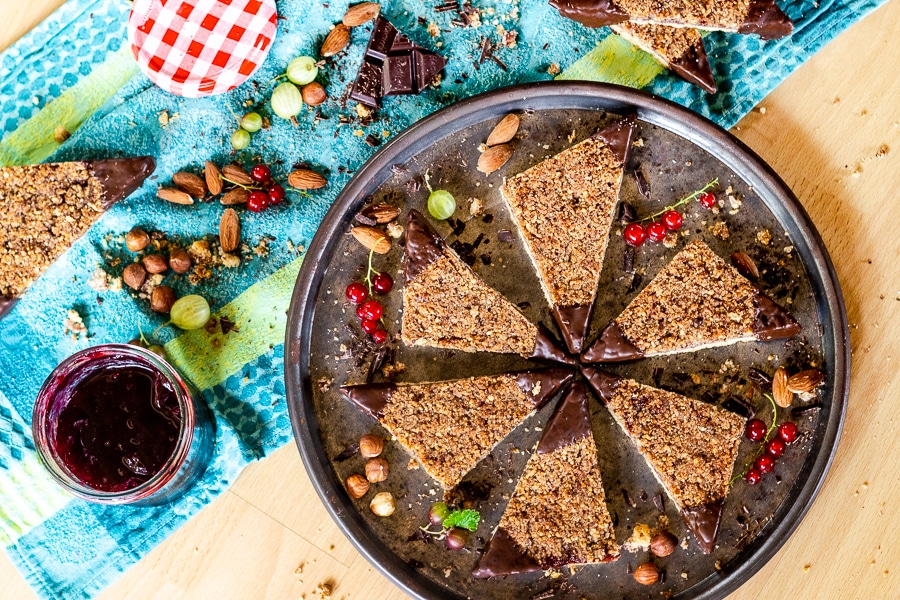 Variations
In this section, I will show you how you can adapt the nut corners to certain types of diet.
Firstly, these are already soy-free. If you want to make them gluten-free or nut-free (I know, why would you want to make them nut free when this recipe is clearly a nut bar), you can do the following.
Gluten free
You can prepare the cookie bars relatively easily in gluten-free. Simply use a flour mix that is gluten-free.
I can also imagine the buckwheat flour or rice flour taste good here. I would add about 1-2 tablespoons of starch here.
Nut free
I know the name nut corners is for nuts. But you can also prepare an alternative from seeds here.
Simply use your favorite seeds, which you can grind or roughly chop and use.
Instruction
Preheat the oven to 350°F (175°C).
Knead all the ingredients for the shortcrust pastry into a crumbly dough, which should have the consistency of crumbles. Spread this on a baking sheet lined with parchment paper.
Purée the apricots and spread a thin layer of apricot jam on the shortcrust pastry.
For the nut layer, mix the water with the nut butter and the sweetener until everything is well mixed. Now add the hazelnuts and stir until everything is well mixed together.
Spread the sticky hazelnuts on the shortcrust pastry.
Now bake the nut corners in the preheated oven for about 20-25 minutes. Do the toothpick test to see if the dough is baked through.
Let the nut corners cool completely first.
Now cut squares first and triangles out of the squares.
Melt the chocolate (chocolate chips) in a double boiler/ water bath and dip the corners of the nut corners in the melted chocolate. Place them on a wire rack (cooling rack) and wait for the chocolate to set. We want an amazing chocolate glaze.
Prepare in Advance
You can prepare this vegan version of the classic German treat in advance.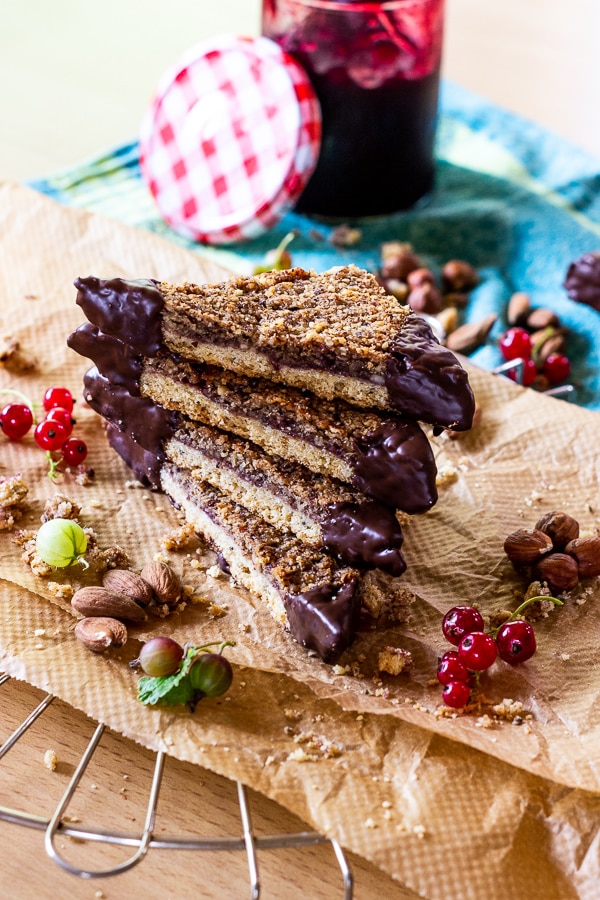 Storage
You can store the nut corners in an airtight container. Let them cool first to room temperature. With us, the nut corners do not get older than 1 week. They are too good to not eat!
You can also freeze the nut corner and then thaw them. To do this, first freeze them individually and when they are frozen you can freeze them together. This way they don't freeze together, and you can take out individual nut corners.
Tips
It's best to use a baking sheet for cake, like a brownie pan.
You can make your own hazelnut meal. Put whole hazelnuts in a high speed blender or food processor and mix until you get a flour. That way you can get all kinds of ground nuts.
You can either use your fingers to spread the shortcrust pastry apart. Or you can roll it out on baking paper and then place it in the pan.
The nut corners are easiest to cut when they have cooled down completely. You can also put them in the refrigerator for a few hours and then cut them with a sharp knife.
You can cut mini vegan nussecken (2 inches/ 5cm) that look very good on a cookie platter or cut into (4 inch/ 10cm) nut corners like those sold in german bakeries that you can serve as dessert.