hese super delicious vegan nut corners (German Nussecken) are prepared with an oil-free shortcrust pastry, apricot puree and hazelnut topping, and chocolate corners.
This vegan pastry recipe is easy and will go down well at your next party.
I like to prepare these nut bars as a snack for in between, with coffee or cake. Traditionally, nut corners are often prepared as Christmas cookies. We have them all year round.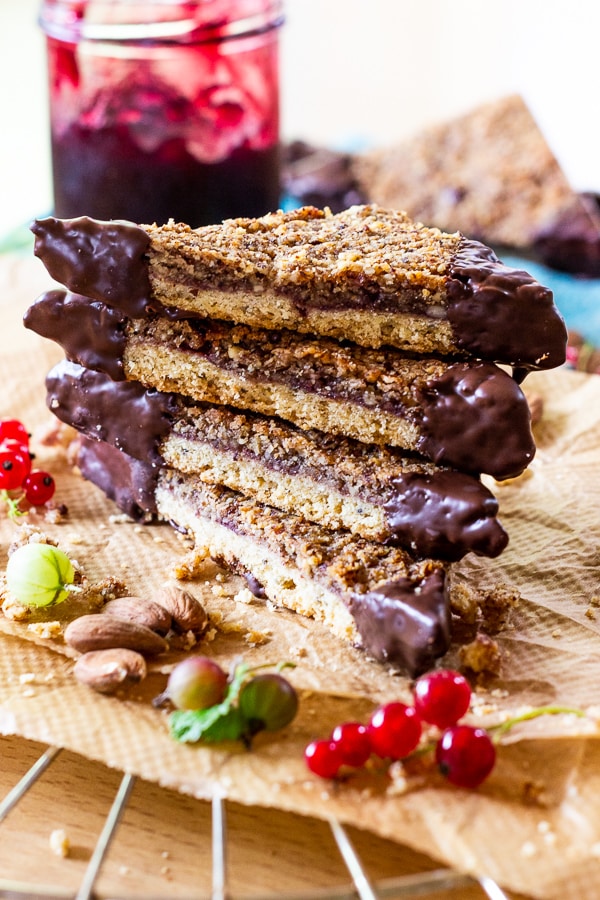 As an Amazon Associate, I earn from qualifying purchases. This post may contain affiliate links. Read More
Jump to:
In our family we like to prepare these nut cookies without sugar when we are expecting visitors, and we want to prepare something quick that can be eaten with your fingers.
The best thing about these nut corners, you can prepare them in advance and store them in a cookie jar. The vegan nut corners are also suitable as an edible gift or souvenir.
What are nut corners?
Nut corners, or in Germany known as Nussecken, is a cookie bar that you cut into triangles and dip the corners in chocolate.
Nut corners are a family favorite that everyone loves.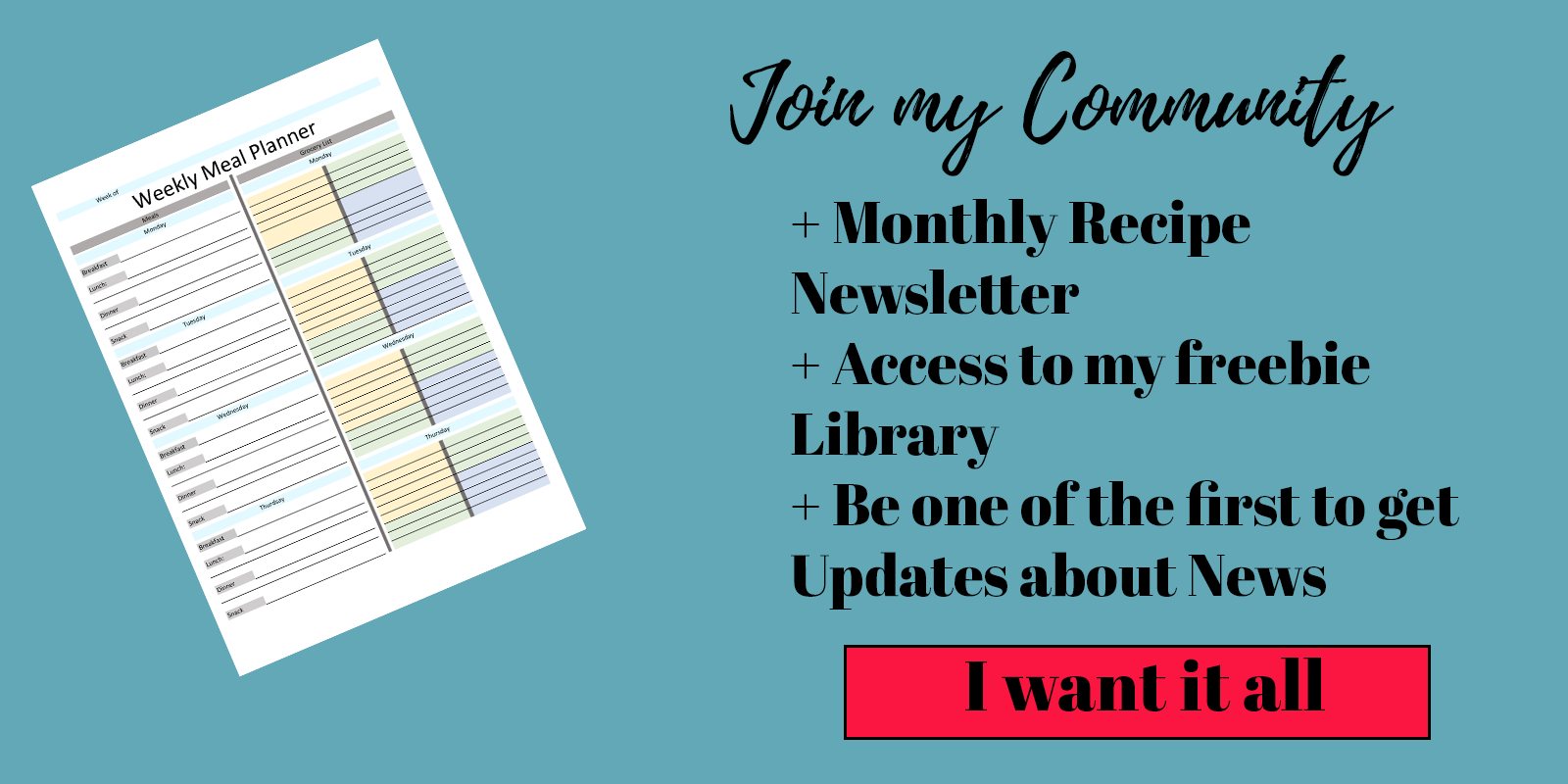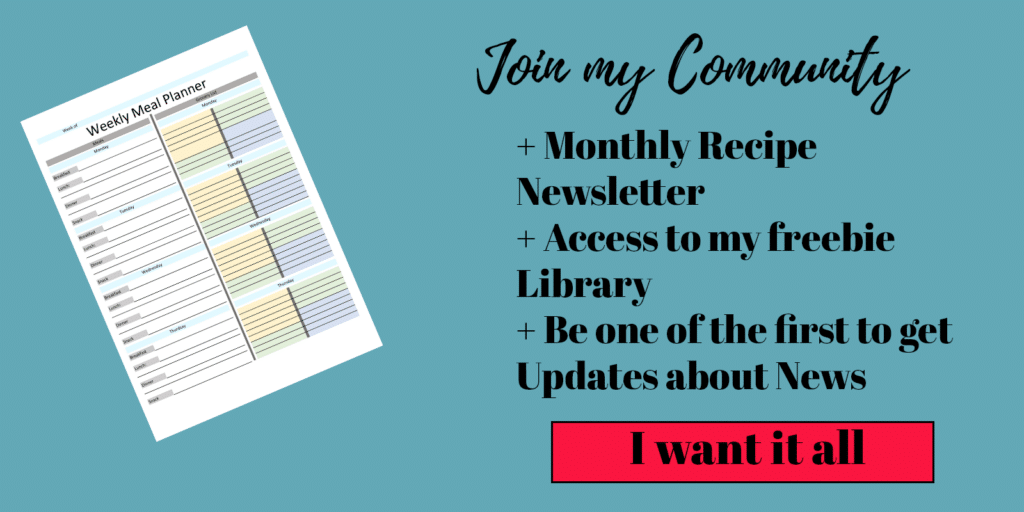 Ingredients
Now let's take a look at what's in these nut corners. As always, you can find the exact amount in the recipe card below.
Whole Wheat Flour
Ground Almonds (almond flour)
Date Paste or coconut sugar
Almond Butter
Baking Powder
Apricots
Ground Hazelnuts
Water
Almond Butter
Maple Syrup or date paste
Dark Chocolate (at least 70%)
Substitutions
Now let's take a look at which ingredients you can swap out to still conjure up delicious vegan nut wedges.
Whole Wheat Flour
Instead of whole wheat flour, you can use normal household flour, spelt flour or a gluten-free flour mix.
Almond Flour
So that we can create a crumbly shortcrust pastry without using butter or oil, we need a source of fat from wholesome foods, hence the ground almonds. If you don't want to use almonds now, you can also use ground sunflower seeds or pumpkin seeds here.
Date Paste
Here you can use sweeteners as you wish.
Almond Butter
I prefer to use almond butter or cashew butter here. But you can also use sunflower seed or pumpkin seed.
Apricots
I like to use canned apricots with no added sugar and puree them. You can also use a jam if you like. Or other fruits that you like.
Hazelnuts
You can also replace the hazelnuts with almonds, whereby the hazelnuts give the special taste.
I can also imagine making nut corners, seed corners from pumpkin seeds or even sunflower seeds.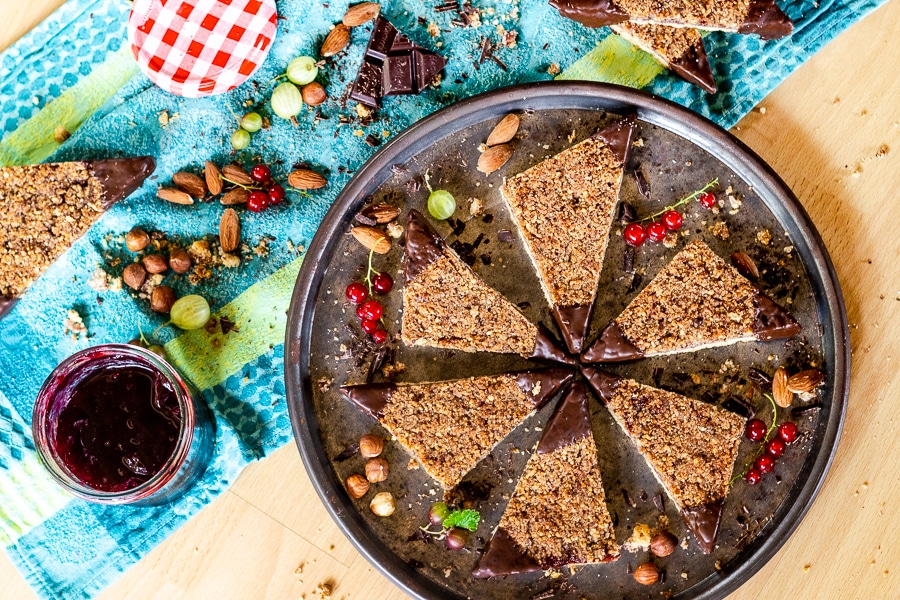 Variations
In this section I will show you how you can adapt the nut corners to certain types of diet. First of all, these vegan nut wedges are already soy-free. If you want to make them gluten-free or nut-free now, you can do the following.
Gluten free
You can prepare the vegan nut corners relatively easily in gluten-free. Simply use a flour mix that is gluten-free. I can also imagine the buckwheat flour or rice flour taste good here. I would add about 1-2 tablespoons of starch here.
Nut free
I know the name nut corners is for nuts. But you can also prepare an alternative from seeds here. Simply use your favorite seeds, which you can grind or roughly chop and use.
Instruction
Preheat the oven to 350°F (175°C).
Knead all the ingredients for the shortcrust pastry into a smooth dough, which should have the consistency of crumbles. Spread this on a baking sheet lined with parchment paper.
Puree the apricots and spread them on the shortcrust pastry.
For the nut mass, mix the water with the nut butter and the sweetener until everything is well mixed. Now add the hazelnuts and stir until everything is well mixed together.
Spread the nuts on the shortcrust pastry.
Now bake the nut corners in the preheated oven for about 20-25 minutes. Do the toothpick test to see if the dough is baked through.
Let the nut corners cool completely first.
Now cut squares first and triangles out of the squares.
Melt the chocolate in a double boiler and dip the corners of the nut corners in the chocolate. Place them on a wire rack and wait for the chocolate to set.
Prepare in Advance
You can prepare these nut corners very well in advance.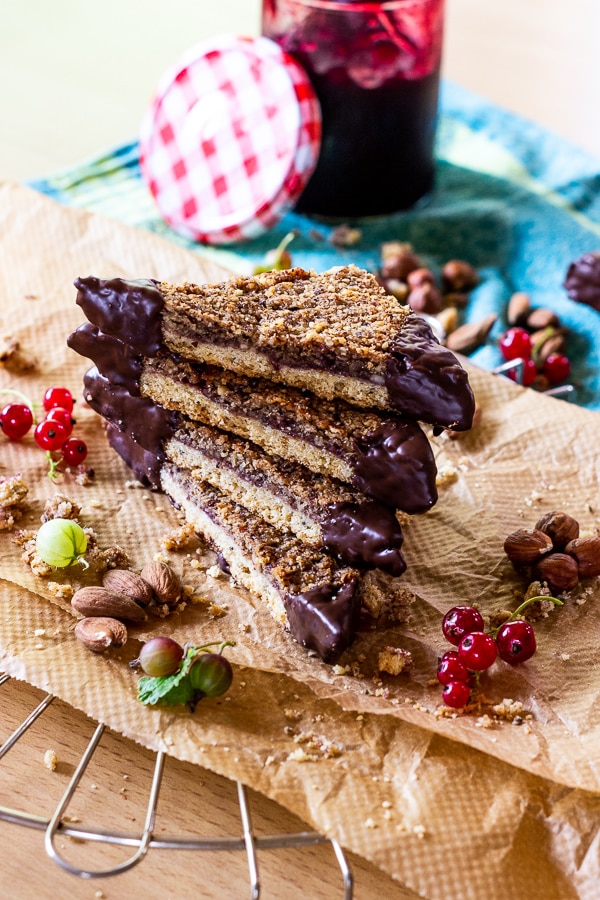 Storage
You can store the nut corners in a sealed container. With us, the nut corners do not get older than 1 week.
You can also freeze the nut corner and then thaw them. To do this, first freeze them individually and when they are frozen you can freeze them together. This way they don't freeze together, and you can take out individual nut corners.
Tips
It's best to use a baking sheet for cake like a brownie pan.
You can make ground hazelnuts yourself. Put them in a high speed blender and mix until you get a flour.
You can either use your fingers to spread the shortcrust pastry apart. Or you can roll it out on baking paper and then place it in the pan.
The nut corners are easiest to cut when they have cooled down completely. You can also put them in the refrigerator for a few hours and then cut them with a sharp knife.
You can cut mini nut corners (2 inches/ 5cm) that look very good on a cookie plate or cut into 4 inch/ 10cm nut corners like those sold in the bakery that you can serve as dessert.
Pin for Later!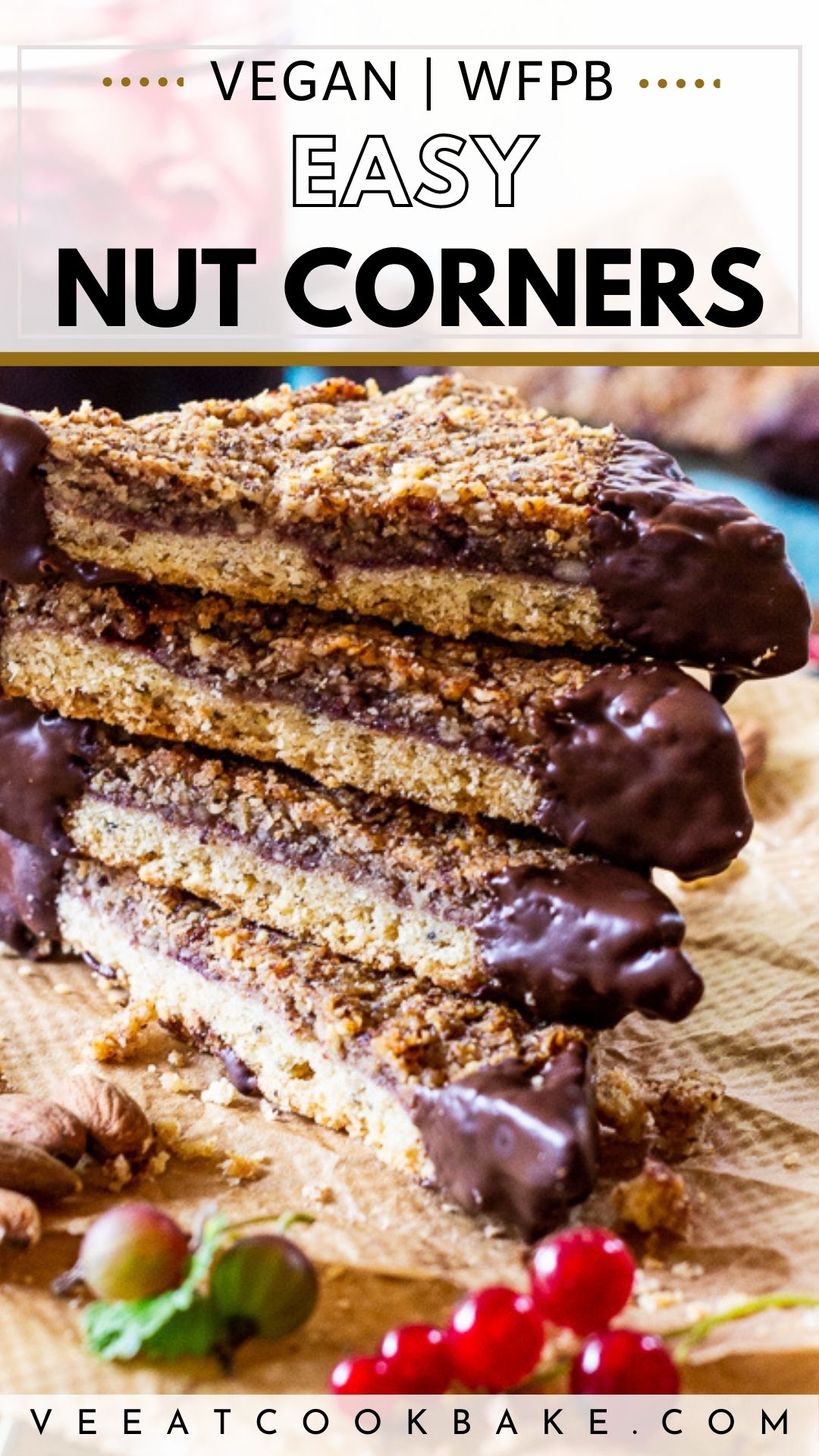 Have you tried the recipe?
If you tried the vegan Recipe, be so nice ♥ and let me know by rating the recipe and writing what you think about it in the comments. I would love to see your photo on Instagram or Facebook. To do this tag me with @veeatcookbake and my hashtag is #veeatcookbake. So that I can see your creation. Did you know you can add photos on Pinterest under the recipe Pin? I can't wait to see a photo of your creation there. You find me with @veeatcookbake.