This post is also available in: Deutsch
*As an Amazon Associate, I earn from qualifying purchases. This post may contain affiliate links. That means if you click and buy, I may receive a small commission. Please see my full policy.*
A simple recipe for vegan nut bars (German Nut Corners). These healthy nut bars (German Nut Corners) are perfect on your cookie plate for Christmas or throughout the year for a snack, treat. With shortbread as a base, a layer of jam and grounded nuts of your choice on top and decorated with chocolate make these vegan Nut Bars (German Nut Corners) to something special. plant based | egg free | without refined sugar | lactose free | dairy free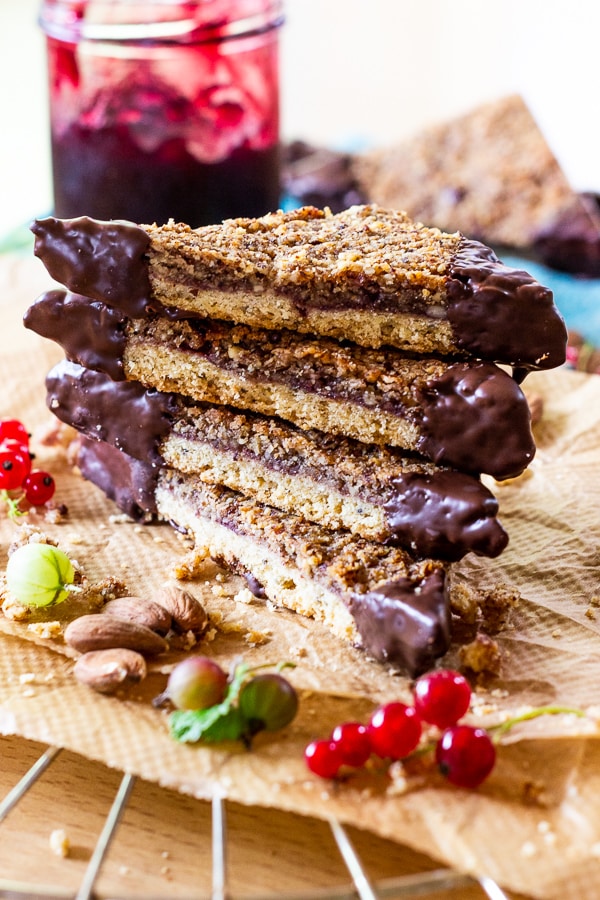 Which nuts for vegan nut bars ( German Nut Corners)
I personally love a mixture of almonds and hazelnuts. The taste of roasted hazelnuts reminds me a lot of nougat, and if you're a nougat lover like me, you'll love these vegan nut bars with hazelnuts. These vegan nut corners simply fit all year round, whether it's birthdays, just a snack in the afternoon or even for breakfast, or make them a snack. Variegate with the nuts and it will not get boring. I can well imagine that macadamia nuts, pecan nuts would taste awesome.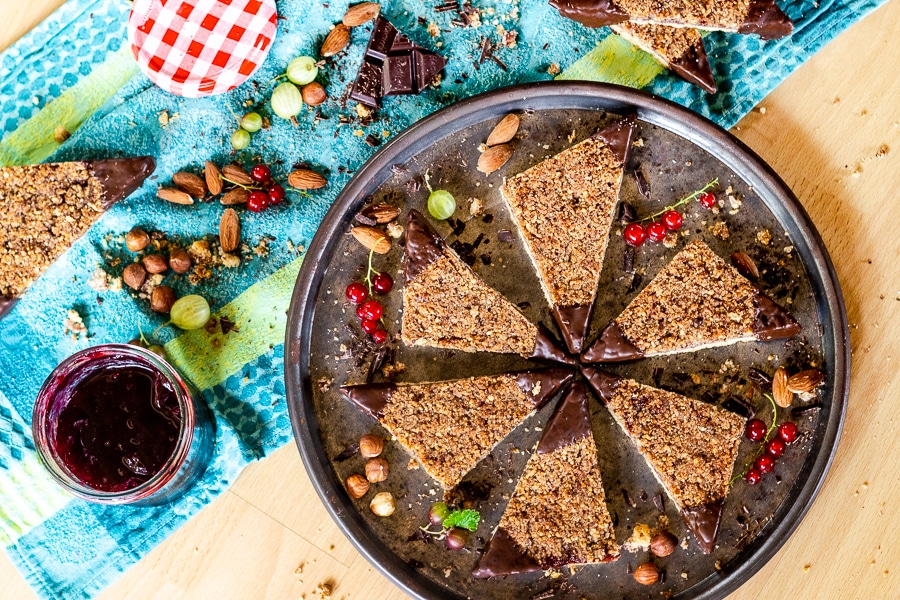 ---

---
Vegan nut bars – a healthier option
Who says you can not snack and still eat healthy? You should definitely try these vegan nut bars. In the shortcrust dough I completely substitute the oil. Take a sugar alternative such as coconut sugar, date sugar or others. Unfortunately, I have to admit, for the nut layer of the vegan Nut bars, I could not find an oil free alternative. It could not convince me. If you have any idea what could replace the oil, I would be happy to hear from you below in the comments.
You like vegan Nut Bars (German Nut Corners), maybe you like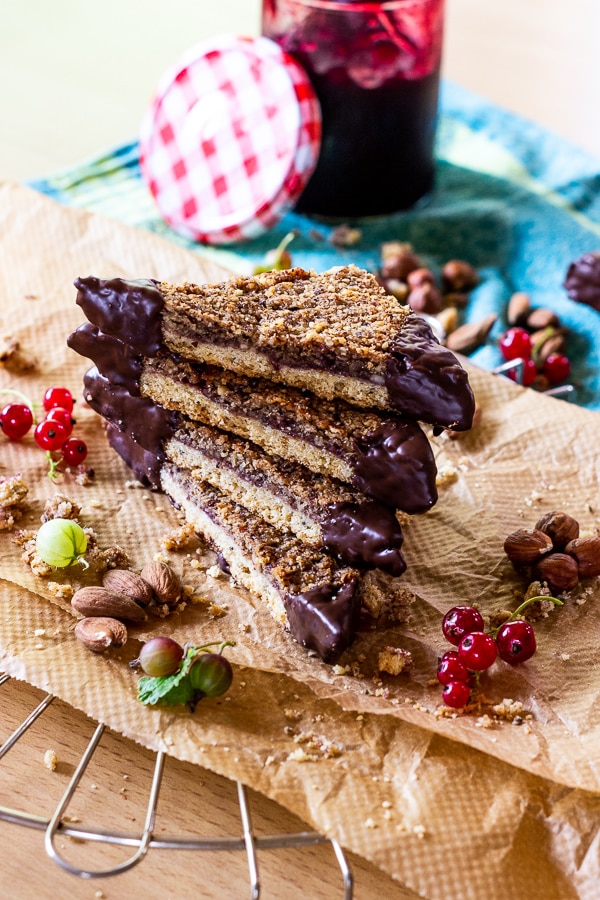 ---
Did you try the recipe?
If you did it, be so nice ♥ and let me know by rating the recipe and writing what you think about it. Tag me on Instagram too. I am @veeatcookbake and my hashtag is #veeatcomforts. So that I can see your creation. Did you know you can add photos on Pinterest under the recipe Pin? I can't wait to see a photo of your creation there. You find me with VeeatCookBake.
---
Vegan Nut Bars - German Nut Corners veganized
A simple recipe for vegan nut bars (German Nut Corners). These healthy nut bars (German Nut Corners) are perfect on your cookie plate for Christmas time or throughout the year for a snack, treat. With shortbread as a base, a layer of jam and ground / chopped nuts of your choice on top and decorated with chocolate make these vegan Nut Bars (German Nut Corners) to something special. plant based | egg free | without refined sugar | lactose free | dairy free
Recipe type:
Baked Stuff, Cake, Bars
Cuisine:
vegan, dairy free, gluten free, less oil, less sugar alternative
Ingredients
Shortbread
1 1 tbsp (150 g) spelt flour or gluten-free flour
1½ cups + 1 tbsp (150g) almond four
5.5 tbsp (80 g) coconut sugar or other sugar alternative
¼ cup (70 g) almond, cashew butter
¼ cup + 1 tbsp (70 g) water
¼ tsp baking powder
Mix ¼ cup (120 ml) of water with 1 tbsp cornstarch
Jam or pureed fruit (your favorite flavor, I like to use homemade)
Nut Topping
4¼ cups (400 g) nut flour (such as hazelnuts, almonds, etc.)
8 tbs water
½ cup (150 g) of nut butter
¾ cup (150 g) of coconut oil
150 g sugar alternative (for example coconut sugar)
Chocolate for dipping the corners
Instructions
Knead all the ingredients for the shortbread to a smooth dough. Roll out on a baking sheet lined with baking paper.
Now spread the jam or the fruit puree on it
For the nut topping, heat the water, nuts and oil in a pot and mix it with nut flour. Now spread on the shortbread
Bake in preheated oven at 200 ° C for 20-25 min. Do the toothpick sample, and see if dough sticks to the toothpick. If not, the nut corners are finished.
Take them out of the oven and let the nut corners cool down completely.
Now you can first cut squares and then triangles.
Dip the corners in melted chocolate and leave the nut corners on a wire rack until the chocolate is firm.
---