These airy and fluffy vegan blueberry muffins are a real eye-catcher. These blueberry muffins are large, soft and ideal as a quick snack if you crave something sweet.
We do not use oil, refined sugar or soy for these dessert muffins. These muffins can also be made with whole wheat flour.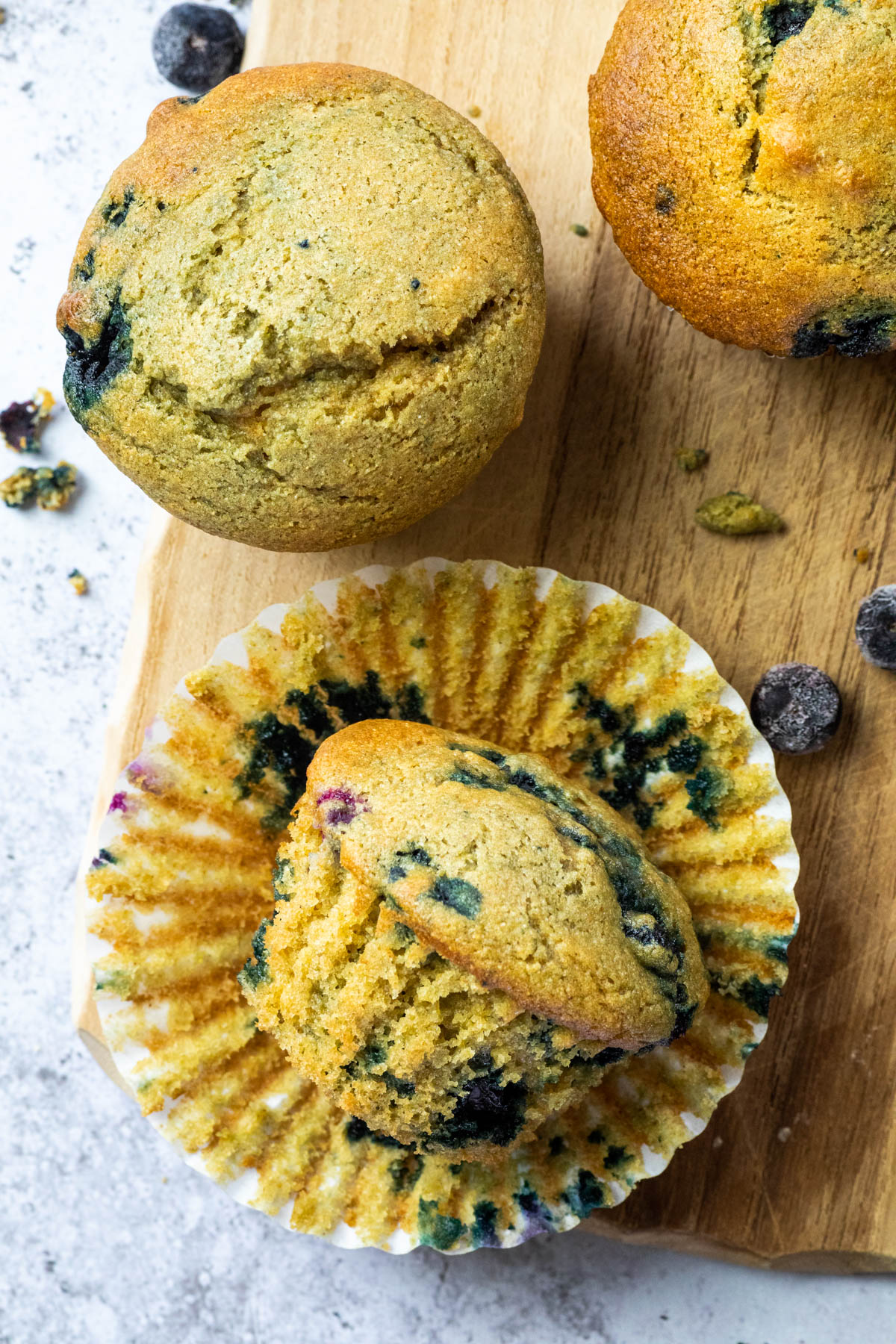 As an Amazon Associate, I earn from qualifying purchases. This post may contain affiliate links. Read More
Jump to:
You can optionally make these muffins nut-free, making them allergy-friendly.
These fluffy blueberry muffins have everything you dream of in a muffin. They go round nicely and protrude above the muffin cases, just as you know from the classic American muffins.
After baking, these muffins do not collapse and remain as big and airy as you see them in the photos.
And don't you like such muffins too? I have to say I'm happy like a snow king every time a recipe turns out that well.
And blueberries in pastries, like in this vegan blueberry pound cake, are just super good.
You could even sprinkle crumbles on the muffins and get delicious blueberry crumble muffins.
With these muffins, which are super loose and mouth-watering, nobody will suspect that you have not used any dairy products or eggs.
Children are also enthusiastic about these muffins and are therefore ideal for children's birthdays for dessert or snack.
Are Blueberry Muffins Healthy?
These blueberry muffins are a healthier version of the classic version with eggs and dairy. In this version, we do not use highly processed oils, which tend to play an unhealthy role.
You can find more information on e.g. nutritionfacts.org or the China study.
We also use unsweetened applesauce and, as a fat alternative, cashews.
If you prepare the muffins with whole wheat flour, they are even healthier than muffins with all purpose flour.
Ingredients
A brief overview of what is included in these indescribably airy muffins.
The exact amount can be found below in the recipe card.
Raw Cashews
Almond Milk or other plant-based milk
Maple Syrup
Vanilla Extract
Cinnamon
Whole Wheat Flour
Gluten Powder
Baking Powder
Applesauce, unsweetened
Blueberries
Apple Cider Vinegar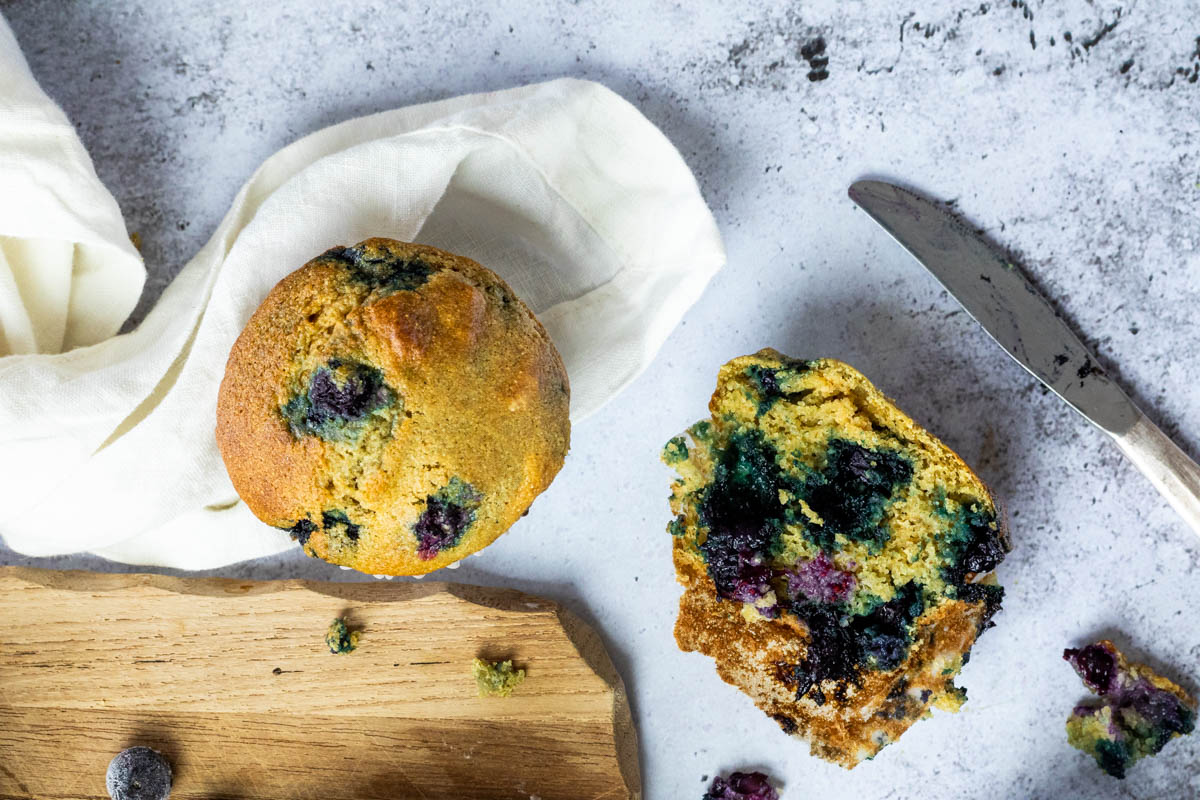 Can I use anything other than almond milk?
Yes, you can use a different plant-based milk. I use almond milk because we usually make them ourselves at home and I always have it on hand.
You can of course also use oat milk, soy milk, cashew milk, rice milk, etc. Here you can decide as you please.
Can I also use frozen blueberries?
Yes you can use frozen berries. Frozen blueberries also contain water and could make the dough a little mushier. I used frozen blueberries in the photos.
When using frozen berries, do the following:
Let the berries thaw before adding them to the batter. To do this, I place the berries on a sieve and let them drain while defrosting.
If you want to go faster, you can of course let warm water run over the berries, so they are thawed faster.
I recommend leaving the berries in the sieve for about 20-30 minutes so that the water can drain completely. Then take a paper towel and carefully dab the berries. Now you can add the berries to the dough.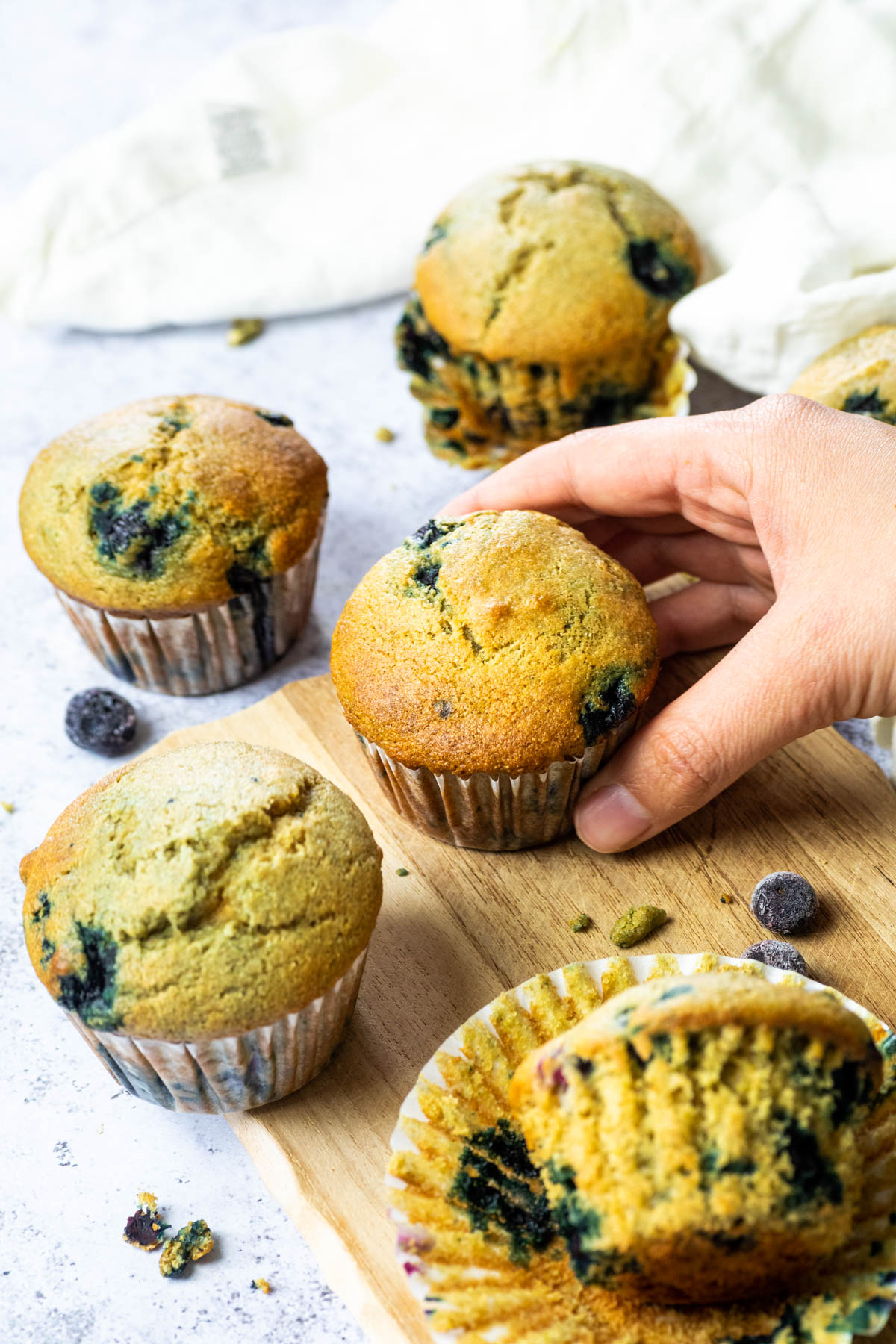 What can I use instead of cashews?
If you don't have cashews on hand or don't like cashews, you can of course also use almond butter, cashew butter, or sunflower seed butter.
You can also replace the cashews with sunflower seeds. However, they have to be soaked longer and mixed longer in the high speed blender. Sunflower seeds are a little firmer than cashews and it takes longer to get a creamy consistency without pieces.
Can I make this recipe gluten free?
For gluten-free muffins, you can substitute the flour and gluten powder with a gluten-free flour mixture.
I have not tried it myself. I appreciate your feedback and will take your feedback into account in my post.
Instructions
Making blueberry muffins is absolutely not difficult.
Start soaking the cashews in hot water and preheating the oven to 350°F (180°C).
In the next step measure all dry ingredients and put them in a mixing bowl and mix briefly.
Now sieve the cashews and add them with the remaining moist ingredients to a high speed blender and mix until a creamy consistency without pieces arises. It can take a minute.
Now pour the moist ingredients into the dry ones and stir them vigorously so that they are just mixed and no longer have any flour lumps. Add the apple cider vinegar.
Now add the blueberries and fold them under the dough. Make sure that you do this only briefly, otherwise the dough can change color, especially when using frozen berries.
Prepare a muffin pan and pour the muffins into the pan with a spoon. To do this, I first put a good tablespoon in each form and then go around again to each form. Continue with the 12 muffins until the batter is used up.
Now bake the muffins in the preheated oven for about 30 minutes. Again, I recommend the toothpick test to see if the dough is baked through. When nothing sticks to the toothpick, the muffins are ready.
Let the muffins cool and enjoy them at room temperature.
Can I prepare the muffin batter in advance?
You can prepare the muffin batter in advance. To do this, keep the dough in an airtight container in the refrigerator for 1-2 days.
I recommend mixing in the blueberries just before baking.
Preheat the oven and bake the muffins as usual. When you bake the muffins, it may take a little longer because the dough is cooler.
I also recommend that baking powder mix in the blueberries just before baking, otherwise it will lose strength. It is active as soon as you mix it with liquid.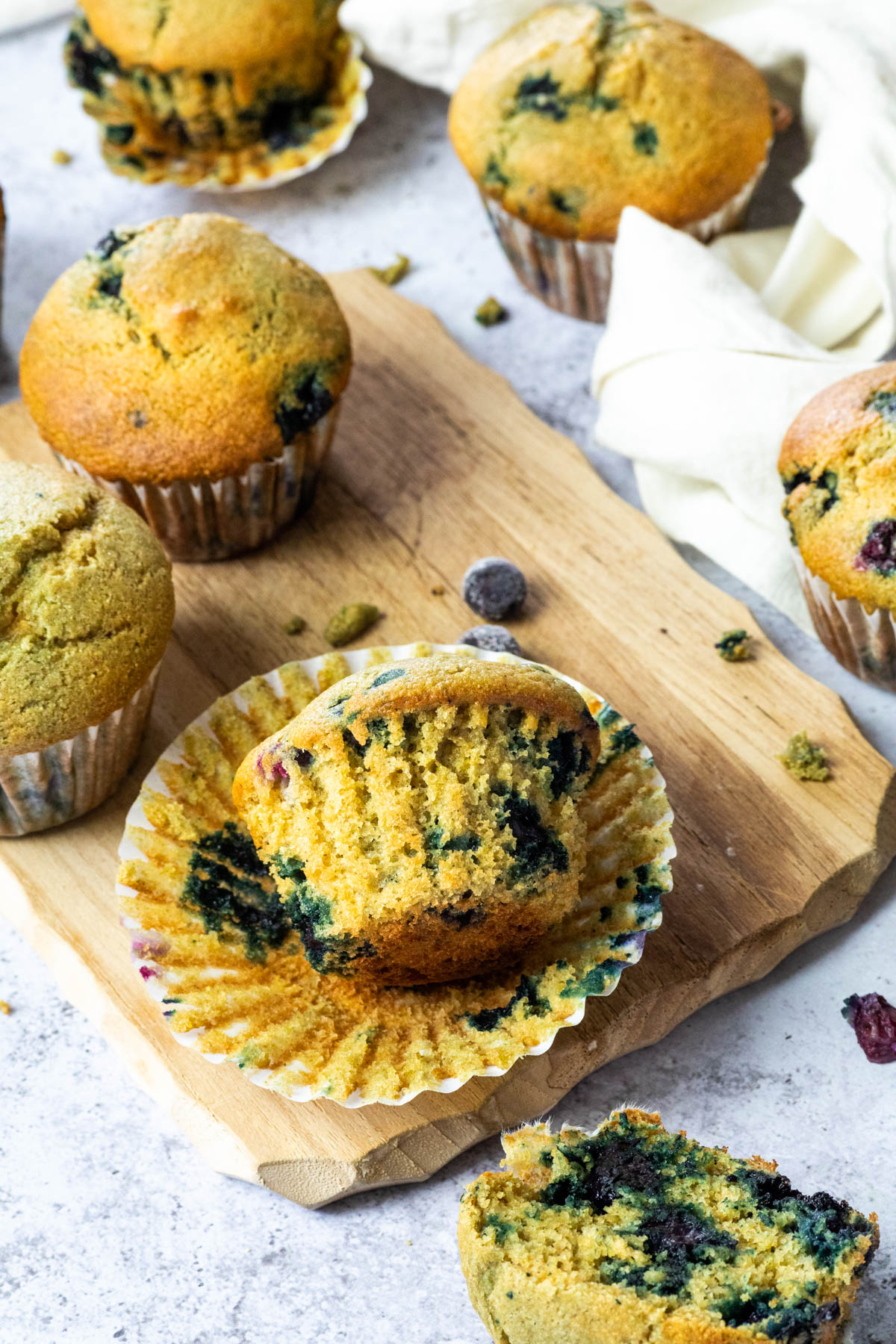 Can I make a loaf out of this muffin recipe?
Yes, you can. Take a loaf pan, line it with parchment paper and put the dough in it.
Bake the loaf for about 50 min. And do the toothpick test here too.
Tips
Be careful not to mix the dough too much, just enough to get a homogeneous dough. This is how you get delicate muffins.
Dough is relatively thick and not liquid, so I use spoons to put it in the muffin forms.
Bake the muffins on a middle rack.
If you have a convection oven, I recommend baking with the convection. This way the muffins are baked evenly.
You can add muffins, nutmeg, allspice or other spices as you like.
I like to add some cinnamon because cinnamon leaves a sweet taste. However, cinnamon is optional.
If you use frozen blueberries, your dough will turn a little blue. Especially when frozen, you have to be careful not to mix the batter too much.
For me, the muffin forms are ¾ filled.
Leave the muffins in the tin for about 10 minutes and then place them on a wire rack
Storage
Blueberry muffins can be frozen very well. To do this, freeze them in portions in freezable containers. Allow the muffins to warm to room temperature before serving.
You can also warm them up briefly in the oven.
They should last in the freezer for about 2 months.
More vegan muffin or cake recipes:
Lemon Muffins from Love & Lemons
Chocolate Muffins from Ela Vegan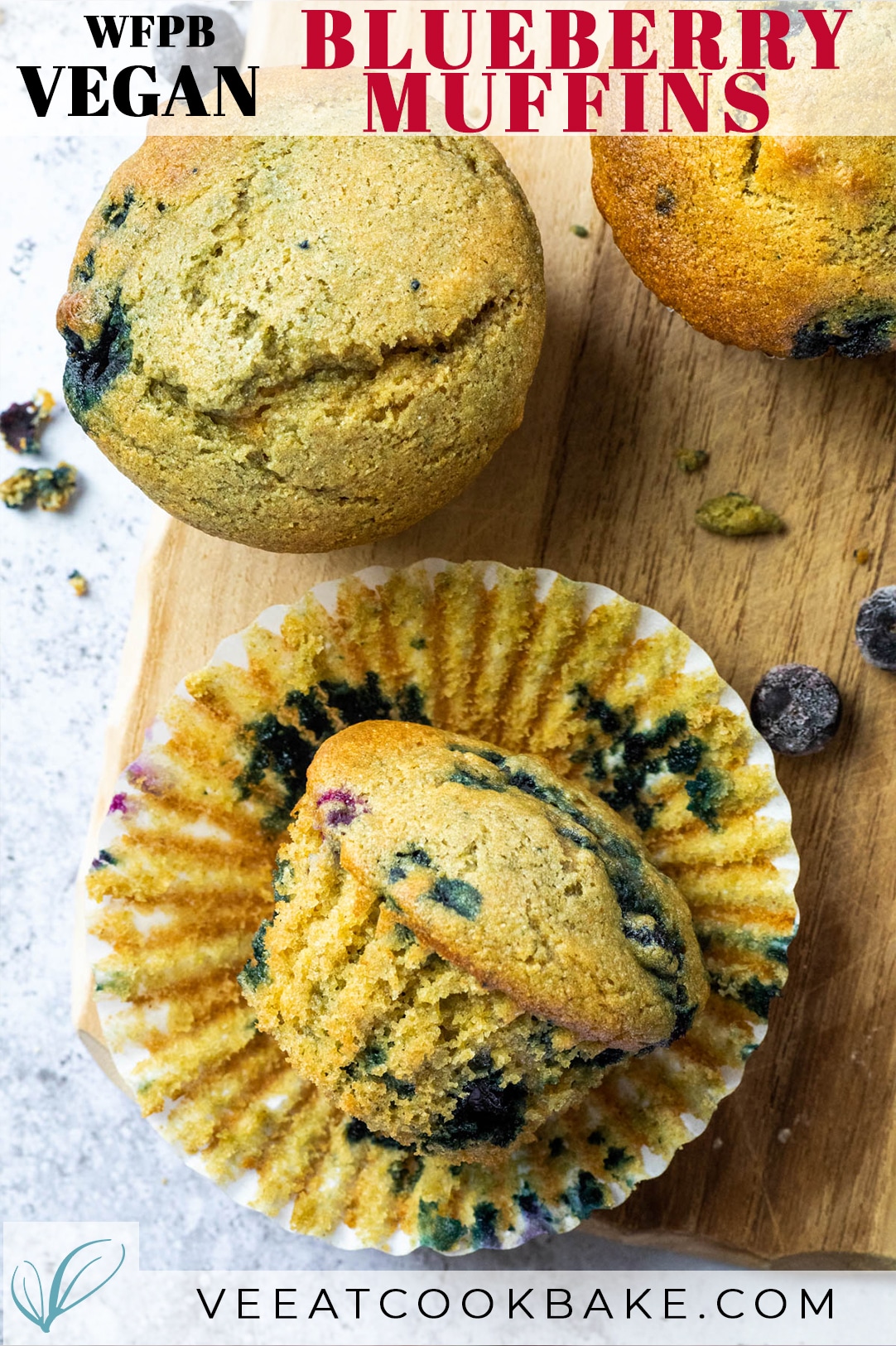 Have you tred the recip
If you tried the vegan Recipebe so nice ♥ and let me knw byrating the recipe and writing what you think about it in the comments.  I would love to see your photo on Instagram orFacebook. To do this tag me with @veeatcookbake andmy hashtag is #veeatcookbake. So that I can see your creation. Did you know you can add photos n Pinterest under the recipe Pin? I can't wait to see a photo of your creation here. You find me with @veeatcookbake