Vegan chocolate muffins are super quick and easy to prepare. You need 30 minutes, 12 ingredients and you create great dairy-free apple chocolate muffins without egg.
These delicious plant-based muffins with chocolate and apple taste like a great chocolate dessert, but thanks to the ingredients you can also enjoy them for breakfast.
This vegan muffin recipe is airy, tender and you would never guess that it is made without oil or refined sugar. These chocolate muffins taste like a chocolate cake.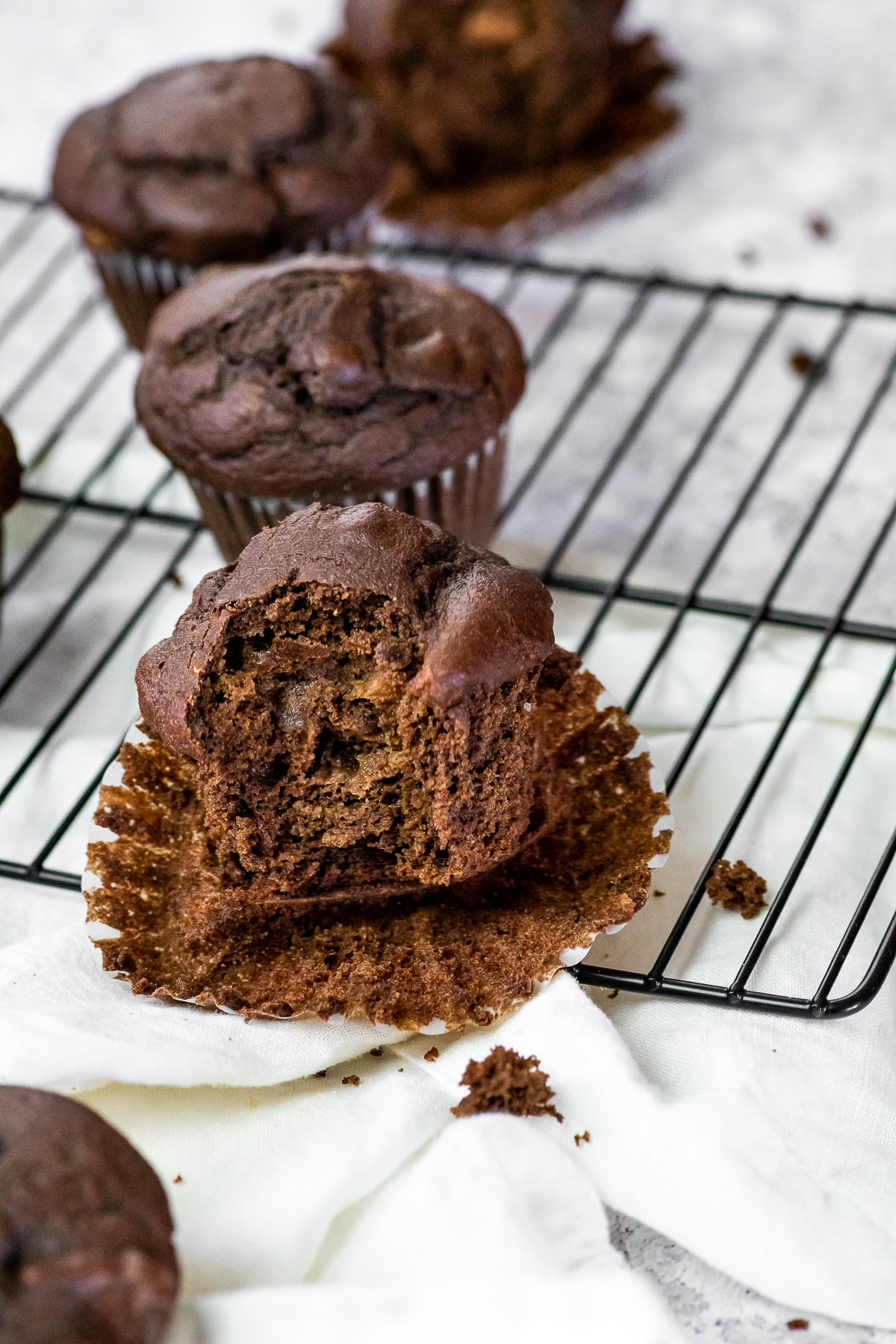 As an Amazon Associate, I earn from qualifying purchases. This post may contain affiliate links. Read More
Jump to:
The small vegan chocolate muffins are not only tasty for children, adults cannot get enough of them either.
If you've always wanted to bake without oil, you should definitely try these vegan chocolate muffins.
Who doesn't love to eat a good muffin, especially when it contains chocolate? And haven't I even read that chocolate is one of the superfoods? Then you have a great superfood muffin that also contains grated apples.
Now I don't want to put you off any longer, and let's take a closer look at the recipe. Here I not only show you quickly how to make the muffins, you also get alternative options, tips and tricks on the way.
Ingredients
Now let's first take a look at what ingredients go into these great, super light vegan chocolate muffins. Earlier I mentioned that these egg-free muffins consist of 12 ingredients. Here I'll show you briefly which ones are included. And then give you ideas on how to replace them.
You can find the exact quantities below in the recipe card.
White Whole Wheat Flour or Spelt Flour
Cocoa Powder
Baking Powder
Baking Soda
Date Paste
Seitan Fix Flour
Almond Butter
Almond Milk, unsweetened
Applesauce, unsweetened
Vanilla Extract
Cinnamon
Apple
Substitutions
Can you not eat everything and maybe want to swap some of the ingredients? Then I would like to show you a few ways how you can exchange some ingredients.
Date Paste
You can replace the date paste with coconut sugar or use a sweetener of your choice.
For the date paste, you can soak dried and soaked dates that have been pitted and then process with a little water into a paste in a high speed blender or food processor.
Almond Butter
You can also replace the almond butter with other nut butters. E.g. Cashew butter.
You can also choose to use peanut butter; who doesn't love the combination of chocolate and peanut? I'll just say peanut butter cups. A popular treat in the United States. Peanut butter coated with chocolate.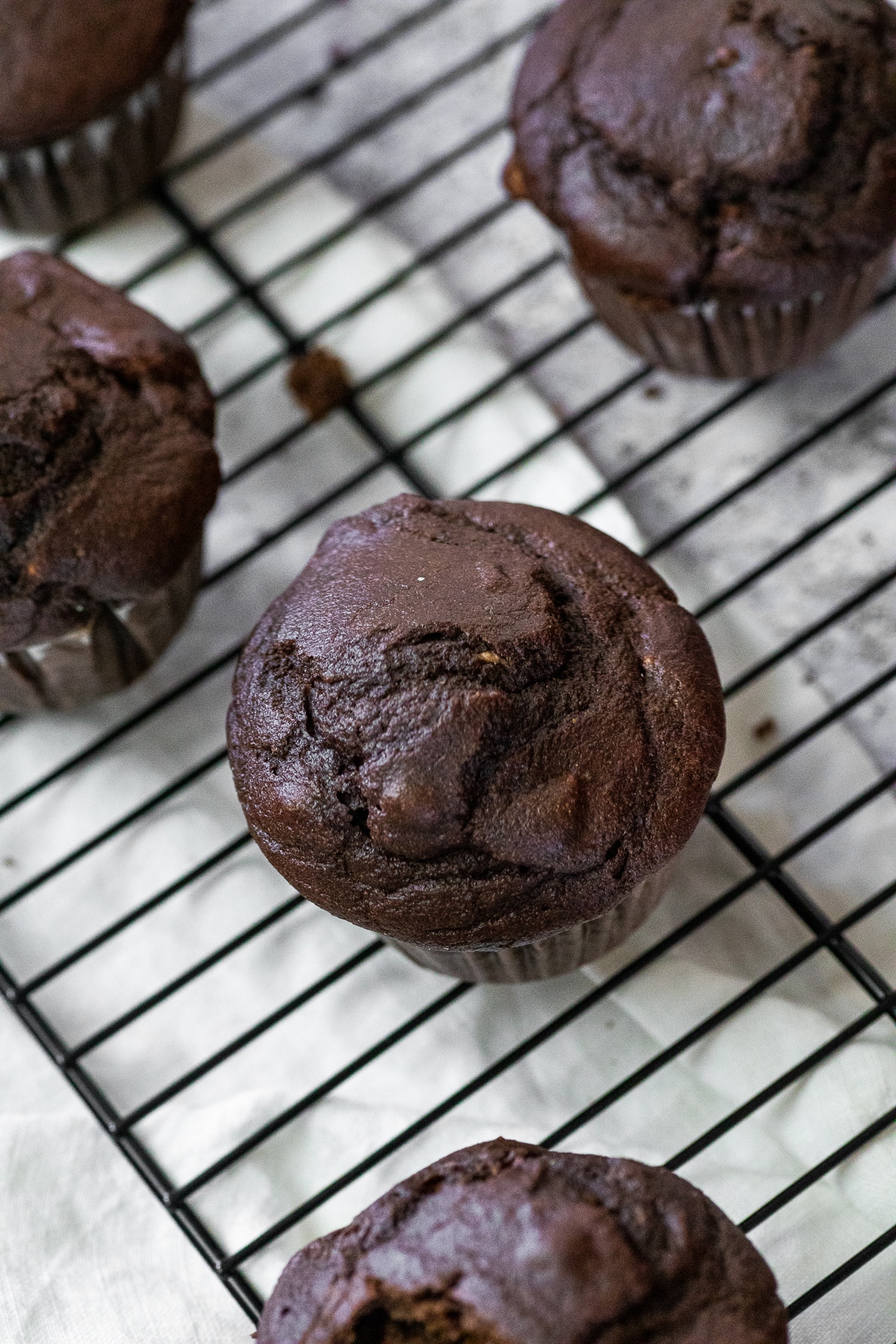 Almond Milk
Here you can replace the almond milk with a plant-based milk alternative in equal parts. For example, soy milk, oat milk, rice milk are very good here.
Vanilla Extract
Instead of vanilla extract, you can also use vanilla powder. Or the pulp of a quarter of a fresh vanilla pod.
Variations
You also want your vegan chocolate muffins nut-free, gluten-free or the like? Then I have a few variations for you that you can make to adapt them to your diet.
Nut-free
You have probably seen that we use almond products for these vegan chocolate muffins. You can replace these pretty easily. As mentioned above, you can replace the almond milk with another vegan milk alternative.
Now all that remains is the almond butter, which you can also replace with a nut alternative. For example butter made from sunflower seeds. If the oil-free recipe is not important to you, you can of course also use e.g. coconut oil.
Gluten-free
If you cannot tolerate flour with gluten, you can also use a gluten-free flour baking mixture.
I can well imagine that these muffins also taste very good with oat flour. Just make sure that you are grinding gluten-free rolled oats.
Instead of the Vital Wheat Gluten Flour you can also use 1 flaxseed egg. To do this, mix 1 tablespoon of ground flaxseed with 4 tablespoons of water and let stand for 15 minutes.
Keto
A ketogenic diet is about consuming as few carbohydrates as possible. Instead of flour in this recipe, you can use finely ground almond flour. Measure the same amount of it as you would use flour. Then remove 2 tablespoon of it and replace with 2 tablespoon starch.
You can replace the gluten powder with a flaxseed egg. In the gluten-free section above, I describe how you prepare it.
Leave the grated apple if you don't want to include it in your keto diet.
Instead of applesauce, use pumpkin puree.
Take a sweetener that you tolerate well and that supports your diet.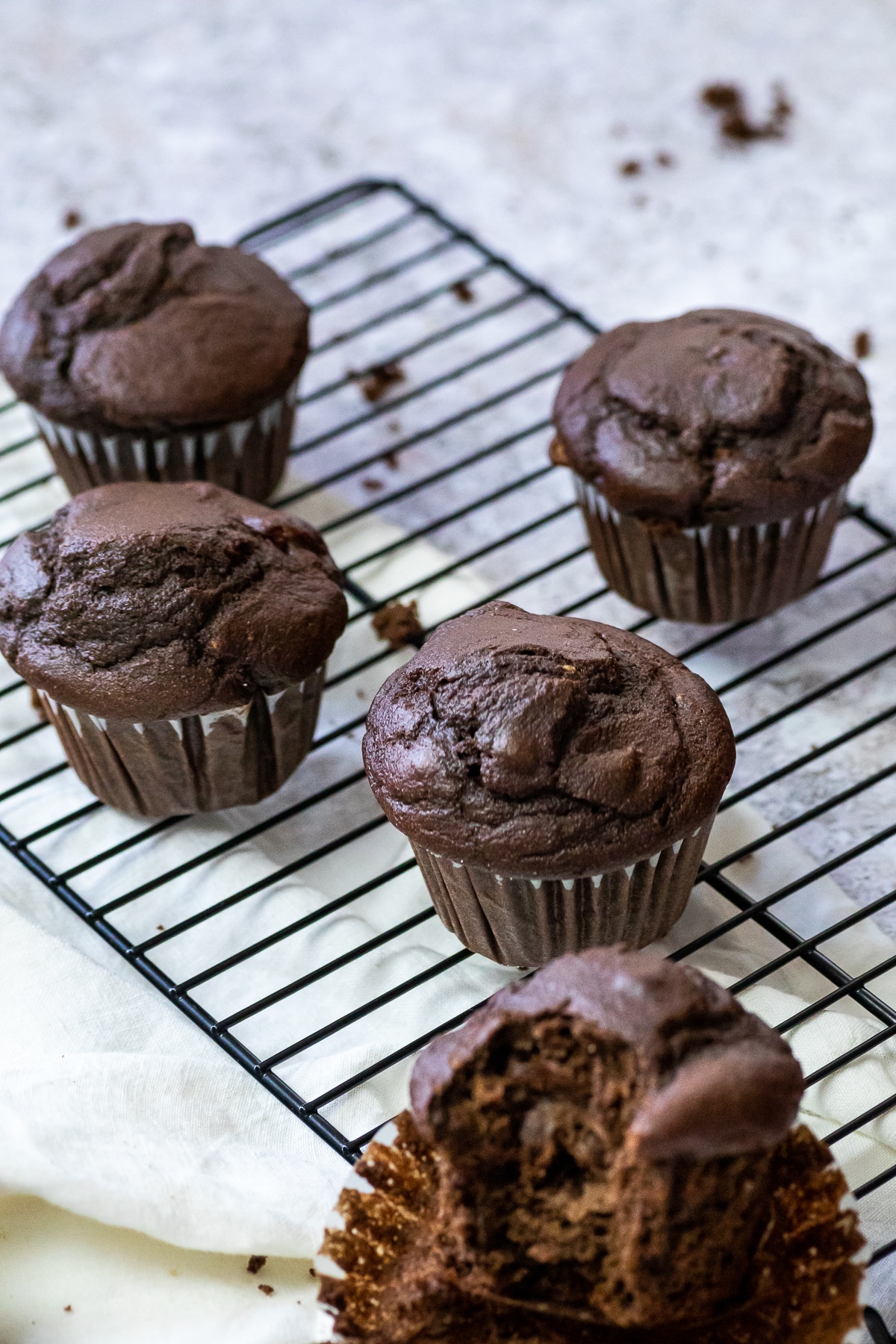 Paleo
For a paleo diet, you can easily replace the flour with almond flour. Use ¾ the amount of the flour as Almond flour and ¼ tapioca starch.
Skip the gluten powder.
Instructions
Preheat your oven to 350°F (175°C).
Start to mix the almond milk with the almond butter in a mixing bowl until creamy. Add the date paste and the rest of the wet ingredients except for the apple.
When the ingredients are all well blended, add any dry ingredients. And stir briefly until everything is well mixed and there are no more flour nests.
Now grate an apple and carefully fold it under.
Prepare a muffin pan. For this, I use paper muffin cups and place them in a muffin baking sheet.
Now distribute the dough evenly into the 12 molds and bake the muffins.
Prepare in Advance
You can bake the muffins the day before and enjoy them the next day.
Baking Time
You bake the vegan chocolate muffins in the preheated oven for about 20-30 minutes.
Always do the toothpick test here to see whether they are really baked through. To do this, I always poke a muffin with a toothpick and see if some dough sticks to the toothpick.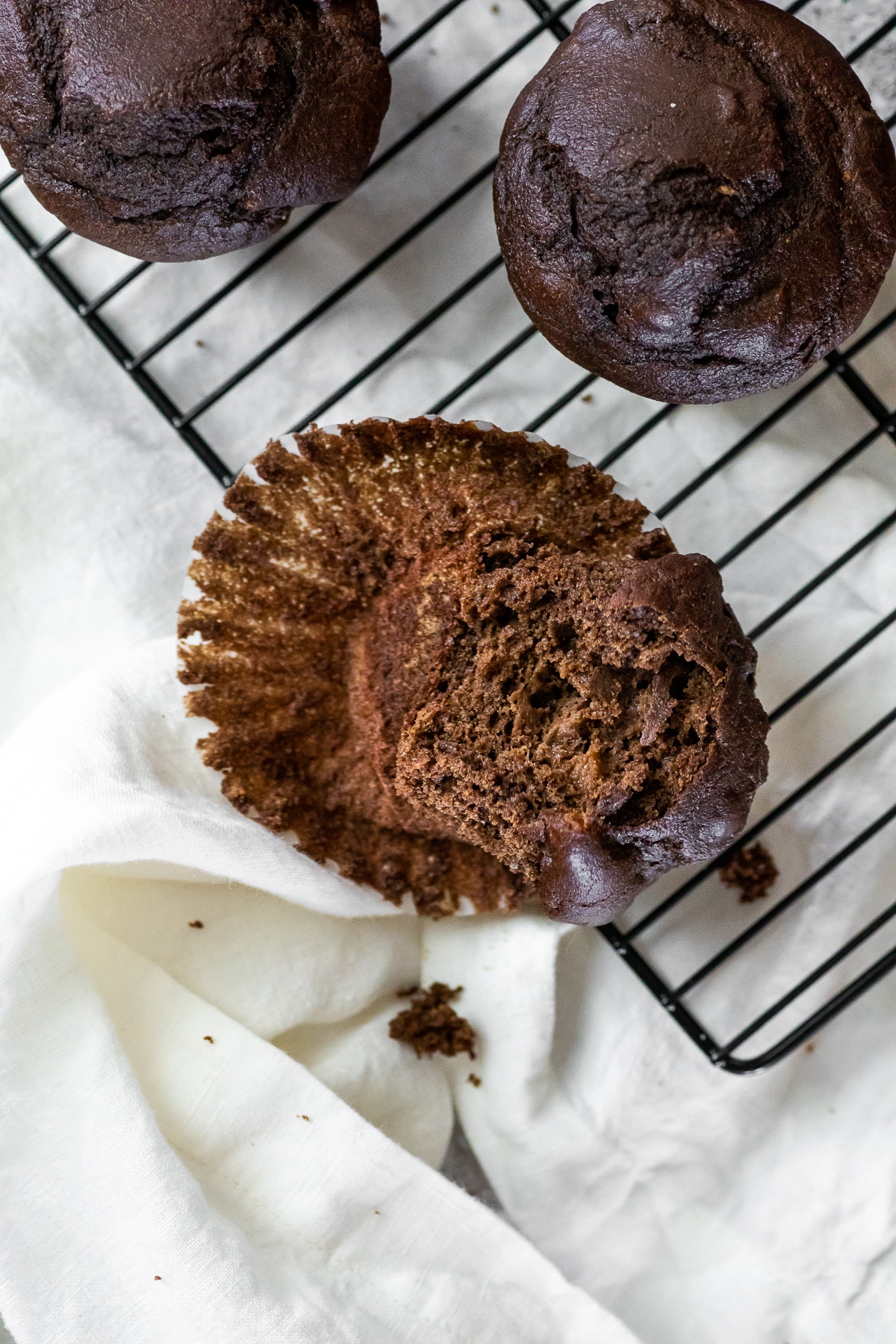 Scaling
Would you like to bake a chocolate cake out of the muffins? I recommend that you use twice the amount of ingredients for a loaf pan.
If you want fewer muffins, divide the ingredients by 12 and then multiply by the number of muffins you want.
Here I recommend you round up to the nearest even number.
Storage
Let's take a look at what you can do with leftover chocolate muffins.
How to Refrigerate
You can store the muffins in the refrigerator for up to 4 days in a sealed container.
How to Freeze
Here I recommend you freeze the muffins one by one first. When these are frozen, you can put them in an appropriate container together
This prevents them from being frozen together and allows you to remove them individually. The muffins will last in the freezer for about 3 months.
How to Thaw
You can simply take the muffins out the night before and let them thaw in the refrigerator.
You can also briefly heat the chocolate muffins in the oven. They taste like freshly baked.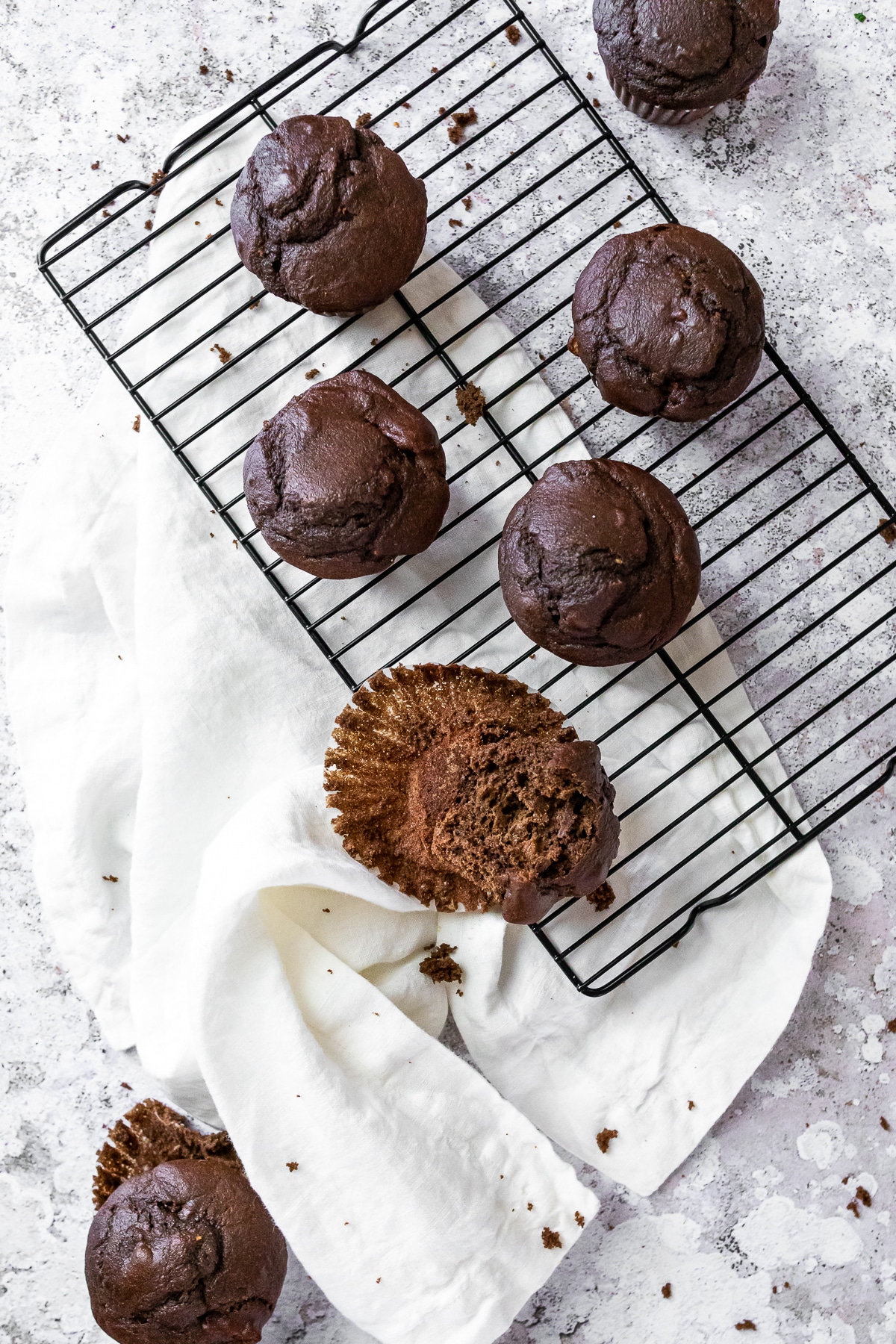 Tips
I recommend weighing the flour and not measuring it in a measuring container. Weighing is more accurate.
Make sure the dough is relatively thick. This will help them rise nicely and distributes the apple pieces evenly in the muffins.
During the toothpick test, it is possible that the apple still sticks to some dough. Pay attention to it.
The almond butter will help add moisture to the dough. Since we're not using oil, we need a healthier source of fat.
More Vegan Recipes
Blueberry Muffins
Chocolate Loaf
Chocolate Cake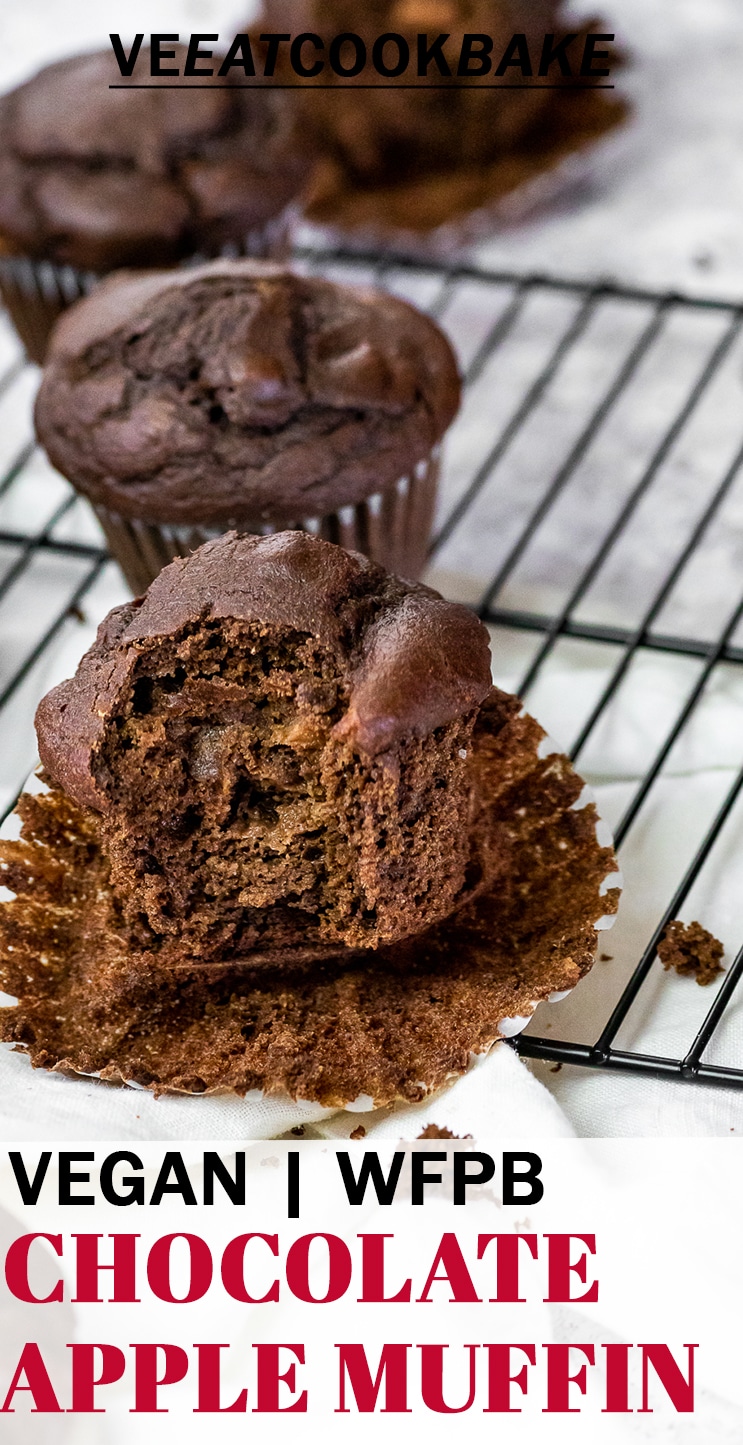 Have you tred the recip
If you tried the vegan Recipebe so nice ♥ and let me knw byrating the recipe and writing what you think about it in the comments.  I would love to see your photo on Instagram orFacebook. To do this tag me with @veeatcookbake andmy hashtag is #veeatcookbake. So that I can see your creation. Did you know you can add photos n Pinterest under the recipe Pin? I can't wait to see a photo of your creation here. You find me with @veeatcookbake