The vegan Rhubarb Cake is made with an Aquafaba Meringue Topping that's juicy, airy and dairy-free. It also makes for a great snack when you're craving something sweet!
I am still amazed what you can create with the chickpea water, also called Aquafaba. This vegan Dessert is a must-try for everyone who loves fresh rhubarb ans the sour tartness of rhubarb.
Instead of egg whites we will use the liquid you get from a can of chickpeas for this rhubarb meringue cake.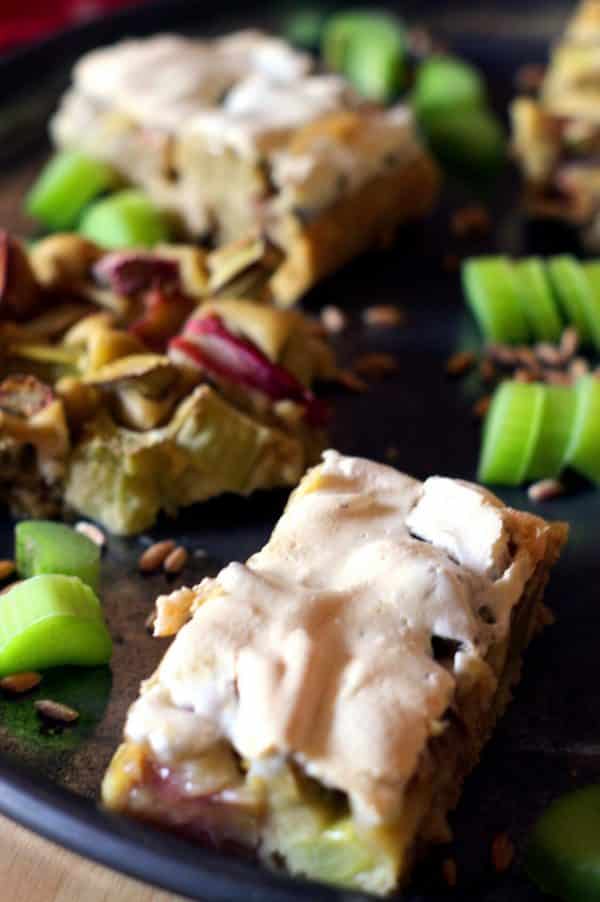 As an Amazon Associate, I earn from qualifying purchases. This post may contain affiliate links. Read More
Jump to:
Rhubarb Season
Have you wondered how long the season for rhubarb is going? Rhubarb rings the harvest time.
The garden season usually starts with rhubarb in early April. And you can start making plenty of vegan rhubarb desserts, like this rhubarb meringue pie.
From this point on, you can actually harvest the stalks uninterruptedly and create goodies non-stop until you got enough of it.
Did you know that the rhubarb actually belongs to the vegetable?
In the stores, you find it typically in the fruit section. However, when you look at the exact definition of vegetables and fruits, rhubarb belongs to vegetables.
But when you think about the uses for rhubarb, likes cakes like this, vegan Rhubarb Bundt Cake, crumbles, jams. We actually use it as a fruit instead of a veggie.
How healthy is rhubarb?
Vitamin C
Potassium
calcium
strengthens our immune system
12 calories to 100 grams
high fiber
Ingredients
Were you wondering what ingredients we use for this amazing juicy plant based rhubarb cake? Here is a short overview of what we use.
The exact amount is written in the recipe card below.
whole white wheat flour or spelt flour
baking powder
soy or coconut yoghurt
raw cane sugar or date syrup / puree
rhubarb
Aquafaba (from chickpea cans)
cream of tartar
lemon juice, fresh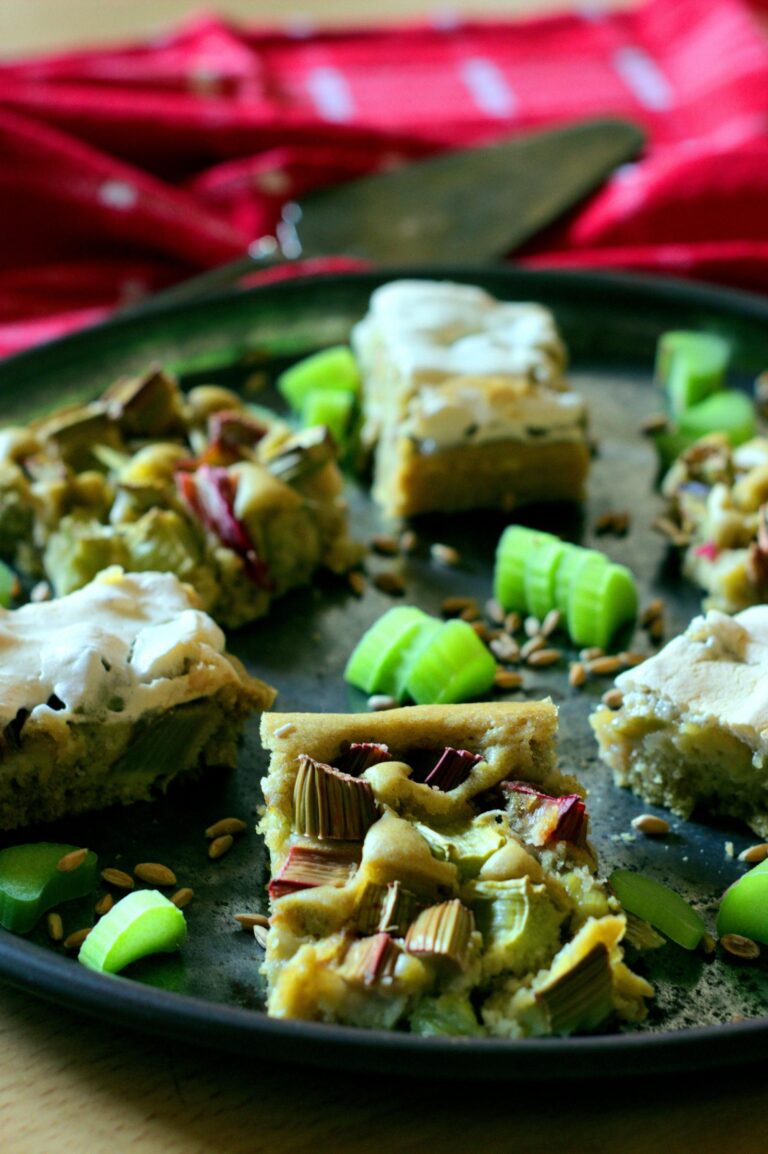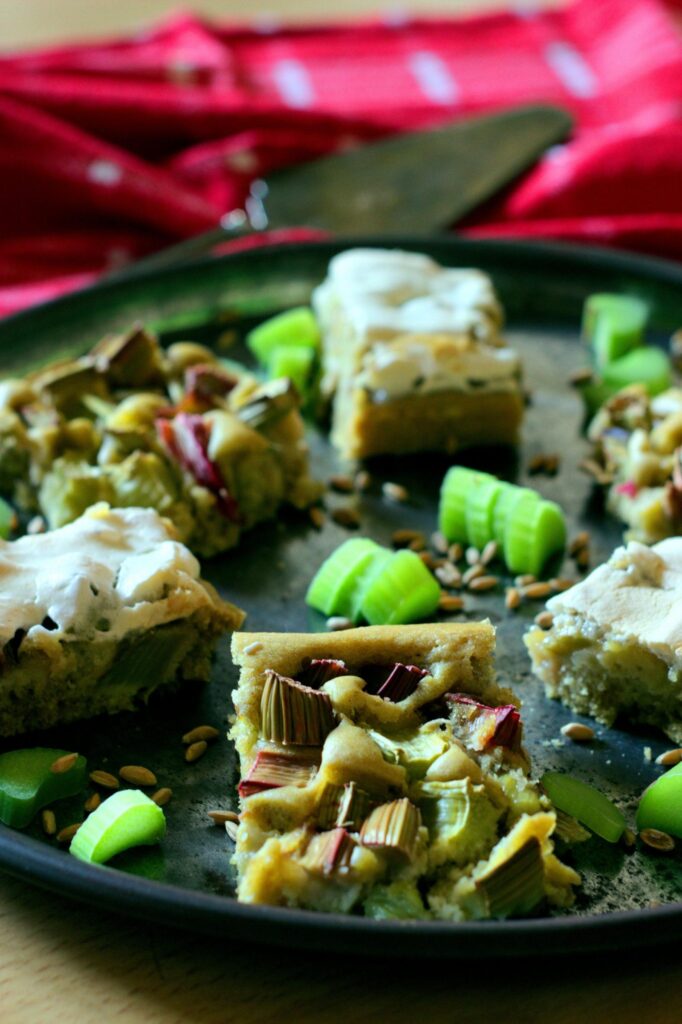 Substitutions
Flour
I usually use white whole wheat flour. I love that it is a whole grain, but at the same time it is a light flour.
You could also use spelt flour, it is often better digestible than wheat. Or you can use a gluten-free flour mix for cakes.
I can also imagine substitute a part of the flour with almond flour. Like one third of the total flour amount. You can also use all purpose flour if you want to.
Yogurt
I love to use a coconut or soy based yogurt. You can also use a almond based yogurt. The yogurt helps that the cake stays moist.
Apple Sauce
If you do not have any apple sauce at home but you have ripe bananas you can smash bananas and use it. Use one banana.
Sweetener: I love to use date syrup or coconut sugar for it. You can also use some mable syrup or raw cane sugar if you want to. Date paste should work also fine.
Flour for the Meringue
Instead of using flour you can use starch. The Aquafaba will hold better together.
Gluten free
In this recipe we have only the flour that has gluten. If you want to make it gluten free. I suggest you are using your prefered gluten free flour.
Variations
What about changing this cake a little up.
Fruit
You can easily mix the tangy rhubarb pieces with other fruit like strawberry or apple.
I am not sure where you live, but where I live, it can be pretty hard to find Rhubarb in stores.
And when I find rhubarb in stores, it is pretty expensive. Sometimes I mix it with other fruits to make it budget friendly.
Lemon Zest
Add a little lemon zest to add lemon flavor. You can also add some lemon juice to the cake batter to make a rhubarb lemon cake .
Streusel:
Instead of a garbanzo beans meringue topping, you can make a crunchy streusel topping.
I love cinnamon streusel  on cakes and this cake will turn out awesome when you want something different from meringue on your coffee cake.
I love to mix my streusel with cinnamon sugar instead of white sugar I use coconut sugar or another sugar alternative.
Vegan Chocolate
What about adding some chocolate pieces to your cake batter. I like to add white chocolate.
Equipment
You will need for this delicious cake a springform, kitchen stand mixer with a whisk attachment or hand mixer with a whisk. I prefer a stand mixer because it takes a couple of minutes until the aquafaba is stiff and forms peaks.
Instruction
Cake Batter
First, we start with preheating the oven to 350° F (175 ° C) and laying out a round 10" cake form (spring form) with parchment paper.
Mix all ingredients for the cake dough into a dough without flour nests. Make sure you do not stir too long.
Spread the dough on the springform pan.
Cut the rhubarb in small pieces. Spread the pieces of rhubarb on top of the batter. You can press them a little in the dough.
Bake the cake for 25 minutes.
Meringue topping
While the cake is baking, 15 minutes before baking time is ending, prepare the meringue.
Place all the ingredients in a separate bowl and beat with a kitchen machine or an electric mixer. Use the whisk attachment.
Depending on the mixer, this may take some time. It looks like beaten egg whites. It takes around 10 minutes. Sometimes even longer.
Make sure it is stiff. You see stiff peaks. The aquafaba should stick to the whisk.
After 25 minutes baking time, spread the aquafaba on the top of the cake and bake again. Turn the oven to 194 °F (90 Celsius). That is important, otherwise the Meringue will fall apart.
Now bake until the meringue is slightly brown or getting a firmer outer layer. Around 40 min.
Now you can let the cake cool down before cutting it.
Meal Prep
You can prepare this cake in the morning and serve it later. You have to be extra carefully with the meringue topping. If it gets a little wet/ moist, it can collapse. So make sure the cake is no longer warm before you cover it.
Serving Suggestions
What you can serve with this vegan rhubarb cake.
Vanilla Cream
You can make coconut whipped cream flavored with vanilla extract to use as an whipped cream substitute.
Vanilla Coconut Sauce
Take some coconut milk and flavor it with vanilla and sweeten to your own taste.
Add some Turmeric Powder to get a light yellow color. A pinch is usually enough.
Storage
Store the leftover in an airtight container in the fridge. There should last the cake for about 5 days.
Depends on the meringue, it is possible with the moistness that the meringue on top of the rhubarb cake will dissolve.
Top Tips
Be careful with baking the meringue topping. When the temperature is too high, it easily collapses. It does not get as brown as the egg whites.
Make sure your mixing bowl and the whisk is clean. Otherwise it is possible that it won't get like beaten egg whites.
More vegan Pie Recipes
More vegan Rhubarb Recipes:
Semolina Pudding with Rhubarb Strawberry Sauce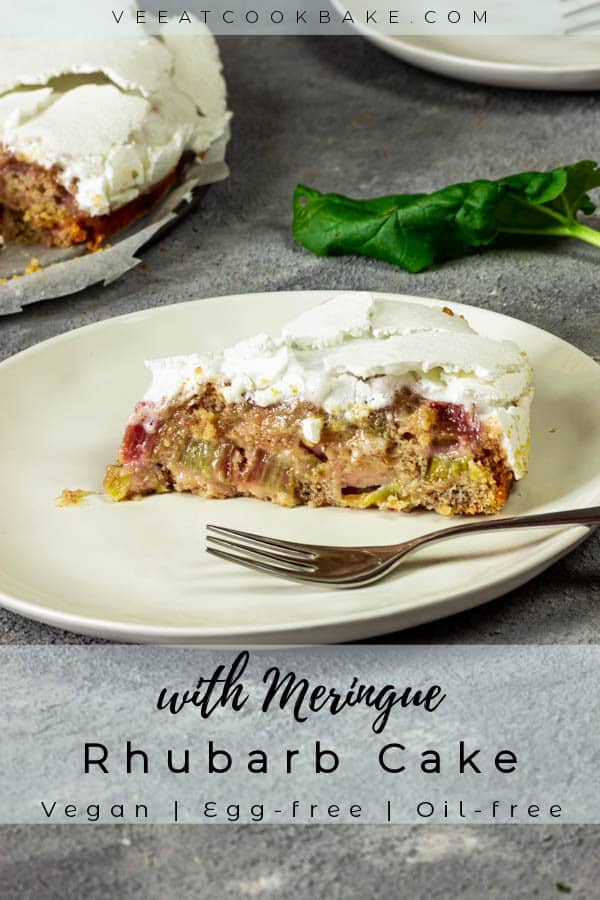 Have you tred the recip
If you tried the vegan Recipebe so nice ♥ and let me knw byrating the recipe and writing what you think about it in the comments.  I would love to see your photo on Instagram orFacebook. To do this tag me with @veeatcookbake andmy hashtag is #veeatcookbake. So that I can see your creation. Did you know you can add photos n Pinterest under the recipe Pin? I can't wait to see a photo of your creation here. You find me with @veeatcookbake