Vegan Serbian White Bean Soup - This quick spicy recipe is prepared in a snap and is great for preparing in larger quantities.
Serbian bean soup is made from white beans, a minced meat alternative such as freekeh or TVP, soup greens and seasoned with paprika, marjoram, and oregano.
This vegetarian bean soup is a great alternative to chili and is often served as a party soup.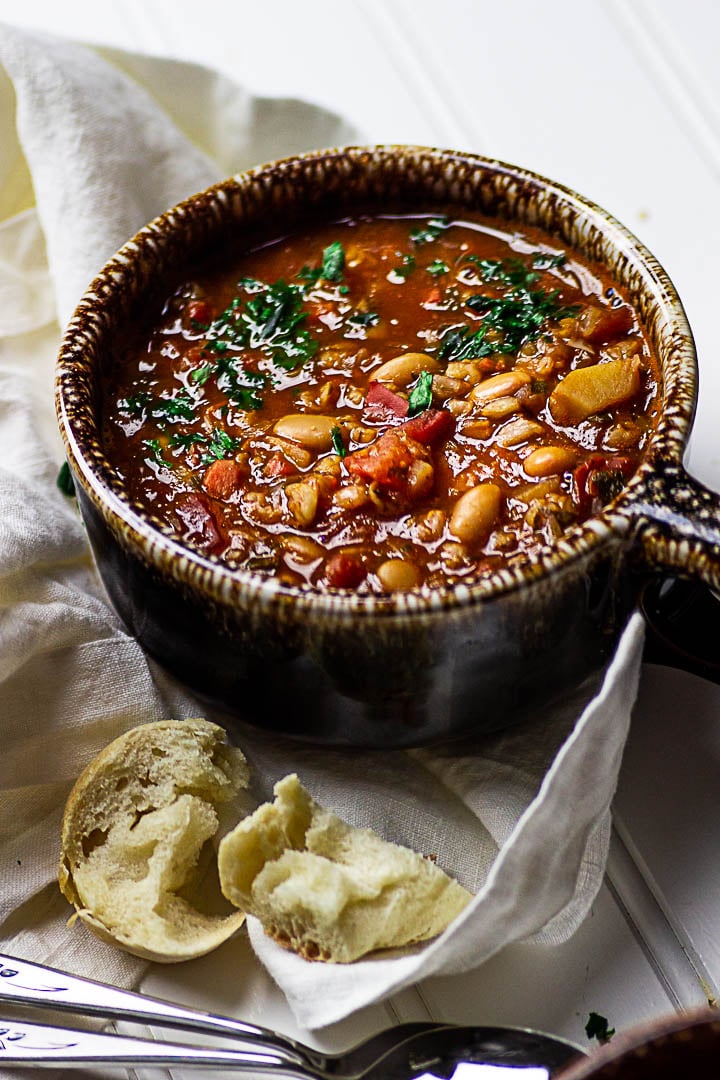 As an Amazon Associate, I earn from qualifying purchases. This post may contain affiliate links. Read More
Jump to:
With this tasty Serbian white bean soup, I combine great childhood memories.
At the sports festival in the town I grew up in, there was always this soup on Sundays for lunch.
This healthy soup was prepared over an open fire. My parents told me that I had eaten it even though I was just a year old and that soup is pretty spicy.
And with great childhood memories of course you do not want to miss out on such great recipes.
But how good is it that you can veganize just about anything, right? What do you need for it? Just the right ingredients.
The Serbian white bean soup is cooked quite fast. I usually start the evening before and let the freekeh or ground meat alternative (lentils, TVP) soak overnight in vegetable broth.
So the whole soup is cooked faster the next day. If you have a pressure cooker, you can use it.
Ingredients
A quick overview what ingredients we use for this soup.
You find the detailed information with amounts in the recipe card.
Onions
Garlic
Leek
Carrots
Celery root
Paprika powder, sweet
White beans
Marjoram, dried
Oregano, dried
Parsley
Freekeh or TVP
Tomato paste
Celery salt
Onion powder
Chunky tomatoes
Vegetable stock
Smoked salt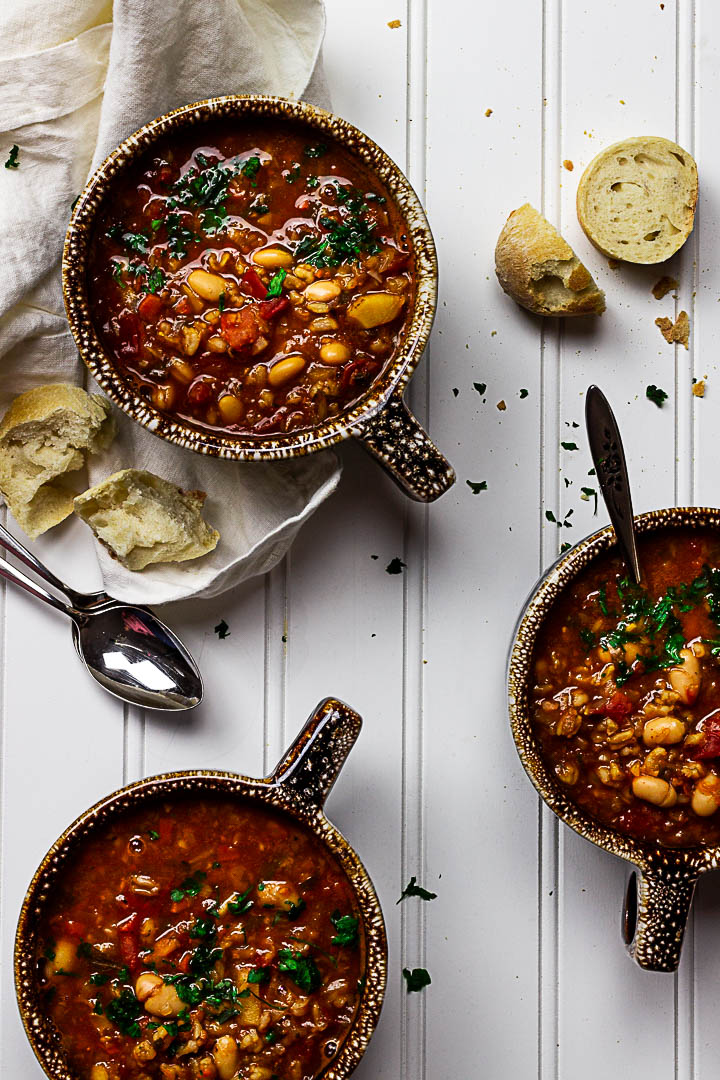 Instruction
We start by grounding the Freekeh. To do this I use my high speed blender with the pulse function.
Pour the cracked freekeh in vegetable broth. If you use TVP, then submerge this in enough vegetable broth to cover it. I let both soak overnight.
The next day you can finely dice the onions, mince the garlic, and sauté in a sufficiently large pot.
For this purpose, I always add a splash of water, so that nothing burns.
Now chop leeks, carrots, and celery root finely. I like to use my chopper. Add the vegetables to the onions and let them sautee briefly.
Now you can add all the other ingredients and let the soup simmer for about 20 min on medium heat.
When the freekeh is soft, the soup is ready and you can season the soup again just to your own taste.
Garnish the soup with some freshly chopped parsley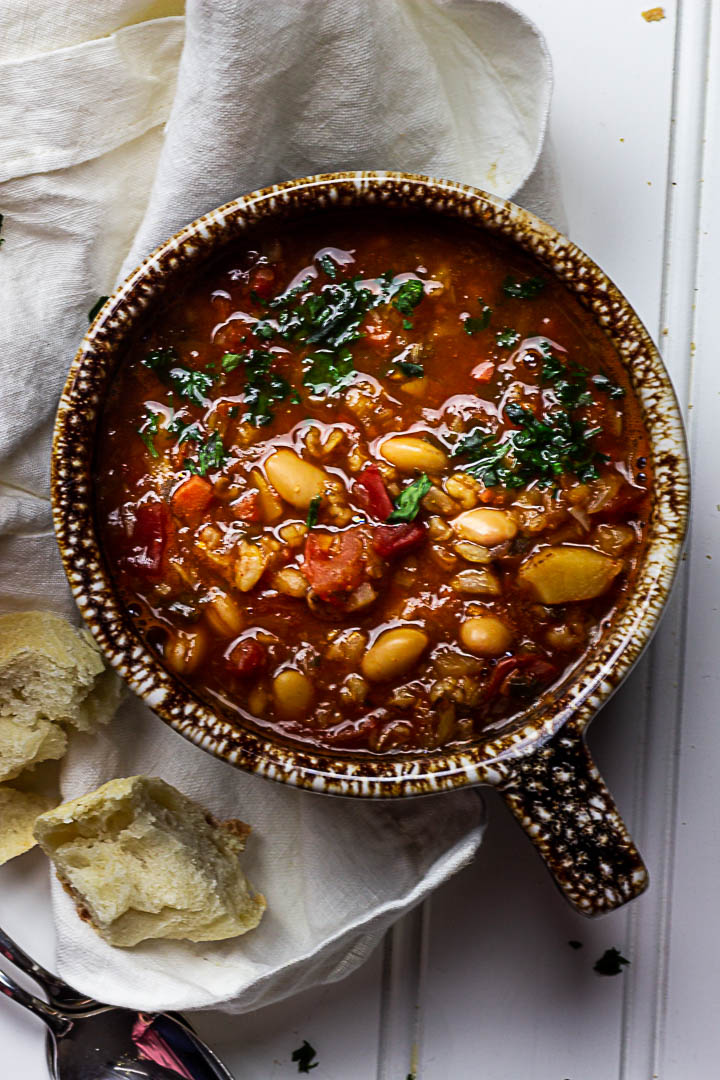 Meat Substitute
As is often the case, the original recipe is prepared with ground meat. But I found the perfect replacement for that.
Just take freekeh and you'll get a super delicious Serbian white bean soup.
In addition, I use whole freekeh kernels and mix them briefly in the high speed blender.
Here you can even see how rough or fine you want the kernels.
Freekeh tastes slightly nutty and gives the vegan soup a delicious note.
Of course, you can also use TVP or other ground meat alternatives. Try the soup with pearl barley, bulgur.
How do you replace minced meat in dishes? Write me your ideas below in the comments. I look forward to lively exchange.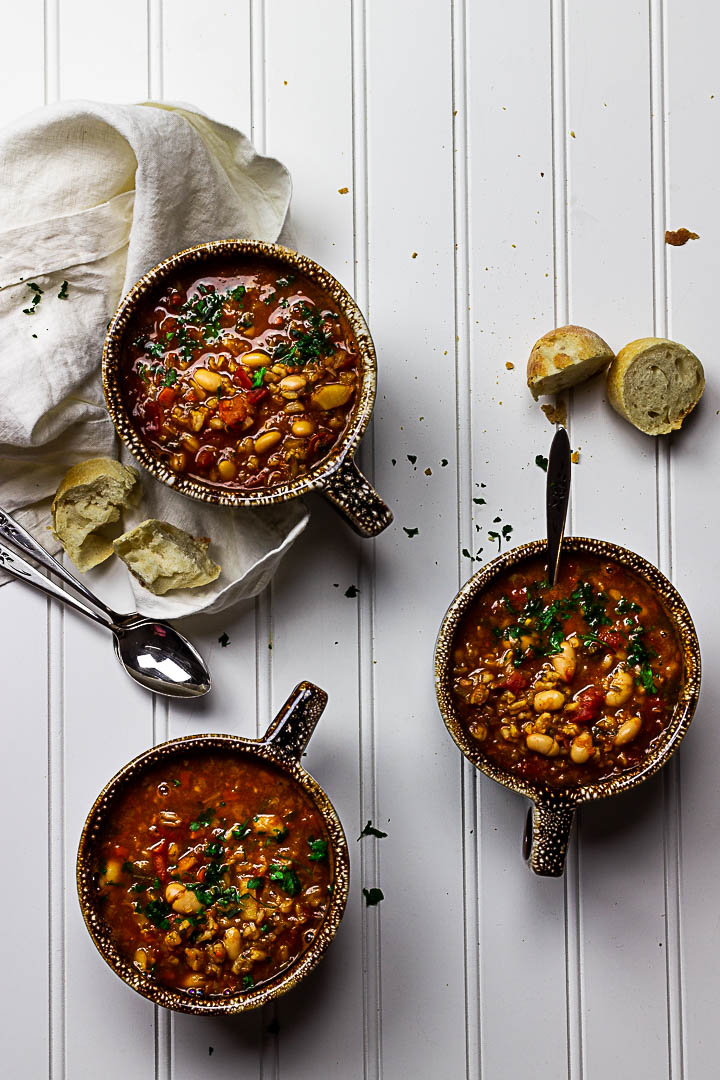 Where does the full, slightly spicy taste come from?
At first glance on the list of ingredients, it doesn't look like the vegan Serbian bean soup would taste slightly spicy.
We use paprika powder, and not just a little; 4 teaspoons.
So the vegetarian bean soup gets a great full taste, which is a little spicy.
Which beans are used?
Personally, I only use white beans. Of course, you can also make the soup with other beans like kidney beans, black beans, or green beans.
So it brings variety in the soup and it will not be boring. But I like to stay with the classic variant.
Where does the Serbian bean soup come from?
Serbian bean soup, or Pasulj as it is called, is a good spiced Serbian or Slovak soup and is often served as a starter or side dish.
Storage
The Serbian bean soup lasts in the fridge for up to a week. Please make sure you put the meatless soup in an airtight container.
Freezing
This vegan Serbian white bean soup can even be frozen very well, so it is great for making this as a meal prep in a bigger batch.
Serving Suggestions
We serve classic rolls to vegan Serbian bean soup. I just love to dip bread in soups.
You can also top the soup with croutons.
A rustic sourdough bread goes well with such a soup, as well.
Garlic baguette as a side dish would be a real eye-catcher.
Or have it fancy, and serve this vegan Serbian bean soup in a bread bowl. Simply cut the lid off the bread and remove the inner.
How healthy are white beans?
White beans are not just healthy but also filling thanks to the fiber.
These are a good source of protein and contain, among other things, magnesium, potassium, calcium, phosphorus. White beans are supposed to lower cholesterol.
Tips for the perfect white bean soup
Soften the freekeh first, so that it will cook faster.
Use TVP if you need to go fast. You only need to soak these for about 10 minutes.
If you use dried white beans, they fill up about 3 times the volume of their dry volume.
Soak the white beans for at least 12 hours (overnight) and cook the white beans in the soaking water for about 1 hour.
Only salt the beans when they are softened. Otherwise, the shell will not soften.
Season the soup with paprika powder.
If the soup is not spicy enough, you can add Tabasco or another hot sauce. Or season with chili powder.
More vegan Soup Recipes
Easy vegan Broccoli Cheddar Soup (wfpb)
Do not forget to Pin on Pinterest
Have you tried the recipe?
If you tried the vegan Recipe, be so nice ♥ and let me know by rating the recipe and writing what you think about it in the comments. I would love to see your photo on Instagram or Facebook. To do this tag me with @veeatcookbake and my hashtag is #veeatcookbake. So that I can see your creation. Did you know you can add photos on Pinterest under the recipe Pin? I can't wait to see a photo of your creation there. You find me with @veeatcookbake.