Recipe for Vegan Swedish meatballs that are full of flavor and made from wholesome ingredients like beans, oats and bulgur. These tasty vegetarian Köttbullar are nut-free, oil-free and soy-free.
This Ikea vegan swedish meatballs recipe has not just an authentic taste thanks to the spices they contain, but they also offer you a texture that holds together.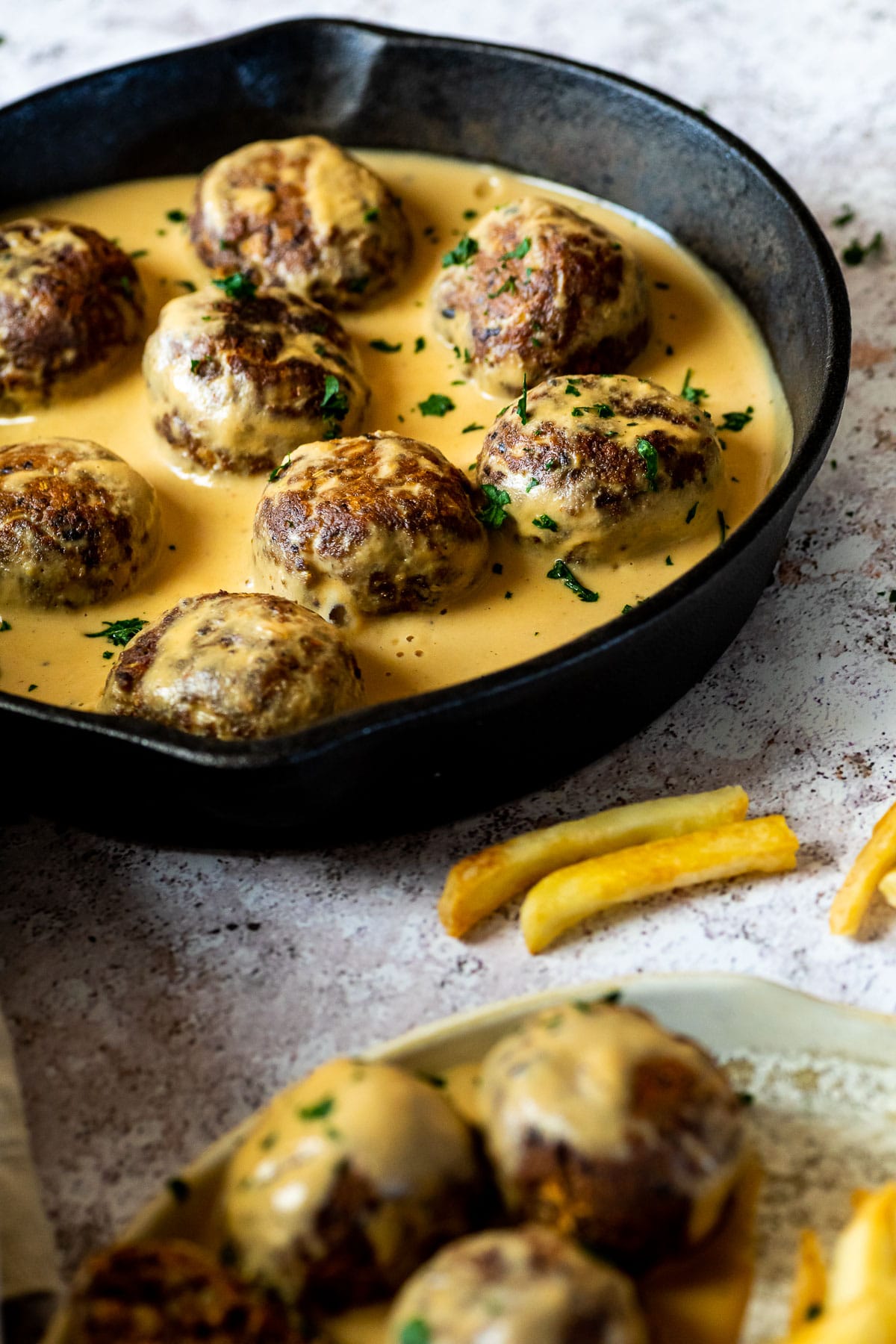 As an Amazon Associate, I earn from qualifying purchases. This post may contain affiliate links. Read More
Jump to:
In addition, you serve a vegan swedish meatball gravy, which is often served with the Swedish Köttbullar.
Before I went vegan, I loved the Ikea Köttbullar, so I definitely had to try a vegan version, and this one definitely turned out. The meatballs, made from beans, oatmeal and spices, are really impressive.
The cream sauce is incredibly tasty thanks to the seared onion and the corresponding spices, and thanks to the cashews and almond milk it gets the perfect consistency.
This vegan recipe is a great recipe to introduce to your friends on meatless Monday. Even vegans will enjoy these tasty no-meat-balls.
A healthy adaption of the popular Ikea Köttbullar.
I modified these wfpb swedish meatballs from my Italian meatballs, and they turned out great. Nutrient-dense, brimming with protein and fiber, and best of all, they're filling and a great comfort food.
And I still think the best thing about a dish is when a healthy dish comes with a real feel-good meal. Because it's so full of flavor that you don't even think you're eating a nutritious and healthy dish.
Jump to:
What is different about Swedish meatballs?
Swedes use different spices for their meatballs than other cultures. For example, you can find spices such as allspice, nutmeg and sometimes ginger in classic recipes.
And it is precisely these spices that we use in our vegan version of the swedish meatballs.
The balls are also relatively small compared to other balls. They are rolled with a diameter of approx. 1 inch (2.5 cm).
In addition, the Köttbullar is traditionally served in a cream sauce with Lingonberries and pickled cucumbers.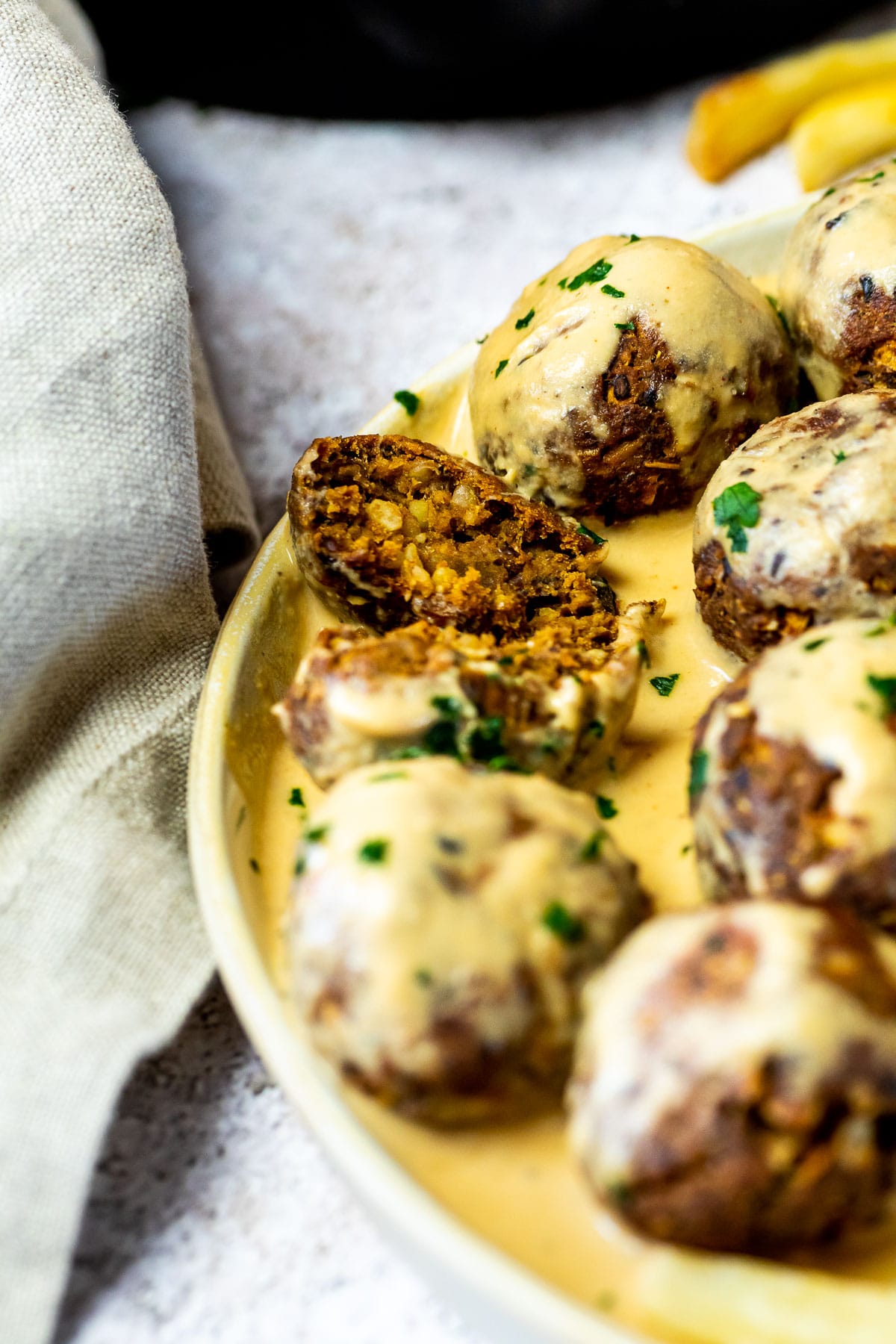 Ingredients
Are you curious and would you like to know exactly which ingredients are contained in these meatless swedish meatballs?
Here I show you a short list of everything that is contained in the Köttbullar. Please don't let the long list scare you. Most of them are spices, which give the vegan Köttbullar the incredible taste.
You can find the exact quantities on the recipe card below.
Meatballs:
Black Beans
Gluten Flour
Oats
Baking Powder
Bulgur
Sea Salt
Smoked Paprika
White Pepper
Dijon Mustard
Paprika
Nutritional Yeast
Coconut Aminos or Tamari
White Wine Vinegar
Garlic Powder
Onion Powder
Nutmeg
All spice
Oregano
Thyme, Rosemary
Sage
Ginger
Flaxseed Powder
Tomato Paste
Tahini or Nut Butter
Water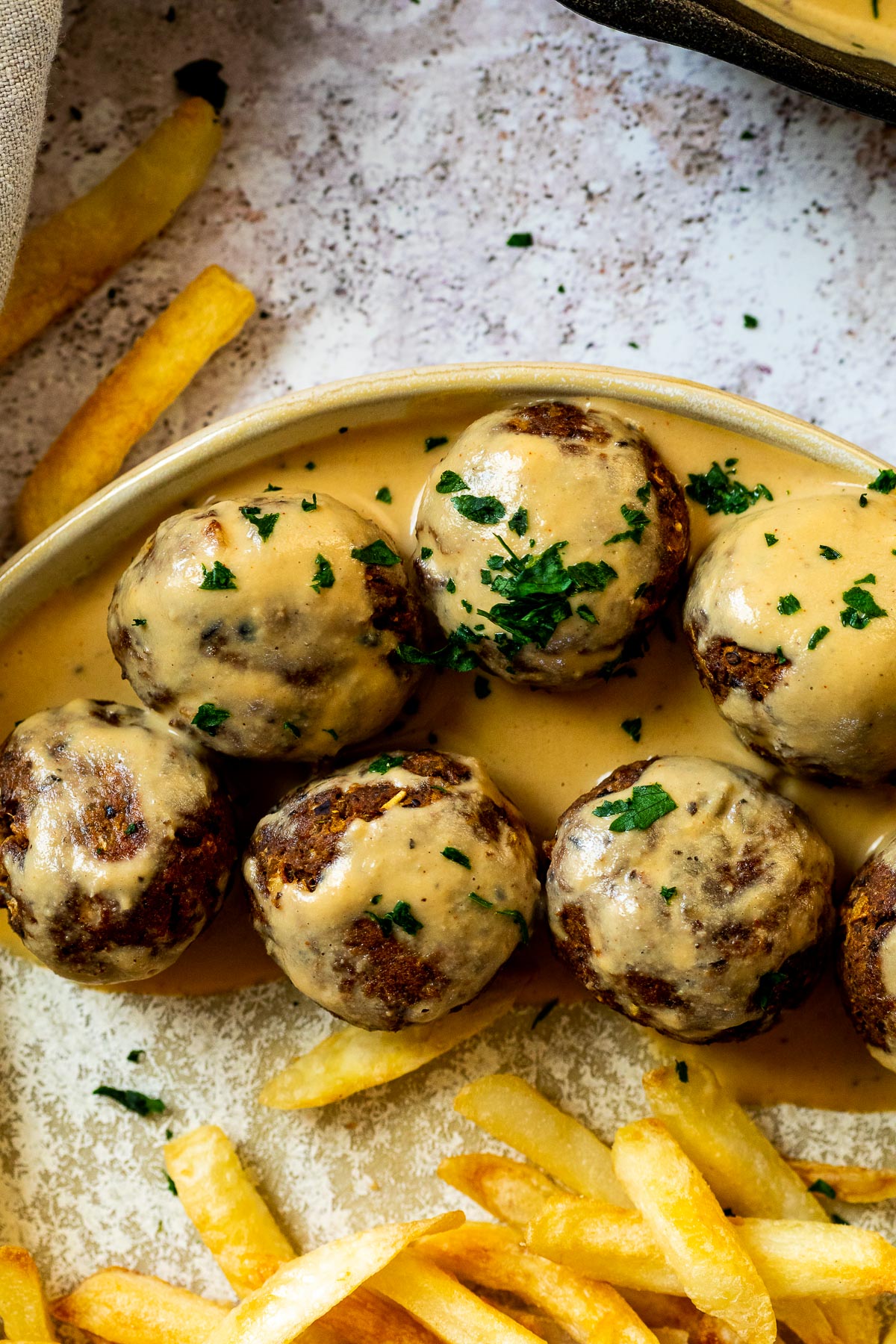 Sauce
Onion
Garlic Cloves
Cashews
Vegetable Broth
Almond Milk
Coconut Aminos or Tamari
Molasses
Smoked Paprika
Apple Cider Vinegar or Lemon Juice
Marmite, opt.
White Pepper
Sea Salt to taste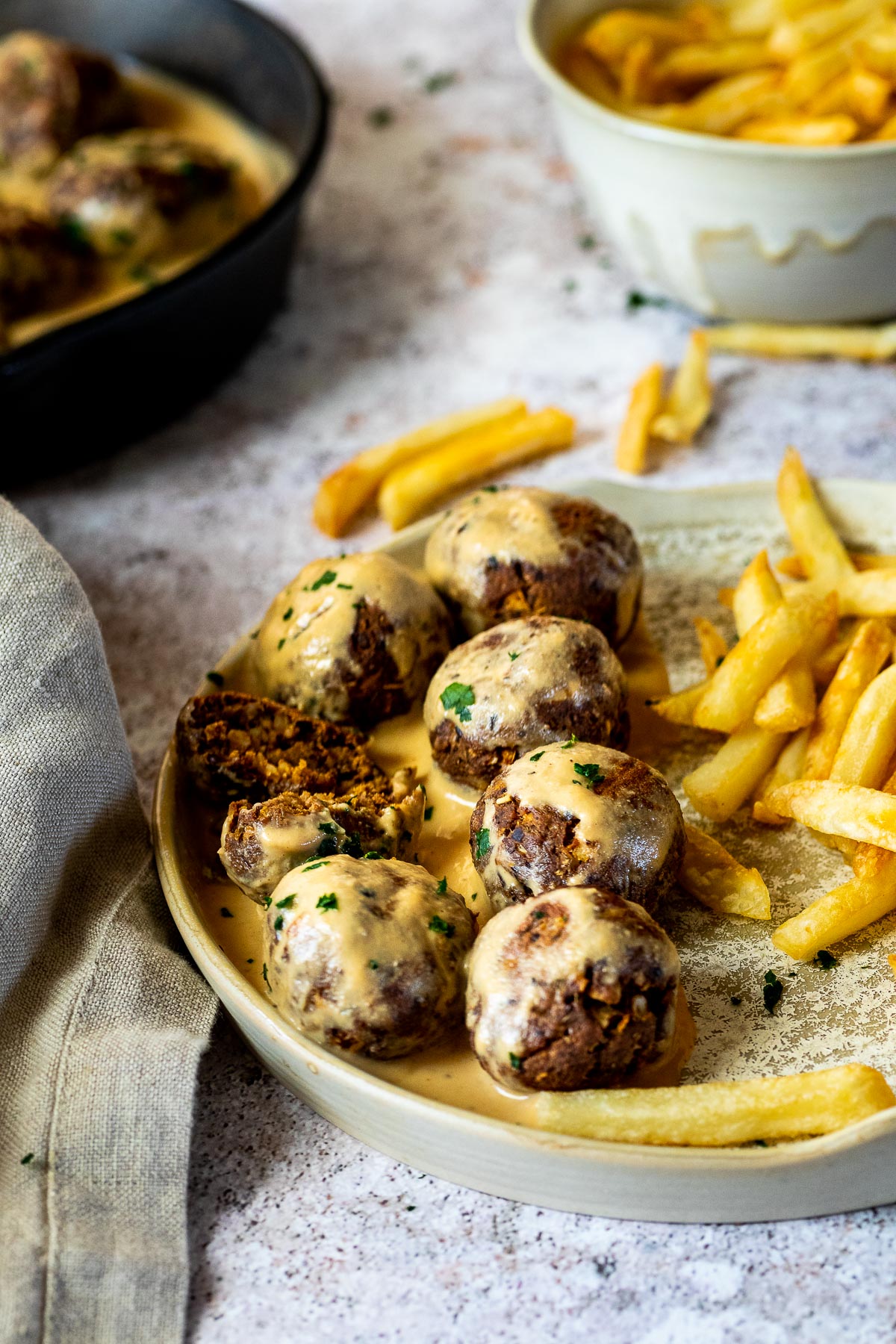 Substitutions
Let's take a look at which ingredients can be replaced by other ingredients without losing the texture and taste of the vegan swedish meatballs.
Black Beans
Black Beans serve as a source of protein in these vegan Swedish meatballs. What you can do is replace them with kidney beans or lentils.
Gluten Powder
The gluten powder helps to bind the balls and does not make them too dense, but rather tender. If you want a gluten-free version, I recommend replacing the gluten powder with potato starch or arrowroot starch. It may be that the balls differ slightly from the texture.
Oat Flour
If you can't find any oat flour, just grind oatmeal in a high speed blender. You can also replace the oats with other flour.
Bulgur
The bulgur is used to ensure the perfect consistency of the swedish meatballs. You can also use TVP or couscous here.
Coconut Aminos or Tamari
Coconut Aminos and Tamari are alternatives to soy sauce. You can also use equal amounts of soy sauce.
Tahini
This is a sesame butter. If you don't like that, you can also use almond butter or cashew butter here. I have to add, if you reach for a nut butter, then your vegan Köttbullar are no longer nut-free.
Molasses
Instead of molasses, you can also use sugar beet syrup. This gives the balls a special touch.
Cashews
If you want to make the cream sauce nut-free or cheaper, I recommend that you use sunflower seeds. This also makes a creamy sauce. Adjust the amount of milk a little here.
Almond Milk
Instead of almond milk, you can also use soy milk, rice milk or one of your favorite plant-based milks. I do not recommend oat milk as it is relatively sweet and has a slightly stronger taste of its own.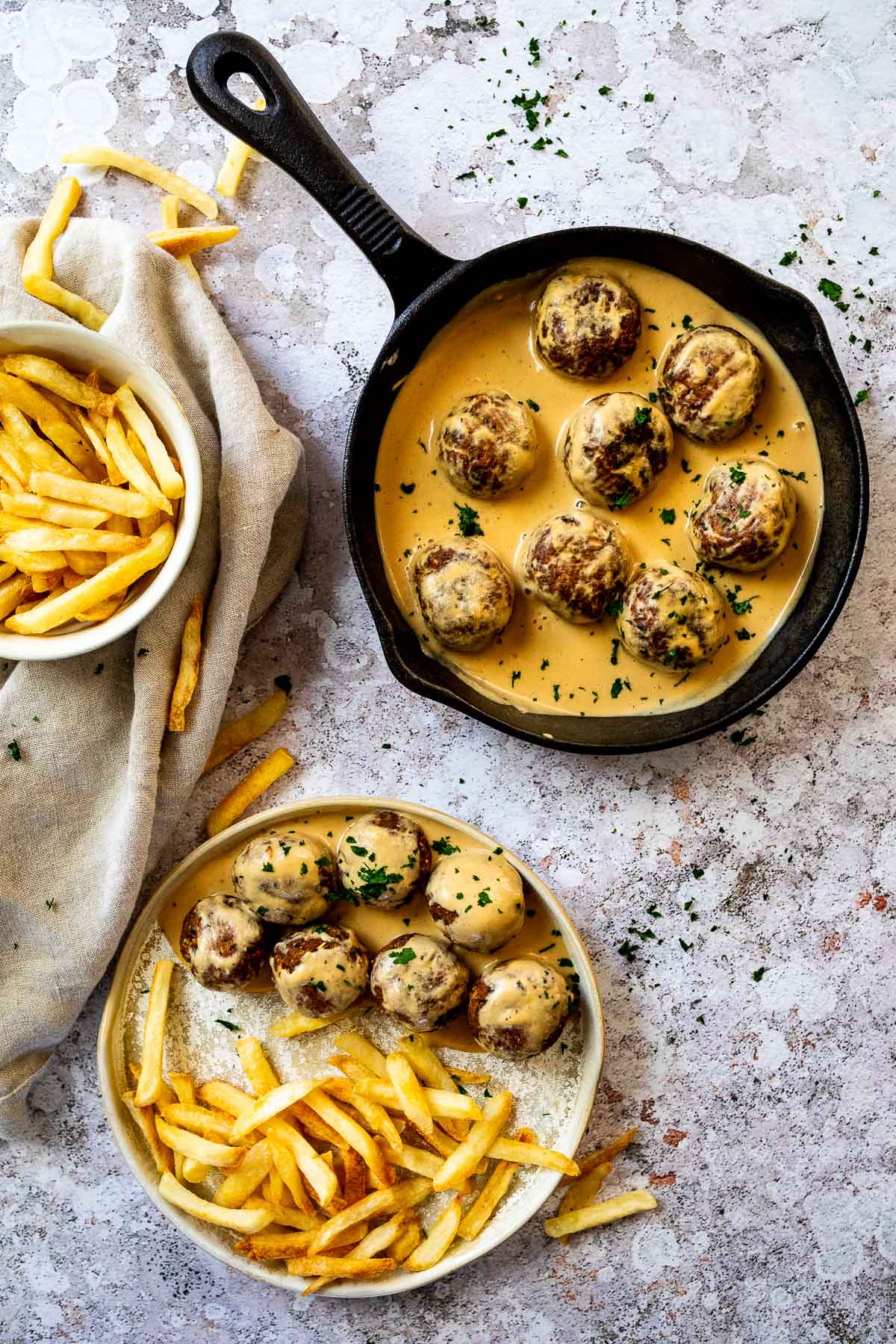 Variations
There are so many different diets. So that you can make this Köttbullar not only vegan, but also, for example, gluten-free, paleo or keto, I'll give you a few tips.
Gluten free
Gluten-free vegan swedish meatballs are easy to prepare. To do this, replace the gluten powder with a starch like potato starch or arrowroot starch. When buying oats, make sure that they are certified gluten-free. Use soy granules instead of bulgur.
Paleo and Keto
Since the main ingredients here are beans, bulgur, and oats, I don't recommend turning this recipe into paleo or keto.
Nut-free
This recipe can be easily conjured up nut-free. The meatballs are already nut-free with tahini. With the sauce, you just have to use an alternative to the cashews and almond milk. Here I recommend sunflower seeds and rice milk.
Instruction
Let's take a step-by-step look at the preparation.
Start by grinding the oats. To do this, place them in a high-performance mixer or in a food processor.
Cook the bulgur and rinse the black beans.
Now put the oat flour, baking powder, beans, flaxseed, tomato paste, water, and molasses in a food processor until you have a coarsely chopped mass.
Now add all the ingredients except for the bulgur and mix it with the pulse function until everything is mixed. Now lift the bulgur under the beans without crushing it any further.
Preheat the oven to 400°F (200°C). Take a tablespoon and take one tablespoon worth of dough. Now form balls approx. 1 inch (2.5 cm) in size. Place these on a baking sheet lined with parchment paper and bake them for about 30 minutes in the preheated oven. Take them out of the oven and let them stand for about 5-10 minutes.
Now prepare the cream sauce. To do this, dice an onion and the garlic cloves very finely. Sauté them in a pan until golden brown. Always add a sip of water when you notice the bottom is turning brown.
Blend the cashews with the vegetable broth and almond milk in a high speed blender to a cream. There shouldn't be any pieces left.
Add the cream with the remaining ingredients to the onions and stir well. Season it again with coconut aminos, pepper and sea salt. Let it boil briefly until the desired consistency is achieved.
Now add the slightly cooled Köttbullar to the sauce.
Prepare in advance
You can also prepare and freeze the vegan swedish meatballs in large quantities. To do this, simply leave out the sauce and place the Köttbullar without sauce on a tray and freeze it on the tray. Once these are frozen through, you can add them to a bag or container. This prevents them from freezing together.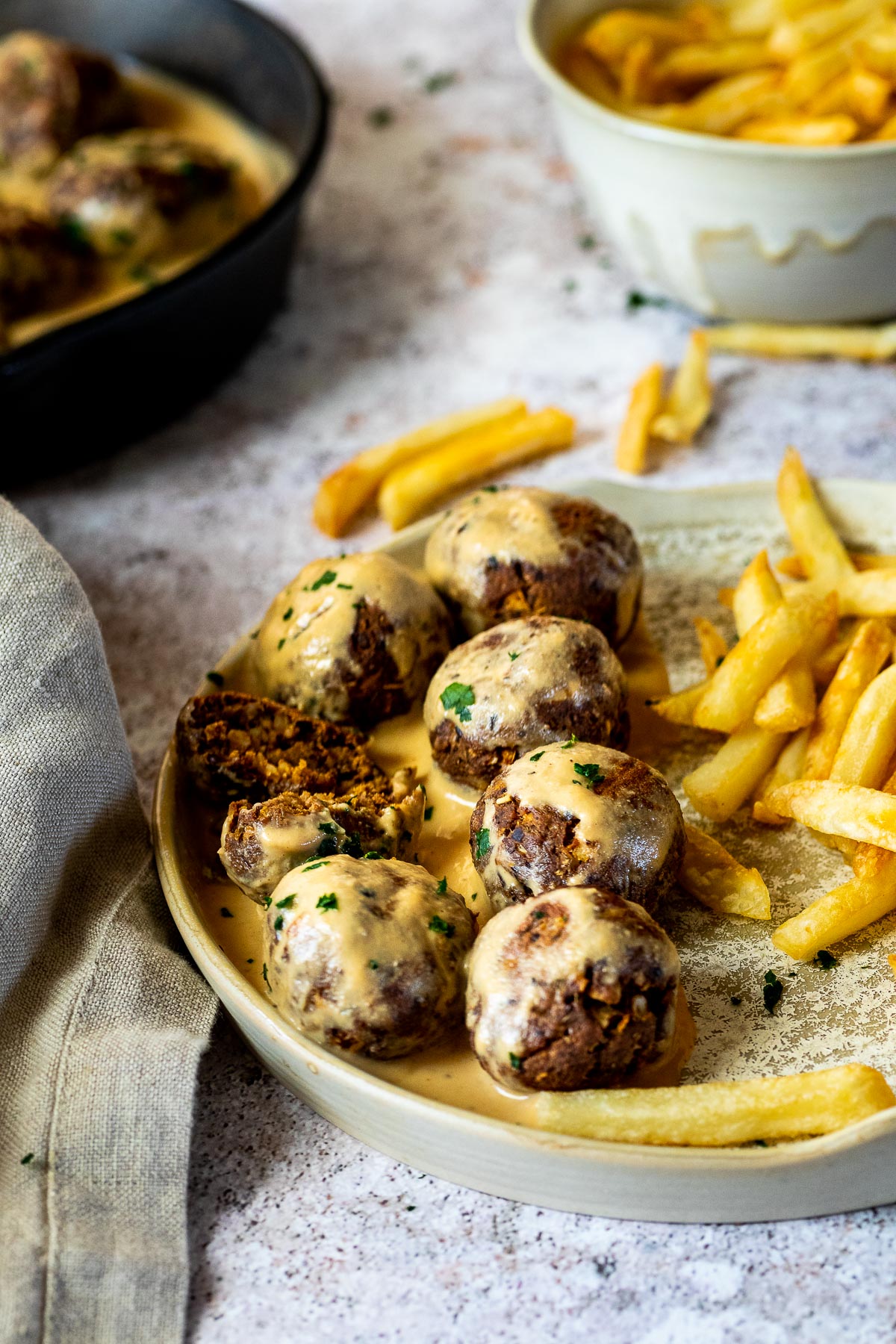 Storage
How to Refrigerate
The Köttbullar can be kept in a sealed container for up to 5 days. Simply heat the balls in a pan. I recommend only adding as many balls to the sauce as you plan to eat. Otherwise they will become soggy and mushy. This way you can store the remaining balls in the fridge separately from the sauce.
How to Freeze
I wrote a lot about this in the section preparing in advance. You can easily freeze the balls in portions. Here they keep for about 2 months.
To serve, simply put the balls in the fridge overnight and heat them up in the pan.
Serving Options
The Köttbullar can be served as a great dinner or lunch. These can also be easily prepared for work.
You can serve with the Swedish meatballs, for example, french fries, potato wedges, pasta, homemade spaetzle, mashed potatoes. Quinoa and rice are low-carb or gluten-free options.
Tips
If you let the balls stand briefly before serving, they will be a little firmer in consistency. That's how I like them best.
This recipe is great to prepare in double the amount and then freeze. For a serving I usually calculate 6 - 8 balls.
More vegan Recipes
Potato Dumplings with Creamy Mushroom Gravy
Spaetzle and Mushroom Stroganoff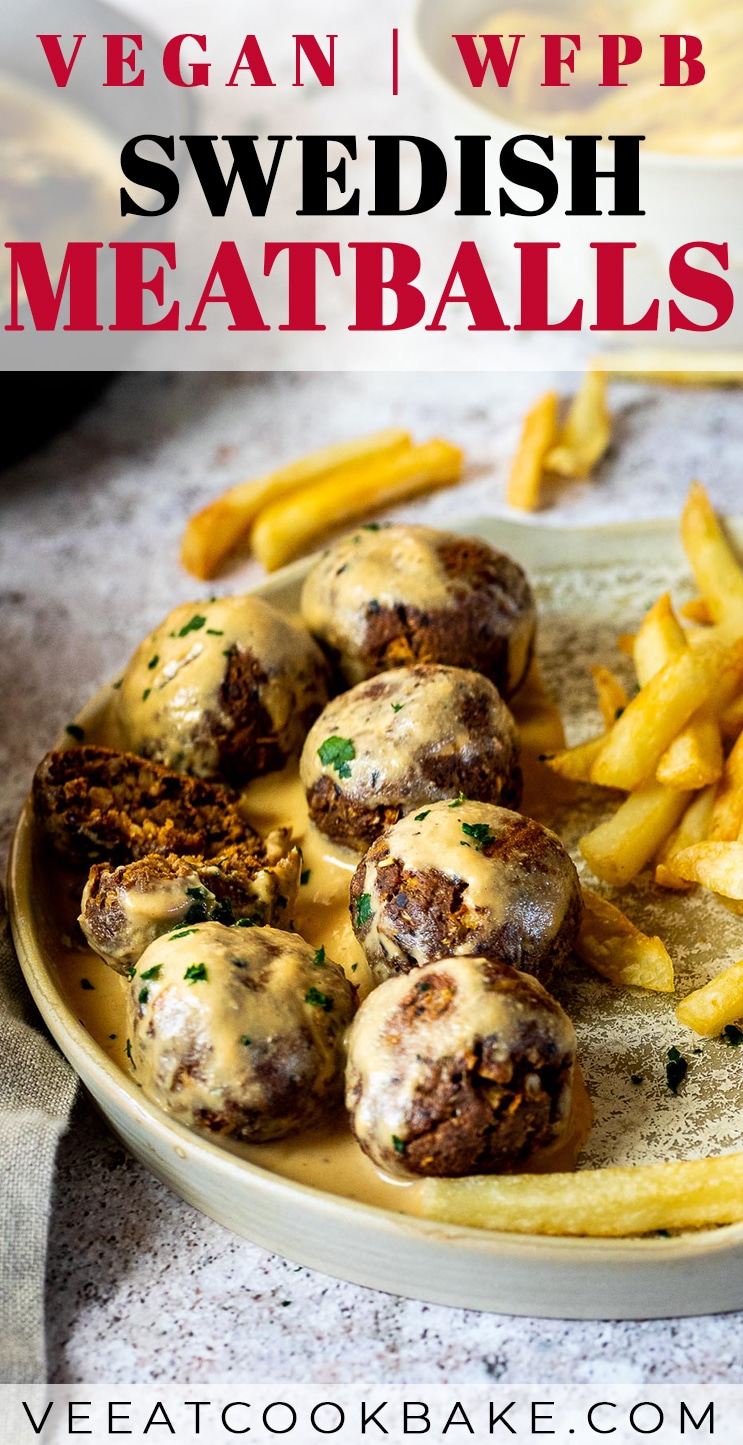 Have you tried the recip
If you tried the vegan Recipebe so nice ♥ and let me knw byrating the recipe and writing what you think about it in the comments.  I would love to see your photo on Instagram or Facebook. To do this tag me with @veeatcookbake andmy hashtag is #veeatcookbake. So that I can see your creation. Did you know you can add photos n Pinterest under the recipe Pin? I can't wait to see a photo of your creation here. You find me with @veeatcookbake
Jump to: