This post is also available in: Deutsch
*As an Amazon Associate, I earn from qualifying purchases. This post may contain affiliate links. That means if you click and buy, I may receive a small commission. Please see my full policy.*
Refreshing vegan strawberry cake with vegan jello is delicious for hot summer days. This healthy strawberry cake is made from a fluffy spelt oil-free sponge cake and a homemade vegan sponge cake with fruit juice, beetroot powder and agar agar. The biscuit dough is not suitable just for your next strawberry cake, but also for other fruit cakes, you can bake this delicious cake.
vegan | vegetarian | oil-free | refined sugar free | milk-free | free | Whole grain | lactose free | whole food plant-based |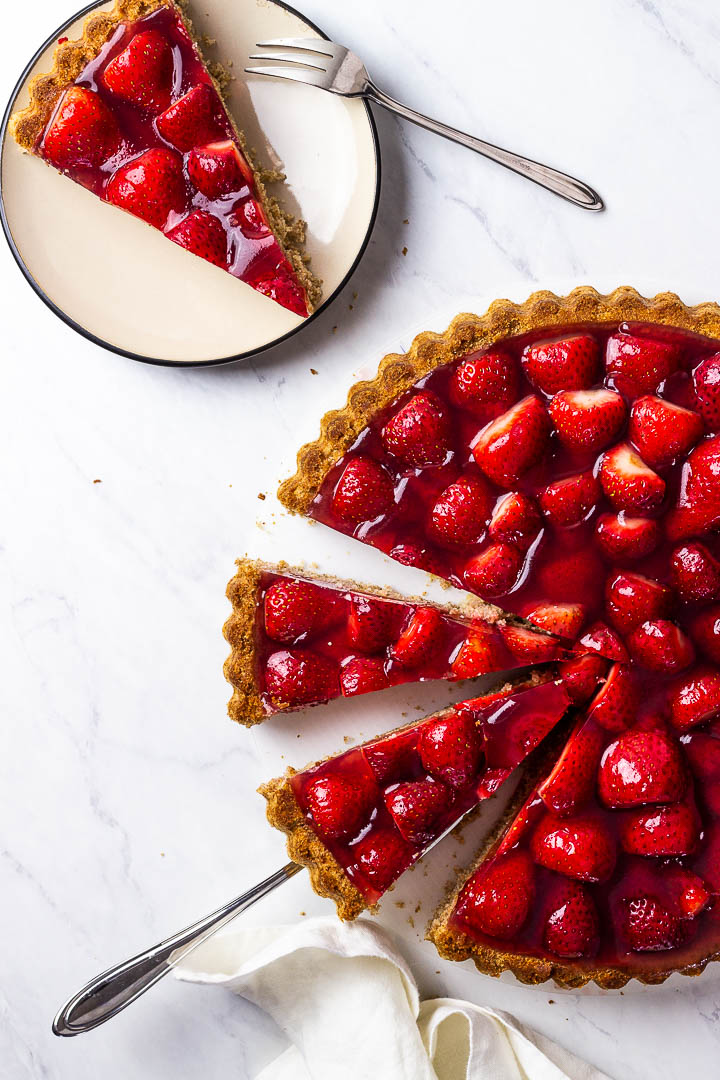 Don't you also think that all these fresh and seasonal strawberries look super tasty and you just want to bite right into a slice of this strawberry cake? And I'm sure your next guests will think so too. So get to the recipe and prepare this refreshing and sun-ripened strawberry cake in minutes. If you like it creamy, you can add a layer of custard / pudding under the strawberries or serve the cake with homemade coconut cream.

What ingredients do I need for the vegan strawberry cake with jello?
Spelt flour: I use my own ground spelt flour. Here you can buy spelt berries and then grind them into fresh and tasty flour in your

high speed blender

or a flour mill like this

one

. Fresh flour gives the cake a special touch.

Sparkling Water: Since we do not use eggs in this sponge cake, take non-flavored sparkling water with a lot of carbon dioxide. You will see how incredibly airy this biscuit bottom becomes.

Tahini or almond butter: Here you can use one or the other. Because we bake a healthy, oil-free sponge cake, we need a fat substitute so that the wholegrain dough does not get too dry.

Strawberries: Obviously you need fresh strawberries to bake a strawberry cake. Here I like to take regional strawberries, as they taste the sweetest and look the best. Of course, you can also use other fruits if you do not have strawberries on hand.

Apple juice: For the cake, we need apple juice. So we can prepare the cake without added sugar and we have the natural sweetness of the apple juice.

Beetroot powder: We only need this if we want a red jello, as with this vegan strawberry cake. If you, for example, make a cake with tangerines like this one here, we want light jello, so you can still see the beautiful tangerines.

Agar Agar: As you surely know, gelatin is anything but vegan. If you do not know, gelatin is made from pork bones. And we do not want bones in our dairy-free strawberry cake. And it's super easy to use a plant-based alternative for gelatin. Here we simply take the well – known agar agar powder, which has an incredibly good gelling power. If you do not have agar-agar at home, but have kappa carrageenan, you can trade this with agar 1:1.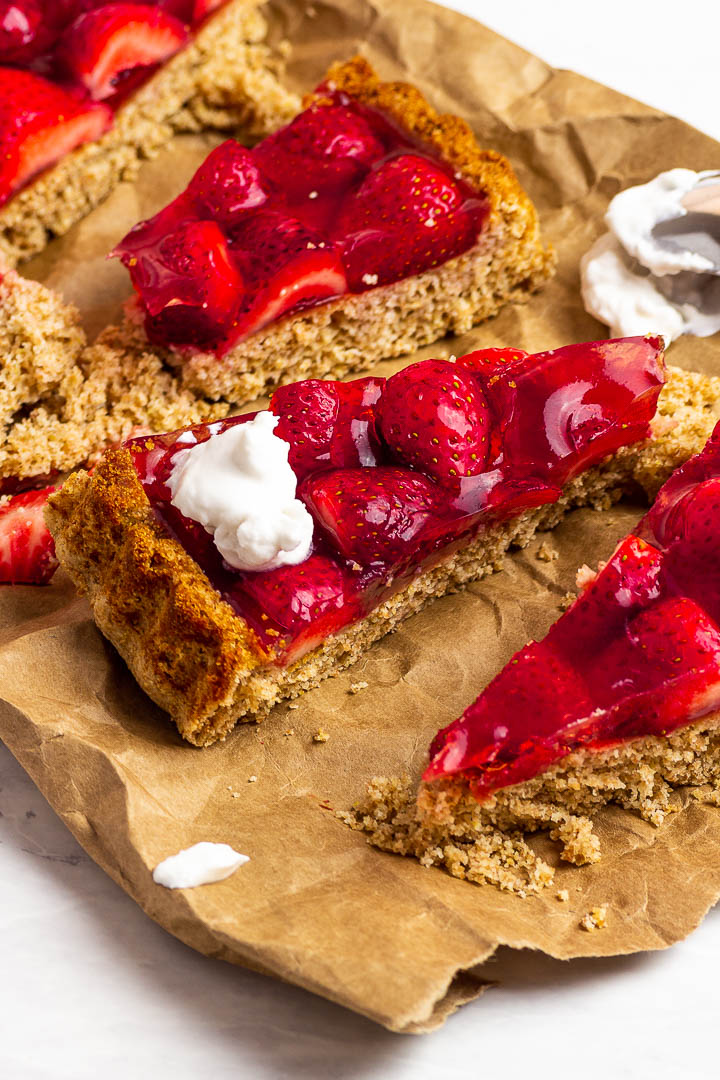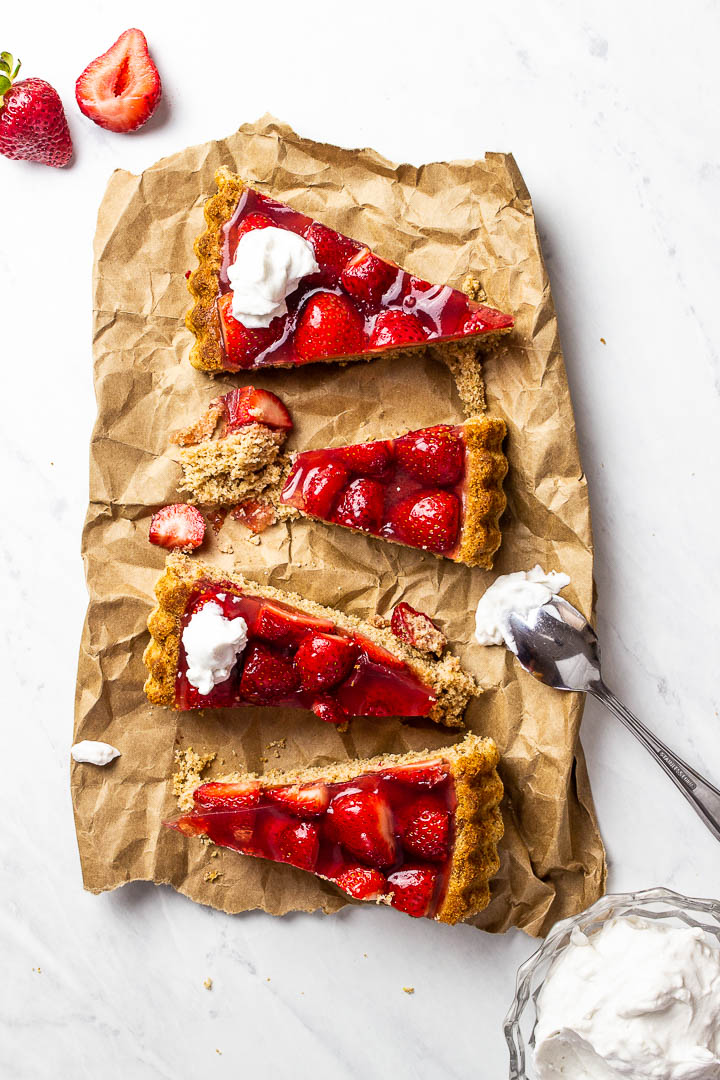 How is the vegan sponge cake so juicy and airy?
In the vegan biscuit dough we use whole grain flour and have you ever had the problem that your whole grain dough is too dry and hard?! At first it happened to me, until I experimented a bit around and created this super tasty and airy biscuit dough. So that we do not have this problem, we use almond butter or Tahini, which makes the dough nicely juicy. You can also replace 25g of the spelt flour with e.g. almond flour and that makes the dough a little juicier. Almonds naturally have many healthy fats and fat helps to make the dough moist.
You may think, how is the cake so airy when we do not use eggs? That's absolutely no problem. You can confidently omit the eggs and not only save money, but also do something for your health.
Vegan Jello – what can I use to make vegan Jello?
You do not need much to make a vegan and healthier cake. For one, we need a vegan gelatin alternative. This is where agar comes into play. Agar is made from algae and has an incredibly good gelling power, which I also use in my homemade jams. But now to the homemade cake. We use some fruit juices, such as apple juice and agar-agar. If you want a red jello like this strawberry cake, you may also like to add some beetroot powder. But please note that you give the powder for coloring only after boiling, so that the cake is also beautiful red. I added it once before cooking and it took a strange color. Baking a strawberry cake with agar-agar is anything but complicated.
Can I also add vanilla pudding to the strawberry cake?
If you belong to the group that likes creamy cakes and you would also like this strawberry cake rather creamy, you can just distribute custard on the sponge cake and then spread the strawberries on it. I like to serve the healthy strawberry cake with homemade coconut cream.
Which vegan cream tastes best with this strawberry cake with biscuit dough?
As already mentioned, I like to serve this wholesome strawberry cake with coconut cream. Here you can not only adjust the sweetness to your own taste, it is also healthier than the highly processed, store-bought cream substitutes. For this, I always have a few coconut milk cans in the fridge, so it is on-hand, just in case, I need the solid part of the milk for cream. If you do not have some in the fridge, place the coconut milk in the refrigerator for at least 24 hours without shaking.
Can I also prepare this strawberry cake gluten-free?
I have not yet tried how the dough would be made without spelt flour. But you could try using gluten-free flour mix or oat flour with almond flour instead. I would be happy to read your experience in the comments.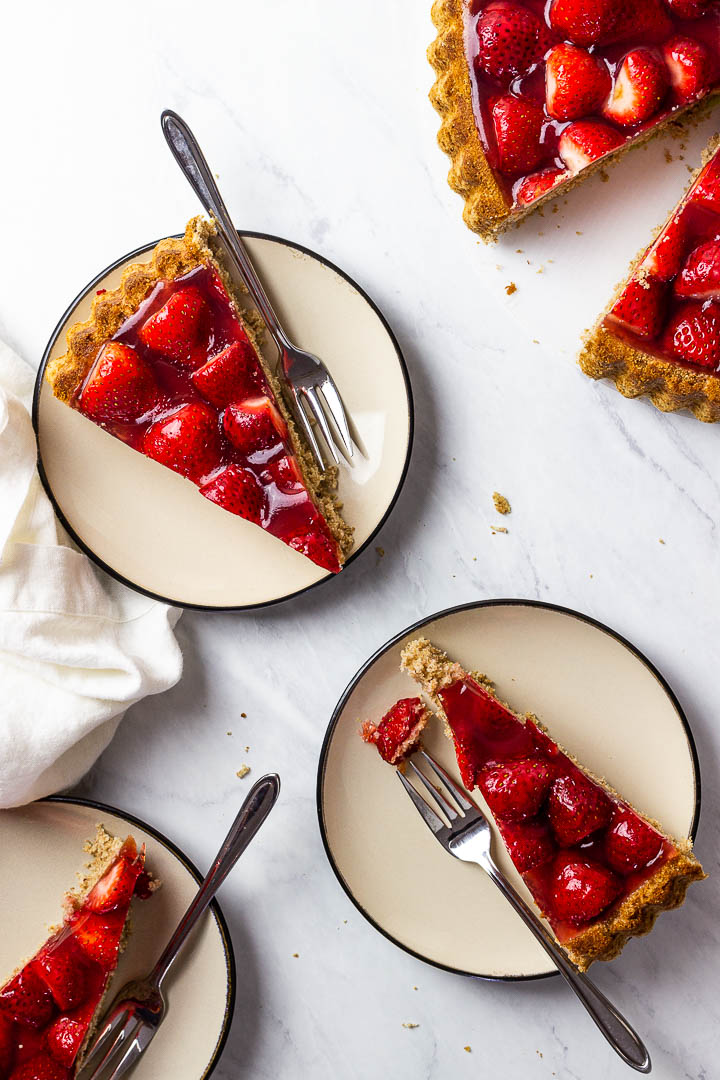 How can I bake a sheet cake from this strawberry cake?
To bake a biscuit on a tray, you need twice the amount of the biscuit recipe. You will also need about twice the amount of strawberries. And for the jello, I would cook three times the amount, so that really all strawberries are covered with agar- jello.
How long does the vegan strawberry cake last?
I would eat the vegan strawberry cake with jello within 2-3 days, otherwise the dough will probably become quite dry and the strawberries will not look so nice anymore. We normally eat the cake within 2 days, because it is so darn delicious. I do not have experience how the cake will be when it is older than that.
Where should I store the cake leftovers?
If you have some pieces of sponge cake left, please keep them in the fridge. For storage, I like to use a cake container, which keeps the cake fresh longer and fits most cakes perfectly.

Which other cakes like the strawberry cake might I like?
Do not forget to Pin on Pinterest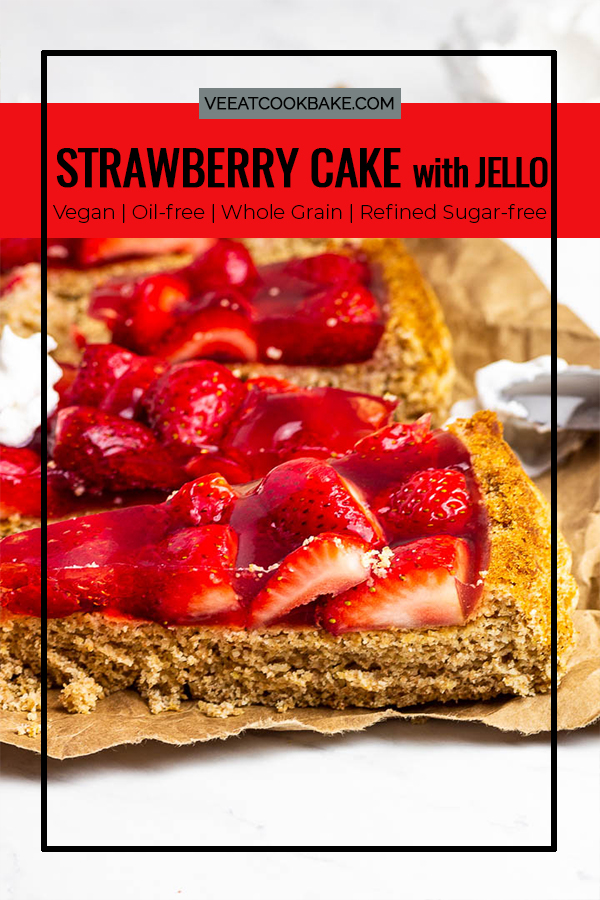 Have you tried the recipe?
If you tried the vegan Parmesan, be so nice ♥ and let me know by rating the recipe and writing what you think about it in the comments. Tag me on Instagram too. I am @veeatcookbake and my hashtag is #veeatcookbake. So that I can see your creation. Did you know you can add photos on Pinterest under the recipe Pin? I can't wait to see a photo of your creation there. You find me with @veeatcookbake. I also would love to hear your feedback so I can share it on my social media channels.

This post may contains affiliate links and I may receive a very small commission if you buy through these links at no extra cost. Thank you very much for supporting Ve Eat Cook Bake! More information can be found here.
---