Refreshing vegan Strawberry Cake with Jello isn't just for hot summer days.
You can make this great vegan Jello cake with strawberries for an afternoon table, coffee or tea time or for dessert if you fancy a strawberry pie.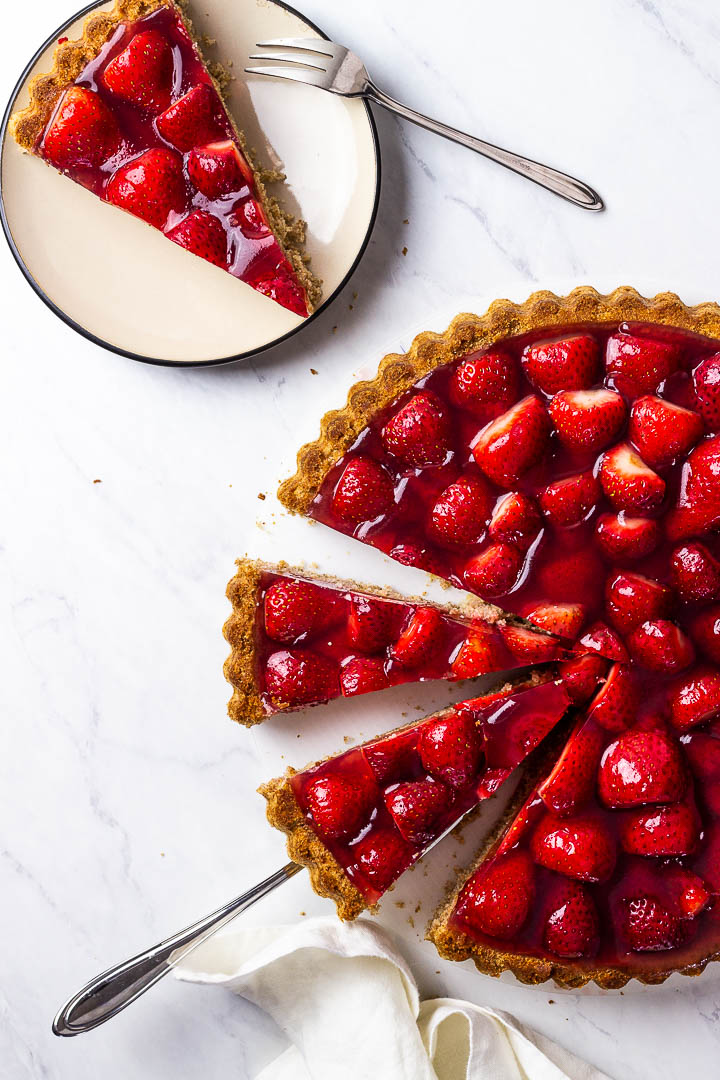 As an Amazon Associate, I earn from qualifying purchases. This post may contain affiliate links. Read More
This healthy strawberry cake is prepared from a fluffy, oil-free biscuit base made from spelt (wheat) and a homemade vegan jello with fruit juice, beetroot powder and agar-agar.
The biscuit dough is not only suitable for your next strawberry cake, but also for other fruit cakes, you can bake this delicious base.
Don't you think all these fresh and seasonal strawberries look good enough to eat? And I'm sure your next guests will find that too.
So get to the recipe and prepare this refreshing and sun-ripened strawberry cake in minutes.
If you like it creamy, you can put a layer of custard under the strawberries or serve the cake with homemade coconut cream.
You will find the instructions below.
In this recipe you will not only find a quick strawberry cake recipe with gelatin-free jello, but you will also be shown tips and tricks and alternative options.
Preparation
Now let's take a look at the preparation of the vegan strawberry cake. We don't need a lot of unusual things to do this, and you may already have most of them at home. You can also find replacement options for certain foods here.
Ingredients
Now let's first look at the ingredients that are included in this strawberry cake. The exact amount can be found below in the recipe card.
Strawberries
Biscuit Base
Coconut Sugar
Sparkling Water
Water
Almond Butter
Baking Powder
Vanilla Sugar
Spelt Flour or Whole White Wheat Flour
Ground Almonds
Jello:
Apple Juice
Water
Strawberries
Agar Agar
Beetroot Powder
Spelt Flour Substitute
You don't want to use spelt flour? No problem. Spelt is hard to find here in the US, and it can be relatively expensive. We pay here for around 4 dollars for about 1 pound (500 g).
You can replace spelt 1:1 with wheat. I think that's so great about the two types of grain, they can be replaced 1:1 without any problems.
You may need a little more water for wheat than for spelt. Spelt usually absorbs less water.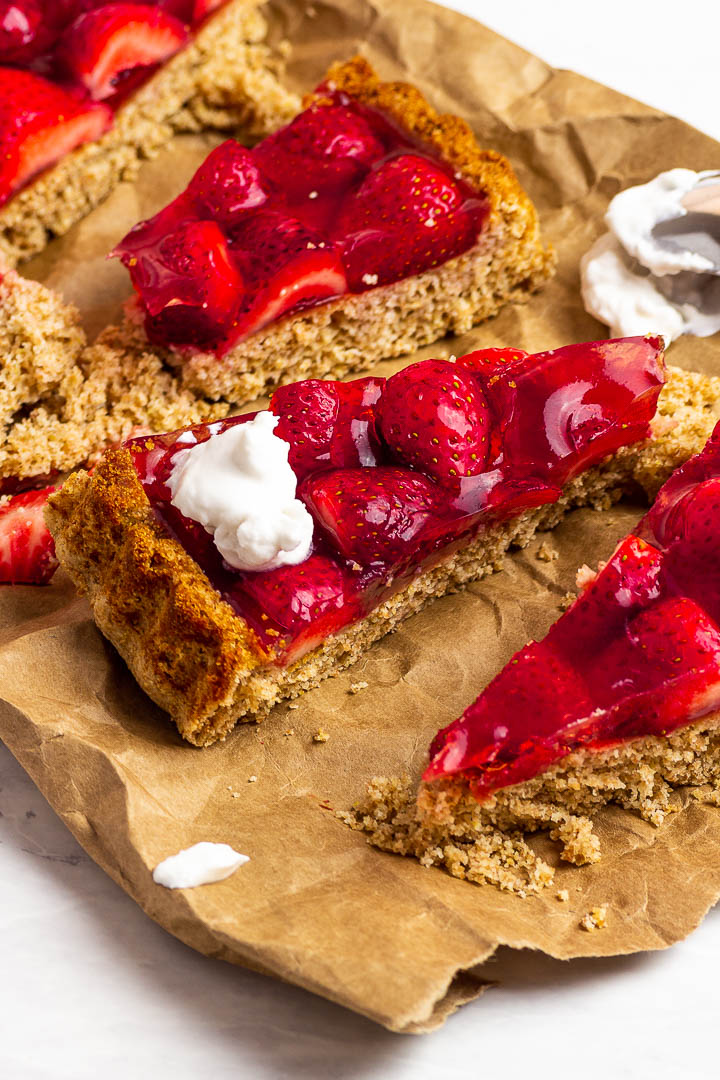 Gluten Free
As you can see in the recipe, I bake the cake with spelt flour. You can of course also replace the spelt flour with a gluten-free flour baking mix.
Simply replace the flour 1:1. You may need to add more liquid because the gluten-free flour absorbs more liquid.
If you like the taste of oats, I could also imagine that oat flour will work. Simply use oat flour instead of spelt flour. Here I would use 25 g less and then more almond flour.
Sparkling Water Substitute
We use the sparkling water to make the sponge cake super fluffy. The carbon dioxide helps us here.
However, if you don't want to use sparkling water, then I recommend adding 1 teaspoon apple cider vinegar to the dough, which also makes the biscuit base fluffy without eggs.
Nut Free
When we look at the biscuit base, we use ground almonds and almond butter. You don't want to use nuts? No problem, I also have an alternative for you.
Why do we use the nuts in the dough? So that it becomes tender and not dry. As you have probably seen, this sponge cake base is completely prepared without oil. We therefore need healthy fats from unprocessed foods, such as from almonds.
Now let's take a look at the individual alternative options.
The almond butter can be easily replaced by, for example, tahini or other seed butters such as sun butter.
The ground almonds can be replaced by finely ground sunflower seeds, pumpkin seeds or other nuts. Make sure that the seeds are really ground into fine flour.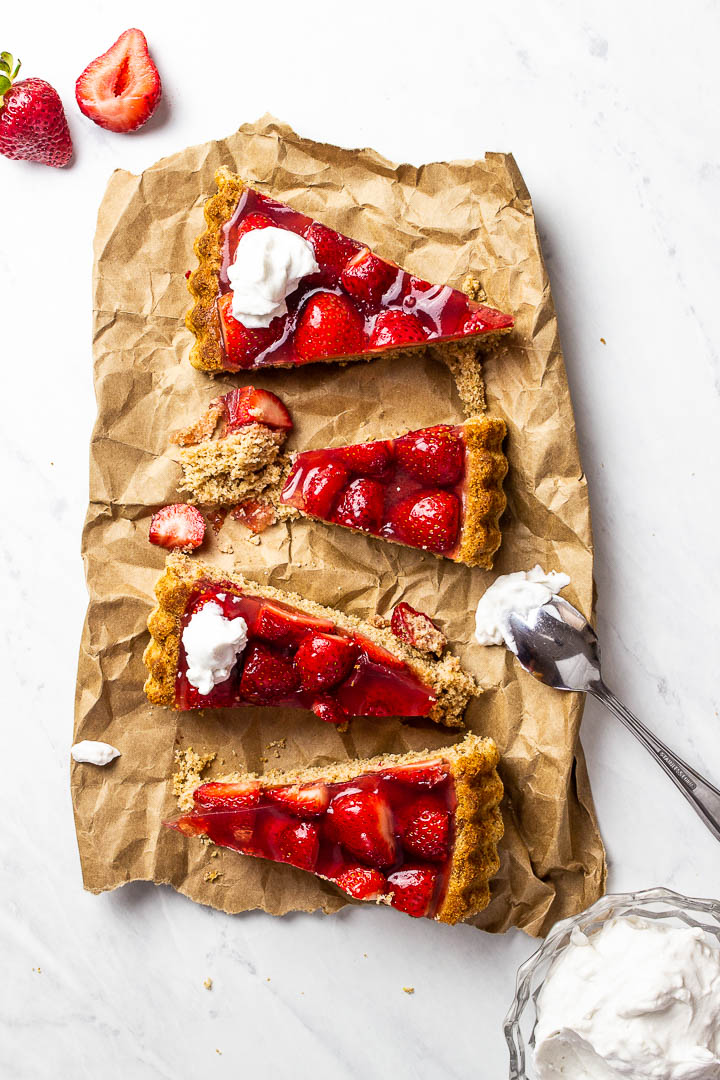 Fresh Strawberries or Frozen Strawberries
With this cake I recommend you only use fresh strawberries. Since the strawberries are not baked and thawed strawberries become mushy, I recommend using fresh ones.
What I also recommend is to buy local strawberries. These look the most beautiful and are full of taste. This cake is also suitable with other fruits, e.g. raspberries, grapes.
Apple Juice Replacement
You don't want to use apple juice? No problem, you can also use strawberry juice if you can find some, or other red juices.
Where I live, I find it difficult to find red juices, so I like to use apple juice and then color it after boiling with beetroot powder.
You can also use water, which you then have to sweeten, which you don't have to do with a juice.
If you make a cake with e.g. grapes or tangerines like this vegan tangerine curd cream cake, then we usually want a light jello, you don't need beetroot powder for this. You only need this if you use red fruits.
Agar replacement
As you probably know, gelatin is anything but vegan. If you don't know, gelatin is made from pig bones.
And we don't want bones in our vegan strawberry cake. And it's super easy to use a plant-based alternative to gelatin.
Here we simply take the well-known agar-agar powder, which has an incredibly good gelling power.
You don't want to use agar? You can also use one-to-one kappa carrageenan. If you have another plant-based gelling agent on hand, you can also try this one! I would proceed according to the package instructions.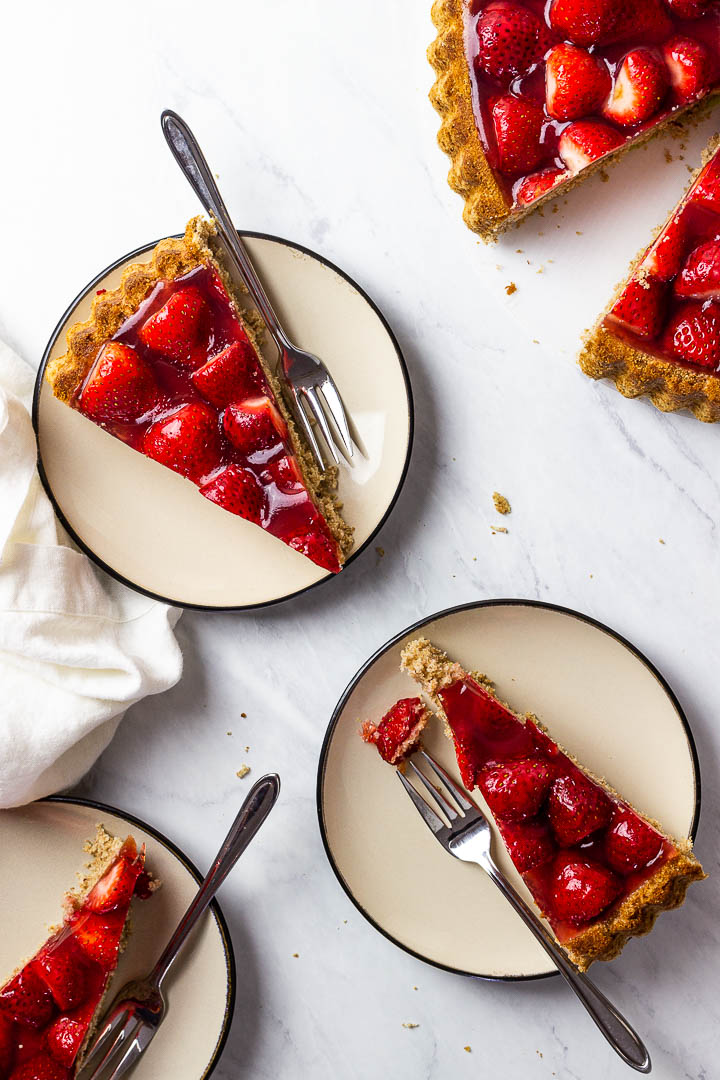 Instruction
Preheat the oven to 350°F (175°C).
First put the liquid ingredients for the biscuit base in a mixing bowl and stir until they are creamy. The almond butter should be completely dissolved.
Now add the dry ingredients to the liquid and stir the dough into a smooth dough.
Spread the dough on a prepared fruit cake pan (11").
You can either line the bottom with baking parchment or grease sparingly and sprinkle with breadcrumbs.
Bake the sponge cake base in the preheated oven for about 30 minutes. Test with toothpicks. Prick in the cake and nothing sticks to the toothpick, the dough is ready.
Let the crust cool completely before lifting it out of the pan. So you don't risk it breaking through.
In the meantime, you can prepare the strawberries by removing the green tops and halving the strawberries depending on the size of the strawberries.
Place the strawberries on the cold sponge cake.
Now we are preparing the jello.
Blend the juice, water with the strawberries and press it through a nut milk bag.
Boil the juice and stir the agar with a little water. Now add the agar solution to the juice with constant stirring, then let simmer for about 2 minutes. Do the gelling test.
Take a container out of the refrigerator and drop some of the juice on the container. If it gels, the cake is ready, if not then let it cook a little longer.
Let the jello cool a little (5-10 min) and stir in the beetroot powder. Now spread the jello on the strawberries so that they are completely covered.
Once the jello has cooled, it becomes firm when cut. I put the cake in the fridge for about 30 minutes.
Prepare in advance
You can even prepare the cake very well in advance. Since we cover the strawberries with jello, these last longer.
However, I advise you to prepare the cake at most one day in advance.
Tips and Tricks
Jello
You don't need much to make a vegan and healthier jello. For one thing, we need a gelatin alternative that is vegan.
This is where agar comes in. Agar is made from algae and has an incredibly good gelling power, which I also use in my homemade jams.
But now to the homemade cake icing. We use some fruit juice such as apple juice and agar.
If you want a red jello like this strawberry cake, you can also add some beetroot powder.
You want to make a deep red jello. Purée some strawberries and strain them through a nutmilk bag or a mesh strainer.
But please note that you only add the powder for coloring after boiling, so that the cake glaze also turns nice red. I added it once before cooking and it took on a strange color.
And baking a strawberry cake with agar is anything but complicated.
Vanilla Pudding
If you belong to the fraction that likes creamy cakes and you also like this strawberry cake rather creamy, you can simply spread custard on the biscuit base and then spread the strawberries on it.
I like to serve the healthy strawberry cake with homemade coconut cream.
If you want to cook custard, simply boil 2 cups (500ml) of almond milk with 3 tablespoon cornstarch and 2 teaspoon vanilla extract.
Sweeten the custard to your own taste. Cover the custard with cling film or wax paper so that there is no air and no skin can form.
Whipped Cream
As already mentioned, I like to serve this whole strawberry cake with coconut cream. Here you can not only adjust the sweetness to your own taste, it is also healthier than the cream substitutes that are highly processed from the store.
I always have a couple of coconut milk cans in the fridge so that in case of a spontaneous action I have a coconut milk with which the solid part has already separated.
If you don't have this, put the coconut milk in the fridge for at least 24 hours without shaking.
If you prefer a lighter variant of coconut cream, you can also whip the drained water off the chickpeas stiffly and then add sweeteners and vanilla as needed. You get a light, wfpb cream alternative.
Sheet Cake
To bake a sponge cake on a sheet pan, you need twice the amount of the sponge cake recipe.
You will also need about twice the amount of strawberries. With the jello, I would cook two times the amount so that all the strawberries are actually covered with agar jello.
Storage Options
I would eat the vegan strawberry cake with jello within 2-3 days, because then the dough will probably become quite dry and the strawberries will not look so nice either.
The cake hasn't got any older with us either, because this strawberry cake tastes just too good not to eat within 2 days.
Fridge
If you have leftovers of the sponge cake, please store them in the fridge. I like to use a cake container to keep it fresh for longer.
Freezer
I do not recommend freezing the whole strawberry cake because there are fresh strawberries on the cake. What you can do is just bake the biscuit base and freeze it.
Do not forget to pin! 🙂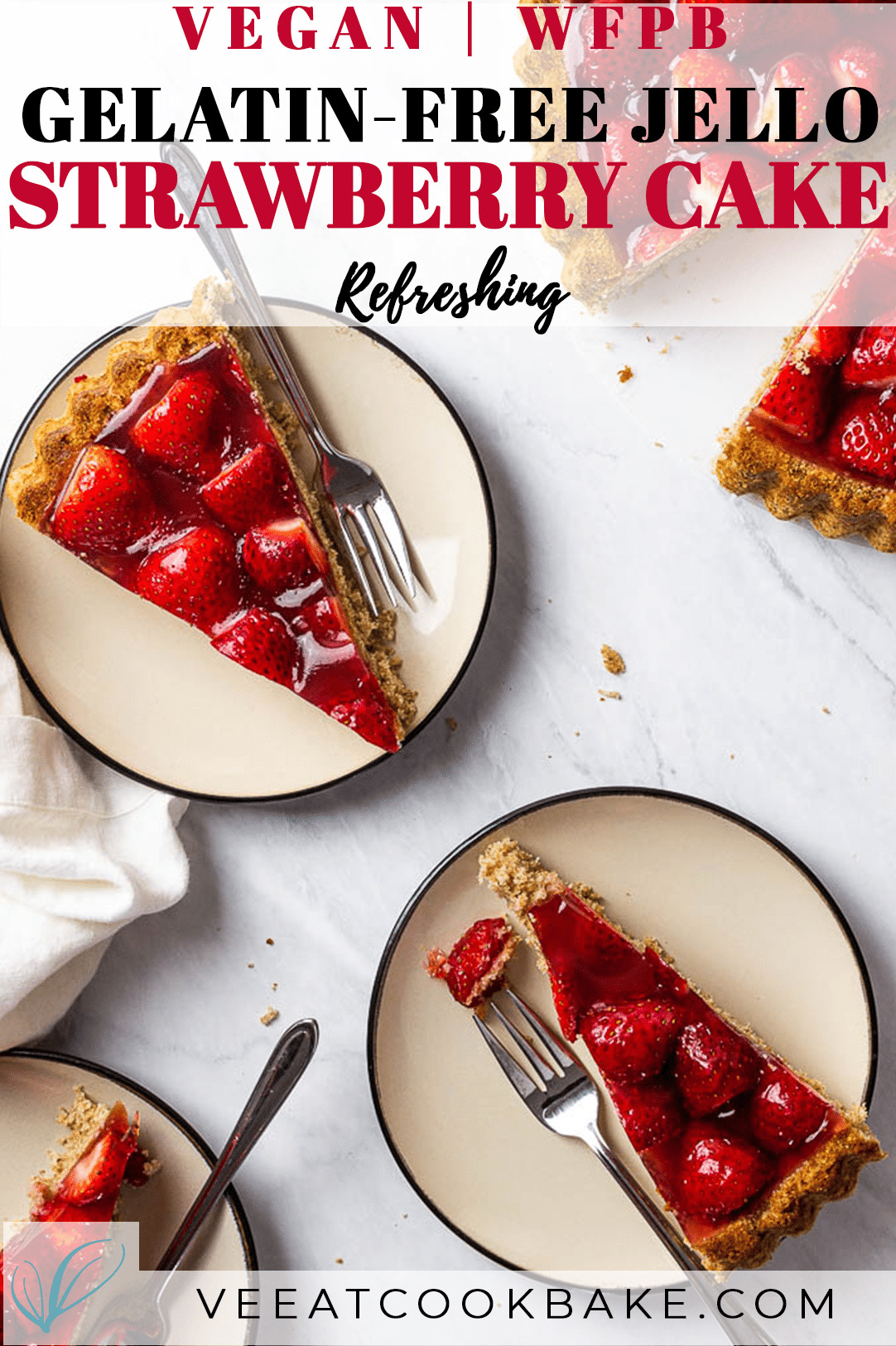 More Vegan Cake Recipes
Vegan Chocolate Cherry Cheesecake
Have you tred the recip
If you tried the vegan Recipebe so nice ♥ and let me knw byrating the recipe and writing what you think about it in the comments.  I would love to see your photo on Instagram orFacebook. To do this tag me with @veeatcookbake andmy hashtag is #veeatcookbake. So that I can see your creation. Did you know you can add photos n Pinterest under the recipe Pin? I can't wait to see a photo of your creation here. You find me with @veeatcookbake