Pumpkin cheesecake is super easy to make in vegan. This dairy-free cheesecake is a great alternative to traditional cheesecake.
Not only is it a great fall cake for tea time or dessert, it's also great for holidays like Thanksgiving or Christmas or just when you fancy a good old cheesecake.
How did I get the idea to make a pumpkin cheesecake? In addition to the well-known chocolate cheesecake or classic cheesecake, I wanted to try something new.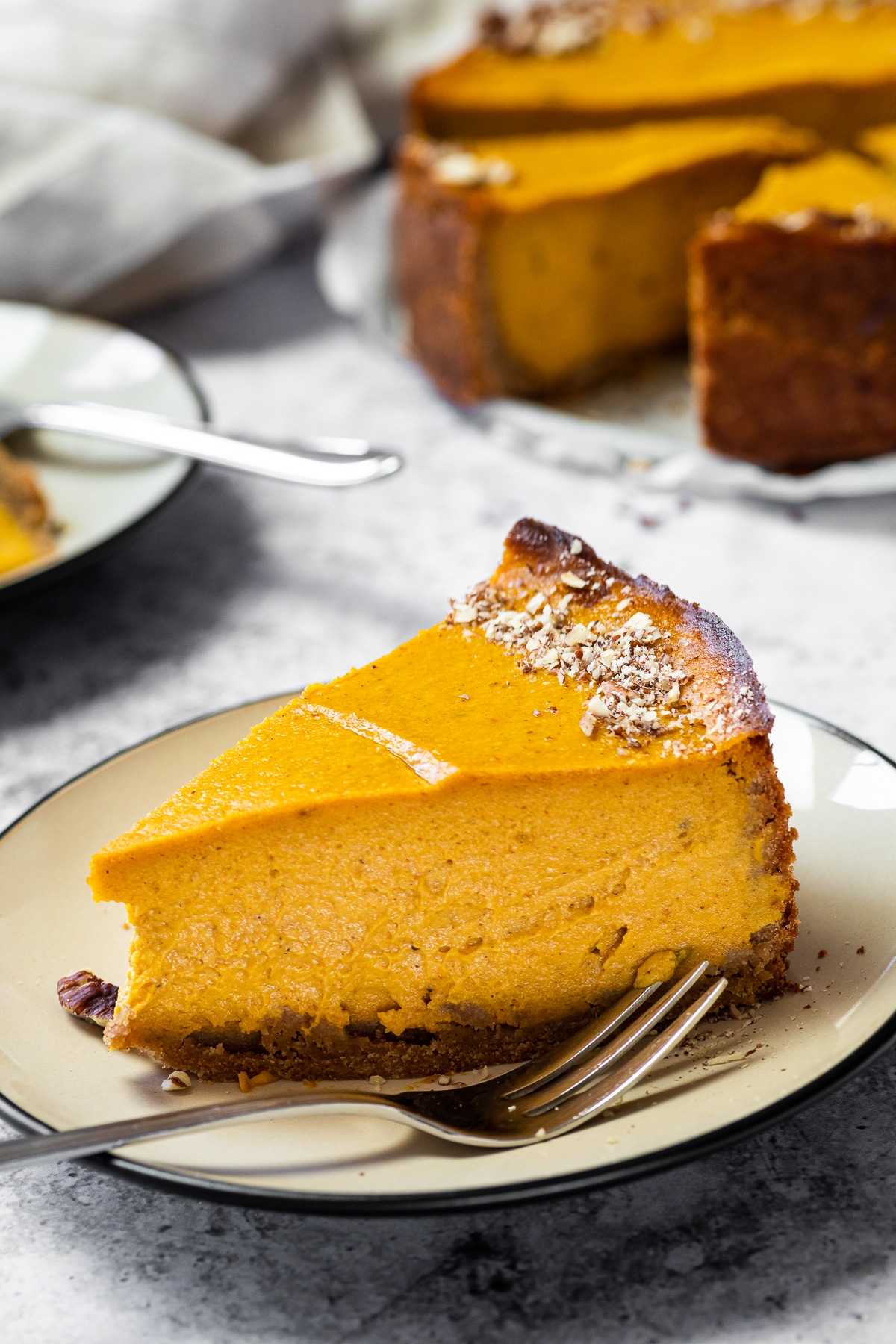 As an Amazon Associate, I earn from qualifying purchases. This post may contain affiliate links. Read More
And here in the US, baking with pumpkin puree is a big deal. And let's face it, who doesn't love a super creamy and authentic cheesecake.
And a cheesecake with pumpkin and the delicious pumpkin pie spices like clove, cinnamon etc. take your cake to the next level. Prepare the cake for your next birthday or just if you fancy a creamy dessert.
This cheesecake recipe is a simple and quick cake recipe. We only need a few ingredients, you may even have most of them at home.
With this recipe, I not only want to give you the recipe quickly, but also show you alternative options that you can use if you do not want to use certain foods. Or also how you can prepare the vegan pumpkin cheesecake in vegan. So be excited. 🙂
Wait, now let's have a look at what's in this cheesecake.
Preparation
Now let's take a look at how we make the pumpkin cheesecake. And not just the ingredients and instructions, but also alternative options for certain foods.
Ingredients
First of all, I would like to list the ingredients of what is included in this delicious oil-free pumpkin cheesecake.
You can find the exact details below in the recipe card.
Dough
Whole Wheat Flour
Almond Flour or Finely Ground Almonds
Potato Starch
Coconut Sugar or Date Puree
Cinnamon
Almond Butter or Cashew Butter
For the filling:
Plant-based Yogurt, use a creamy one like soy or almond.
Pumpkin Puree
Almond Milk
Cashews, soaked
Raw Cane Sugar or other sweeteners such as maple syrup, date puree
Pure Vanilla Extract
Flour (White Whole Wheat)
Cinnamon, ground
Nutmeg, ground
Ginger, ground
Cloves, ground
Lemon Juice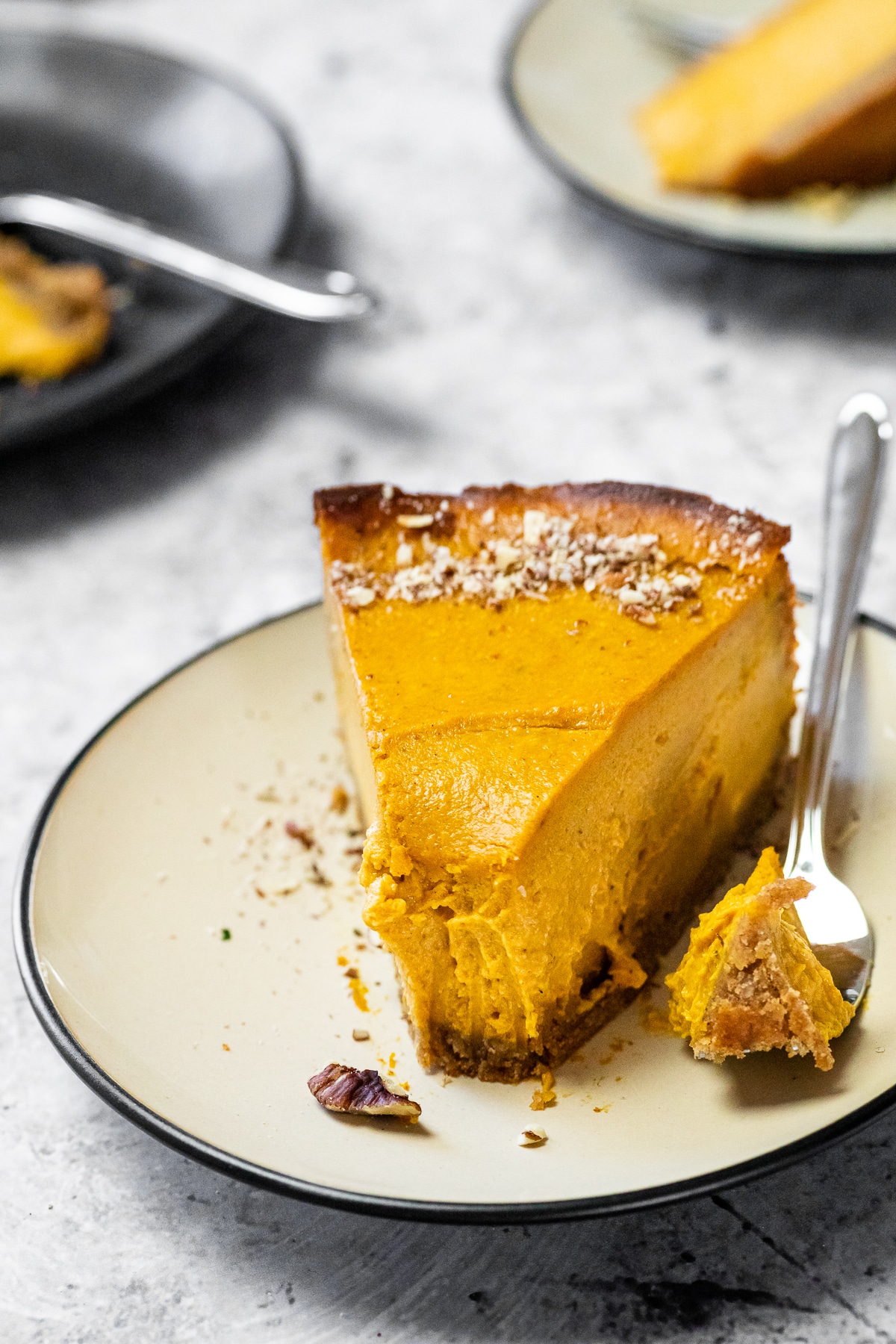 Gluten free or Wheat free
If we look at the ingredients list above, we see that the cheesecake is anything but gluten-free. For one, we use whole wheat flour in the crust and flour in the filling.
To make the pumpkin cheesecake gluten-free, you can replace the flour in the dough with a gluten-free flour baking mix.
In the filling you can, for example, replace the flour with chickpea flour or starch. The flour in the cheesecake filling serves to consolidate the filling. You can also achieve this with the two alternatives.
Nut free
You don't want to or can't eat nuts? No problem. I would like to explain briefly what the nuts are used for.
In the dough, the almonds are used to prevent the dough from drying out, since we use whole wheat flour and no oil. Instead, we use almond flour and nut butter.
Instead of almond butter or cashew butter, you can also use a butter made from sunflower seeds, for example.
As almond flour, we need an alternative that is full of healthy fats like almonds. For one, you could finely grind pumpkin seeds or sunflower seeds until you have a fine flour and use it.
You could also use tigernuts which are not actually nuts. Tigernuts are tubers and must be soaked for 24 hours beforehand.
Canned or Homemade Pumpkin Puree
In this recipe I used ready-made pumpkin puree. It is faster and you can spontaneously bake the cake. But this shouldn't scare you if you can't find a canned pumpkin puree.
You can of course simply make puree at home. To do this, cook your pumpkin in the oven until it's soft and puree it in your high speed blender. Let the pumpkin puree cool before using it again.
To make your own puree, you can use frozen pumpkin or fresh whole pumpkin.
Pumpkin Pie Spice
Would you like to use a ready-made pumpkin pie spice mixture for sweet dishes like the classic pumpkin pie instead of individual spices?
Then you can do that too. Simply use 2 teaspoon of the spice mixture. Taste the filling, and add a little more depending on your own taste.
I have to say that the spices taste more intense after baking than before. So just watch how you like to flavor it the most.
Crust like Graham Crackers
This crust reminds me very much of the American Graham crackers, which are often used as a cheesecake crust. Only I find this a bit better. And best of all, it is healthier.
It comes without any highly processed food and is made from almond flour, whole wheat flour, coconut sugar and cinnamon. When baked, it actually tastes like a homemade graham cracker crust. Very Delicious.
Sugar free
Do you want to make the pumpkin cheesecake not only refined sugar-free, but completely without processed sweeteners such as coconut sugar, stevia, etc?
Then be sure to read on. 😉
Instead of the coconut sugar in the dough, you can easily use date puree. To do this, take soaked dates and puree them in a high speed blender until you have a fine puree. Add a sip of water every now and then.
Dates are very sweet by nature. Even so sweet that they are too sweet for me as a snack.
Now comes the tricky part, you do not have to use raw cane sugar in the filling. I used the raw cane sugar because I didn't want to affect the pumpkin color. Coconut sugar would darken the filling.
You can also use date puree here. However, the filling may become a little darker than the one in the picture. You can also use light dry fruit, e.g. Apricots.
With date puree, the cake is just as delicious, only slightly darker. Unfortunately I could not use dates in the video because they were sold out.
Have you ever heard of monk fruit powder? This fruit is very sweet and is processed as a powder. You can use it to replace sugar 1:1. You might like this alternative for refined sugar.
Do you have any other ideas for sweeteners that are natural? Then I look forward to reading from you below. I am always looking for new ideas on how to replace sugar in baking.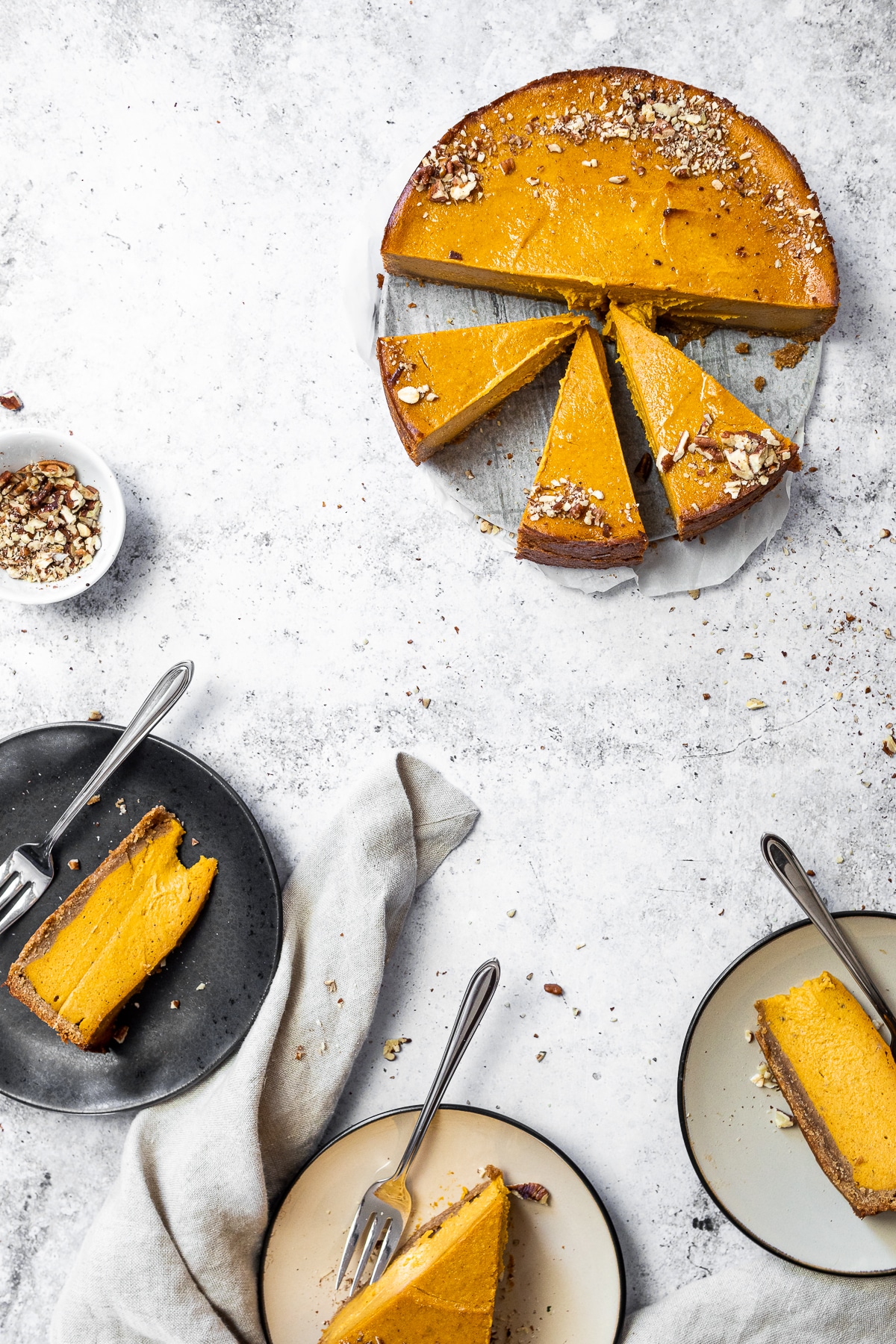 Instructions
Start soaking the cashews.
Prepare a springform pan with a diameter of approx. 8 inches (ca. 20 cm). To do this, I line the bottom with parchment paper.
Now put all the ingredients for the crust in a mixing bowl and knead the dough with your hands into a crumble-like dough. The dough should just come together but not become homogeneous, e.g. a pizza dough.
Now spread the dough on the bottom of the pan and go a little less than 1 inch (2 cm) up the edge.
Now we are preparing the filling. To do this, add the drained cashews and the remaining ingredients except for the yoghurt in a high speed blender and mix until a super creamy cream is obtained.
There should be no pieces left and be smooth. This can take between 2 and 4 minutes. Now put the filling in a bowl and carefully fold in the yoghurt.
For the yogurt, make sure you buy a creamy yogurt. I think the best one to work is soy yogurt or almond yogurt. Coconut yogurt is often too fluid.
Now bake the cake at 350°F (175°C) for about 1 hour. The middle should still wobble slightly. This becomes solid during cooling.
Let the cheesecake cool completely before you cut it.
So we get to the next point that I think is important.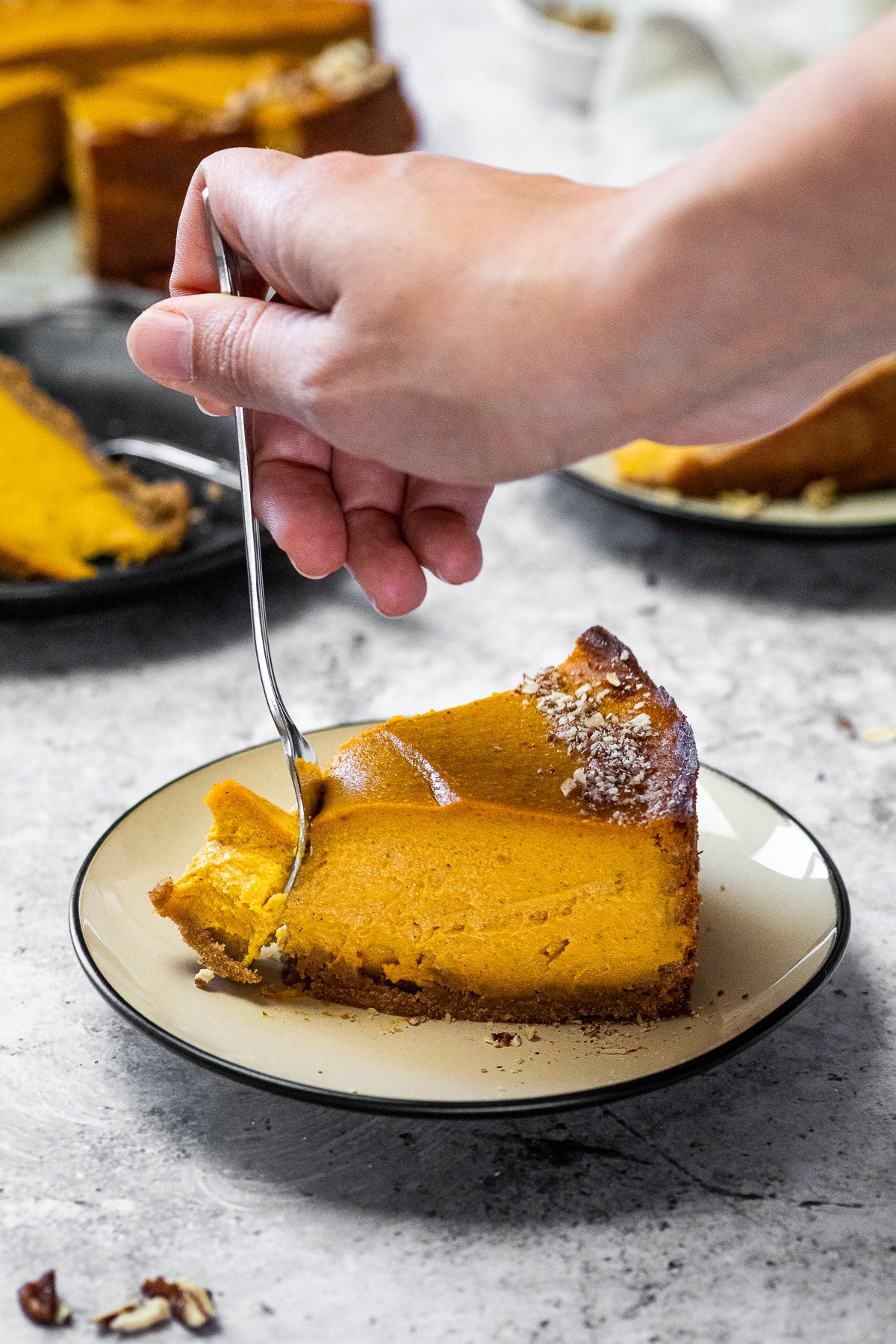 Prepare in advance
You can prepare this vegan cheesecake in advance. I even recommend it to you. This way you can be sure that the cake is firm and will not run away when you cut it.
I like to prepare the cheesecake a day in advance and let it cool in the fridge overnight. I put the cheesecake in a cake container and then in the fridge.
Serving Options
Let the vegan pumpkin cheesecake come to room temperature for about 20 minutes, so the cheesecake tastes best.
Sprinkle the cheesecake with chopped nuts as in the photos and video.
A pumpkin pie also goes well with a delicious caramel sauce that you can make from dates.
Take 1 cup (175 g) of dates, ⅓ cup + 1 tablespoon (100 ml) of almond milk, 2 tablespoon of almond butter and 1 teaspoon of vanilla extract. Put all ingredients in the high speed blender and blend until a super creamy consistency is obtained.
Again, this can take 2-3 minutes. It is important that there are no more pieces. If it is not sweet enough for you, you can add up to ½ cup (120 ml) coconut nectar, date syrup, etc.
Storage Options
You can not eat the cake in one go, no problem, the cheesecake is great to store. You have two options.
Fridge
Store the cheesecake in the refrigerator for up to 5 days. To do this, keep the cake in a cake container or in an airtight container
Freezer
You don't want to eat pumpkin pie all week. Then freeze the cheesecake in portions. I would put the cheesecake on a plate and put it in the freezer. When the pieces of cake are frozen, you can put them in portions in freeze-proof containers. The cake lasts there for about 3 months.
Thawing
To defrost, simply take the cheesecake out one evening before and let it thaw in the refrigerator. As mentioned above, let the cake come to room temperature before serving it.
You can serve the cake as an ice cream cake and serve it frozen. So that the cake is not that hard anymore, I recommend taking the cheesecake out of the freezer approx. 1 hour beforehand and leaving it at room temperature.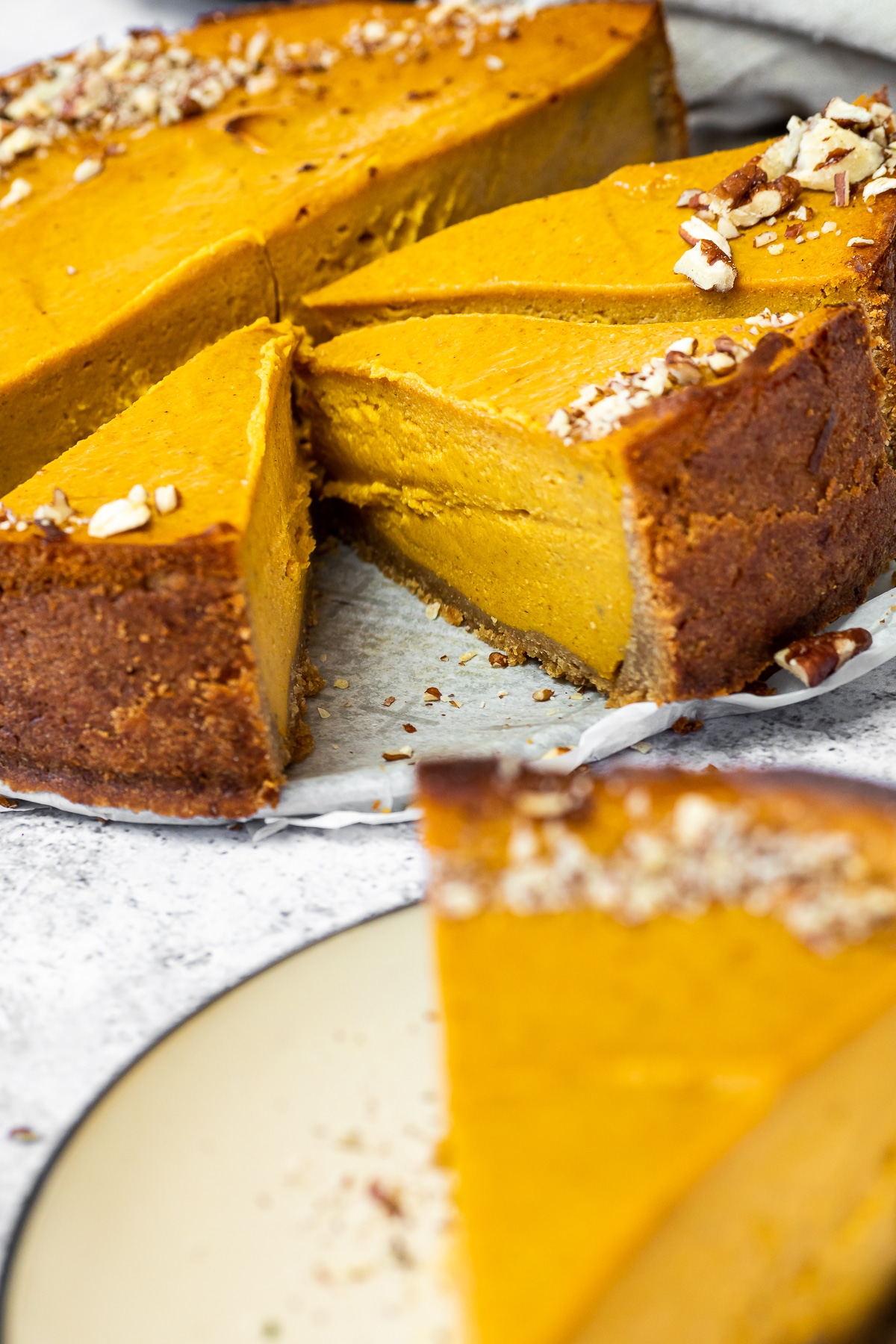 More Vegan Cakes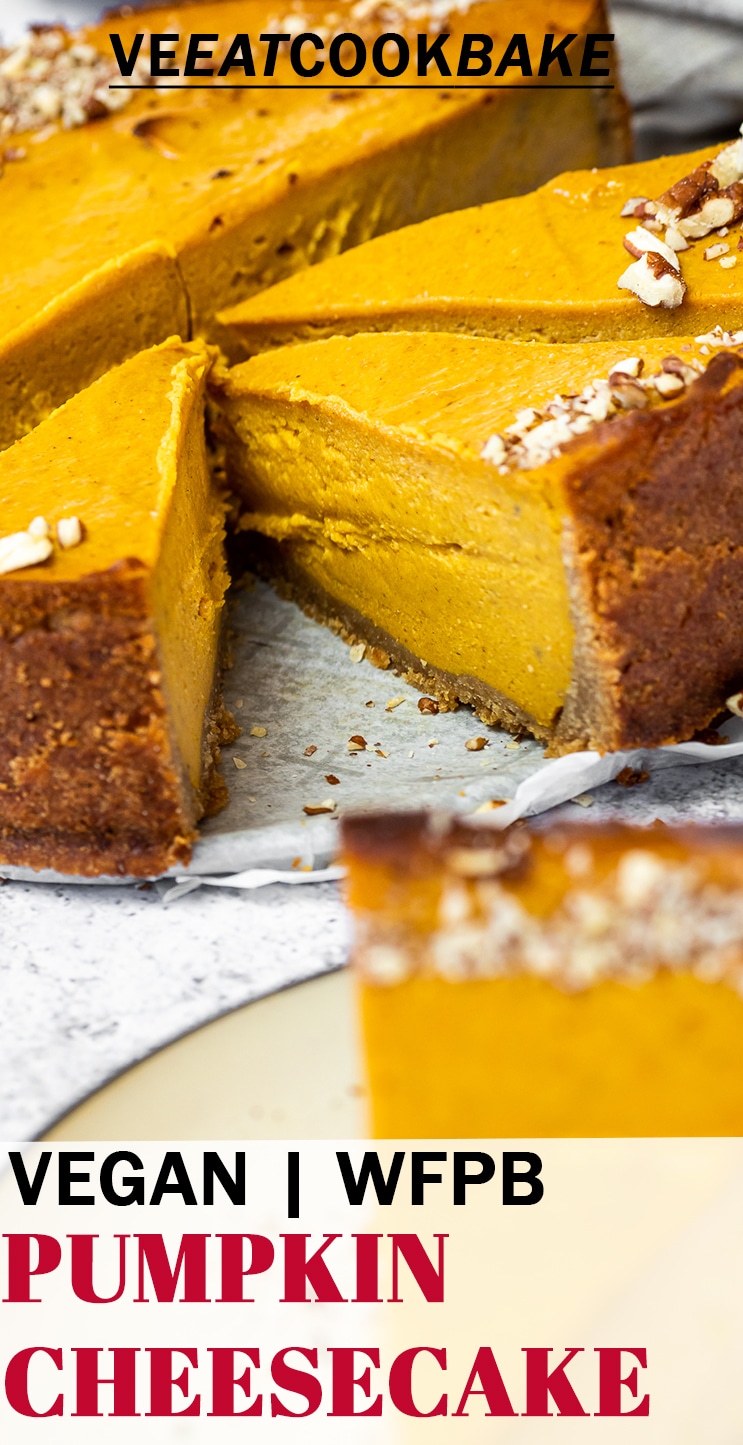 Have you tred the recip
If you tried the vegan Recipebe so nice ♥ and let me knw byrating the recipe and writing what you think about it in the comments.  I would love to see your photo on Instagram orFacebook. To do this tag me with @veeatcookbake andmy hashtag is #veeatcookbake. So that I can see your creation. Did you know you can add photos n Pinterest under the recipe Pin? I can't wait to see a photo of your creation here. You find me with @veeatcookbake