Have you ever looked at a smoothie and thought, I could make that! Well, you can! All you need is a blender and some fresh ingredients. Here's how to build your own homemade smoothies. (Followed by instructions on how to make a smoothie).
Jump to:
Choose your favorite fruits and vegetables
There is something so invigorating when you choose your favorite fruits and vegetables for your smoothie. Picking which ones will be the tastiest and most nutritious can be quite fun, as there are so many fresh fruit and leafy greens combinations to experiment with!
You can go for a kale, strawberry and banana mix if you are feeling healthy, or maybe even try a coconut, mango, kiwi concoction if you're looking for an exotic flavor.
Whatever combination you choose, it's certain to awaken your taste buds and make you feel energized and refreshed! And the best part, you can use frozen fruit, like frozen banana or frozen tropical fruit.
Add some protein for staying power
Adding protein to your smoothie is an easy and delicious way to maximize the benefits of drinking it! You'll notice that you stay full longer, giving you more energy throughout the day. Not only will including protein help keep you satiated, but it also helps promote muscle repair and maintenance.
Plus, there are so many great options—from tofu and plant based yogurt to nuts and nut butters. Your smoothie can be whatever you want it to be: a nourishing meal replacement or a pre- / post-workout snack—it's totally up to you! Get creative and enjoy this energizing drink that helps fuel a healthy lifestyle.
Pick your liquid base
Picking the liquid base for your smoothie is so much fun! You can choose a non-dairy milk like soy milk, oat milk, coconut milk or almond milk, coconut water, juice such as orange juice or pineapple juice, or even vegan yogurt or kefir.
Each option offers its own unique flavor and health benefits. The plant-based milks are great sources of plant protein, while the juices bring an extra sweetness to the smoothie. Adding non-dairy yogurt or kefir will give a thick and creamy mouthfeel that almost feels like you're drinking a creamy shake.
The options are seemingly endless, making it lots of fun to explore different combinations and find something you love!
Add some healthy fats for creaminess
Adding healthy fats to your smoothie is an easy way to upgrade your breakfast or snack. Not only will it give you a nutritional boost, but it will also make the smoothie especially creamy and decadent. Avocado, nut butter like almond butter or peanut butter, chia seeds, hemp seeds and plant based yogurt are all options that can help take your beverage up a notch and this great creamy texture.
Feel free to experiment with different combinations until you get it just right. You definitely won't be disappointed; nothing beats a creamy smoothie blended with nutritious ingredients!
Add some Omega
You can get plenty of omegas in your smoothie. Just add 1 tablespoon chia seeds or flax seeds to your fruit smoothie or green smoothie.
Blend it all up until smooth!
Making that perfect smoothie is so much easier when you have the right tools. Not only does an amazing blender make it a breeze to mix all your favorite ingredients, but it also makes sure your smoothie is well blended and silky smooth!
So get out there and pick up some quality blender and make sure you blend your smoothies until they've reached their ideal consistency. You won't regret it--it'll make all the difference!
Enjoy as is or add toppings like granola, chia seeds, or nut butter
Smoothies are a delicious and nutritious way to refuel your body with wholesome ingredients! The possibilities for topping your smoothie off are endless, from sprinkle-worthy granola to healthy boosts like chia seeds or nut butter.
There's even a flavor combination for everyone - be it blueberries and greens or a mix of tropical fruits. No matter what you pick, the result is always just as yummy as it is good for you! Adding toppings offers an extra boost in nutrition and makes a great addition, taste and presentation, plus making your own smoothie creations is a fun activity that can get the whole family involved.
Get ready for smoothie season and start adding some exciting toppings today! You can also stir in a spoonful of cocoa powder.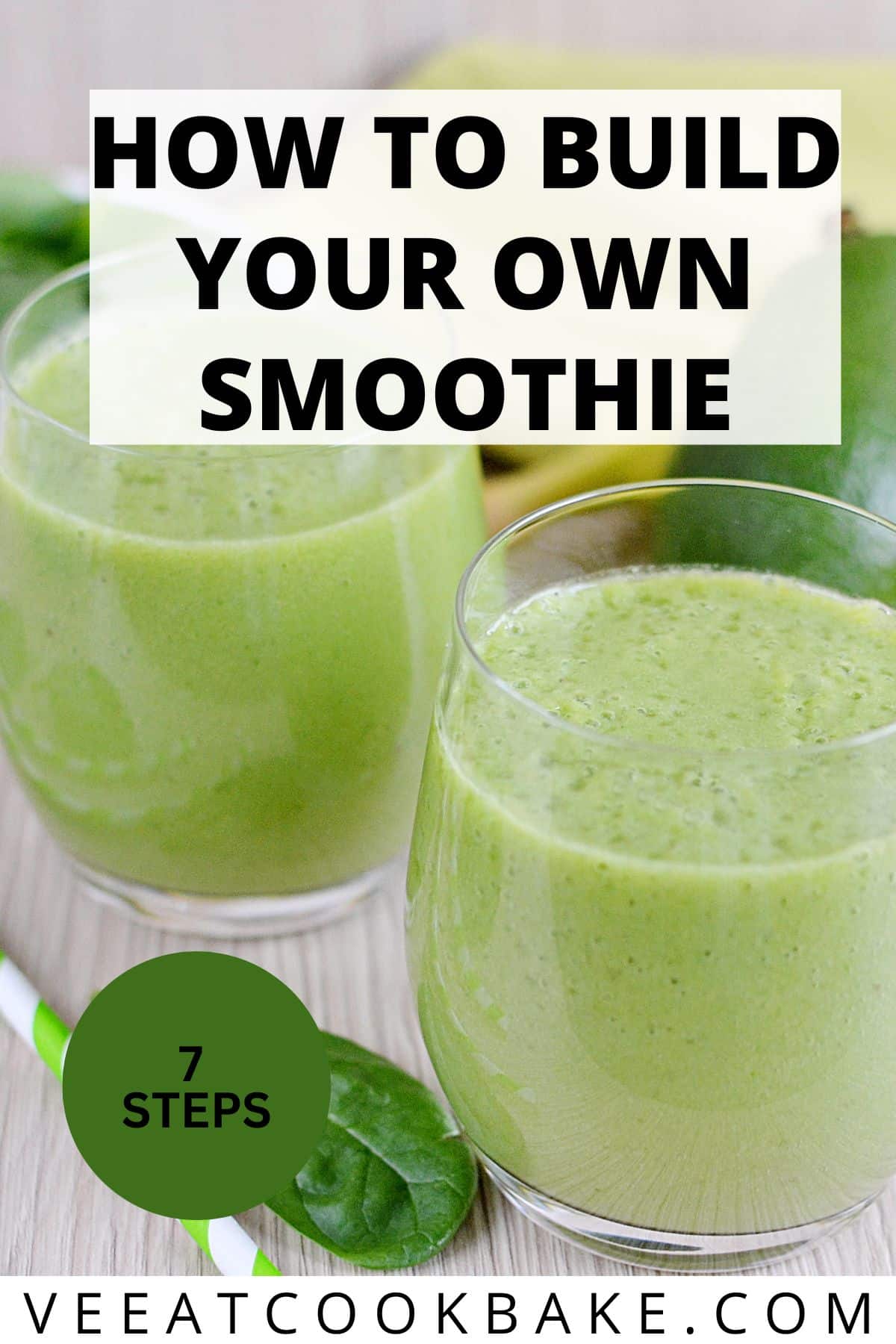 Simple Formula
Here is a basic recipe I use to make my healthy smoothie. You can also add more or less of your smoothie ingredients.
½ cup of fruits
1 ripe banana
½ cup leafy greens or 1-2 ice cubes with greens
1 tablespoon nuts or nut butter
1 tablespoon chia seeds or flax seeds
1 cup liquid
Bottom Line
Creating a nutrient-rich, delicious smoothie bowl at home is easy and fun! Just follow these seven simple steps, and you'll be on your way to enjoying a delicious and healthy breakfast, snack, lunch or dessert.
Be sure to experiment with different fruits, vegetables, protein sources, and toppings to find the combination that best suits your taste buds. And don't forget to share your favorite easy smoothie recipes with us in the comments below!