This post is also available in: Deutsch
*As an Amazon Associate, I earn from qualifying purchases. This post may contain affiliate links. That means if you click and buy, I may receive a small commission. Please see my full policy.*
This tasty vegan  Pasta with Parmesan Meatballs and Goulash in tomato sauce dish I associate with many childhood memories. It does not only taste children, even adults are blown away by the cheesy balls. vegan | plantbased | milk-free | egg-free
Have you ever tried jackfruit?
Let me know in the comments below how do you like jackfruit. I love them to make fibrous structures into dishes. It is the perfect meat substitute when it comes to Goulash or pulled "pork". With the right spices it tastes as good.
Which spices I use:
paprika
garlic
thyme
smoked paprika
mustard
Soy sauce
Marmite
For the balls in the  vegan Pasta with Parmesan Meatballs and Jackfruit goulash in tomato sauce dish , I take i.a.
beans
Mushrooms (which are really a great substitute in such recipes)
bread
vegan Parmesan (Recipe here)
chickpea flour
tapioca starch
And with appropriate spices, I have conjured up delicious vegan meatballs with a super cheesy taste.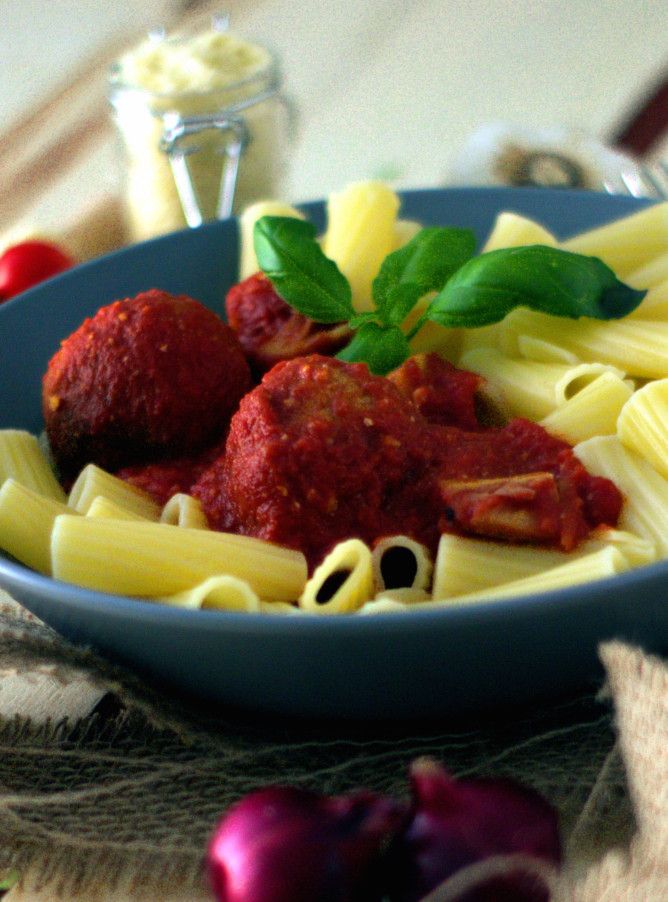 A dish from my childhood
I guess you know, I live in the USA now. For those who did not know, now you know it. 😉 So far away from my home country and when I got the news of the loss of my grandmother, the world stopped for me. I really could not understand it and then being so far away, not be with my family. Made it even harder. And not knowing if I can make it to the funeral to fly over. So I had to do something that brought me closer to my grandmother and since this dish is the first thing I can think of, what she cooked so I had to try it. And I succeeded.
I wanted to share with you the amazing recipe for the  Vegan Pasta with  Parmesan Meatballs and jackfruit goulash in tomato sauce , which has a very high sentimental value. Now I am ready to share it with you. The last couple weeks I wasn't ready for it.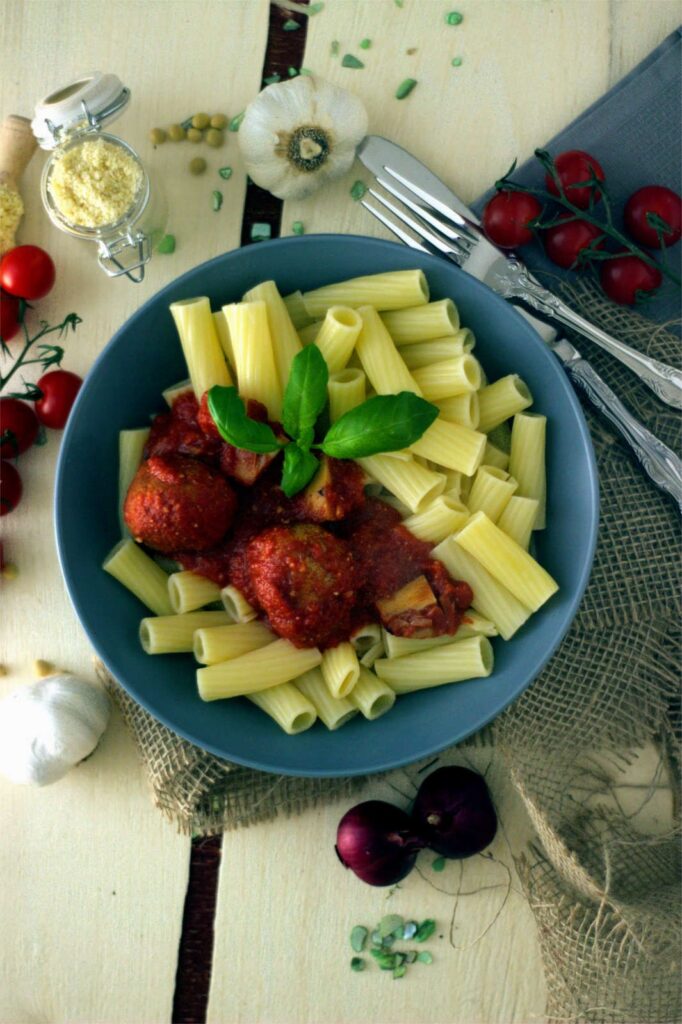 ---
Did you try the recipe?
If you did it, be so nice ♥ and let me know by rating the recipe and writing what you think about it. Tag me on Instagram too. I am @veeatcookbake and my hashtag is #veeatcomforts. So that I can see your creation.
---
Pasta with Jackfruit Goulash and Parmesan Beanballs in a Savory Tomato Sauce
This tasty vegan pasta with parmesan meatballs and goulash does not only taste children, even adults are blown away by the cheesy balls
Recipe type:
Dinner, Lunch, Main Dish, Pasta
Cuisine:
vegan, dairyfree, vegetarian, eggfree, sugarfree, plantbased, opt. glutenfree
Ingredients
Jackfruit Goulash
2 cans Jackfruit in brine
2 tsp paprika powder
1 garlic glove, minced
1 tsp tried thyme
1 tso smoked paprika
¼ tsp mustard powder
2 tbsp Water or olive oil
2 tbsp Soy Sauce
Parmesan MeatBalls
1 can Black beans
250 g mushrooms
1 small Onion
4 Garlic gloves
3 tbsp tomato paste
2 slices of bread, from the day before (glutenfree opt.)
1 cup homemade vegan Parmesan
ggf. Plant Milk
smoked salt,paprika, pepper to taste.
Sauce
800 ml tomato passata
½ onion
3 EL tomato paste
2 tsp Oregano
Salt and Pepper to taste
1 lb Pasta (glutenfree ggf.)
Instructions
Jackfruit Goulash
Drain the Jackfruit and cut off the core and trhow it in trash. Put the soft part in a bowl add all the other ingredients and cobine well.
Let it sit overnight in the fridge. This gives a perfect flavor
Parmesan Balls
Put all ingredients in a food proccessor. Mix until everything is finely cut. It should be pretty dry to shape balls. If it is to wet you can add some flour or some oats. Or add some water if it is to dry.
Shape Balls and fry them in a pan or air fryer until they are brown
Set aside
Sauce
Put a deep pan over medium heat. Add some water or olive oil for frying. Put diced onions in the pan. Fry until they are golden. Add the jackfruit and fry it until they have the desired color. I love them brown fried.
Add the tomato passata, and season with the spices.
You can also add spices I would love in the dish.
Cook the pasta
When it is enough seasoned, let it cook for a couple minutes and add the bean balls.
Is the pasta ready, serve it. We make always a leaf lettuce as a side dish.
---
Join my Mailing List and get a exclusive monthly recipe
---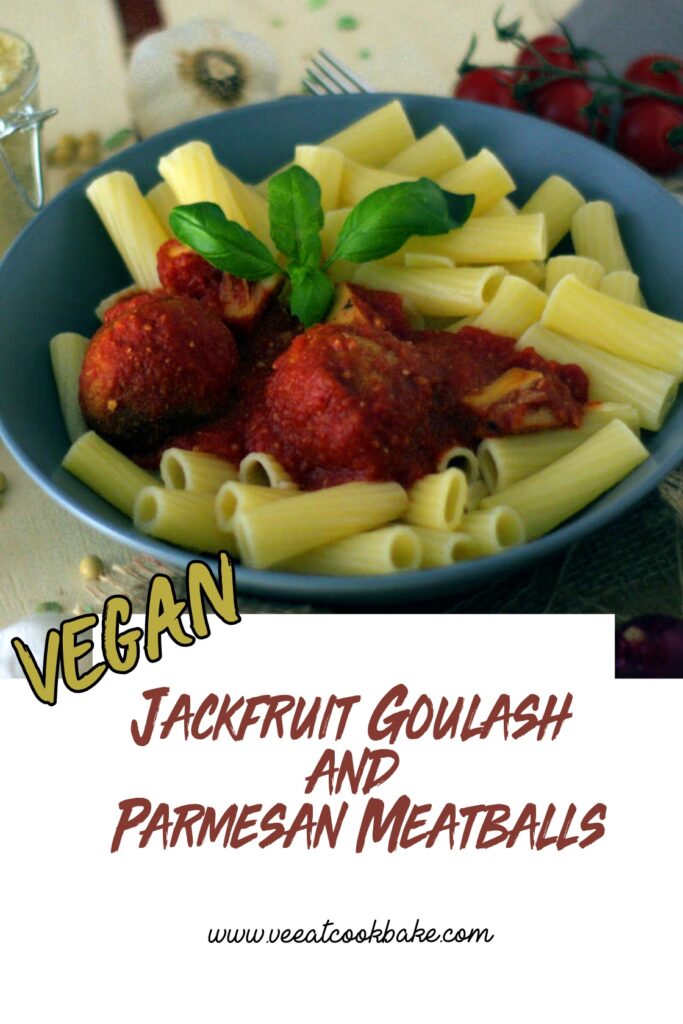 [:]