Vegan marshmallow fluff cake - can you still remember children's birthday parties, where a marshmallow fluff cake couldn't be missed? Now I have exactly the right recipe so that it will not be missed on future children's birthday parties. With the magic ingredient Aquafaba you get an incredibly delicious marshmallow fluff cake. It tastes incredibly delicious and it will not stay with one piece.
vegan | vegetarian | dairy-free | egg-free | oil-free | refined sugar-free

Vegan chocolate chip cake with Aquafaba
Aqufaba - the dripping water of chickpeas is incredibly versatile. As an egg substitute for my glazed tofu, you can also use it like egg whites and you get a kind of vegan marschmallow fluff what you need for this vegan chocolate marschmallow fluff cake? And with this fool-proof recipe, you make children's hearts or even grown-up hearts beat faster. Just keep in mind that you are beating the Aquafaba for a long time and add in the beginning the unrefined sugar. Note when placing the Aquafaba cream on the cake base, either put the spring form ring around the baking pan or a cake ring. Which cake makes your "child's heart" beat faster. Looking forward to read more.
Vegan marshmallow fluff cake with chocolate flakes
So far I haven't found any chocolate flakes in USA. Anf if you do not find chocolate flakes, then I have a great solution for you, so you can still conjure up this vegan marshmallow fluff cake. Take a vegan dark chocolate or vegan milk chocolate. Melt it over a hot water bath and now lay out a baking sheet with baking paper. Now you spread the chocolate very thinly on the baking tray and let it cool completely and let it firm. I usually put them in the fridge or in the basement where it is nice and cool. When the chocolate is firm, you can break it off the baking paper and place it in a bowl. Now you can stir with a fork, the chocolate breaks easily. Please make sure that the chocolate chips are not too small but rather coarse. If you stir them under the cream, they will get slightly smaller.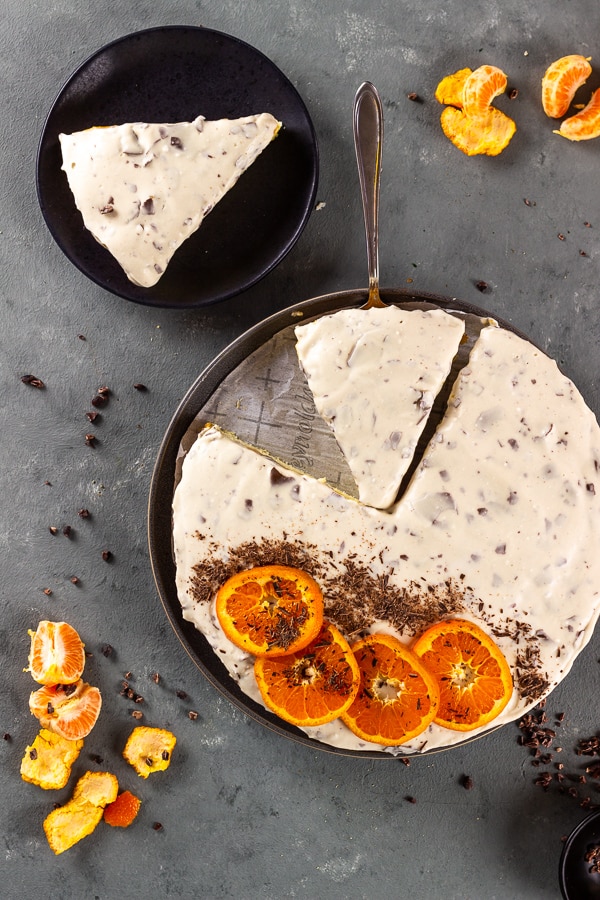 The vegan marshmallow fluff cake is:
not only for children
A childhood memories
A light recipe
A heavenly taste
A total comfort cake
You like such cakes as the vegan marshmallow fluff cake, then look over here quickly:
How about a tangerine quark cream cake? You like cherries then you should definitely try this Snow White cake or the Black Forest cake from my free ebook.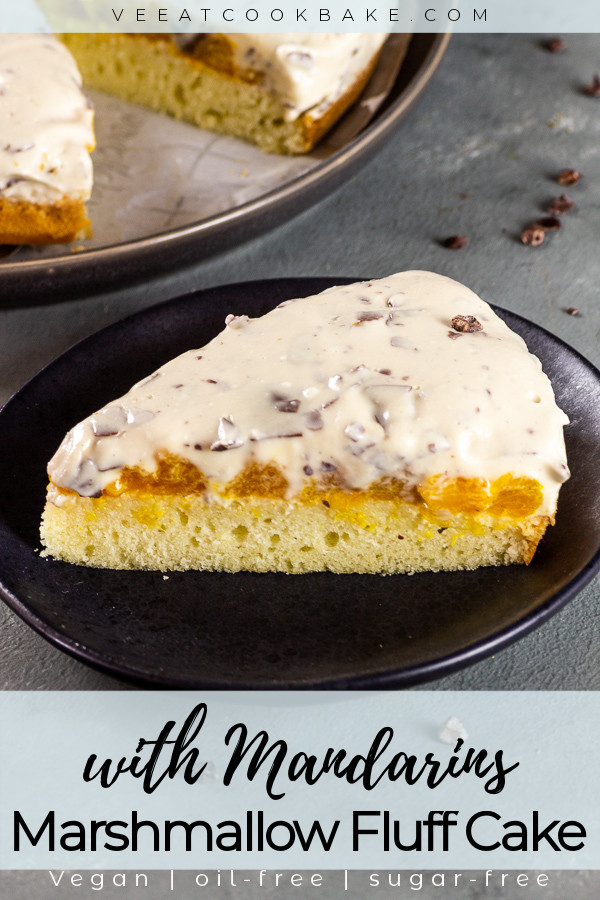 ---
Have you tried the recipe?
If you have, be so nice ♥ and let me know by rating the recipe and writing what you think about it. Tag me on Instagram or Facebook too. I am @veeatcookbake and my hashtag is #veeatcomforts. So that I can see your creation. Did you know you can add photos on Pinterest under the recipe Pin? I can't wait to see a photo of your creation there. You find me with VeeatCookBake. I will share your photos on Instagram and Facebook.
---

This post may contains affiliate links and I may receive a very small commission if you buy through these links at no extra cost. Thank you very much for supporting Ve Eat Cook Bake! More information can be found here.
---
---