This post is also available in: Deutsch
*As an Amazon Associate, I earn from qualifying purchases. This post may contain affiliate links. That means if you click and buy, I may receive a small commission. Please see my full policy.*
The onion tart and federweiser (young wine) time is back. A delicious hearty recipe which is a perfect alternative to pizza for a delicious and quick dinner or lunch. This vegan onion tart does not only taste good in company, for example birthdays. milk-free | plantbased | egg-free | nut-free optional
Vegan Onion Pies: Tradition on my birthday
On my birthday, it has become a tradition that we eat  onion tart and drink Federweiser. Last year was my first vegan birthday and of course  I had to try a vegan onion tart. I would not like to deprive you of this vegan version of the popular German onion tart. I'm still excited about how good this cake tastes. For example, my birthday guests did not notice that it was a vegan onion tart. They even got a good lookup and that makes you even happier, right?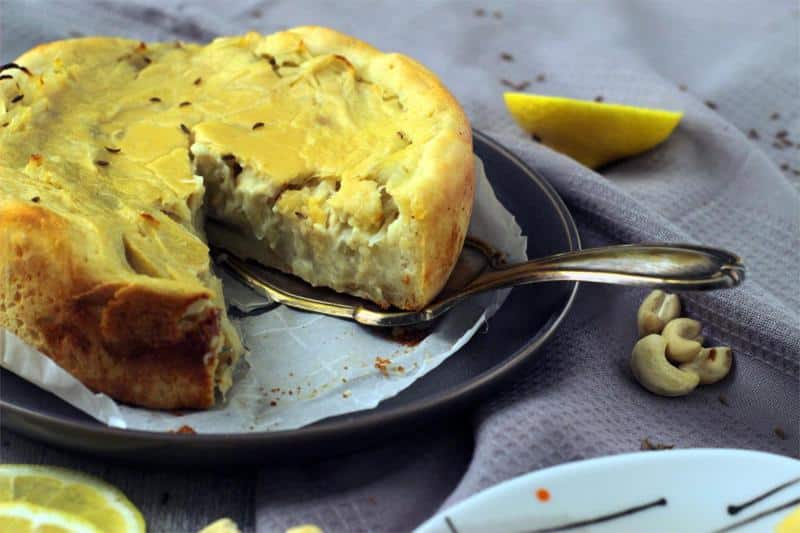 My first birthday in the USA
This year will be my first birthday in the states. But I am lucky my parents are here and I can fully enjoy this day.  I prepared the vegan onion tart a few weeks ago and freezed it until my birthday. And of course we can't miss federweise. I can't buy it here so I will make my own  fresh federweiser from grape juice. In Germany it is tradition to eat onion tart and drink a glass of federweiser or more. 😉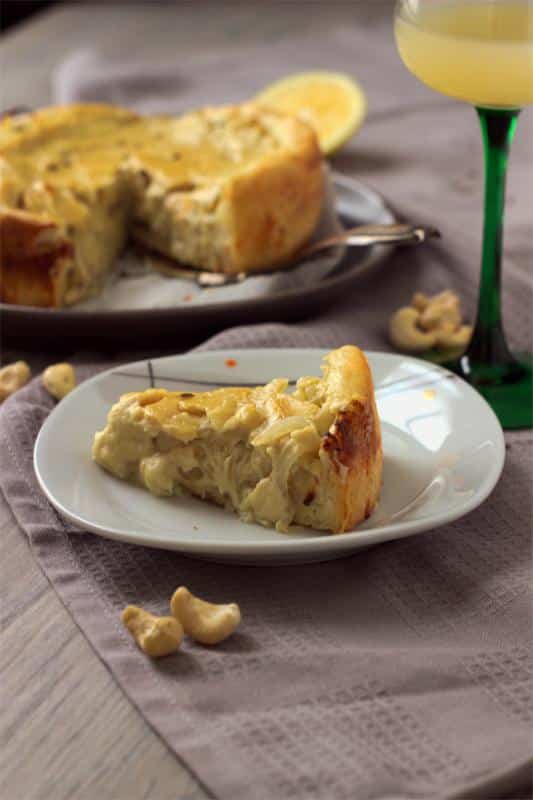 ---
Did you try the recipe?
If you did it, be so nice ♥ and let me know by rating the recipe and writing what you think about it. Tag me on Instagram too. I am @veeatcookbake and my hashtag is #veeatcomforts. So that I can see your creation. Did you know you can add photos on Pinterest under the recipe Pin? I can't wait to see a photo of your creation there. You find me with VeeatCookBake.
---
Onion Tart - vegan - plantbased - dairyfree
My vegan version of onion tart. It does not just taste good during the federweiser season. Here is a healthy alternative to the traditional onion tart.
Recipe type:
Dinner, Lunch, Main Dish
Cuisine:
vegan, plantbased, dairyfree, eggfree
Ingredients
dough
300 ml of water
1 tsp salt
3 tablespoons of oil or water
1 pck of yeast
1 flax - egg (1 tablespoon flaxseed + 4 tablespoons water)
Flour (wholegrain or gf for a gluten-free version) to a homogeneous dough is formed, which dissolves from the bowl
Topping
1.5 kg of onions
a little water or oil for frying
300 g cashews (soaked in water)
250 g of water
160 ml soymilk, unsweetened
Juice of a lemon
2 tablespoons apple cider vinegar
2 teaspoons salt
2 tablespoons of yeast flakes
1 teaspoon garlic powder
2.5 tbsp tapioca starch
120 g silken tofu
Salt, pepper,liquid smoke (optional)
1 shot of white wine (optional)
1 teaspoon cumin seed (whole)
Instructions
dough
For the flaxseed egg pour the flaxseed meal and water 30 minutes before in a bowl and let it stand. The result is a gel-like consistency
Now add all remaining ingredients except the flour.
I start with with 2 cups flour and then add more and more carefully until the dough comes off the edge of the bowl.
Now you can cover the bowl and let it raise. (1-2 hours)
Topping
Add the soaked cashews to your blender. You can discard the soaking water or give it to your plants. Add water and soy milk and mix it in the blender until it is very creamy without pieces,
Squeeze the silken tofu and weigh.
Now add all the other ingredients, except the cumin and the onion, and mix well again. Now you can taste the whole sauce again.
the sauce is ready, put it in the fridge
Now peel the onions and shred them roughly. You can use a hand shredder, KitchenAid accessory or a Food Processor.
Put this in a large pot and simmer with 1 teaspoon of caraway until the oinions are soft
Preheat the oven to 350° F / convection. Now take the dough and divide it into two equal pieces. Roll it evenly on two baking sheets lined with baking paper. Spread the onions evenly on top. Take the sauce out of the fridge. I like to taste it again. If it is spiced enough for you, distribute the sauce evenly on both baking trays.
Push the sheets into the oven and bake them for about 20-30 minutes or until they reach the desired color.
Enjoy the tart with a glass wine or federweiser.
Must haves:
---
Join my Mailing List and get a exclusive monthly recipe + your copie of my eBook
---