We have the perfect recipe for you! This oil-free vegan balsamic salad dressing will not only taste great, but it's also rich in flavor and nutrients.
Get ready to make yourself one of these healthy & delicious green salads with our yummy tasting ingredient today!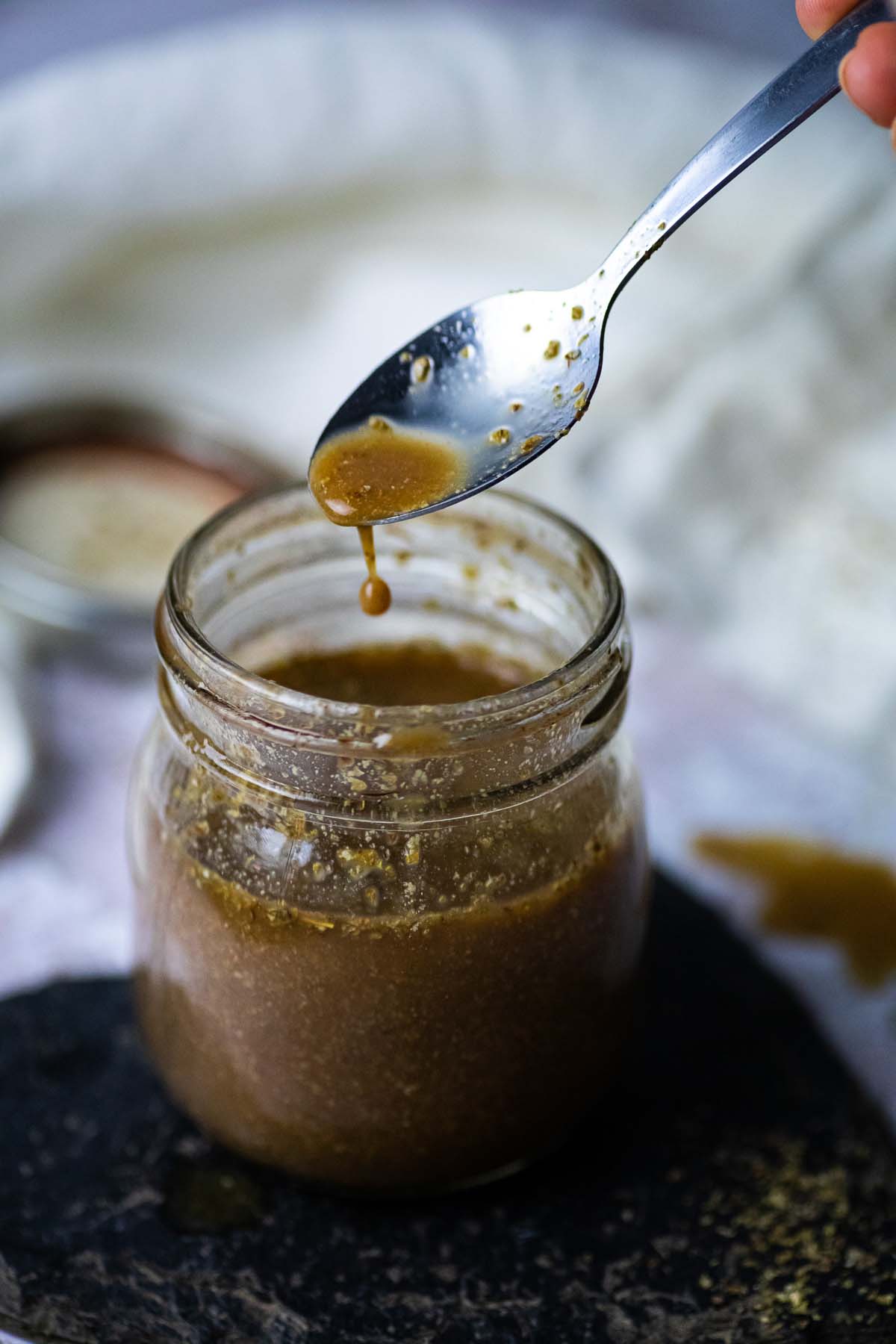 As an Amazon Associate, I earn from qualifying purchases. This post may contain affiliate links. Read More
Jump to:
This delicious oil-free dressing is so easy to make and ready in less than 2 minutes! It's tangy with a hint of sweetness, made from whole foods plant based ingredients.
This nut-free oil free gluten free recipe will be your new favorite way make salads at home or on the go for all occasions - it goes great as a marinade too!.
Balsamic vinegar is a popular ingredient in salad dressings, and for good reason - it's delicious! If you're looking to veganize your favorite dish with some added healthy fats or just want an easy homemade alternative that tastes like the real thing off of shelf then look no further.
This recipe will be sure not disappoint as its super versatile enough can go on anything from sandwiches (I recommend using tortillas), pastas...you name it; even my mom loves this stuff mixed into her iced coffee sometimes 😉
No need to buy commercial salad dressing at the grocery store anymore! You can make your own salad dressing.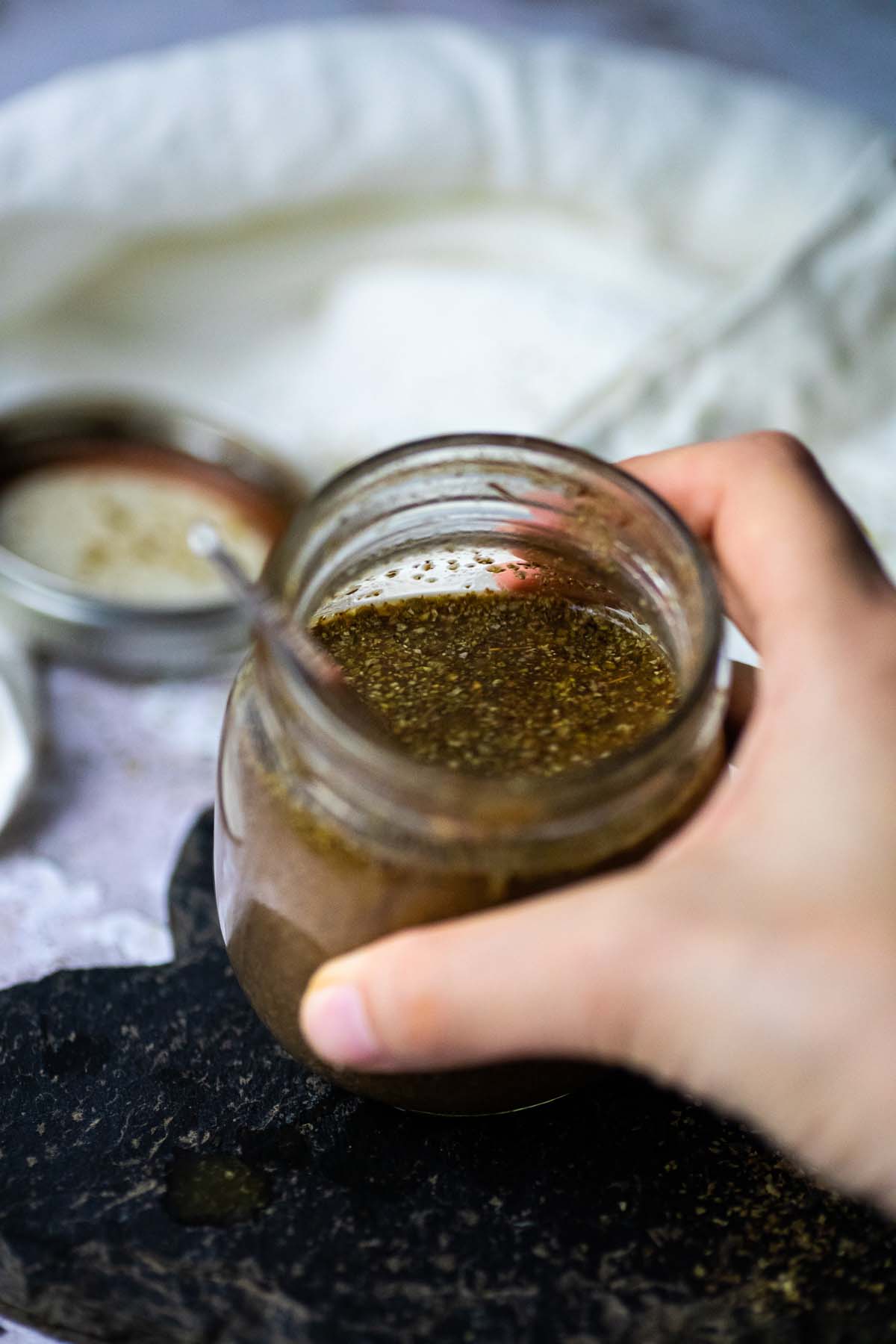 Wondering how to make your own plant-based oil free salad dressing? Good News! In this post we'll show you a vegan balsamic vinaigrette that's easy, delicious and perfect for any salads!
It might be a little thinner consistency but still delicious flavors in this right dressing. Give it try. Let us know what YOU think about the recipe.
This delicious, light salad dressing will have you loving your salads again! It's:
Super easy - just 6 ingredients are needed to make it.
Healthy- without the oil (and often added sugar) in most store bought dressings.
Deliciously flavored; not at all tangy like other homemade versions can sometimes be
customizable too
whole food plant based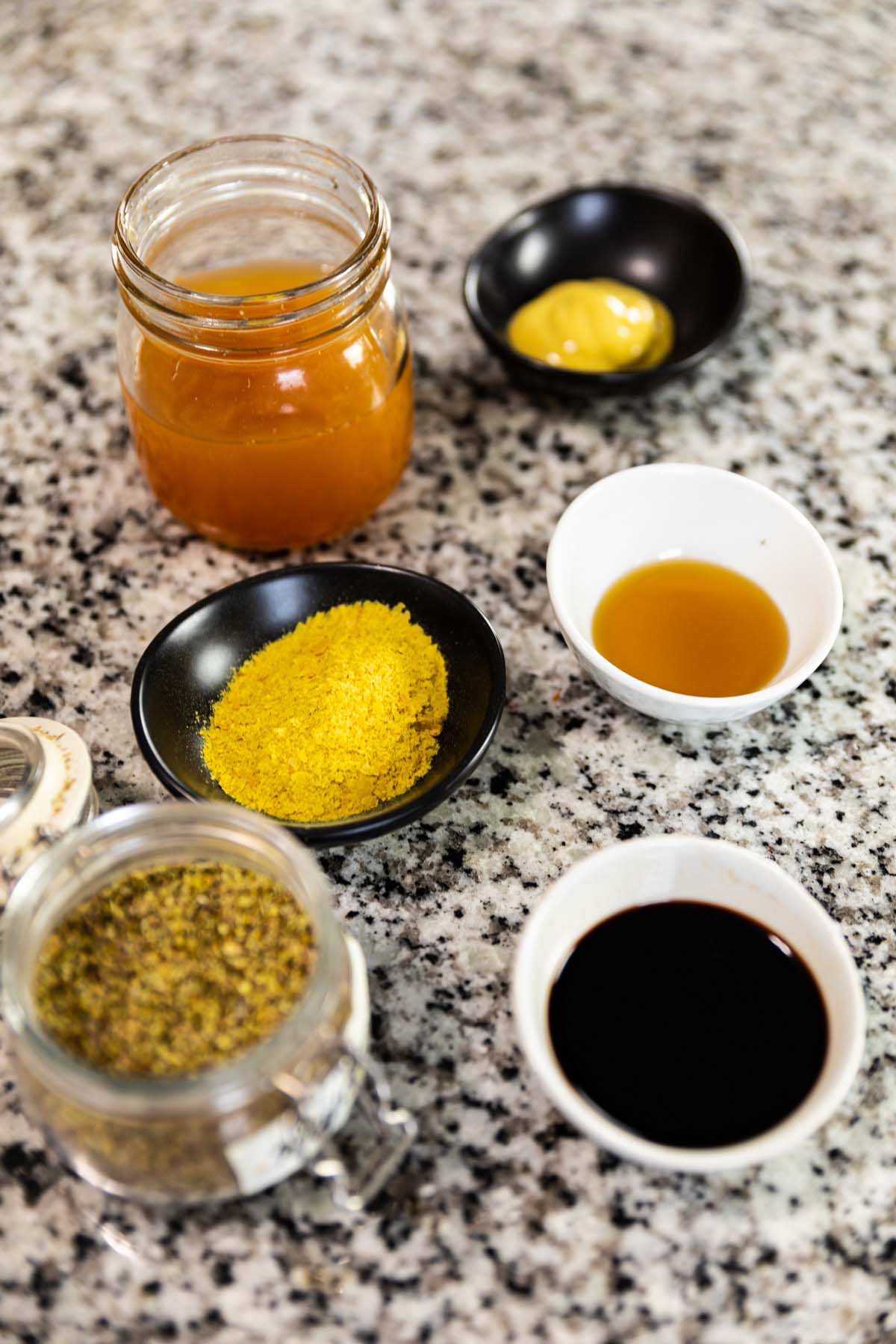 Ingredients List
I just found the best fat free salad dressing recipe and it's so easy! You need some basic ingredients that are sitting in your fridge right now.
And best of all, no high-powered blender or food processor required for this beaut…
Veggie Broth
Balsamico
Maple Syrup
Marjoram
Dijon Mustard
Nutritional Yeast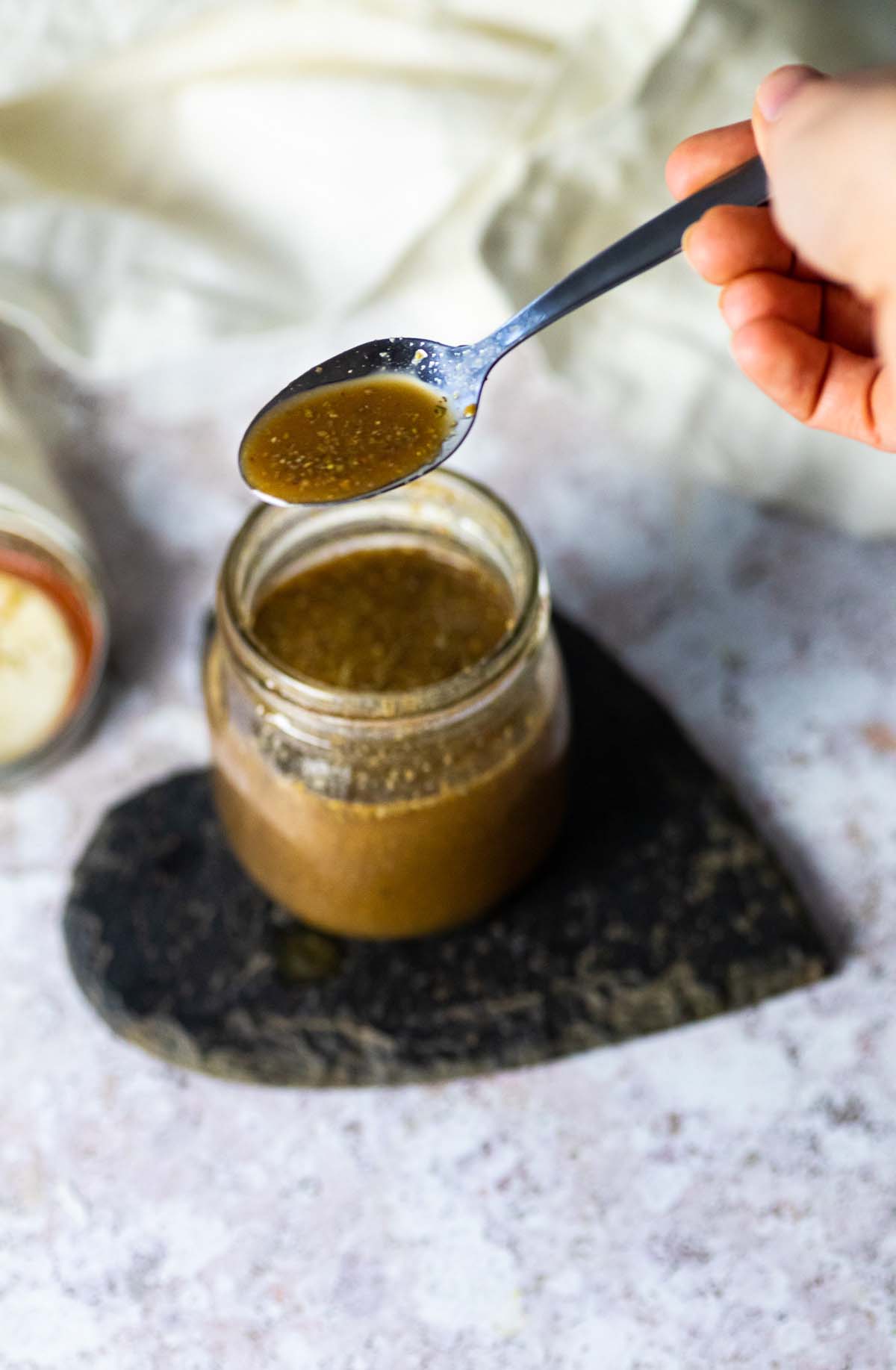 Substitutions and Variations
Vegetable Broth
Instead of vegetable broth you can always add little water.
Vinegar
This recipe is so versatile! You can substitute different types of vinegar to change up the flavor.
Try using white balsamic instead for an interesting twist on your favorite salad dressing or sauce.
You can also use pomegranate, red wine, white wine vinegar or apple cider vinegar as well. Just substitute with the equal amount. You can also add some fresh lemon juice.
Mustard
Let's not forget about the mustard! I personally enjoy Dijon, but brown spicy or even yellow may taste amazing in this dressing as well.
Maple Syrup
Maple syrup is a great addition to this recipe since it adds some sweetness, but if you don't want the added calories and sugars, just leave it out.
You can also substitute it with brown rice syrup, date paste, agave nectar instead! Try out some orange juice, you get an amazing flavor profile with adding some fruit juice.
Herbs
Add optional some fresh basil. Or substitute the marjoram with basil or oregano. You can even add a clove garlic.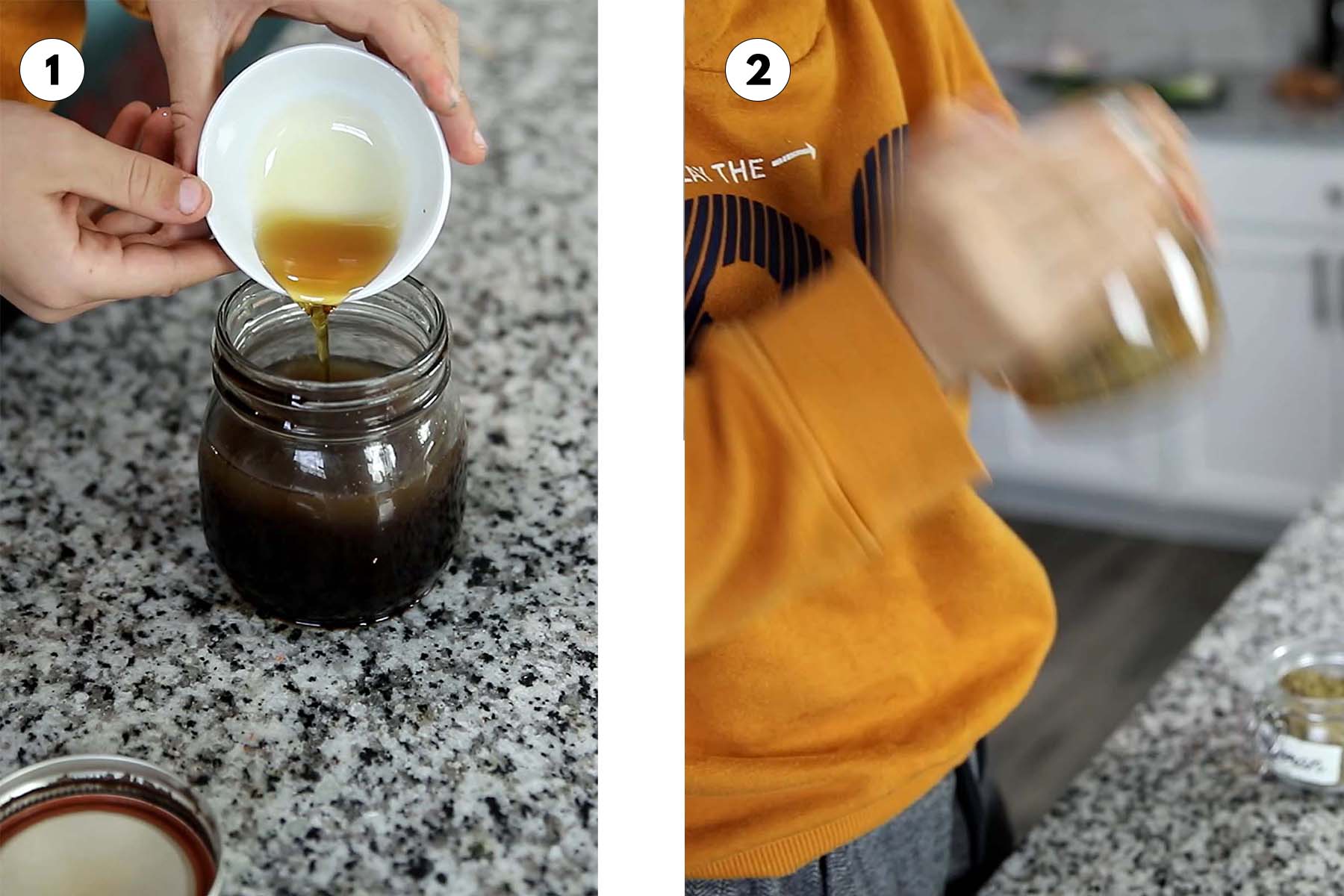 Instructions
How to make an oil free balsamic dressing?
It's easy to make your own. Step 1: Simply add all ingredients to a small jar or airtight container with lid and step 2: shake, shake, shake!
That's it - no seriously, though; that is the only step you need to take.
Prepare in advance
This delicious salad dressing is so easy to make, you can prepare it 1-2 days in advance.
Just store the leftover sauce in a jar and use when needed!
Recommended Equipment
For this recipe you will only need a Jar or Container. Nothing else.
Serving Options
This No Oil Balsamic Salad Dressing is a delicious, healthy ingredient that can be used in many ways.
It'll make your food taste great, and it will give you the confidence to create some fantastic recipes!
You can use leftover dressing in creative ways. Here are some of my favorite uses for this dressing:
Large Salad
Make a large bowl with your favorite leafy greens, lettuce and other vegetables and top it with some raw almonds, sunflower seeds and drizzle this delicious recipe over.
Avocado Lovers can add some diced avocados.
Make a whole foods salad bar with some cutted veggies and add this dressing.
Dipping Sauce
For an unforgettable appetizer, dip crusty bread or rolls in this balsamic dressing as it adds a tasty twist to the traditional.
Marinade
You can use this dressing as a marinade for your favorite protein.
Just place the block or strips of tofu in a bowl and allow it to sit there, getting all dressed up with some good flavor before cooking!
Reduction
You can also heat this No Oil Balsamic Salad Dressing in a sauce pan until it reduces down.
Then, drizzle the dressing over vegetables and proteins for an added boost of flavor!
Saute vegetables
The veggies in this No Oil Balsamic Salad Dressing are just some of the most delicious when sautéed with balsamic vinegar and olive oil.
This dressing will save you from having to use your unhealthy oils, while still adding that signature flavor!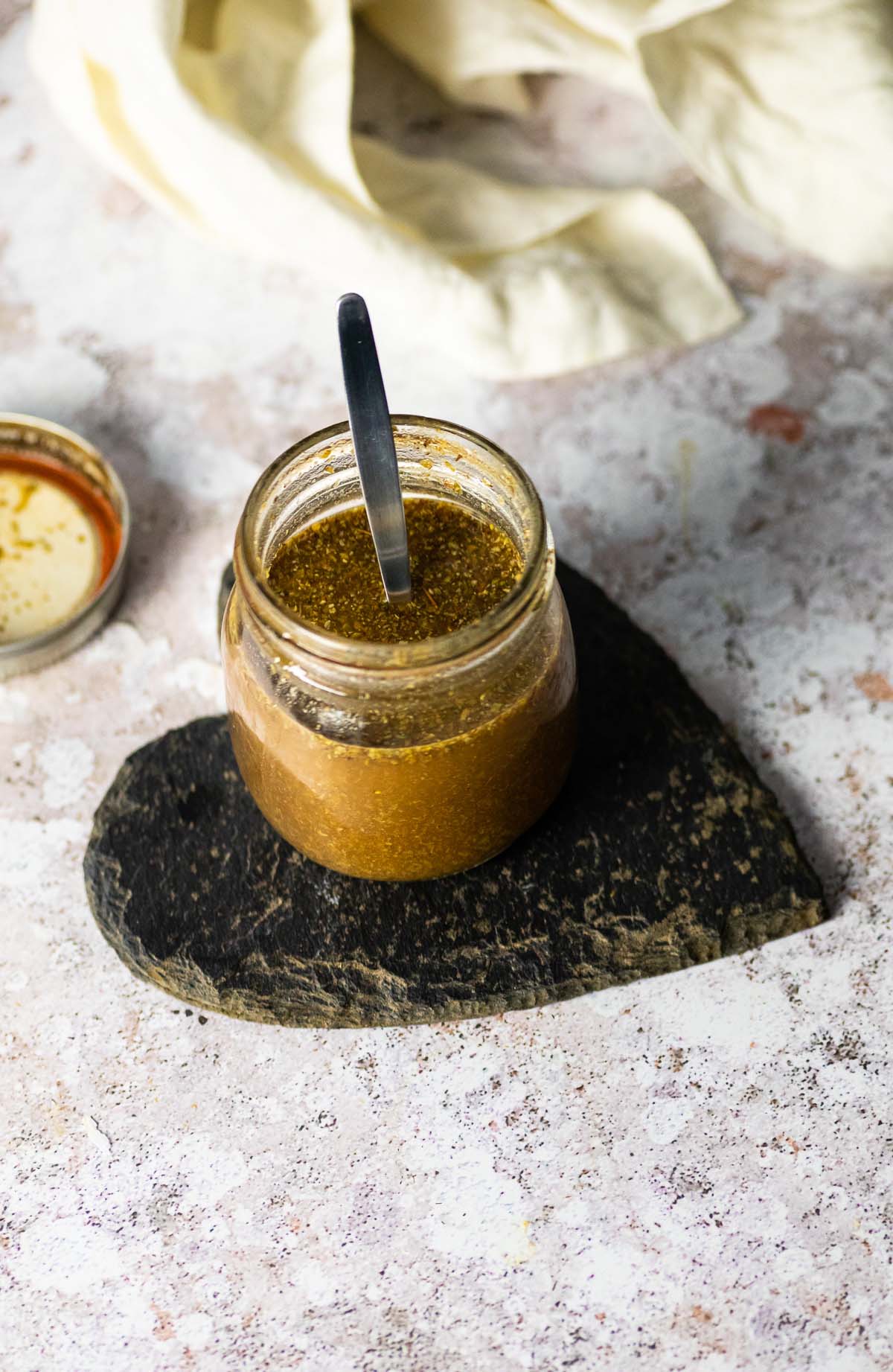 Storage
The best part about this dressing is that you can store it in a mason jar right next to your homemade vinaigrette.
Just make sure to keep the two tightly sealed and refrigerate for up 2 weeks before using!
To use, just shake or mix together well before pouring over salad greens of choice.
Tips
Make it in larger quantities for Meal Prep.
More oil-free Salad Dressing Recipes and Sauces
Ranch Dressing
Red Wine Vinegar Tahini Dressing