This post is also available in: Deutsch
*As an Amazon Associate, I earn from qualifying purchases. This post may contain affiliate links. That means if you click and buy, I may receive a small commission. Please see my full policy.*
Mango Arugula Mushroom Salad is a perfect Summer Salad. The combination with the sweet Mango, the nutty Arugula and the spiced up Mushrooms taste perfect together. vegan | gluten free 
Summer
Finally, the best time of the year for me. We can do a lot of activities outside and relax. Are you feeling also much better when you can do great things outside and the weather is great?
After the spring was rather cold and rainy, we can hope for a nice summer. And the best thing in summer is when there is a lot of fresh vegetables / fruit. And enjoy it with such a great salad like this Mango Arugula Mushroom Salad.
Do you have a garden and grow some veggies or fruits?
At the moment, I can still pilfering a lot in the garden of my parents / aunt or enjoy it with homemade jam / canned beets. Unfortunately, this comes to an end soon. For example, I can take the delicious, spicy, slightly nutty arugula from my aunt's garden. Personally, I like this much much better than the purchased one.
What do you grow in your garden? Or you do not have yet but you would like to grow fruit / vegetables. Which variety should not be missing?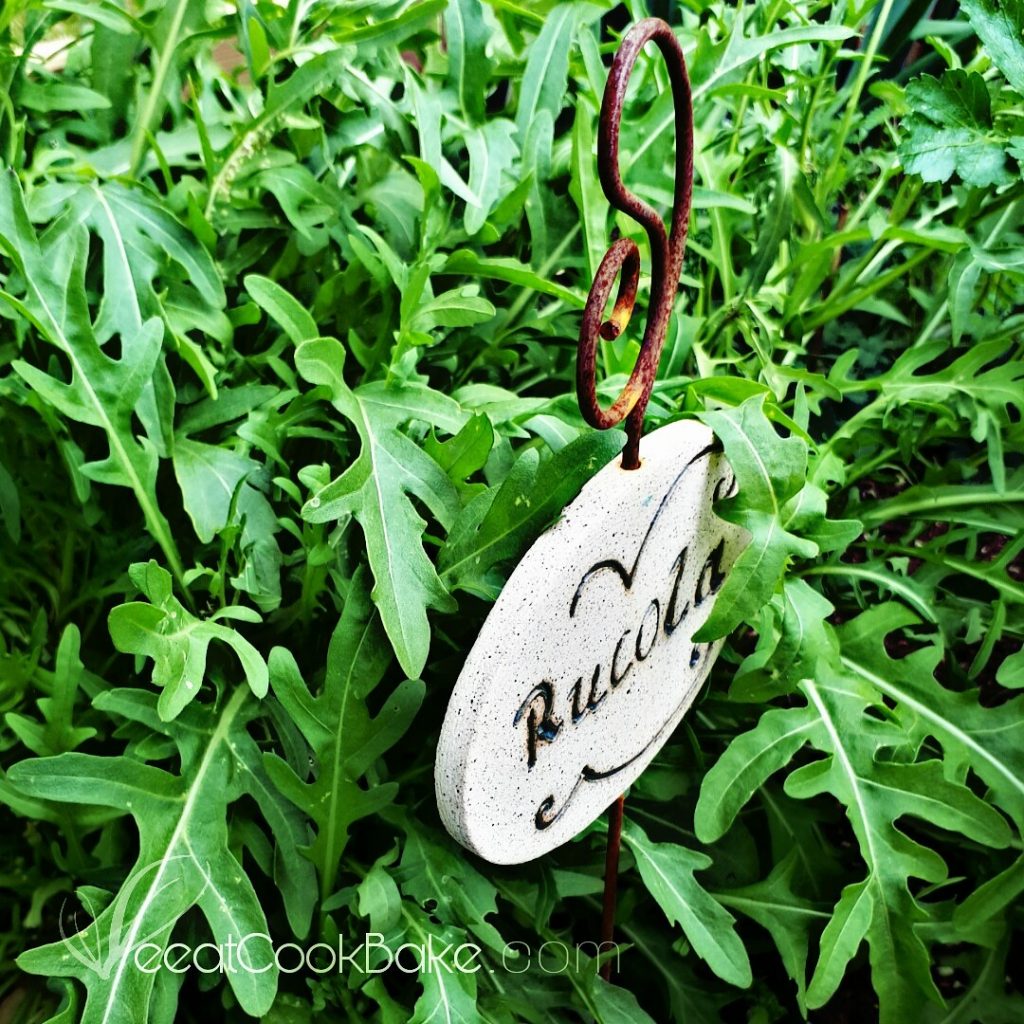 Rucola – where does the sharpness come from? And usage…
Have you already asked yourself, where the light sharpness in the rocket comes from. Arugola (rocket) contains, among other things, mustard oil, which provides a sharp taste. From April to November, you can use rucola as a salad, pizza, risotto or pasta dish. If you are not lucky like me and can pick this fresh, then be careful when buying. Buy just  strong green and undamaged leaves. If the arugula is blooming, then the leaves taste too bitter to use. When preparing, dispose of the stems, which contain a lot of nitrate, which is converted into dangerous nitrite during digestion.
Not only a hit also healthy
Senf oils can protect against infections and diseases (like cancer)
High iodine content (especially recommended for thyroid function)
Beta-carotene
folic acid
iron
potassium
Vitamin C
Has a digestive and dehydrating effect
What is your favorite dish with rocket (arugula)?
Mango
Unfortunately, no mango is cultivated in our latitudes. The refreshing sweet fruit not only tastes good as a snack but also in various dishes and is very healthy:
Used as a remedy. The following is said about mango:

 has a soothing effect on intestines
stops bleeding
Strengthens the heart
Preventing colds and infections
Nutrients

potassium
calcium
magnesium
Vitamin C
Vitamin A
Vitamin B1
Doesn't this Mango Arugula Mushroom Salad sounds perfext now?
Mushrooms a vitamin D supplier
It is a well-known fact that we absorb vitamin through solar radiation over the skin. This also applies to mushrooms. Mushrooms (cooked) contain 2.15 μg per 100 g. For this, you can simply place the mushrooms in the sun even after the harvest. So why not adding them to this Mango Arugula Mushroom Salad.
---
Did you try the recipe?
If you did it, be so nice ♥ and let me know by rating the recipe and writing what you think about it. Tag me on Instagram too. I am @veeatcookbake and my hashtag is #veeatcomforts. So that I can see your creation. Did you know you can add photos on Pinterest under the recipe Pin? I can't wait to see a photo of your creation there. You find me with VeeatCookBake.
---
Summer Salad Mango, Arugola with fried mushrooms
This delicious summer salad is refreshing and sweet. Spicy rucola suits perfectly to sweet mango. From these two ingredients, we can conjure up a sweet, refreshing salad.
Ingredients
1 bunch of rucola
1 mango
200 grams of mushrooms
1 handful of pine nuts
1 handful of cherry tomatoes
salt
pepper
Some olive oil for frying (optional)
Instructions
Roast the pine nuts (without oil) and put aside.
Wash the mushrooms and cut into slices. For this I like to use an egg cutter. Champignons, So you have perfectly sliced mushrooms with less effort
Fry these in a pan and taste with salt, pepper and paprika
Wash the arugola and cut the stems off
Peel the mango and cut into cubes.
Now you can put all on a plate.Arugola, tomatoes, mango. Sprinkle with balsamic vinegar. Add the mushrooms and pine nuts.
I use:
---
Join my Mailing List and get a exclusive monthly recipe
---