Vegan green bean soup with homemade, bold vegetable broth. This indescribably tasty green bean stew gets its unique flavor thanks to the aromatic vegetable broth, which we make in no time with fresh vegetables such as carrots, celery root (celeriac) and leeks.
Serve with plum cake or pancakes.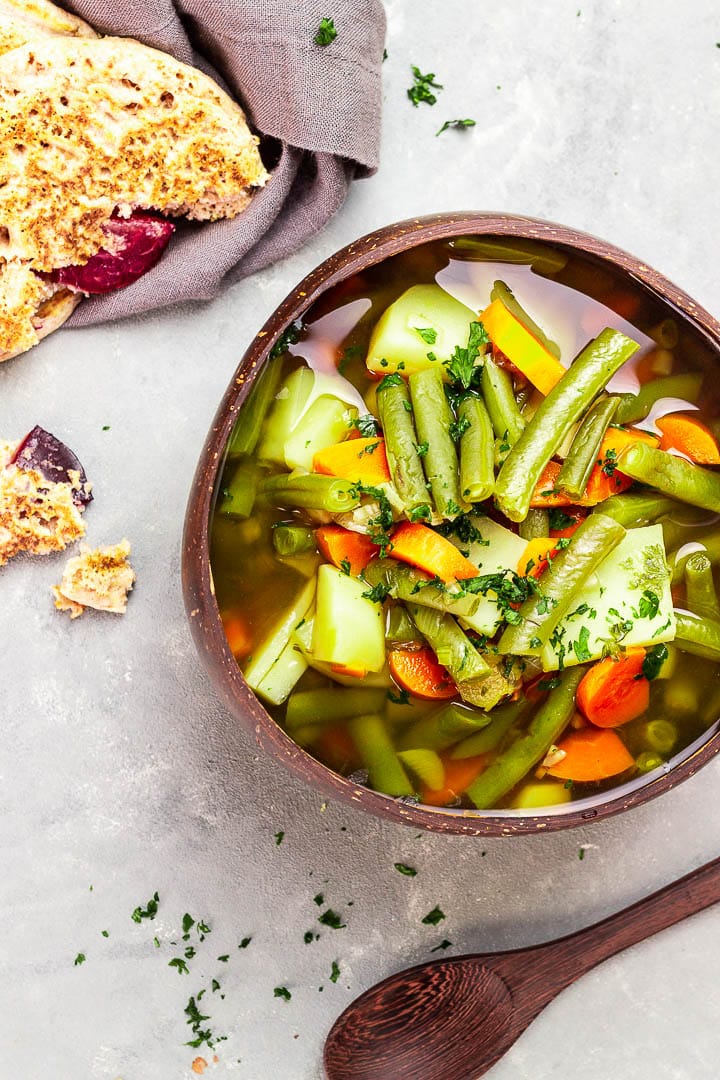 Do you love green beans too and are you always looking forward to new dishes that you can try? Then you should definitely try this delicious vegan potato green bean soup.
You can not taste that beef or bacon are missing. On the contrary, thanks to spices this bean soup tastes like grandma's green bean soup.
Fun Fact : did you know that 1 cup green beans have 8 g protein. So this soup is a protein rich soup without harming any animals.
Which ingredients do I need for a vegan green bean soup?
Here is a short overview of what you need to prepare a delicious string bean soup. Most of the ingredients, you may have in your pantry. This homemade bean soup is made without pork, soup meat, beef or bacon. This makes the soup more budget - friendly.
Green Beans

Potatoes
Celery Root
Leeks
Carrots
Bunch Parsley
Onion
Savory
Water
Apple Cider Vinegar
Liquid Smoke - optional-
Salt and Pepper
How to prepare vegan green bean soup?
We start with a strong vegetable broth. We take the vegetables except the beans and potatoes and fry them in water.
We add more water until the vegetables are slightly brown. That's how we get the taste right.
Then we pour the vegetables into water. Here you can already recognize the typical vegetable broth color, slightly yellowish brownish. Now we add the beans and potatoes and let it boil until they are soft and cooked through.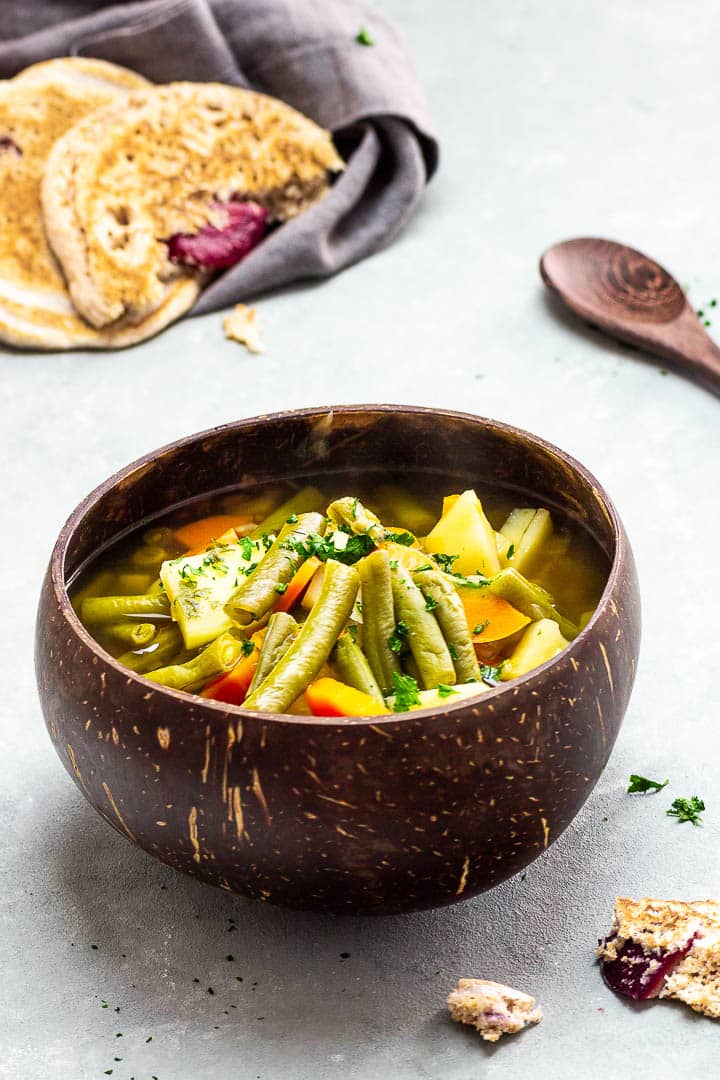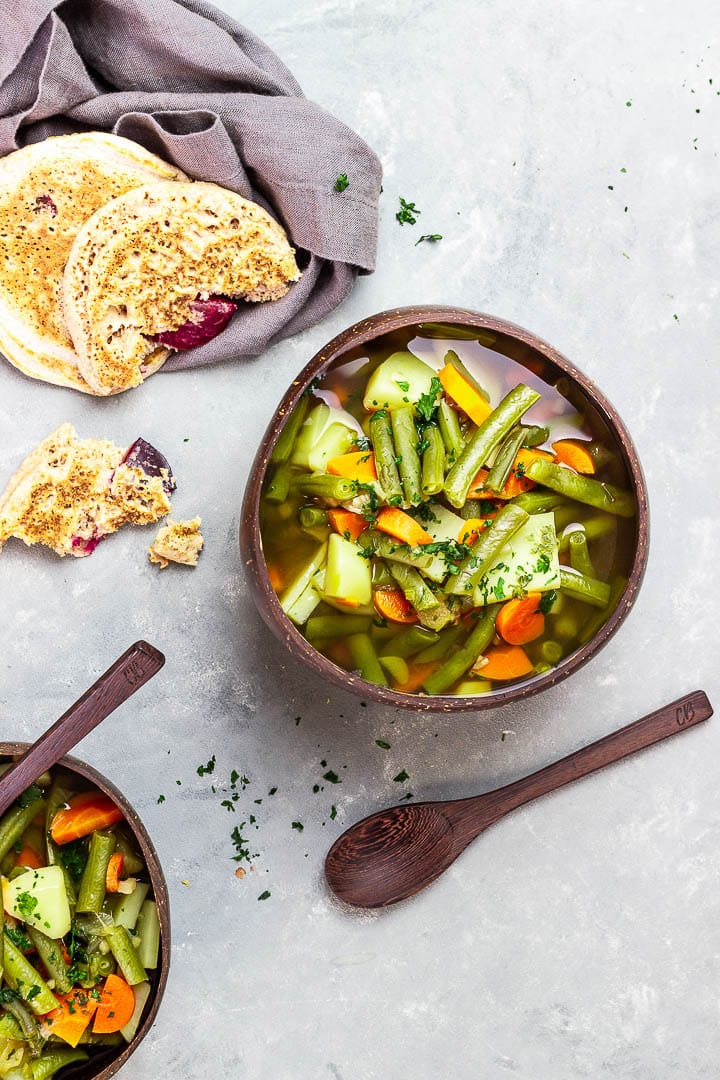 What if I do not have time to cook a strong vegetable broth for the vegan green bean soup?
You can also use store bought vegetable broth. However, it depends on the brand as to how it will taste.
You can also, if the vegetable broth for the vegan green bean soup is not strong enough, just reduce the broth under heat or season it more.
Can I use frozen, fresh or canned green beans?
I like to use fresh or frozen green beans. These give the best taste in my opinion and you can cook them the way you like them best.
Fresh and frozen beans take about 10-15 minutes, depending on how soft or firm you want them to be.
If you want to use fresh green beans, you can also blanch them briefly. So the great green color remains. And with fresh beans you have to do one more step, wash and cut them.
You are now under time pressure. If you do not have a lot of time and still want to cook this delicious soup, then of course you can go back to canned green beans.
Please note that the beans are heated only for 2-3 minutes, as they are already cooked
Can I freeze the vegan green bean soup?
The green bean soup is even great for freezing. We often have something left and then freeze it. Please make sure that the soup is cooled down before putting it in the freezer.
Can I keep the vegan green bean soup in the fridge?
If you want to eat the soup within a few days, I recommend keeping the soup in the fridge.
What can I serve with the green bean soup?
In my hometown you eat plum cake and green bean soup together. Are you familiar with this combination? If not, you should definitely try it. If you do not know this combination, what do you serve usually with such a soup?
I would love to read from you below. However, if we do not have time to make a plum cake, I will whip up a quick pancake dough and add some diced plums.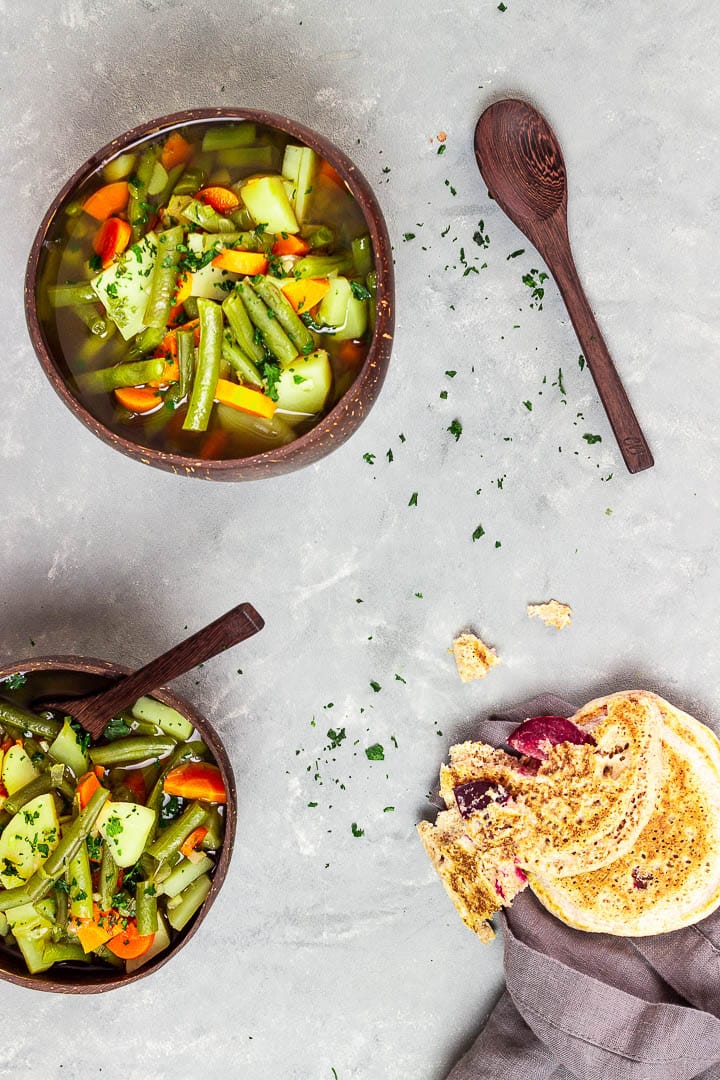 What else could I like if I like this soup?
Where does the green bean soup come from?
The first bean soup recipe was probably from around 1430 by a German cook named Johannes Bockenheim and was found in a latin text.
Do not forget to Pin on Pinterest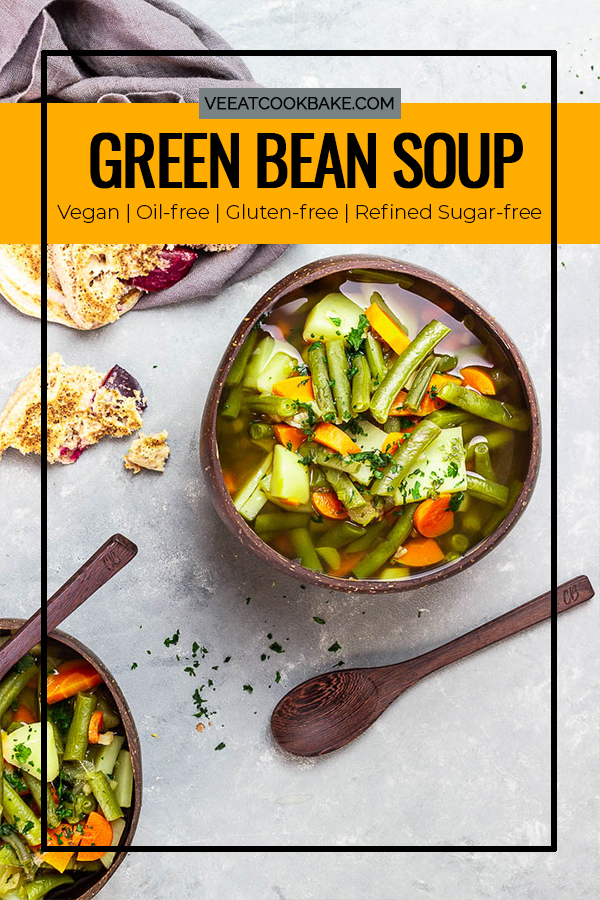 Have you tried the recipe?
If you tried the vegan green bean soup, be so nice ♥ and let me know by rating the recipe and writing what you think about it in the comments. Tag me on Instagram too.
I am @veeatcookbake and my hashtag is #veeatcookbake. So that I can see your creation. Did you know you can add photos on Pinterest under the recipe Pin? I can't wait to see a photo of your creation there.
You find me with @veeatcookbake. I also would love to hear your feedback so I can share it on my social media channels.

This post may contains affiliate links and I may receive a very small commission if you buy through these links at no extra cost. Thank you very much for supporting Ve Eat Cook Bake! More information can be found here.
---