Homemade vegan croissants filled with chocolate without butter. You only need 2 ingredients to conjure up these flaky croissants. Enjoy the pain au chocolate as breakfast, brunch or snack.
Perfect for your next vegan Sunday breakfast. These are prepared in just 5 minutes and baked deliciously crispy in your oven.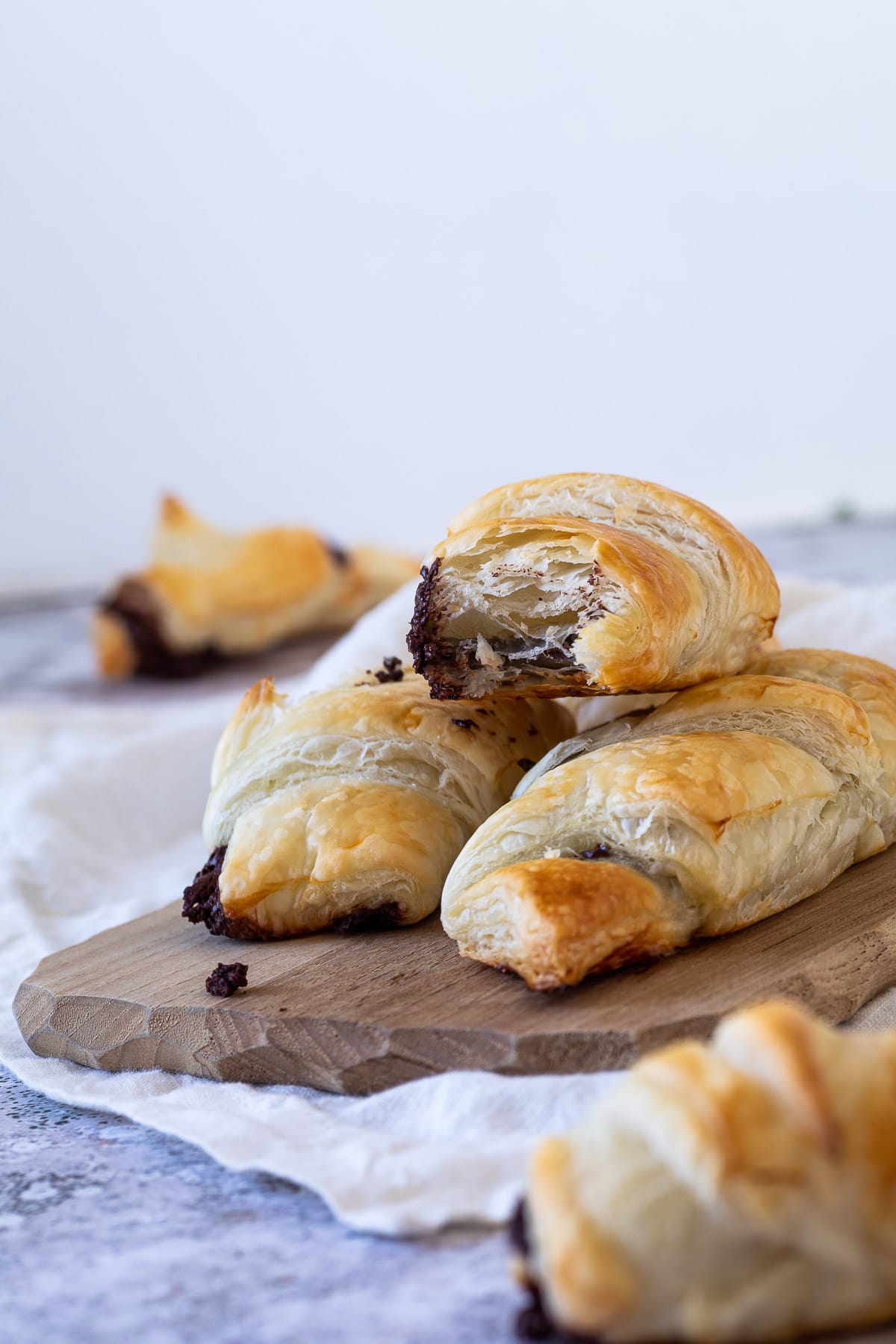 As an Amazon Associate, I earn from qualifying purchases. This post may contain affiliate links. Read More
Jump to:
Thanks to the puff pastry, these will be so incredibly delicious. If you don't want to use puff pastry, you can use a yeast dough for tender croissants.
For the chocolate I like to use a dark chocolate with at least 70% chocolate. 90% chocolate is even better.
I like to prepare these as a small reward, treat and snack for in between. Prepared super quickly and can also be used as a dessert. Especially when you make mini croissants.
Ingredients
Here I would like to briefly list for you what we need for these plant-based chocolate croissants. The exact quantities can be found below in the recipe card.
Puff Pastry or dough for crescents
Chocolate
Aquafaba (opt)
Substitutions
Puff Pastry
I like to use puff pastry for the croissants.
I'm working on an oil-free puff pastry recipe. You can use homemade whole wheat flour, or you can use purchased flour. Most of the puff pastry you buy is made without butter.
Make sure you check the ingredients list again.
For my carrots in a blanket, I used homemade crescent dough that you can also use.
This dough is super soft and rises wonderfully. The yeast dough is like crescent dough that you can buy in stores. And the best thing about this version is wfpb friendly.
Chocolate
So that these vegan chocolate croissants don't get boring, just use your favorite chocolate.
So far I have used plain dark chocolate or vegan nougat chocolate so that you can make a vegan nougat croissant.
I like to use 70-90% chocolate for dark chocolate.
I can also well imagine that a chocolate pudding tastes very good with it.
Aquafaba
If you don't have Aquafaba on hand and don't want to open a can of chickpeas, you can also use a vegan milk alternative and brush it on.
You can also omit the brushing completely, but it could be that they do not turn out as golden as mine.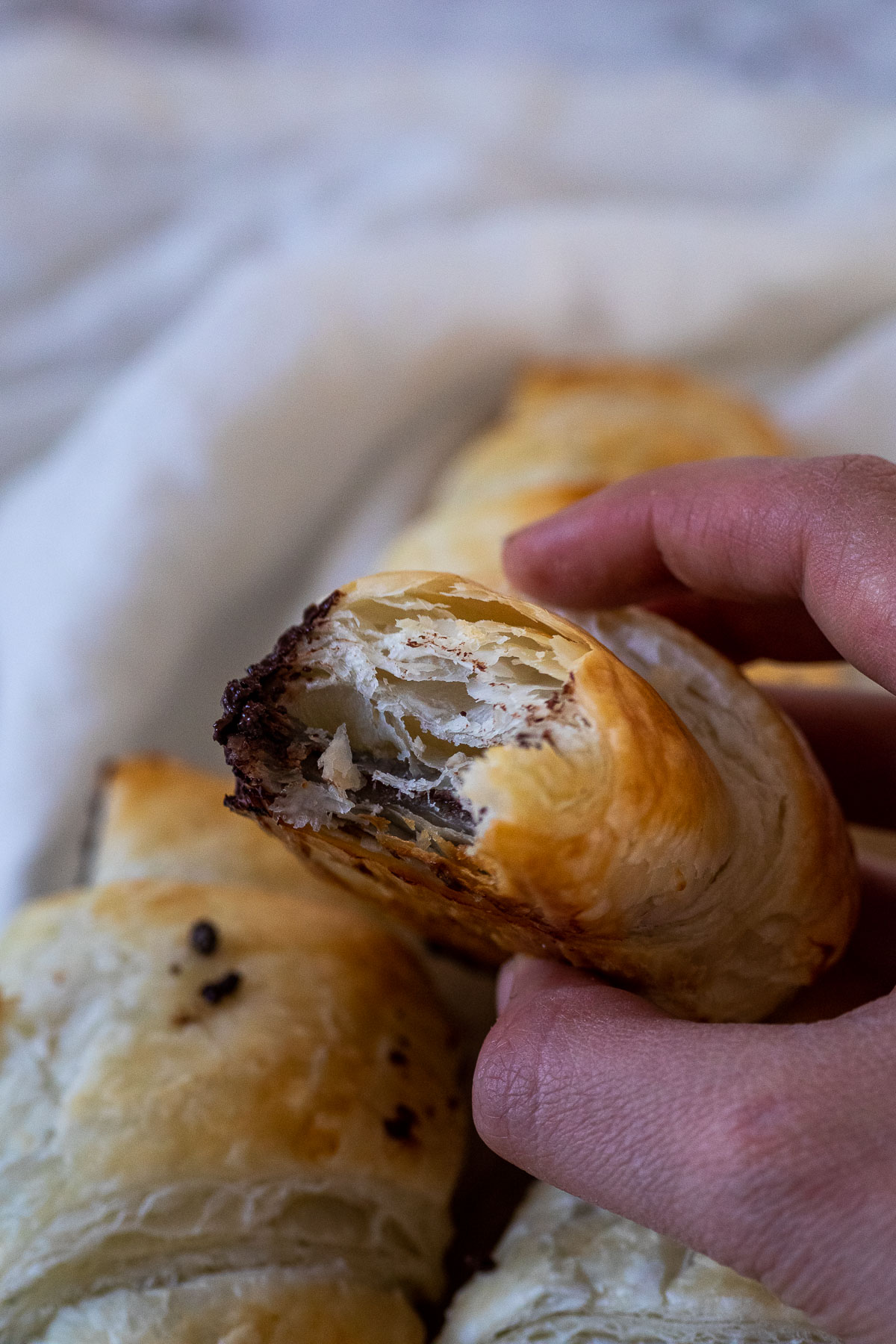 Variations
Let's take a look at how you can customize the croissants.
Sugar free
If you want to make a sugar-free vegan chocolate croissant, I recommend you make the puff pastry yourself and use chocolate pudding or chocolate dates instead of chocolate.
Nut free
Again, pay attention to the list of ingredients for the chocolate and puff pastry. Most puff pastries are nut free.
Gluten free
You will need to use gluten-free puff pastry for this. You might find one in the supermarket.
I haven't found one yet and can't give you a recommendation for a gluten-free dough here.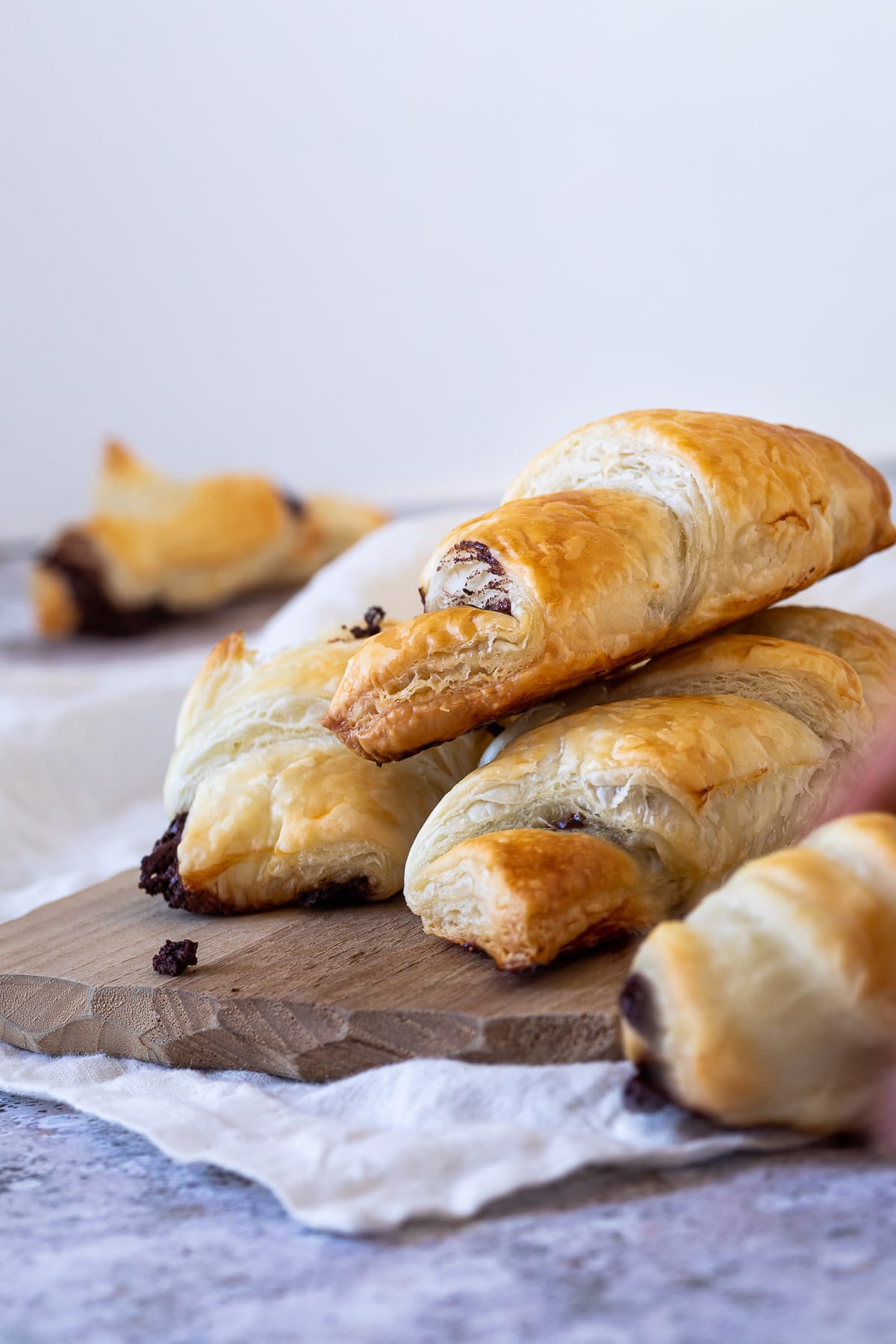 Instruction
Preheat the oven to 400°F (200°C). Now take the thinly rolled out puff pastry and cut it into oblong triangles. You can cut small or large.
Now place a strip of chocolate on the wide edge and roll up the triangle.
You can now place the finished croissants on a baking sheet lined with parchment paper. If you want, you can coat the croissants with Aquafaba.
Now bake the croissants for about 20 minutes or until they are golden brown.
Prepare in advance
I like the croissants best freshly baked. They don't take long, and you can quickly bake them fresh in the morning.
You can prepare the croissants, cut and roll them up and then store them in the refrigerator and simply bake them fresh the next morning.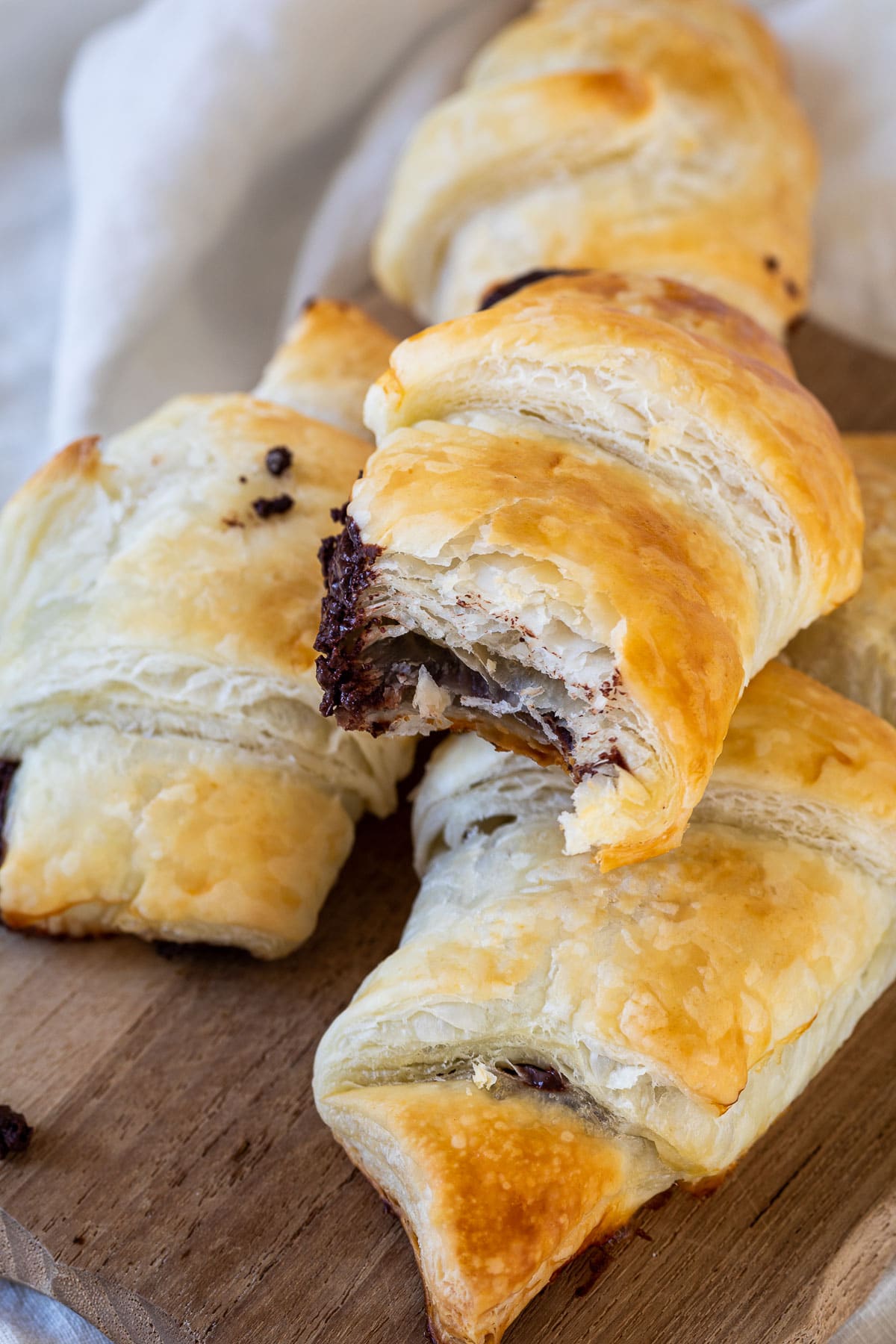 Recommended Equipment
You won't need much for the croissants. A baking tray, knife and a pastry brush.
Serving Options
Let's take a look at when you can serve these delicious chocolate croissants. Here are a few examples:
Breakfast Buffet
Sunday Breakfast
Brunch
Snack
Dessert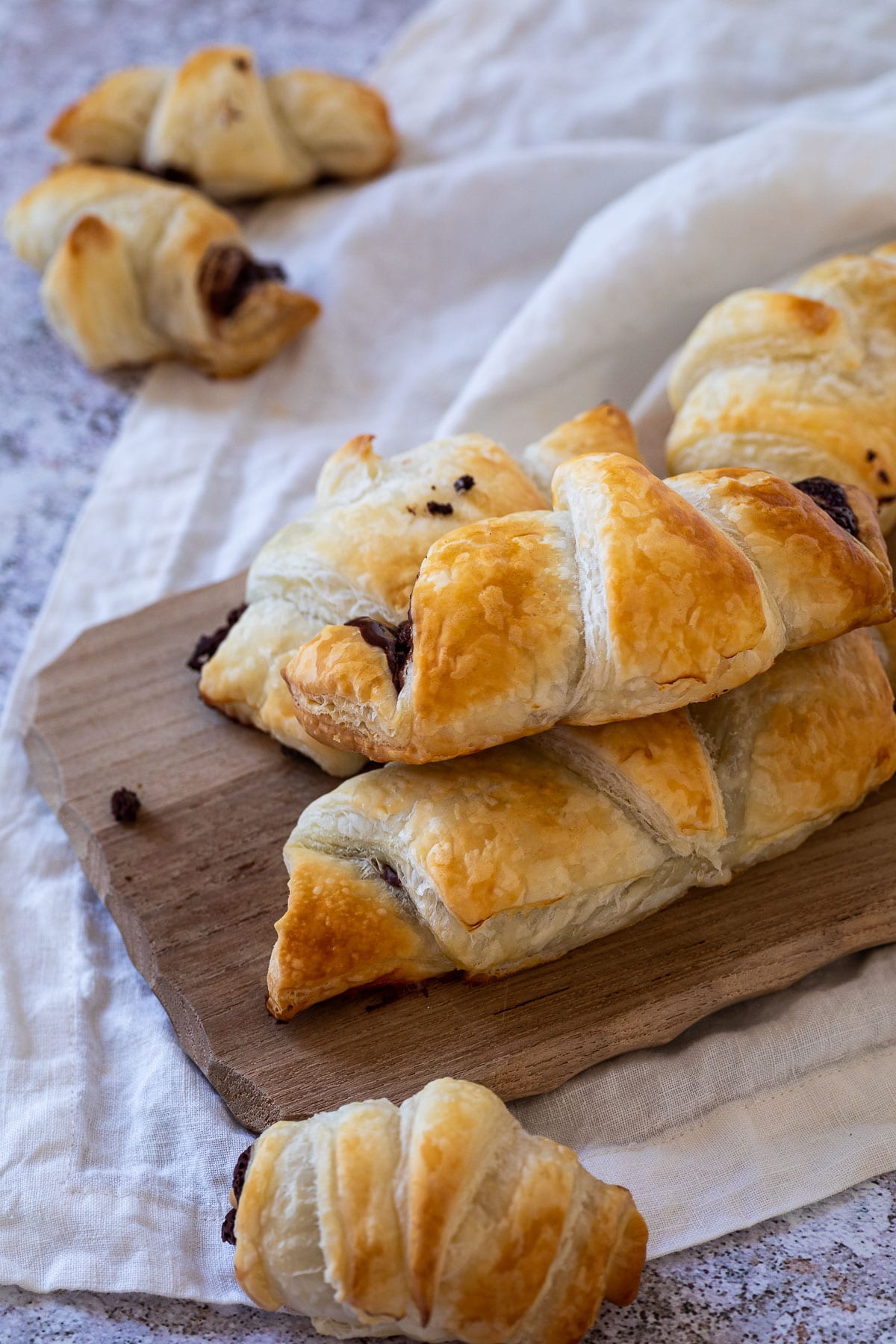 Different Fillings:
Vanilla Pudding
Chocolate Pudding
Date Butter with Cocoa Powder
Storage
Did you bake the croissants but now have some left over? No problem here, I'll show you how to best store them.
How to refrigerate it?
These can be kept in the refrigerator for approx. 4-5 days. I recommend you to bake them again shortly before serving. They taste like freshly baked.
How to freeze it?
These can be frozen very well and simply baked again before serving.
In an airtight container, they will keep for about 4 months.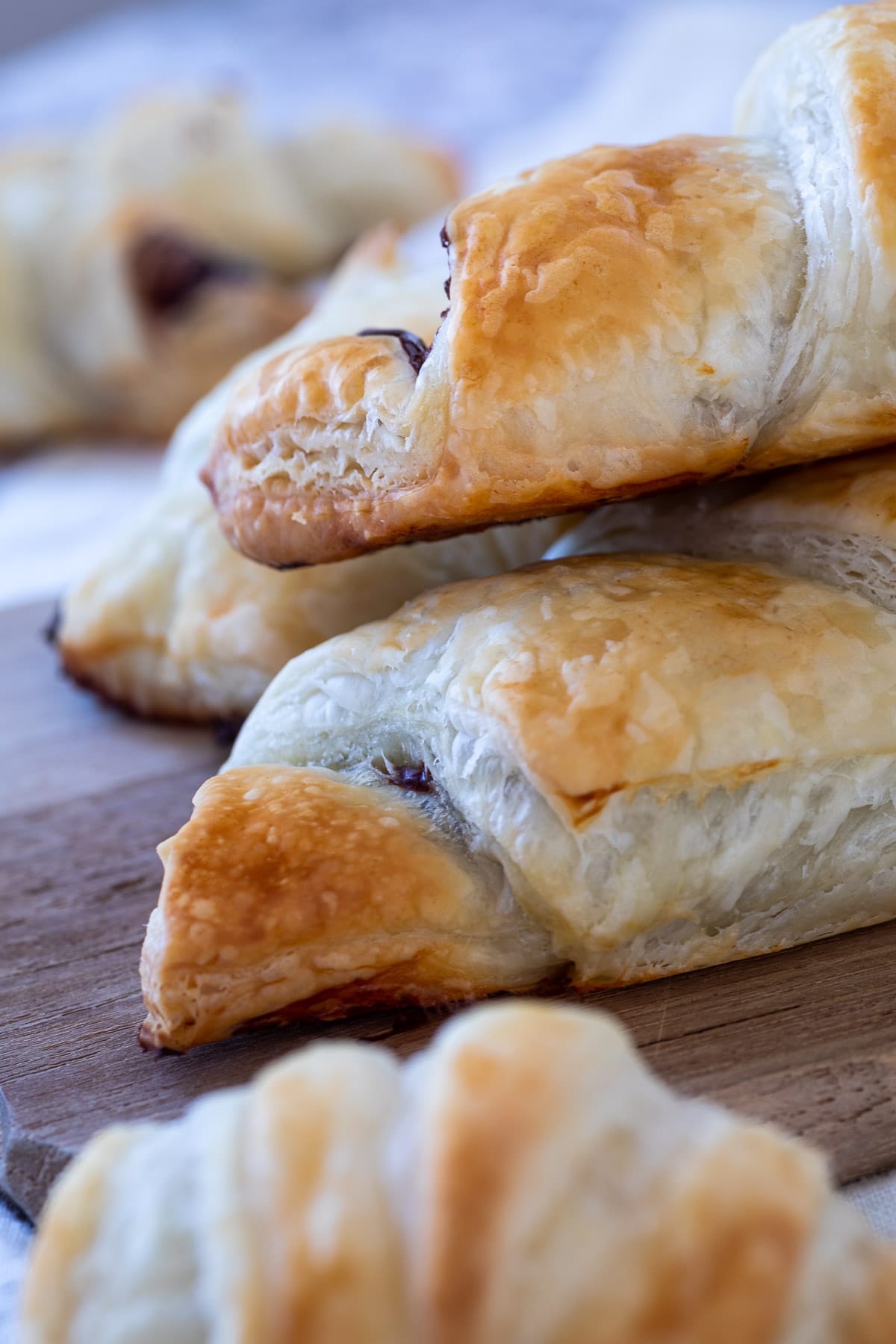 Tips
If you are using a frozen puff pastry, let it thaw in the refrigerator overnight.
If you eat chickpeas regularly, just keep the aquafaba in a can in the refrigerator. So you always have some there to spread pastries or for other recipes.
More vegan recipes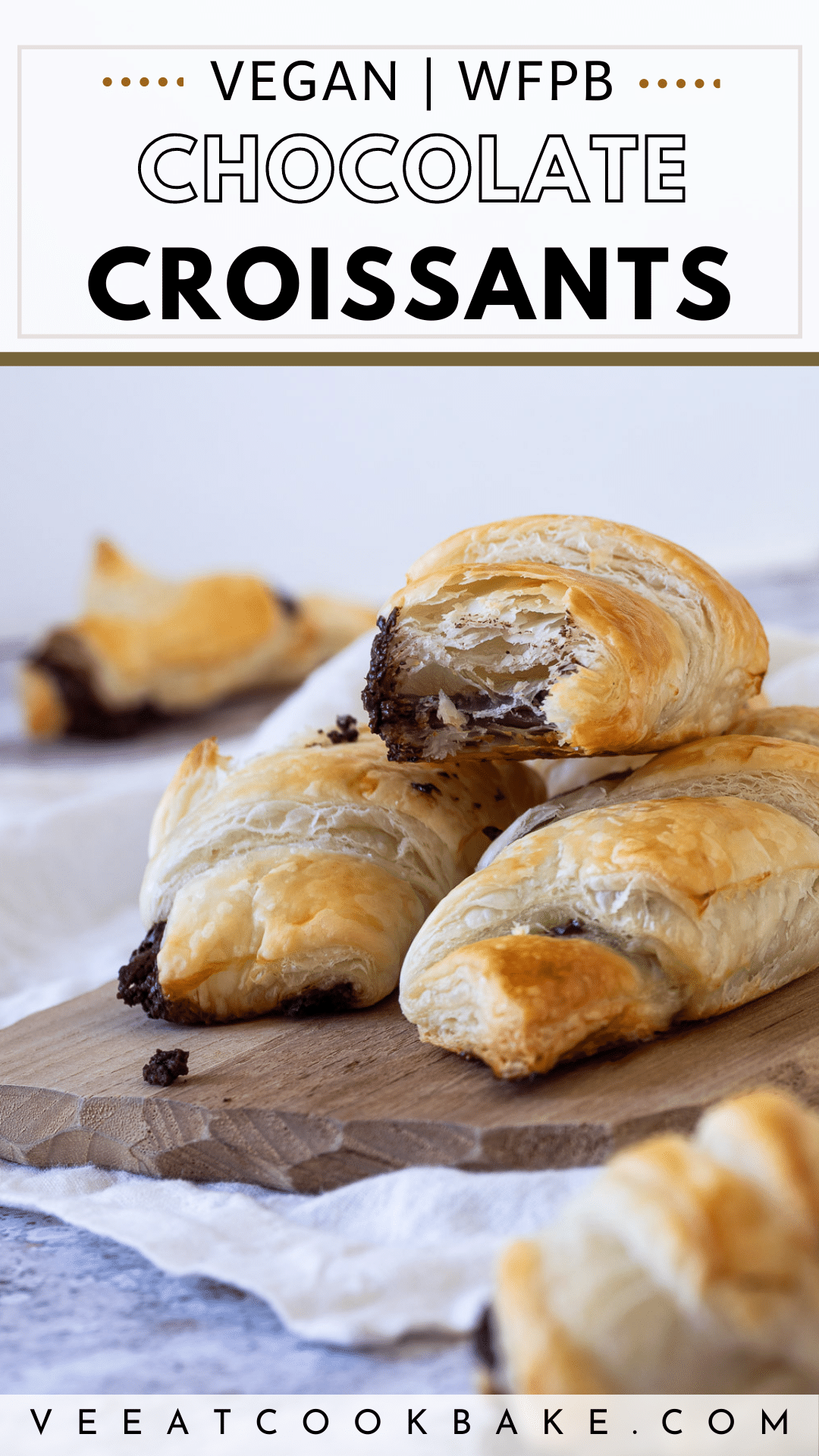 Have you tred the recip
If you tried the vegan Recipebe so nice ♥ and let me knw byrating the recipe and writing what you think about it in the comments.  I would love to see your photo on Instagram orFacebook. To do this tag me with @veeatcookbake andmy hashtag is #veeatcookbake. So that I can see your creation. Did you know you can add photos n Pinterest under the recipe Pin? I can't wait to see a photo of your creation here. You find me with @veeatcookbake