You love the taste of chicken broth and you finally want to create a delicious vegan chicken broth substitute.
Then you have found a great bouillon powder here to add extra flavor to your dishes.
No matter if you want to make a vegan version of the classic chicken soup, chicken and dumplings or just want to drink as a warm beverage.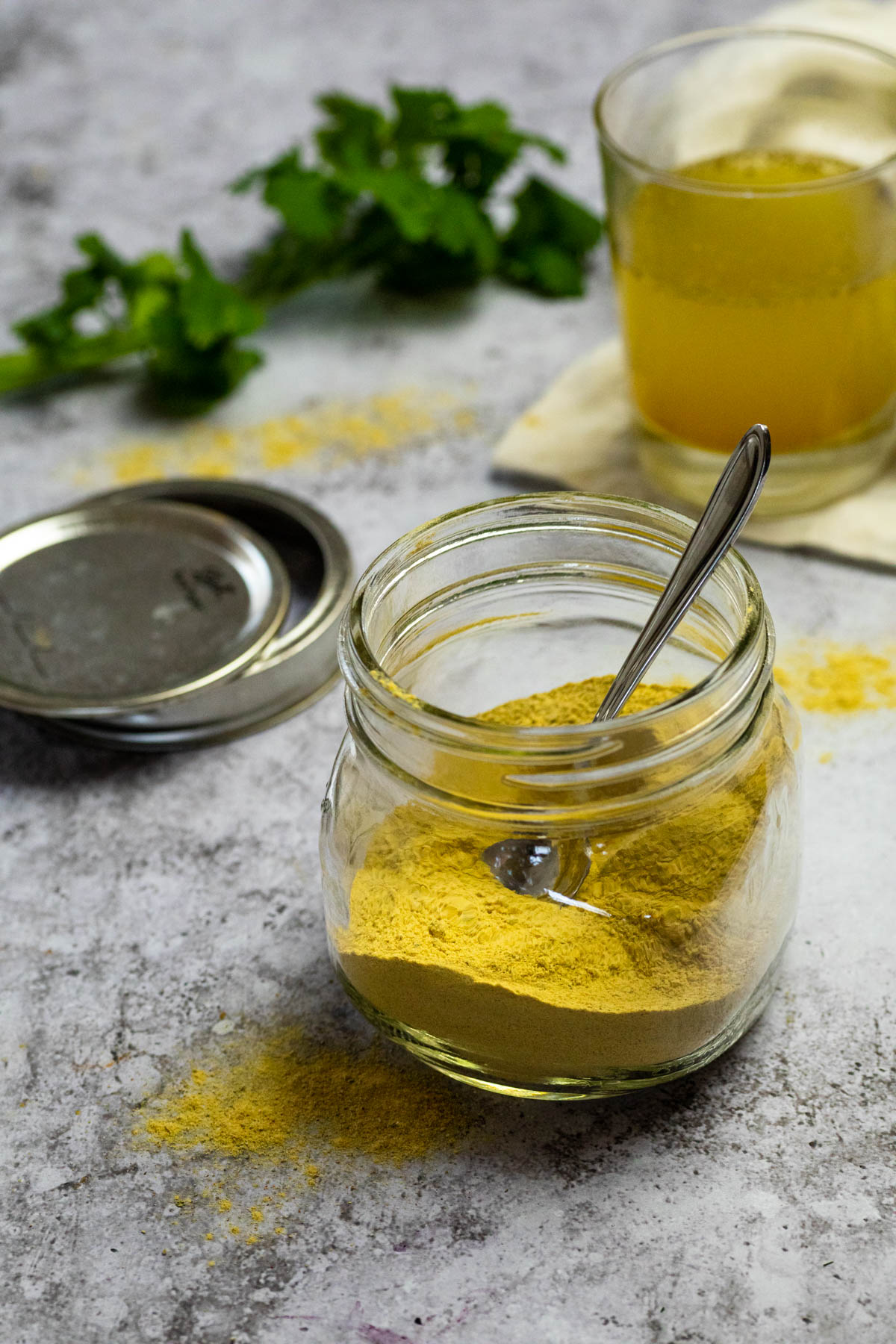 As an Amazon Associate, I earn from qualifying purchases. This post may contain affiliate links. Read More
Thanks to the spices, which you can often find in poultry seasonings like sage and others, you get this incredibly authentic-tasting broth recipe in vegan.
This broth is completely without flavor enhancer and is only made with wholesome herbs and spices.
And the best thing is that you may already have many spices in stock at home, maybe all of them. Then you should definitely try this super quick vegan chicken bouillon powder recipe.
This vegan chicken broth powder consists of a few ingredients and you only need a food processor and between 5-10 minutes of your time.
I will show you here how you can use the vegetable broth powder, how you can make the powder and the shelf life.
Is chicken broth vegan?
The chicken broth you can buy is not vegan. As the name suggests, there is usually chicken in the chicken broth. There are vegan versions of it to buy such as this vegan chicken broth.
But since you can easily make one yourself and you know exactly what is included, we don't actually need a purchased one.
Herbs
If you take a look at typical poultry spice mixtures and chicken broths, then the meat usually gets the extraordinary taste thanks to the herbs that are included.
You can often find rosemary, tarragon, thyme and sage in chicken broth powder.
I started and experimented with the proportions of the corresponding spices and herbs and voila this really authentic powder with full taste has arisen.
You should be able to find all of the herbs. If not, I link a few of them to where you can buy them.
You may even have many of the herbs at home. So this is a cheap alternative to the purchased one.
Wait a minute, now we finally come to how we prepare the chicken broth. In addition to the ingredients, you will find instructions.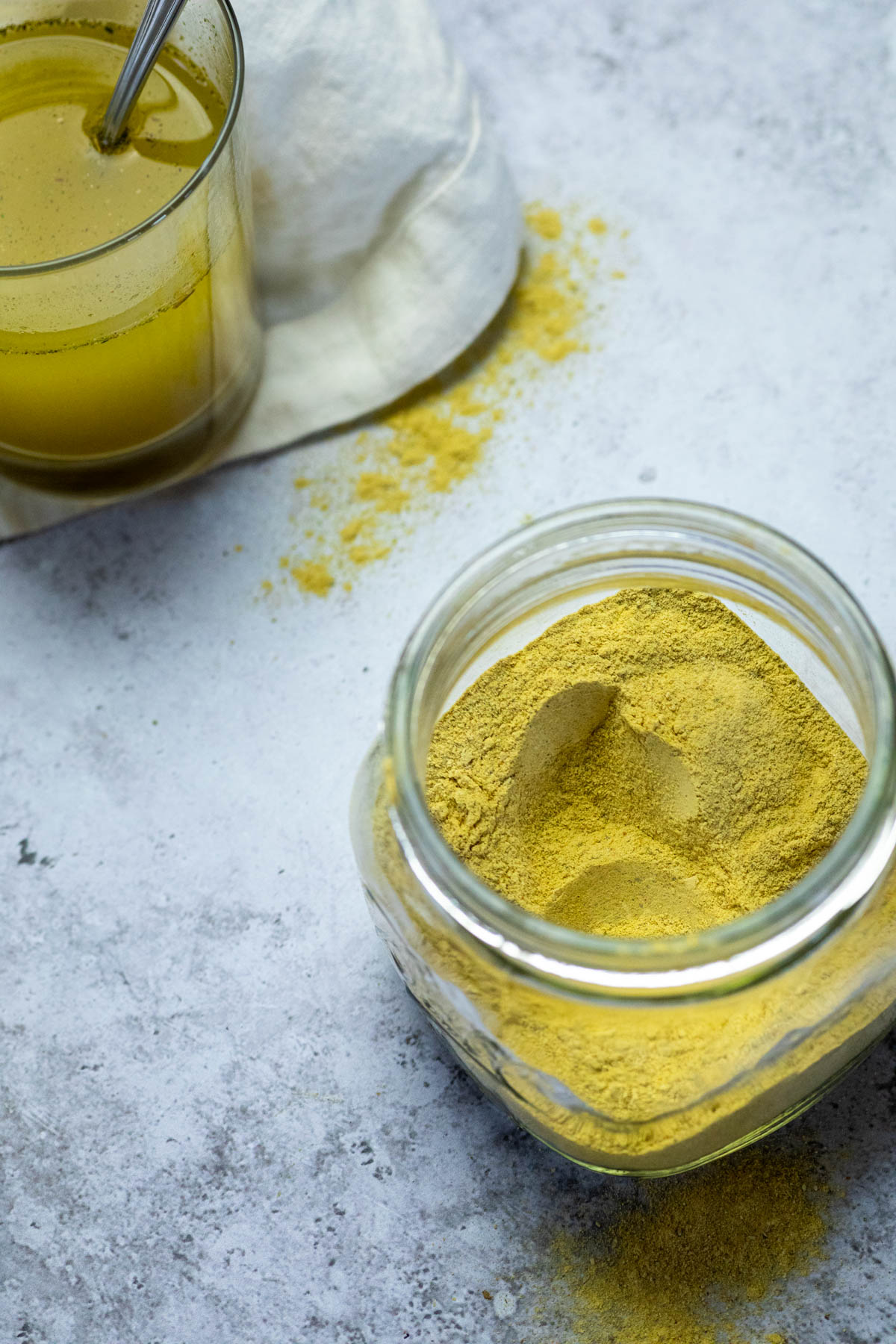 Ingredients
Here I show you a brief overview of what you need for the vegan chicken broth powder.
The exact amount of the individual ingredients can be found below in the recipe card.
Nutritional Yeast Flakes
Sea-salt
Ginger Powder
Turmeric Powder
Black Pepper, ground
Marjoram, dried
Tarragon, dried
Paprika Powder
Rosemary
Sage
Celery Seeds
Thyme
Garlic Powder
Onion Powder
Parsley, dried
Bay Leaf
Mustard Seeds, ground
Juniper Berry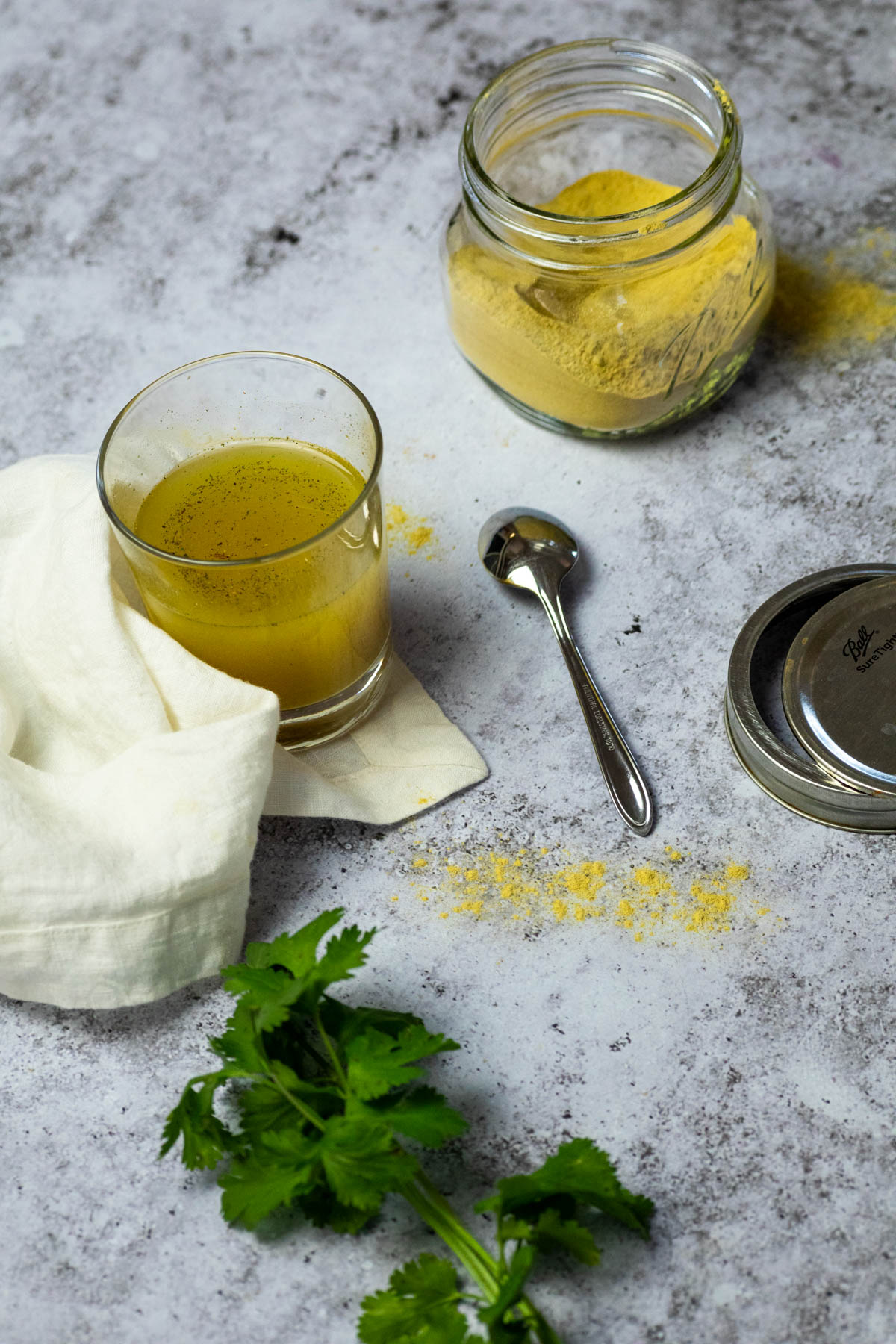 Instructions
This stock powder is really super quick to prepare.
Take out your high speed blender and add all the ingredients of the powder to the blender one after the other.
Now blend until a powder is formed. To do this, I slowly turn the mixer from level one to level 10 and then slowly back to level 1.
Turn off the blender and see if the powder is fine enough. If not, mix a little longer.
Your powder is ready.
Possible Uses
Now your powder is ready and you can use it like you used to use chicken broth.
From soups and stews to tofu and seitan marinades, there are no limits to the possible uses.
If you want to use the broth powder, take 1 tablespoon of the powder and dissolve it in 250 ml of hot water.
If you want to cook rice or even quinoa in the broth, you can replace it 1:1. Use the same amount of broth as you would normally use water.
Soak soy curls. Use your dried soy curls so your schnetzels get a good taste and use this chicken broth instead of water.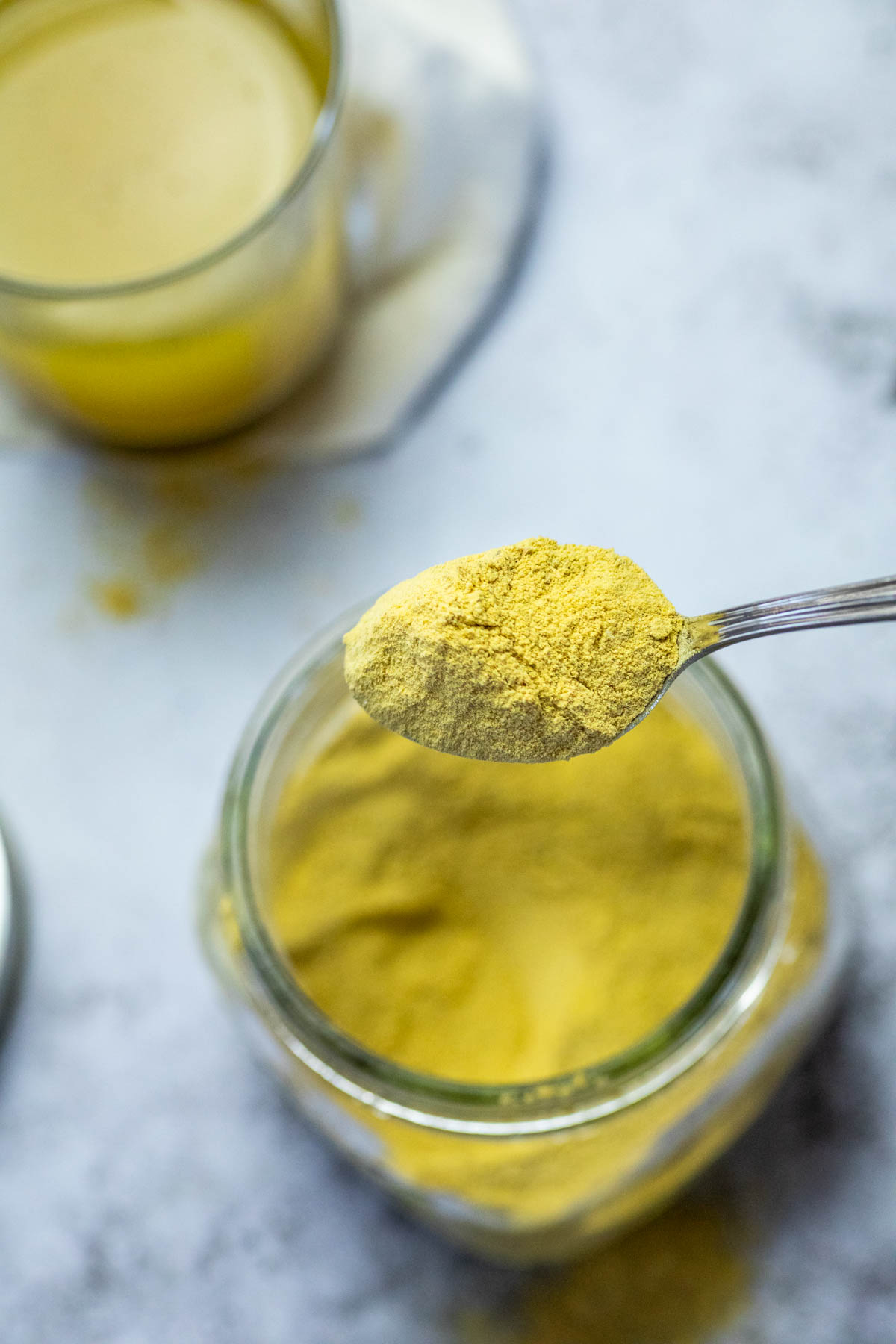 Storage
You can store this vegan chicken broth powder in a dark and cool place for a long time. You can put it in your pantry or in the basement ,if you have one.
Prepare it in large quantities and you will always have some of it on hand.
Since it's only dried ingredients, this powder, like your other spices, lasts a long time.
More vegan recipes:
Vegan Pot Pie (Chicken Pot Pie)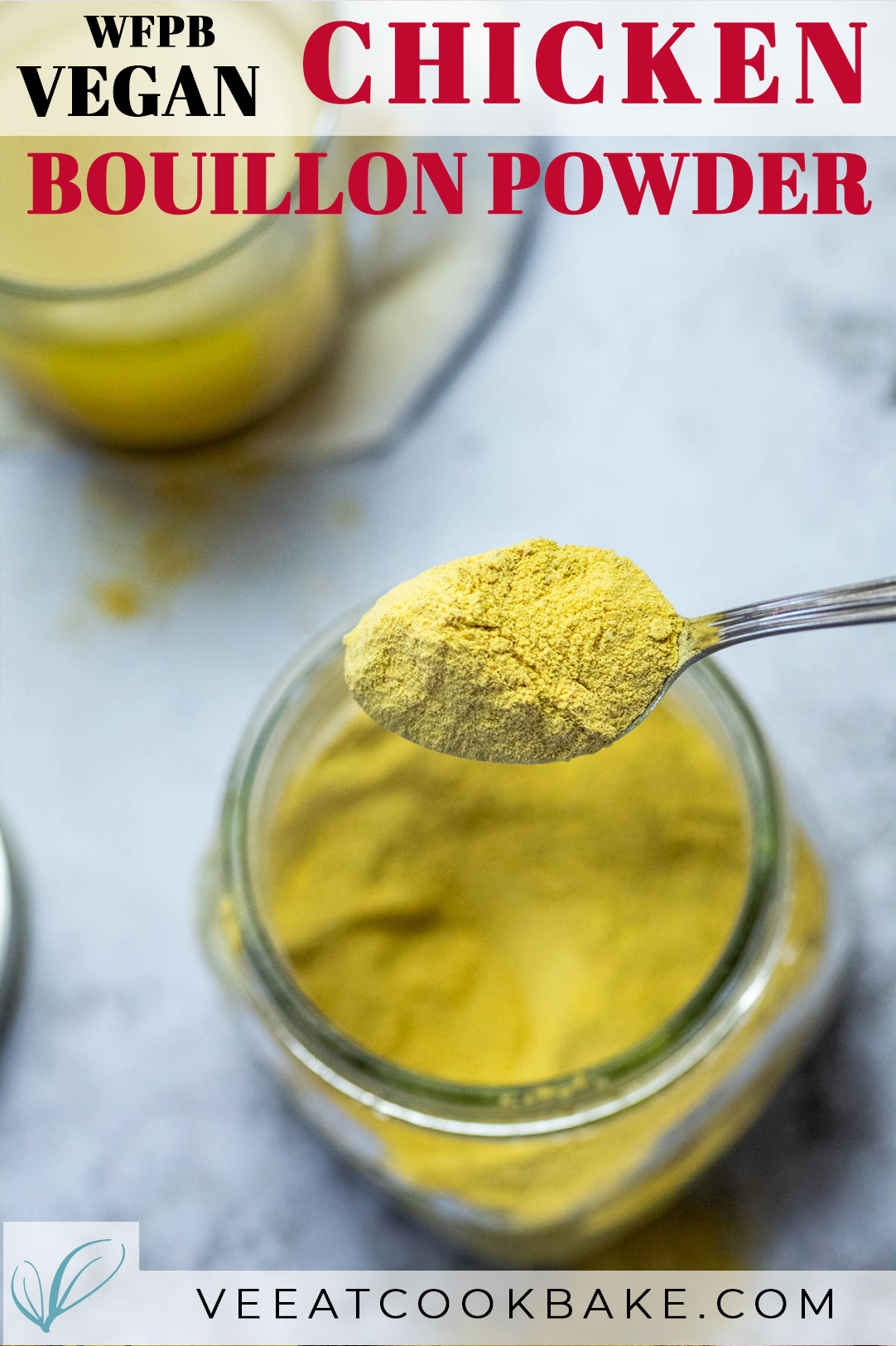 Have you tred the recip
If you tried the vegan Recipebe so nice ♥ and let me knw byrating the recipe and writing what you think about it in the comments.  I would love to see your photo on Instagram orFacebook. To do this tag me with @veeatcookbake andmy hashtag is #veeatcookbake. So that I can see your creation. Did you know you can add photos n Pinterest under the recipe Pin? I can't wait to see a photo of your creation here. You find me with @veeatcookbake