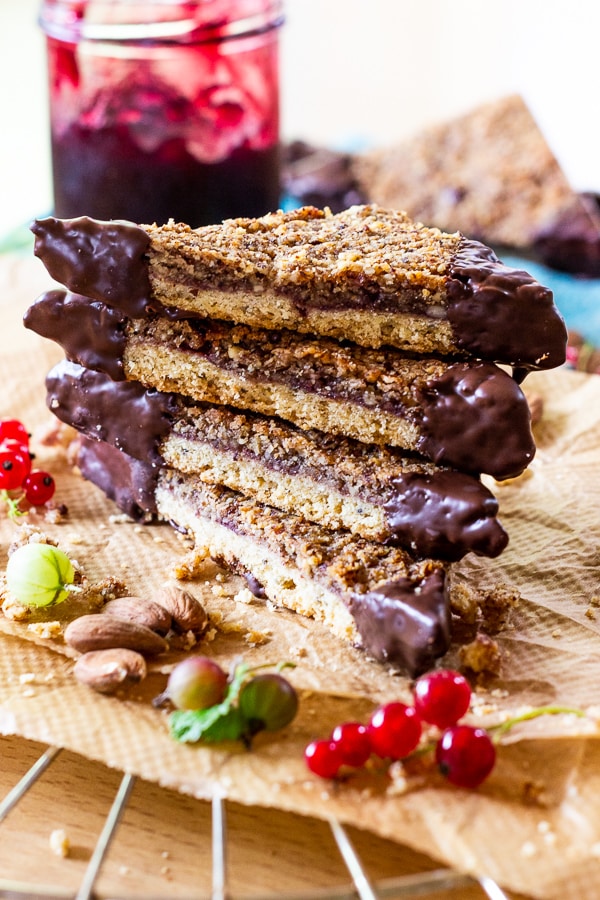 Vegan Nut Bars - German Nut Corners veganized
Cuisine:
vegan, dairy free, gluten free, less oil, less sugar alternative
Author: VeeatCookBake
Prep time: 15 mins
Cook time: 25 mins
Total time: 40 mins
A simple recipe for vegan nut bars (German Nut Corners). These healthy nut bars (German Nut Corners) are perfect on your cookie plate for Christmas time or throughout the year for a snack, treat. With shortbread as a base, a layer of jam and ground / chopped nuts of your choice on top and decorated with chocolate make these vegan Nut Bars (German Nut Corners) to something special. plant based | egg free | without refined sugar | lactose free | dairy free
Shortbread
1 1 tbsp (150 g) spelt flour or gluten-free flour
1½ cups + 1 tbsp (150g) almond four
5.5 tbsp (80 g) coconut sugar or other sugar alternative
¼ cup (70 g) almond, cashew butter
¼ cup + 1 tbsp (70 g) water
¼ tsp baking powder
Mix ¼ cup (120 ml) of water with 1 tbsp cornstarch
Jam or pureed fruit (your favorite flavor, I like to use homemade)
Nut Topping
4¼ cups (400 g) nut flour (such as hazelnuts, almonds, etc.)
8 tbs water
½ cup (150 g) of nut butter
¾ cup (150 g) of coconut oil
150 g sugar alternative (for example coconut sugar)
Chocolate for dipping the corners
Knead all the ingredients for the shortbread to a smooth dough. Roll out on a baking sheet lined with baking paper.
Now spread the jam or the fruit puree on it
For the nut topping, heat the water, nuts and oil in a pot and mix it with nut flour. Now spread on the shortbread
Bake in preheated oven at 200 ° C for 20-25 min. Do the toothpick sample, and see if dough sticks to the toothpick. If not, the nut corners are finished.
Take them out of the oven and let the nut corners cool down completely.
Now you can first cut squares and then triangles.
Dip the corners in melted chocolate and leave the nut corners on a wire rack until the chocolate is firm.
Recipe by
Ve Eat Cook Bake
at https://veeatcookbake.com/vegan-nut-bars/