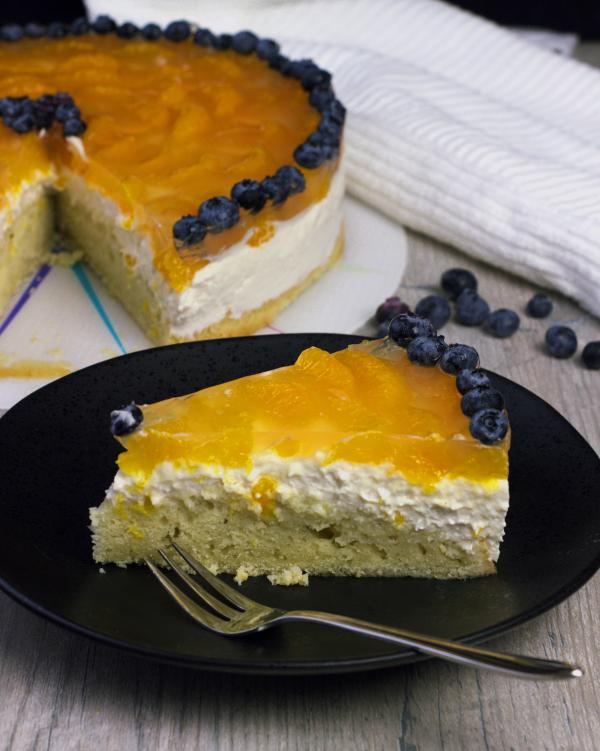 Vegan unbaked mandarin orange cheesecake
Cuisine:
german, vegan, plant based, egg free, dairy free, lactose free, sugar free
Author: VeeatCookBake
Prep time: 1 hour
Cook time: 30 mins
Total time: 1 hour 30 mins
A vegan half raw cheesecake with mandarin orange with a fluffy biscuit base and a rich cream will be the hit at any birthday party or other festivities such as Christmas, Thanksgiving or Easter. It tastes great for coffee/ tea time. This plant-based cake uses less refined sugar and tastes great in the morning for breakfast. milk-free | egg free | sugar free
Biscuit base
90 g of coconut sugar
250 ml sparkling water
6 tablespoons of virgin olive oil
4 teaspoons baking powder
8 g vanilla sugar (self-made with coconut sugar or raw cane sugar)
225 g spelt flour
Cream
2 cans of coconut milk (the cream of which as described above)
4 teaspoons of vanilla sugar
250 g of unsweetened plant-based yoghurt
1.5 teaspoons agar agar
130 ml of water
Topping
2 cans mandarin oranges unsweetened
Glaze!
250 ml dripping water from the mandarins
0.5 tsp agar agar
if necessary sweetener as needed
For the biscuit base mix all ingredients to a smooth dough and distribute to a 26 cm (10") Springform. I like to grease the form before and sprinkle it with breadcrumbs, so I can remove the cake easily after baking
Bake the cake in the preheated oven (180°C (350°F)) oven for 30 min. Do the toothpick test. Prick in the cake once. If nothing gets stuck, the base is finished.
Now you let the base cool down completely.
Prepare the cream. To do this, whip up the coconut cream with the stand mixer and stir in the remaining ingredients except agar agar and water. Now cook the agar agar with the water. Let it simmer briefly and stir it slowly with constant stirring under the cream.
Now you need the springform ring and put it back around the biscuit base. Now put the cream on it and put the cake in the fridge.
After half an hour you can cover the cake with the mandarins. Keep the juice from the can and set aside. We need this later.
Now you can prepare the jelly. Put all the ingredients in a small saucepan and bring to a boil while stirring. Now let it cool down a bit so it starts to gel and pour it over the mandarins.
Place the cake in the refrigerator overnight, so that it is nice and firm when you cut it.
Recipe by
Ve Eat Cook Bake
at https://veeatcookbake.com/vegan-unbaked-cheesecake/