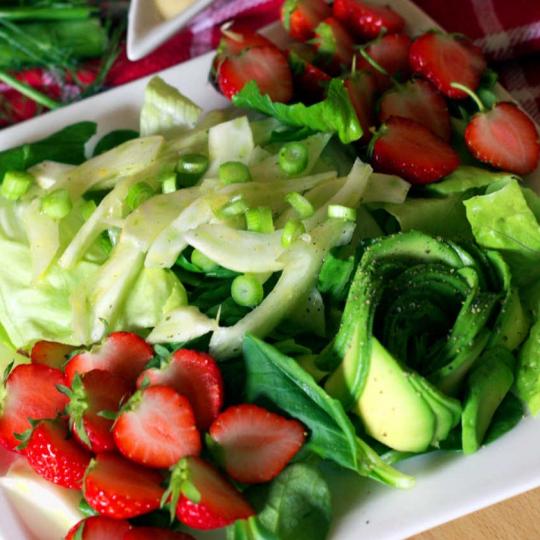 Summery Strawberry Fennel Salad
Cuisine:
vegan, plantbased, dairyfree, nutfree, glutenfree
Author: VeeatCookBake
Prep time: 20 mins
Cook time: 3 mins
Total time: 23 mins
Sweet strawberries combined with crispy fennel and fresh green lettuce in a fruity sour rhubarb (currant) dressing. For a quick dinner or a delicious appetizer.
1 fennel
1 tablespoon of lemon juice
1 tbsp. veggie broth
1 small lettuce like Boston lettuce or a mix of different green lettuce
1 B. Spring onion
250 grams of strawberries
1 avocado
dressing
1 small stick of rhubarb or 100 g currants
1 onion
2 tablespoons of maple syrup
3 tablespoons of red wine vinegar
1-2 tsp Dijon mustard
2 tbsp tahini or cashew butter
3 tbsp water
Salt pepper
Grate the fennel roughly and marinate in citrus juice, veggie broth and salt, pepper
In the meantime, cut he leaf salad and blanch the rhubarb for a short time
Now you can prepare the dressing. Puree All the ingredients for dressing, except for the onions. Dice the onion finely.
Cut the remaining ingredients into mouth-friendly pieces.
Put everything on a plate or bowl and mix with the dressing.
Recipe by
Ve Eat Cook Bake
at https://veeatcookbake.com/?p=2627