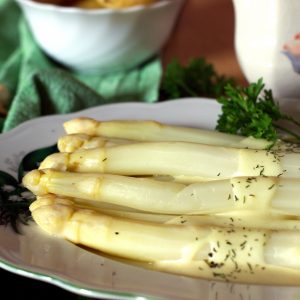 Hollandaise Sauce with Asparagus
Cuisine:
vegan, plantbased, dairyfree, eggfree, less oil, sugarfree, wheatfree, soyfree
Author: VeeatCookBake
Prep time: 5 mins
Cook time: 15 mins
Total time: 20 mins
The classic of all classics when it comes to eating asparagus. Of course I do not want to deprive you of this yummy vegan version of hollandaise sauce. It tastes great with green or white asparagus. Or just boil some potatoes and dip them in the super delicious sauce
20 g of native olive oil
20 g spelt flour
100 ml of cashew cream
100 ml of plant milk
200 ml vegetable broth
20 ml vegan white wine (optional) think it gives that something certain
1-2 tsp Dijon mustard
Salt, pepper, nutmeg to taste
Heat oil in a pot. Prepare flour and cashew cream with plant milk.
While stirring, add the flour to the oil until the flour absorbs all the oil. Just do not stop stirring, otherwise lumps may form.
Now add the cream / milk with constant stirring. Same procedure with the vegetable broth. Now let it boil. The sauce ishould be thickening,now.
Season with white wine, mustard, salt, pepper and nutmeg. Taste maybe add some more spices.
* Little tip for asparagus cooking. Put some sugar in the cooking water. The asparagus is not so bitter after cooking. Especially the white one.
Recipe by
Ve Eat Cook Bake
at https://veeatcookbake.com/vegan-hollandaise-sauce/