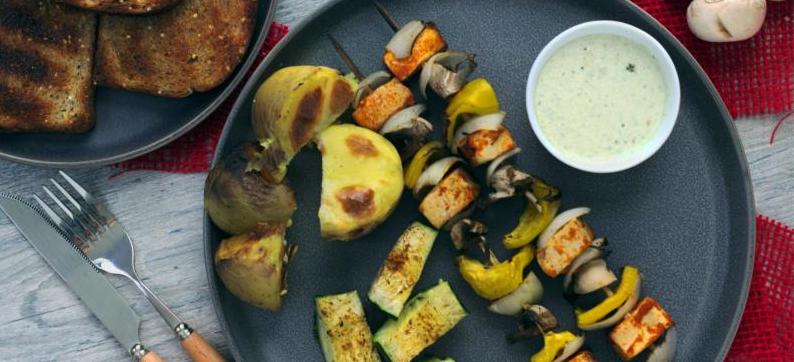 Grilled tofu skewers - meateaters love /vegan
Author: VeeatCookBake
Grilled tofu skewers with onions, peppers, zucchini and marinated tofu also tastes meat eaters well. The tofu tastes spicy through the spices I used. Important is squeeze out the water of tofu.
2 tofu firm or super firm
6 EL Olive oil
6 TL tomato paste
5 EL Apple vinegar
8 EL Soy sauce
4 cloves of garlic
½ TL Chili
ginger
Salt, Pepper, Curry, Paprika
a few drops of liquid smoke
Press the tofu it will take about 10 min in the press.
In the meantime mix all the ingredients in a sufficiently large container. The tofu should fit too.
Cut the tofu to the desired size, I cut it into cubes, and put into the container. Marinade the tofu on every side.
Cover the container. If you have a lid, you can use it.
Place in the refrigerator overnight.
Recipe by
VeEatCookBake
at https://veeatcookbake.com/grilled-tofu-skewers-meateaters-love-vegan/