Are you looking for a quick and easy dinner recipe that will tantalize your taste buds? Look no further - we have the perfect warming bowl for you! Introducing our best vegan cauliflower soup recipe, a delicious light dinner.
The creamy cheesy flavor and thick texture, all without adding oil, makes it vegan and whole food plant-based (WFPB) friendly too! So next time you're all snuggled up in the warmth of your home on a cold night, give this amazing recipe a try – we guarantee it won't disappoint!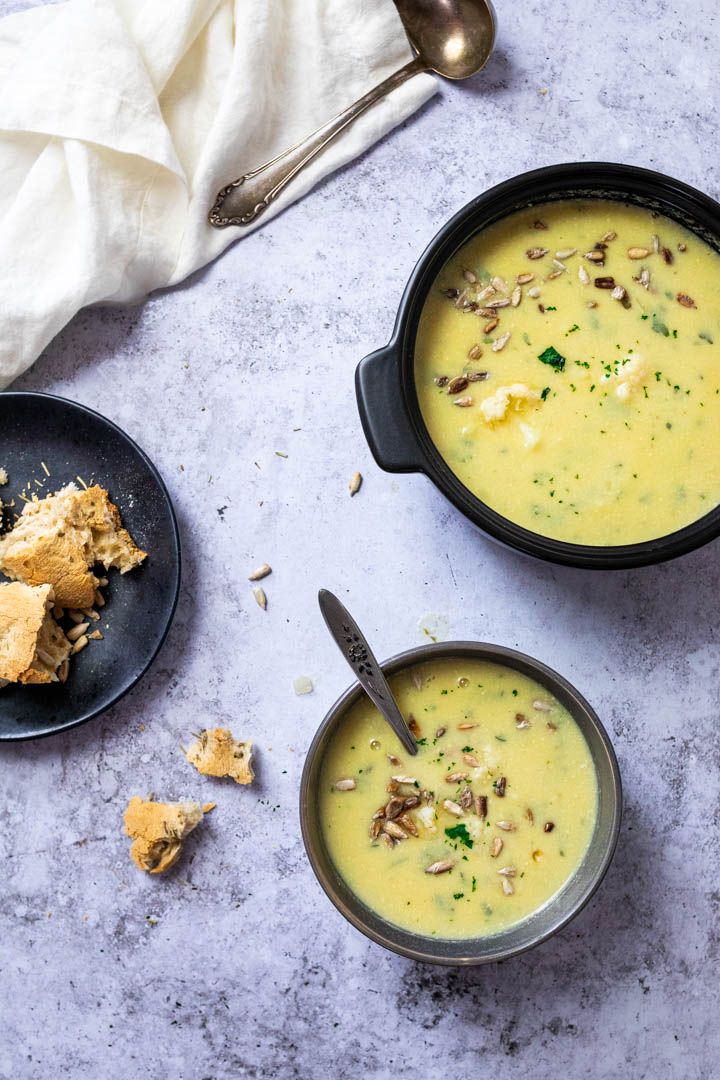 In the cauliflower season, you can quickly and easily prepare this soup. Cauliflower is one of the versatile vegetables you can use it in puréed in sauces, as cauliflower rice as wings or like here simple as a vegetable in a soup. Perfect to warm up on a cold day.
This cauliflower soup pairs well with some homemade bread, like a whole wheat baguette or some spelt bread with seeds.
As an Amazon Associate, I earn from qualifying purchases. This post may contain affiliate links. Read More
Jump to:
Ingredient
You only need a few ingredients for this easy cauliflower soup, and you create a homemade soup that even children will love.
You can find the ingredients with quantities and the recipe to print out on the recipe card below.
Fresh Cauliflower
Onion
Garlic cloves
Vegetable broth or Vegetable Stock
Raw Cashews or coconut milk
Water
Nutritional Yeast
Tapioca starch
Garlic powder
Fresh Parsley
Sea salt
Black Pepper
Garnish:
Roasted sunflower seeds, opt.
Roasted Caulifower Florets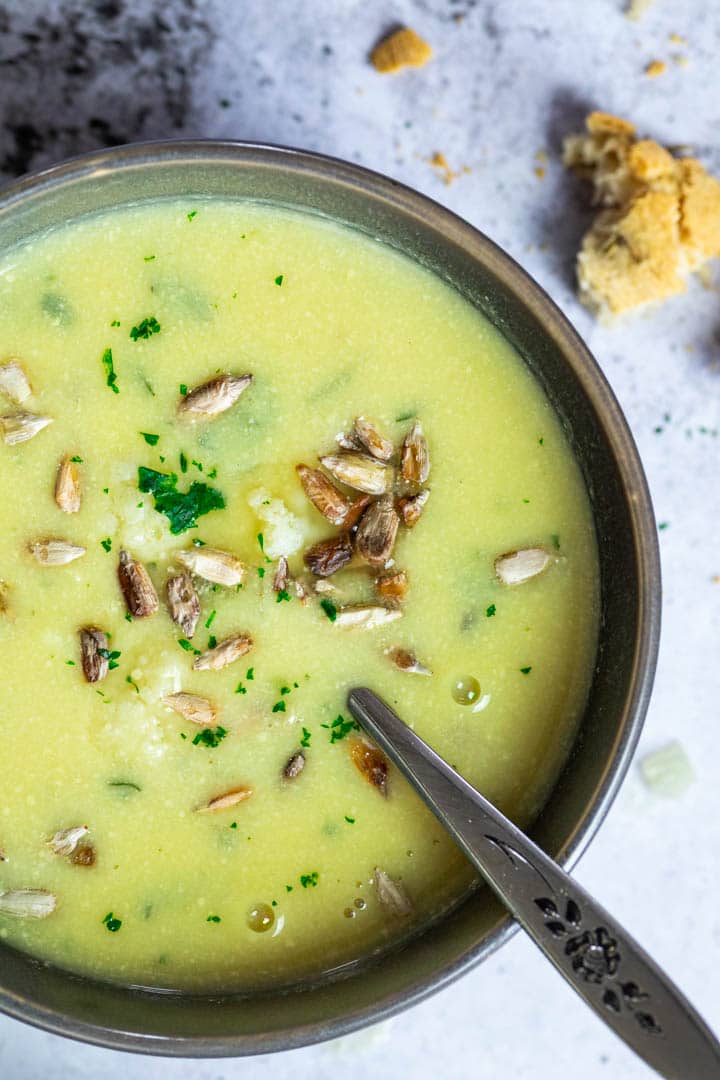 Instruction
Sauté the diced onion and chopped garlic in a pot with a sip of water on medium heat. No need for coconut oil or other oils. Just add some water or veggie broth as soon as the water is evaporated, and the onions start to stick to the bottom.
Now put all the remaining ingredients except the water, tapioca starch and the cashews into the pot and let it cook until the cauliflower is soft.
In the meantime, blend the cashews in a high speed blender until very creamy. Be careful! When blending, the hot liquid might splash!
Now add the cashew cream and mix with an immersion blender until a creamy texture is achieved.
Let it simmer briefly.
Serve it with a topping of your personal preference.
Make this vegan cauliflower soup, check out my other creamy vegan soups like white chili, asparagus soup and my other vegan soup recipes.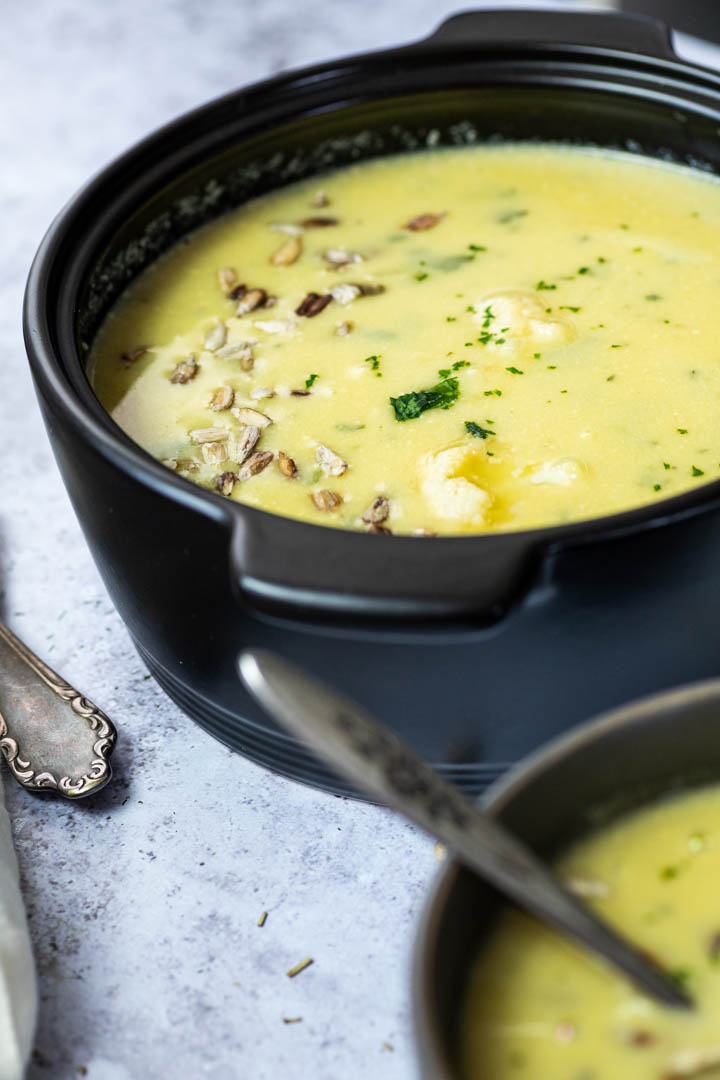 Substitutions
Onion: For the onion, you can either use yellow or red onions. You could also substitute with leek or green onions if you have those on hands. They add a nice flavor to this creamy cauliflower soup as well.
Cashews: To make a creamy vegan cauliflower soup, you need to add some cream. In this recipe, I used cashews to add the creaminess. You can also add coconut milk, white beans or sunflower seeds instead. So you will not need heavy cream, and this makes a healthier version.
Variations
Nut free: Like I mentioned above, you can either use sunflower seeds or white beans. You could also use a combination of both as a non-dairy cream.
Lemon Juice: Add some fresh pressed lemon juice to add a lemony hint to your vegan cauliflower soup recipe.
Roasted Cauliflower Soup: You got a little more time? Roast your cauliflower first before you make the soup.
Miso Cauliflower: I love the taste of miso and it will add a nice flavor to your vegan cream of cauliflower soup.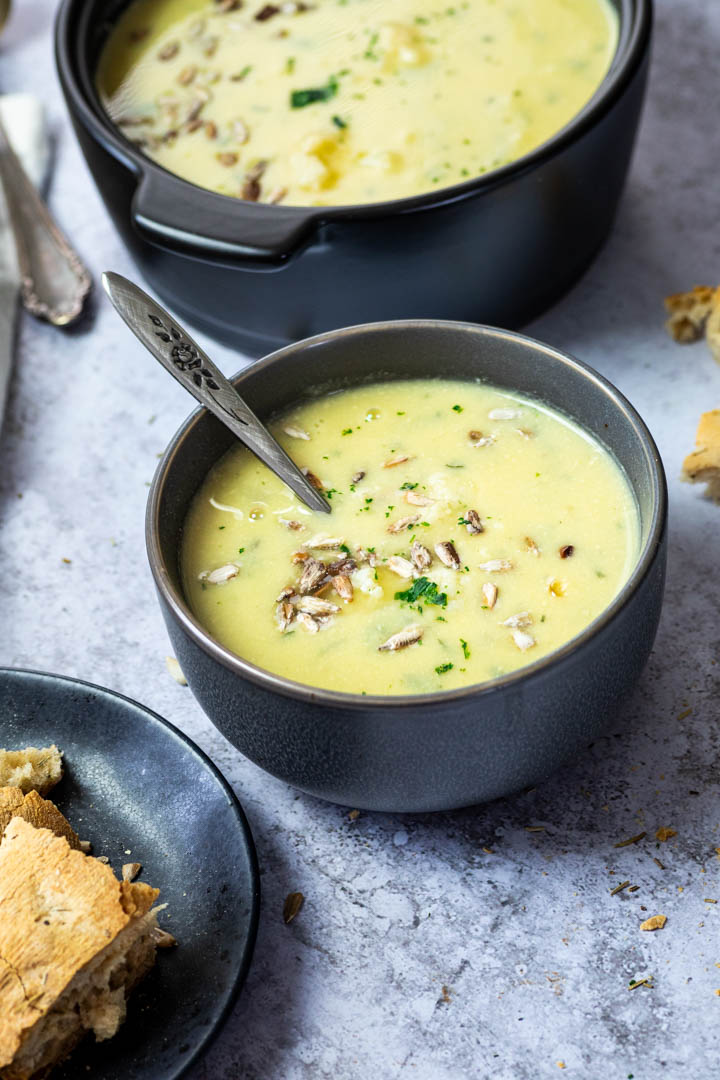 Storage
Yes, you can freeze the cauliflower soup very well for weeknight dinner.
Since the vegan cauliflower soup does not need any potatoes, you can freeze this recipe very well. Make a double batch for meal prep.
You can store it in the freezer or the fridge in an airtight container. In the fridge, it will last around 5-7 days. In the freezer it will last 2-3 months.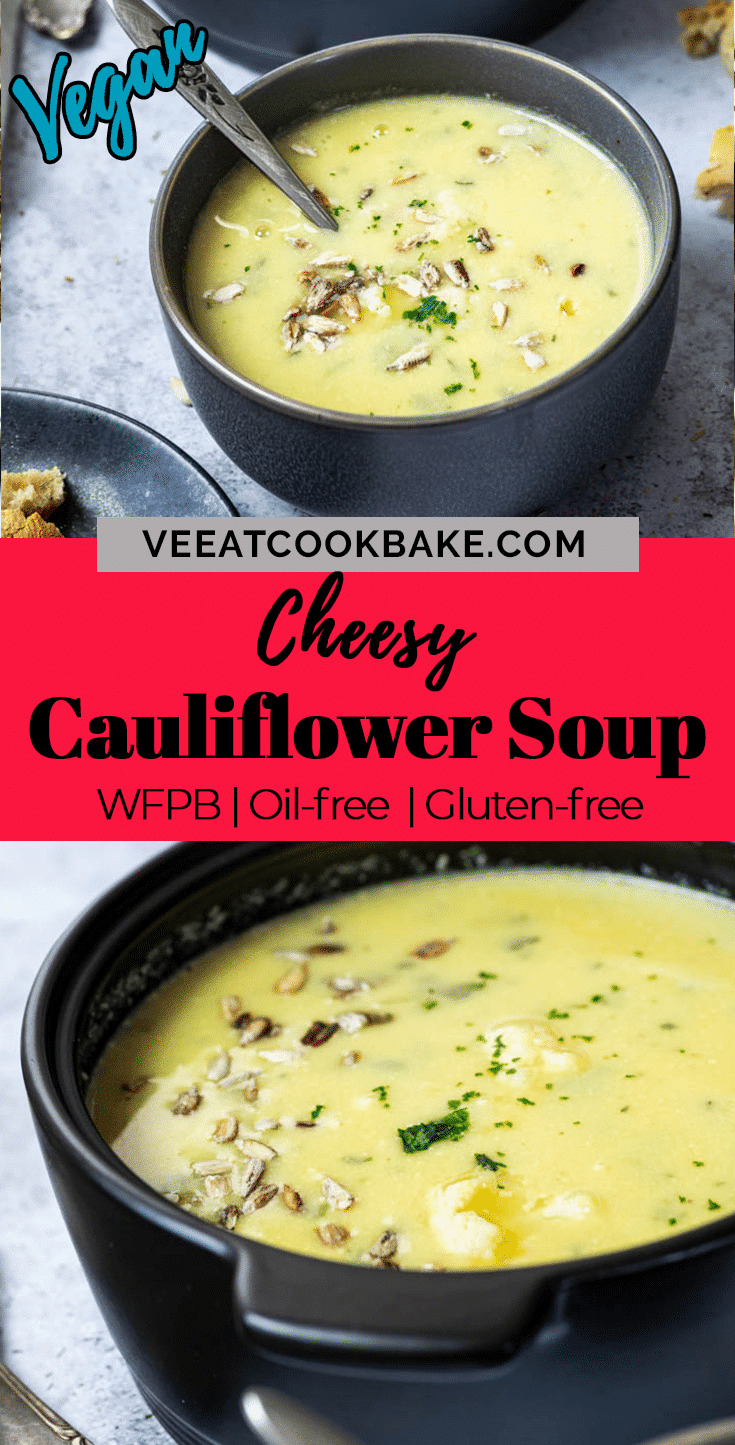 Serving Suggestions
The complex flavors in this soup are sure to please even the most discerning crowd.
For a light meal, try it alone without any extras - but don't forget about all of those heartier options below!
Toppings
Fresh herbs
Roasted pine nuts, sesame seeds, sunflower seeds or hemp seeds
Kale chips, roasted chickpeas or homemade croutons
roasted cauliflower florets
Sandwiches:
Serve this soup with Vegan Egg Salad Sandwich, Vegan Reuben Sandwich, Vegan Chickpea Tuna Salad Sandwich.
Bread:
Try out some of my favorite bread recipes, whole wheat baguette, seeded bread, spelt bread. Or try my gluten-free buckwheat bread recipe.
Side Salad:
Serve this healthy cauliflower soup with my favorite potato salad, pasta salad, Caesar Salad or Kale Salad.
Pasta:
Serve this soup as an appetizer with Sun dried Tomato Alfredo, Carbonara, Lemon Pasta.
You are a big fan of cauliflower try my other cauliflower recipes like buffalo cauliflower wings, butter cauliflower, BBQ Cauli Wings, Maple Mustard Wings.
Tips
Use more or less liquid to adjust the consistency to your preferences.
Nutritional yeast is optional, but this gives it a cheesy taste.
If you don't have an immersion blender, you can also use your high speed blender.