This post is also available in: Deutsch
*As an Amazon Associate, I earn from qualifying purchases. This post may contain affiliate links. That means if you click and buy, I may receive a small commission. Please see my full policy.*
This Seitan Cauliflower / Romanesco Casserole is a vegan version of my all-time favorite recipe. A tasty, hearty dinner or lunch. With the spices and herbs, it is in no way inferior to the original version. It's even a healthy, nutritious alternative.
vegan | milk-free | plantbased| egg-free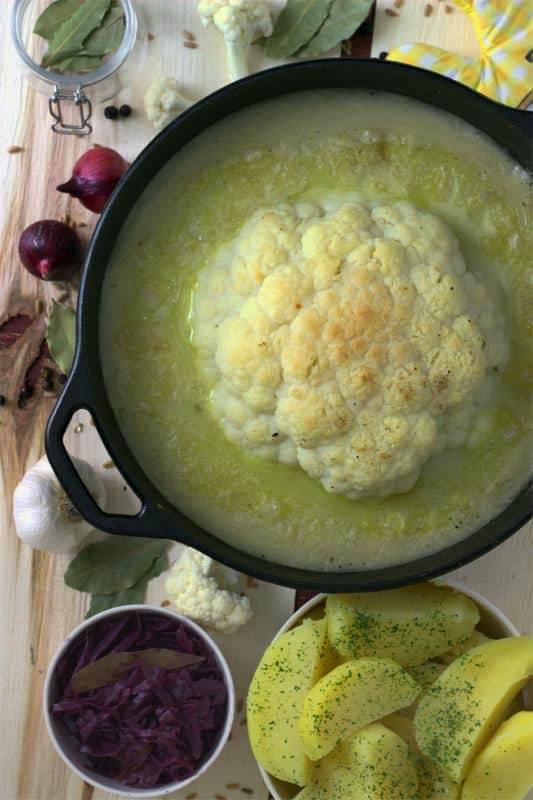 Cauliflower or Romanesco for seitan cauliflower / romanesco casserole
I found this great Romanesco here at the farmer's market and I knew exactly what I would do with it. My mom used to cook cauliflower casserole and I loved this casserole. My mom's variant, however, includes ground meat and accordingly I had not eaten it for some time now. So I tried a vegan version. And I have to say, the bean-TVP mass was very similar in taste and texture to ground meat. In general, use cauliflower for this seitan cauliflower / romanesco casserole. If you get a great Romanesco, then try this recipe. Does it not look wonderful with the structure of the Romanesco? It's like a plant from a different planet. At first I was a little worried if the mass dissolved into the sauce. However, I had no reason for my fears. It is just important to bake it prior.  This seitan cauliflower / romanesco casserola  also convinced my little daughter.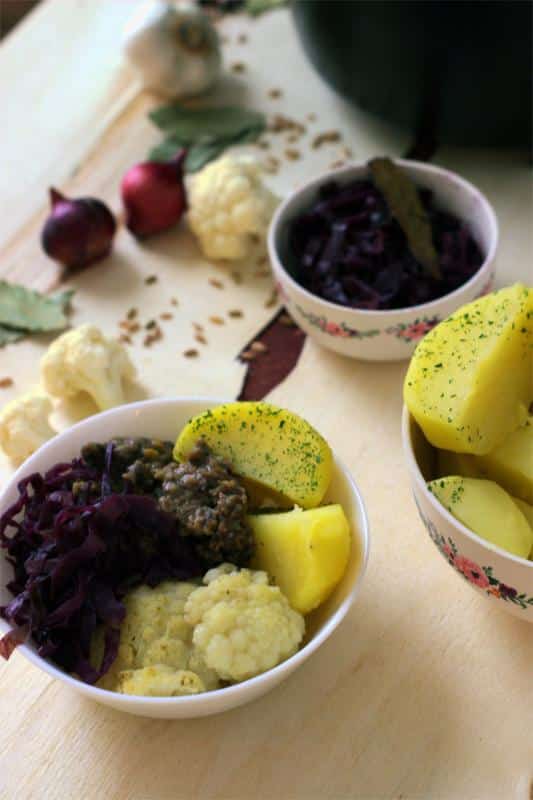 What do you need for the seitan cauliflower/ romanesco casserole
Cauliflower or Romanesco
Plant milk
Cooking broth of cauliflower
Black beans
Onion
TVP
Gluten flour
Spices
Flour
Coconut oil
Side dish (we like to eat boiled potatoes)
Below you will find the recipe again as a recipe card for printing.

Instructions for the Seitan Cauliflower / Romanesco Casserole
First, I prepare the TVP. To do this, first soften the TVP in hot water for about 20 minutes. You can either take vegetable stock or season it the way you like to season your meat alternative. I use: salt, pepper, thyme, rosemary, soy sauce, sweet paprika, lovage, and some cayenne. In the meantime, I put the black beans in the blender with more spices and puree everything fine. Dice the onion fine. Now you can put everything in a bowl and add enough gluten flour to get a homogenous mass that is not too dry. Knead for 10 mins. Now you put the mass in a round casserole dish as a ring. So you can put the cauliflower/ romanesco in the middle later. Remember that the casserole dish should not be too small. I am using a Lodge pot. Since this is a seitan mass, I bake it for 40 minutes at 180° C (350° F) before I add the remaining ingredients for the seitan cauliflower / romanesco casserole. While your seitan is baking in the oven, you can cook the cauliflower / romanesco for a short time. To do this you take a pot in which the Romanesco fits perfectly and add water. I cook this for about 10 minutes. Now you can take this out and keep the cooking water. We use it to make the sauce. Make a roux (melting coconut oil and add the flour) and slowly add the cooking water and some plant milk and taste the sauce a bit more. Take the pot out of the oven. Put the cauliflower / romanesco in the middle and pour the sauce over it. Now it is time to bake it for another 30 min. We also serve boiled potatoes.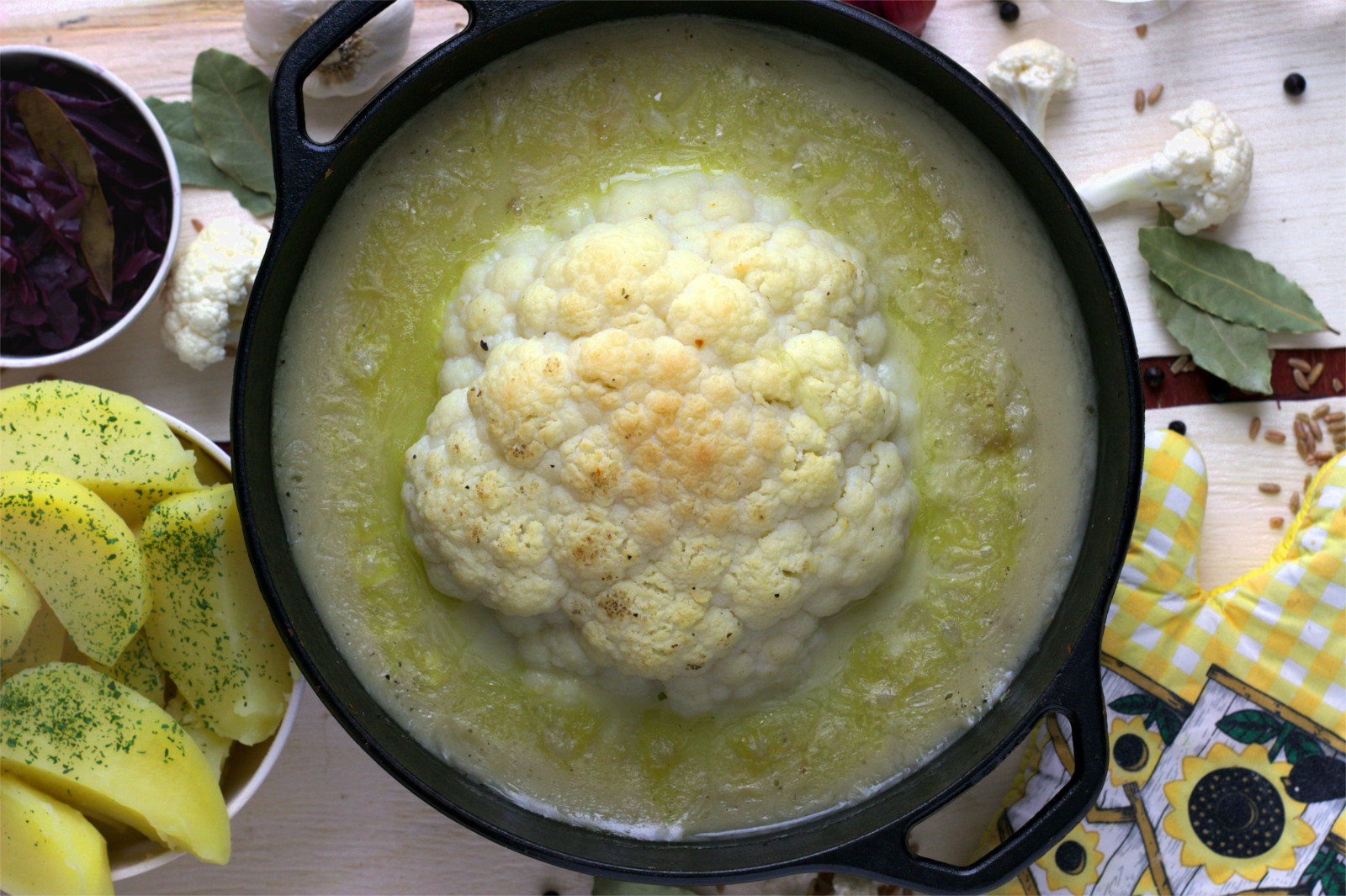 ---
Did you try the recipe?
If you did it, be so nice ♥ and let me know by rating the recipe and writing what you think about it. Tag me on Instagram too. I am @veeatcookbake and my hashtag is #veeatcomforts. On Facebook you can add your meal on my Facebook Page. So that I can see your creation. Did you know you can add photos on Pinterest under the recipe Pin? I can't wait to see a photo of your creation there. You find me with VeeatCookBake.
---
Blumenkohl / Romanesco Auflauf
This delicious Romanesco cauliflower casserole does not require any animal products and tastes great. As a protein source, I use seitan and black beans.
Ingredients
Seitan mass:
100 g ofsoy granules (TVP)
½ tsp thyme, rosemary, pepper, paprika
¼ tsp Cayenne
1 tsp salt
2 teaspoons soy sauce
2 cans of black beans or kidney beans
½ tsp thyme, rosemary, pepper, paprika, smoked paprika
¼ tsp Cayenne
1 tsp salt
4 teaspoons soy sauce
1 diced onion
3 cups of gluten powder (more or less depending on consistency)
1 cauliflower or Romanesco
1 tbsp coconut oil
1 tbsp flour
400 ml of plant milk (soy, cashew or almond)
600 ml of cooking water of Romanescos
Salt, pepper, nutmeg
Instructions
cook for about 10 minutes the Romanesco / cauliflower in plenty of water
In the meantime you can soak the TVP in boiling water with the spices.
Puree the black beans with the spices, soy sauce.
Now mix the TVP, the bean mass, onions and gluten flour to a homogeneous dough. Knead for 10 mins.
Spread the dough in a ovenproof pot. I am using a lodge pot. I distribute this always on the edge, so that a ring is created and you can put the  / Cauliflower Romanesco in the middle.
Put the pot in the preheated oven (350 ° F) for approx. 40 min.
In the meantime, prepare the sauce. Put the coconut oil in a pot and melt it. Add the flour and stir with a whisk until the oil is absorbed by the flour. Now add the plant milk slowly  and the cooking water slowly with constant stirring.
Taste the sauce with salt, pepper and nutmeg.
Now put the  Cauliflower/ Romanesco on the seitan mass and pour the sauce over it.
Bake it for another 30 min
Serve with boiled potatoes and a green salad.
What can be useful to have:
---
Join my Mailing List and get a exclusive monthly recipe
---
Save it on pinterest for later: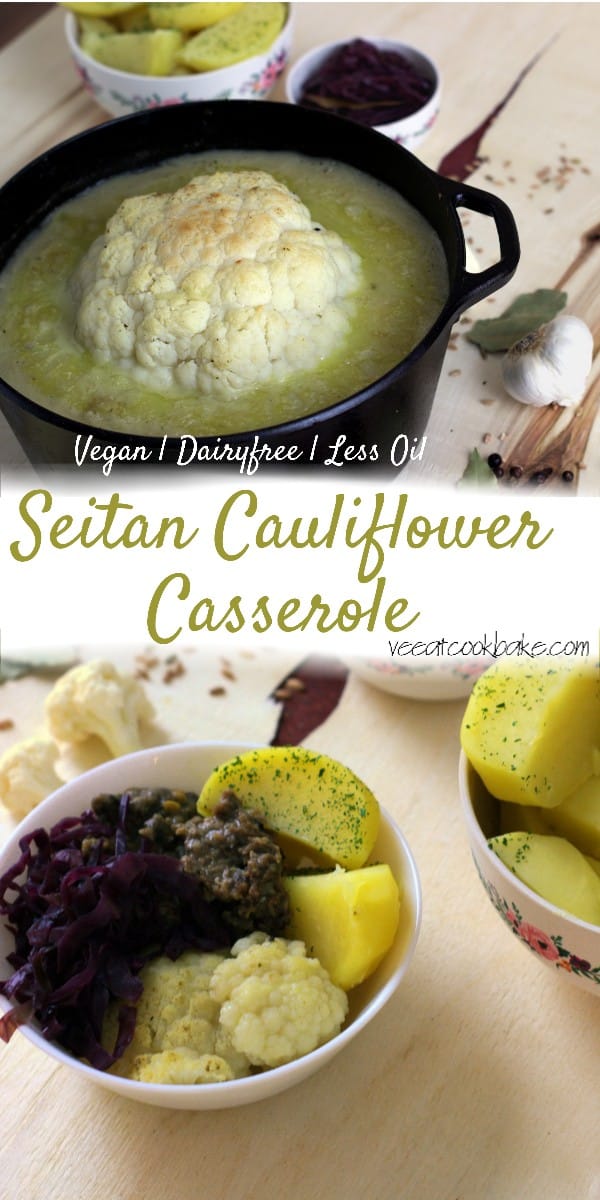 [:]